Jakob Ingebrigtsen takes the 3000m title in Torun (© Getty Images)
Impressive wins by Jakob Ingebrigtsen, Ajla Del Ponte and Mondo Duplantis capped the final day of the 2021 European Indoor Championships in Torun, Poland, on Sunday (7).
Ingebrigtsen, who won the 1500m title on Friday, became the only double individual winner at these championships after his convincing 3000m victory, adding to the 1500m and 5000m double triumph at the 2018 championships outdoors that signalled his international breakthrough.
A sluggish early pace played nicely into the 20-year-old's hands, who took his turn with the early lead before settling into a relaxed steady rhythm mid-pack. He upped the tempo and retook the lead with 5:40 on the clock and just under 1000 metres to go, seemingly in command throughout. Mohamed Katir of Spain challenged briefly, moving even with the Norwegian with two laps to go, but Ingebrigtsen quickly shrugged off the challenge, retaking the lead for good as he approached the bell before crossing the line in 7:48.20, a personal best.
"My goal in these championships was to improve my performance from two years ago and that obviously meant two getting golds," Ingebrigtsen said. "I was surprised my competitors let me do my own thing, without interrupting me."
Isaac Kimeli of Belgium closed well to take silver in 7:49.41 with Spain's Adel Mechaal sneaking by teammate Katir to take bronze in 7:49.47.
Del Ponte dominates


Four world leads were produced on the final day of these championships, the most impressive coming from Del Ponte who continued her steady rise in the sprint ranks with a stunning victory in the 60m. Building a clear lead just 20 metres into the race, the 24-year-old Swiss star forged on to a 7.03 dash, shattering her previous career best of 7.14 to win by nearly two-tenths of a second.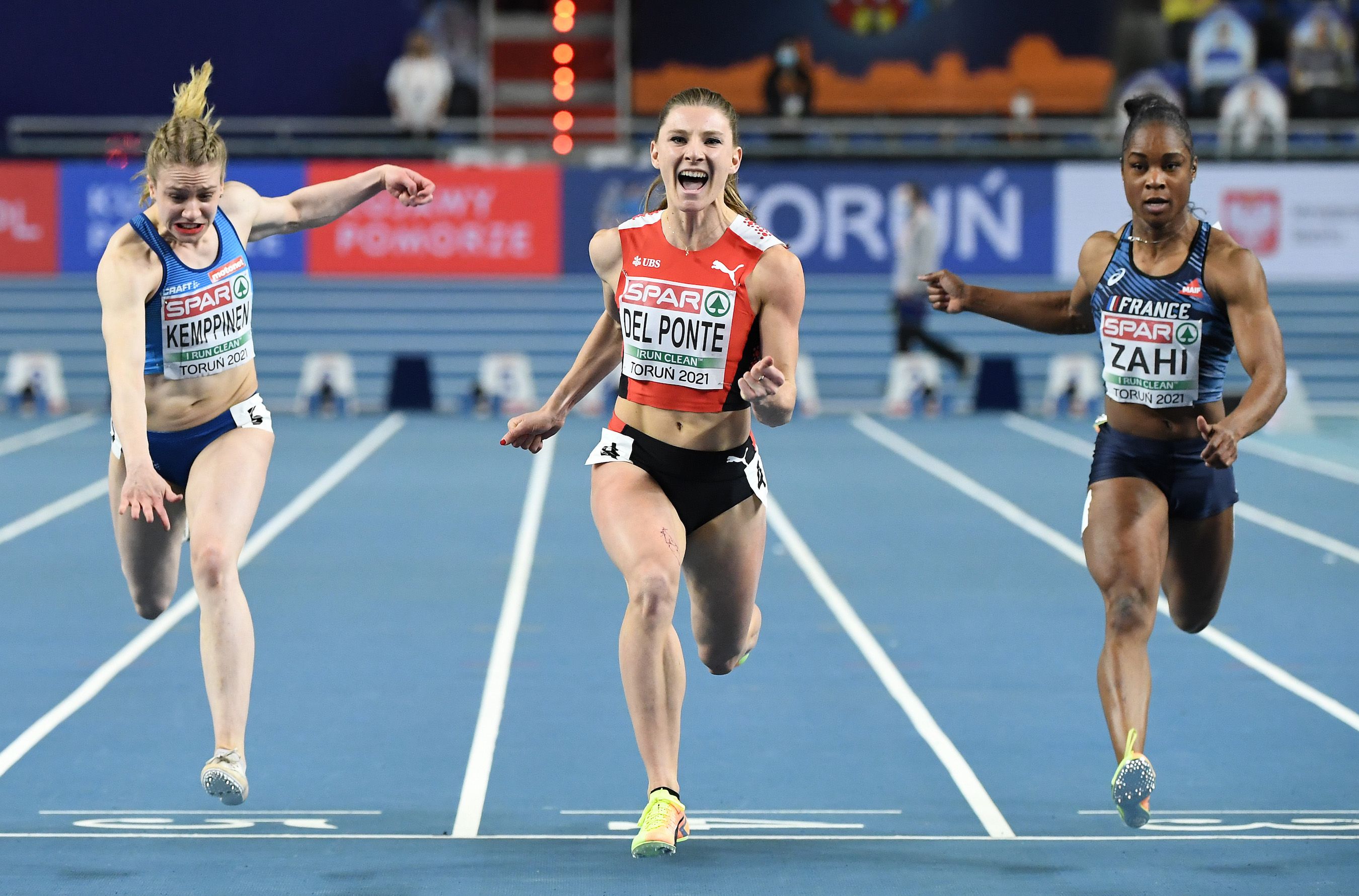 "I knew I could run 7.03 all season, I had it in the legs," said Del Ponte, whose performance moved her all the way up to No.5 all-time among Europeans. "To do it with this margin with so many fast girls is great."
Well back, Lotta Kemppinen of Finland was given the nod for silver over Dutchwoman Jamile Samuel. Both clocked 7.22 with Kemppinen 0.004 faster.
As expected, Duplantis won his first European indoor title and, also as expected, ended his appearance with three attempts at a would-be world record.
The victory secure at 5.85m, the 25-year-old had the bar raised to 6.05m, one centimetre better than the championship record set in 2015 by Renaud Lavillenie, who was watching the competition from the stands. After falling well short on his first attempt Duplantis sailed clear on his second, which then elevated the bar to 6.19m. He came remarkably close with the second of his three attempts.
With his older brother sidelined with injury, Valentin Lavillenie took silver for France, his first medal at the senior level, with Piotr Lisek third. Both topped 5.80m, Lavillenie on his first try and Lisek with his third.
Hurdles titles for Belocian and Visser


The first final on the track turned out to be the closest with Wilhem Belocian of France holding off Andy Pozzi, the reigning world indoor champion, by the narrowest of margins in the 60m hurdles.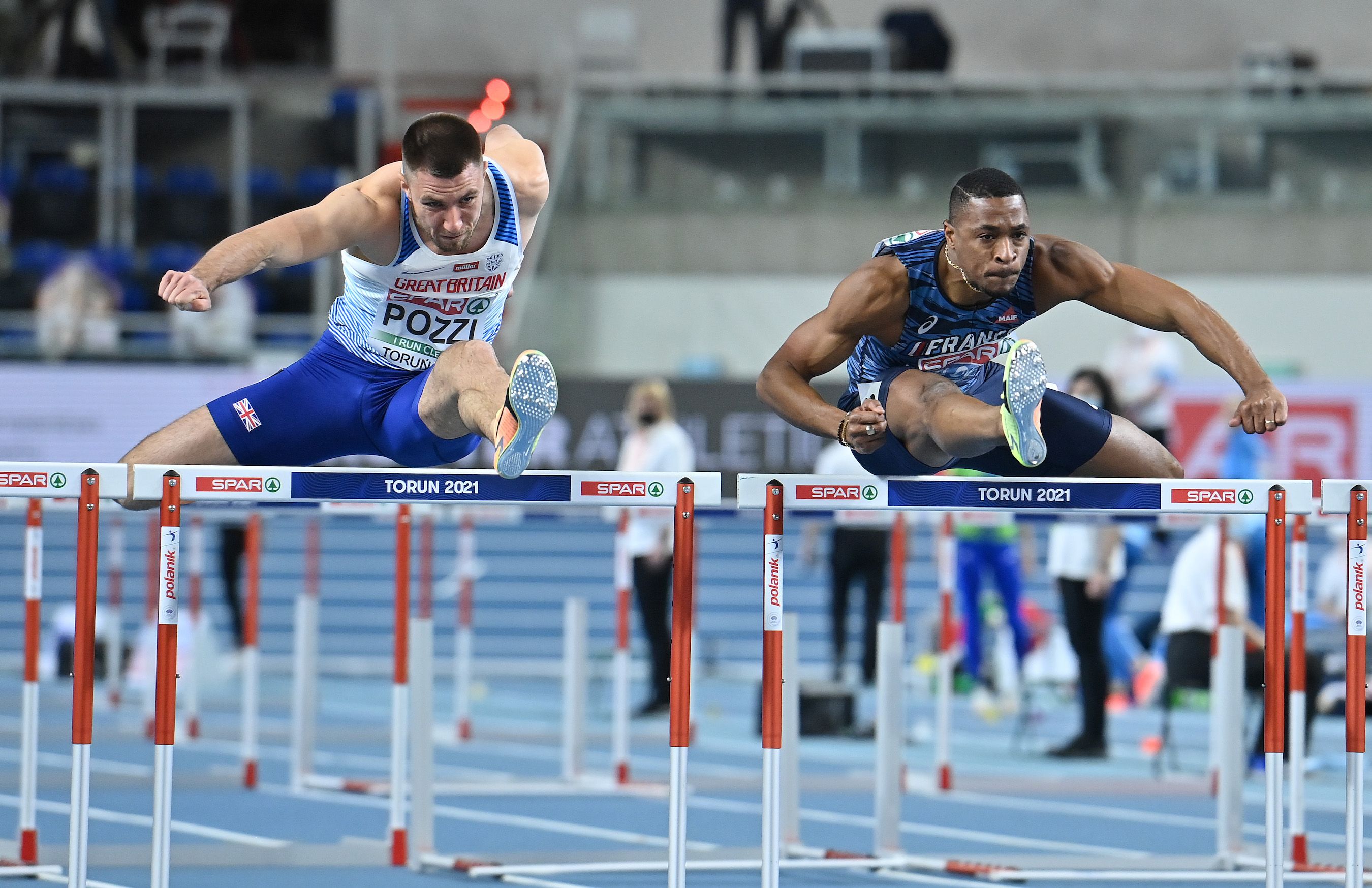 Running side-by-side in lanes five and six, the pair were virtually stride for stride from the gun until they cleared the final barrier before Belocian got the better of the Briton on the lean, clocking a 7.42 lifetime best. Pozzi's 7.43 equalled his lifetime best.
"To run a PB in the final is great," said Belocian, who arrived in Torun with a 7.45 personal and season's best. His performance tonight moved him to equal fourth all-time among Europeans.
In the women's contest, Nadine Visser successfully defended her title, pouncing to a visible lead by the second hurdle and adding to it as she skimmed over each subsequent barrier, clocking a 7.77 world lead. It was also a personal best for the 26-year-old, eclipsing the 7.81 Dutch national record she produced in the Madrid leg of the World Athletics Indoor Tour on 24 February.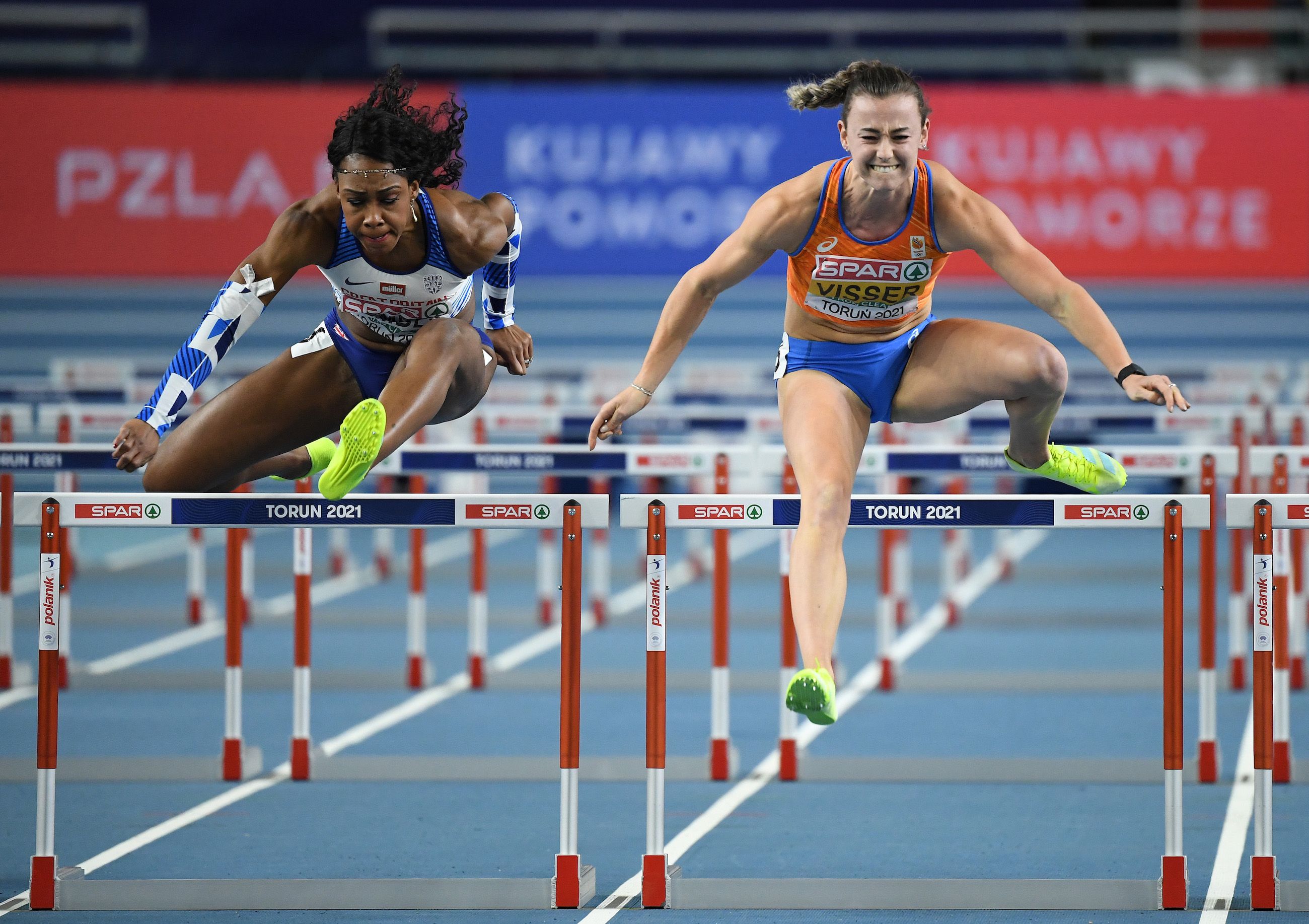 Cindy (Ofili) Sember fought her way onto the podium over the latter stages, clocking 7.89 to equal her career best and take silver. Her sister Tiffany Porter, a pharmacist by trade who has raced this entire indoor season wearing a mask, edged past Finn Nooralotta Neziri by a scant 0.01 to take bronze, in 7.92. The last time sisters shared a podium at these championships? In 2005, when Susanna and Jenny Kallur finished 1-2 in the same event.
Mayer takes heptathlon title No.2


Kevin Mayer dominated the heptathlon, tallying 6392 points, also a world lead, to win his second European indoor title.
The Frenchman began the day on pace to challenge his own European record of 6479 set at these championships in 2017. He remained on target after a solid 7.78 clocking in the 60m hurdles - 0.10 better than in his competition four years ago - but a clearance of just 5.20m in the pole vault - Mayer's season's best is 5.40m and lifetime best is 5.60m - put those record ambitions out of reach. He then capped the day coasting to a 2:45.72 run in the 1000m to win by more than 200 points over Spain's Jorge Urena, the defending champion who tallied 6158. Pawl Wiesiolek of Poland put together a fine performance on home turf to collect 6133 points, a personal best to nab bronze.
Switzerland's Simon Ehammer, second behind Mayer after the first day, was just 0.04 behind Mayer in the hurdles, but no-heighted in the pole vault to bring a disappointing end to first appearance at a senior championships.
Nedasekau tops 2.37m


Another world lead came courtesy of Belarusian Maksim Nedasekau who topped 2.37m to triumph in the high jump. The 23-year-old, who took silver at the continental championships outdoors in 2018, took the lead from Gianmarco Tamberi with a first attempt clearance at 2.33m but the Italian took command at the next height, topping 2.35m on his second attempt. After missing twice at that height, Nedasekau passed to 2.37m. He grazed the bar on his way down but it stayed up, securing him the victory with an absolute lifetime best.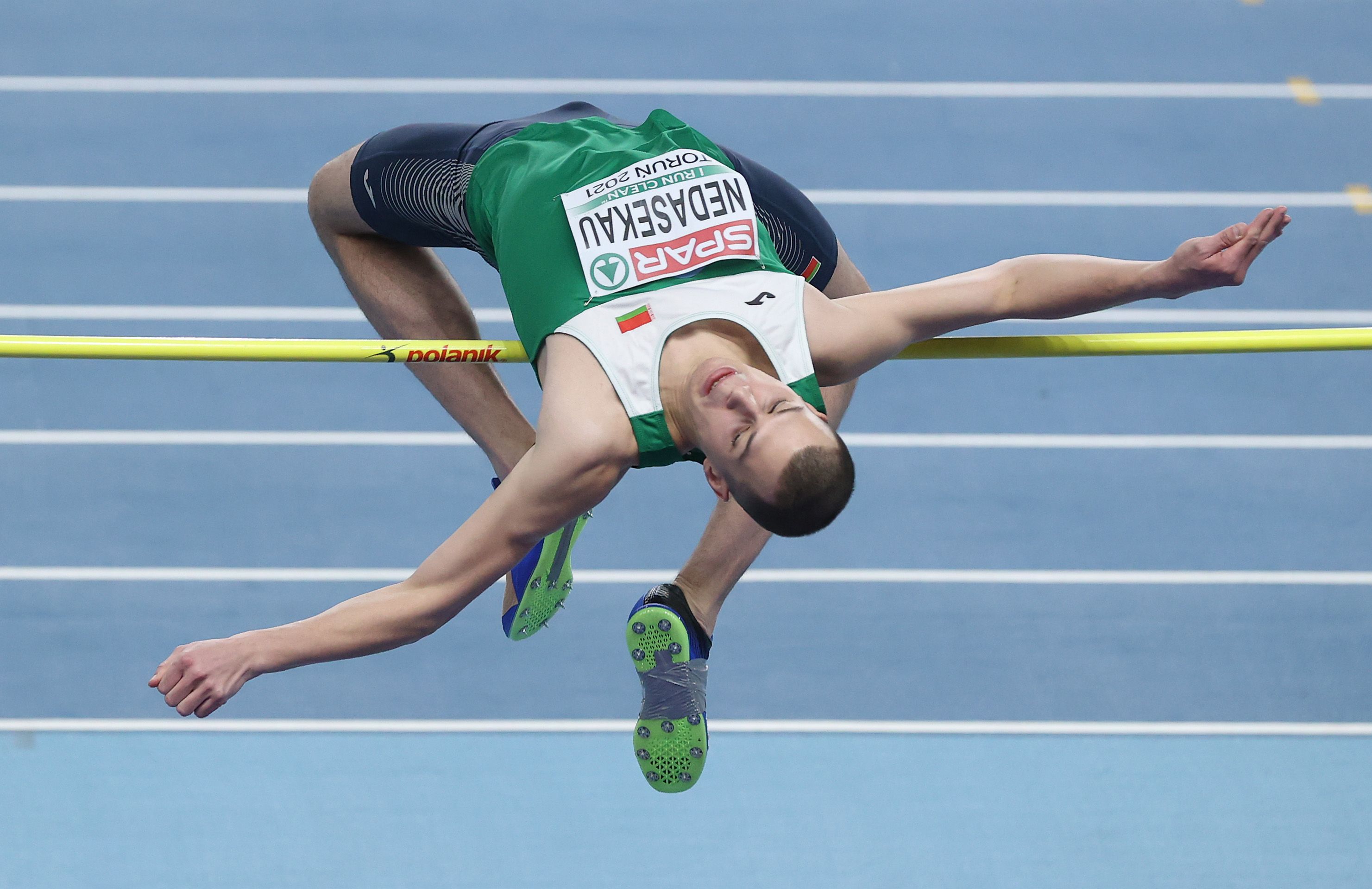 Tamberi, the champion in 2019, produced one decent attempt at 2.37m but had to settle for silver with Thomas Carmoy of Belgium taking bronze on countback over German Tobias Potye at 2.26m.
The women's title went to world leader Yaroslava Manuchikh, who secured the win with a first attempt clearance at 2.00m. The 19-year-old went on to close the competition with three tries at 2.07m, the third coming tantalisingly close.
Her compatriot Iryna Herashchenko topped a 1.98 personal best to take silver with Finn Ella Junnila clearing a 1.96m national record to take the bronze.
Another 19-year-old, Keely Hodginson of Great Britain, produced a strong display of front-running to take the 800m crown. Hodginson, who broke the world U20 record with a 1:59.03 performance in January, took the lead less than 200 metres into the race and held off Poland's Joanna Jozwik's late race challenge to win in 2:03.88 to become the youngest winner of this event at a European Championships.
Jozwik was second in 2:04.00 with teammate Angelika Chichocka third, another 0.15 back.
The men's title did go to Poland with Patryk Dobek leading a 1-2 finish for the host nation with a 1:46.81 career best, ahead of Mateusz Borkowski (1:46.90) and Briton Jamie Webb (1:46.95).
Triple jump titles for Portugal


Both triple jump titles went to Portugal courtesy of Patricia Mamona and Pedro Pablo Pichardo.
On the women's side, just one centimetre separated the top three finishers which came down to the proverbial wire.
Things came to life in the third round when Mamona reached a 14.53m national record. Neele Eckhardt of Germany hit a 14.52m personal best in that round as well, but was bumped into bronze by Spaniard Ana Peleteiro who sailed 14.52m in the final round to get the nod on countback.
In the men's competition, Pichardo took command in the opening round, reaching 17.30m, a mark that ultimately held on to land him his first European title. The 27-year-old was the only man to reach the 17-metre mark until the final round when first, Max Hess of Germany flew 17.01m to snare the silver medal position from Alexis Coppelo, only for the Azerbaijani to wrestle it back with a 17.04m leap on his last attempt.
The competition concluded with back-to-back 4x400m relay victories for the Netherlands, first for the men, who fought off Czech Republic and Great Britain in 3:06.06 followed by the women, who sped to a 3:27.15 competition record, more than a second clear of Great Britain.
Bob Ramsak for World Athletics