Hellen Obiri wins the 41st Great North Run half marathon (© North News)
Brilliant wins by Hellen Obiri and Jacob Kiplimo shone through a necessarily subdued day at the Great North Run half marathon from Newcastle to South Shields on Sunday (11).
Presentation and coverage was pared back just three days after the death of Queen Elizabeth II, and it was fitting that both titles went to runners from nations of the Commonwealth.
Obiri successfully defended her title with the best kick, but she also ran from the front. Instantly it was Kenya versus Ethiopia, with Obiri and Peres Jepchirchir followed by Almaz Ayana and Hiwot Gebrekidan. The latter was dropped as the course went downhill and the tempo dipped below five minute miling, 10km being passed in 31:41.
Gebrekidan gradually pulled back and rejoined the top three by 11 miles. The leaders were operating at sub-67-minute pace, but then slowed up as the top four ran cagily past the shopfronts of Marsden village.
Obiri surged again after they turned on to the coastal road with the finish in sight, and the Ethiopians were broken. She won in 67:05. Jepchirchir also had no answer to her compatriot's sprint, but was pleased with second spot in 67:07. Ayana in third (67:10) continued her comeback with her fastest ever half marathon.
British athletes placed fifth and sixth, with track star Amy-Eloise Markovc setting a notable debut mark of 71:12, just behind Charlotte Purdue. The winner, under the guidance of Dathan Ritzenhein, will now prepare for a marathon debut in New York.
Kiplimo, like Obiri, was always in control of the men's race. He, Selemon Barega and Kenenisa Bekele broke clear after five miles and passed 10km in 28:54. By then, the trio were flying down the fastest part of the course in South Tyneside.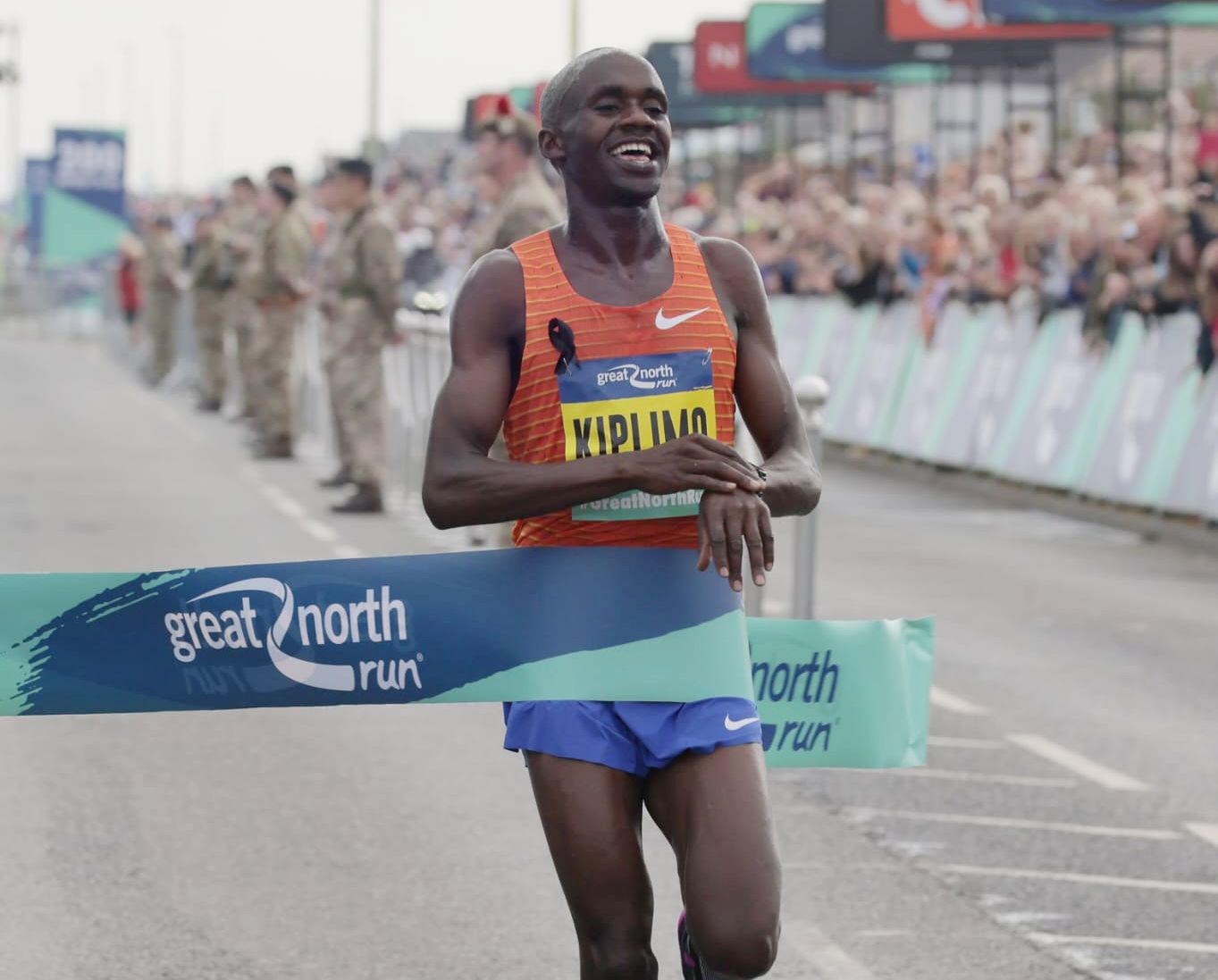 Jacob Kiplimo wins the 41st Great North Run half marathon (© North News)
Bekele, now 40, was dropped. Barega edged in front after seven miles, but it wasn't decisive.
"I wanted to raise the pace," Kiplimo explained, and he did so with a 13:50 5km to 15km (42:44). Barega (42:46) was not beaten at that point, but was then no match for when the Ugandan barely slowed (to 13:54) for his next 5km.
A winning margin of more than a minute was built up. Not surprising considering Kiplimo was ticking off miles of 4:30s compared with the 4:50s of his closest challengers. He became the first Ugandan winner of this race, running 59:33, while Barega clocked an excellent 60:39 on his debut at the distance.
Bekele held off Suguro Osako for third spot. His 61:01 was 20 seconds short of Haile Gebrselassie's age 40 best from 2013. In eighth place, William Amponsah clocked 63:15, by far the fastest half marathon by a Ghanaian.
The Great North course, though certified, is not eligible for records, with an elevation loss of 30.5m and a start/finish separation of more than 75%. There were more than 41,000 starters.
Mark Butler for World Athletics
Leading results
Women
1 Hellen Obiri (KEN) 1:07:05
2 Peres Jepchirchir (KEN) 1:07:07
3 Almaz Ayana (ETH) 1:07:10
4 Hiwot Gebrekidan (ETH) 1:07:22
5 Charlotte Purdue (GBR) 1:10:11
6 Amy-Eloise Markovc (GBR) 1:11:12
Men
1 Jacob Kiplimo (UGA) 59:33
2 Selemon Barega (ETH) 1:00:39
3 Kenenisa Bekele (ETH) 1:01:01
4 Suguro Osako (JPN) 1:01:05
5 Brett Robinson (AUS) 1:02:06
6 Marc Scott (GBR) 1:02:28