Mariama Jamanka, Alexandra Burghardt, Laura Nolte and Deborah Levi celebrate their Winter Olympic medals (© Getty Images)
In the afterglow of the Winter Olympics, World Athletics is taking the opportunity to celebrate a select group of athletes who used their background in track and field as a launching pad to shine on a different sporting stage in Beijing.
Those who stepped on to the Winter Olympic podium in Beijing include former decathlete Thorsten Margis, who won two gold medals in bobsleigh and carried the German flag in yesterday's closing ceremony; both Germany's gold and silver medal-winning teams in the two-woman bobsleigh; and Australia's skeleton silver medallist Jackie Narracott, who began her career as a sprinter and jumper.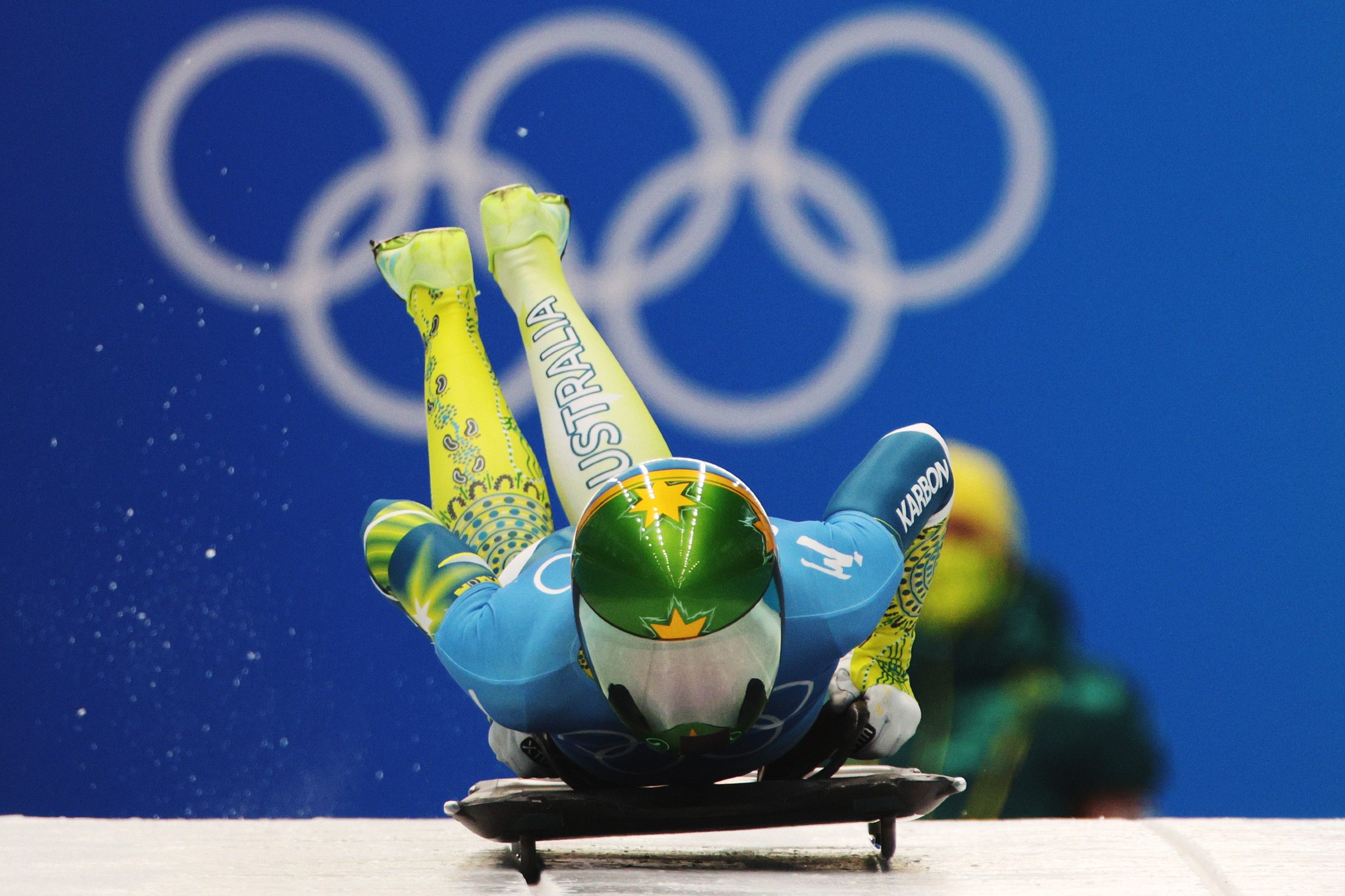 Jackie Narracott in the skeleton (© Getty Images)

Many Tokyo Olympians have yet to return to competition this year, but German sprinter Alexandra Burghardt has not only returned, she has taken up a new sport and won an Olympic medal, all within seven months.
Burghardt raced in the 100m and 4x100m in Tokyo, and despite only taking up the bobsleigh in September, she found herself on an ice track in Beijing and has emerged after her 'winter break' from athletics as an Olympic silver medallist.
The brakewoman teamed up with pilot Mariama Jamanka – herself a former discus and hammer thrower – to finish second in China. Their compatriots Laura Nolte and Deborah Levi won gold, with 23-year-old Nolte becoming the youngest ever bobsleigh pilot to claim an Olympic title in the event.
"We're over the moon," said Burghardt after her medal win with Jamanka. "This medal means so much to both of us. We both got rewarded for years of hard work and our brave decision to form a duo only a couple of months before the Olympics."
Despite her winter sport success, the sprinter remains focused on her athletics career.
"I will decide in the next few days whether I'm running the national indoor championships (26-27 February) or not. But first we're going to celebrate!"
Like Burghardt and Jamanka, Nolte and Levi also both have a background in athletics. Nolte trained as a sprinter for BV Teutonia Lanstrop and Levi competed at national level and achieved her 100m PB just last year. Fourth-placed pilot Kim Kalicki used to compete in the sprints and long jump, while her brakewoman Lisa Buckwitz is a former heptathlete.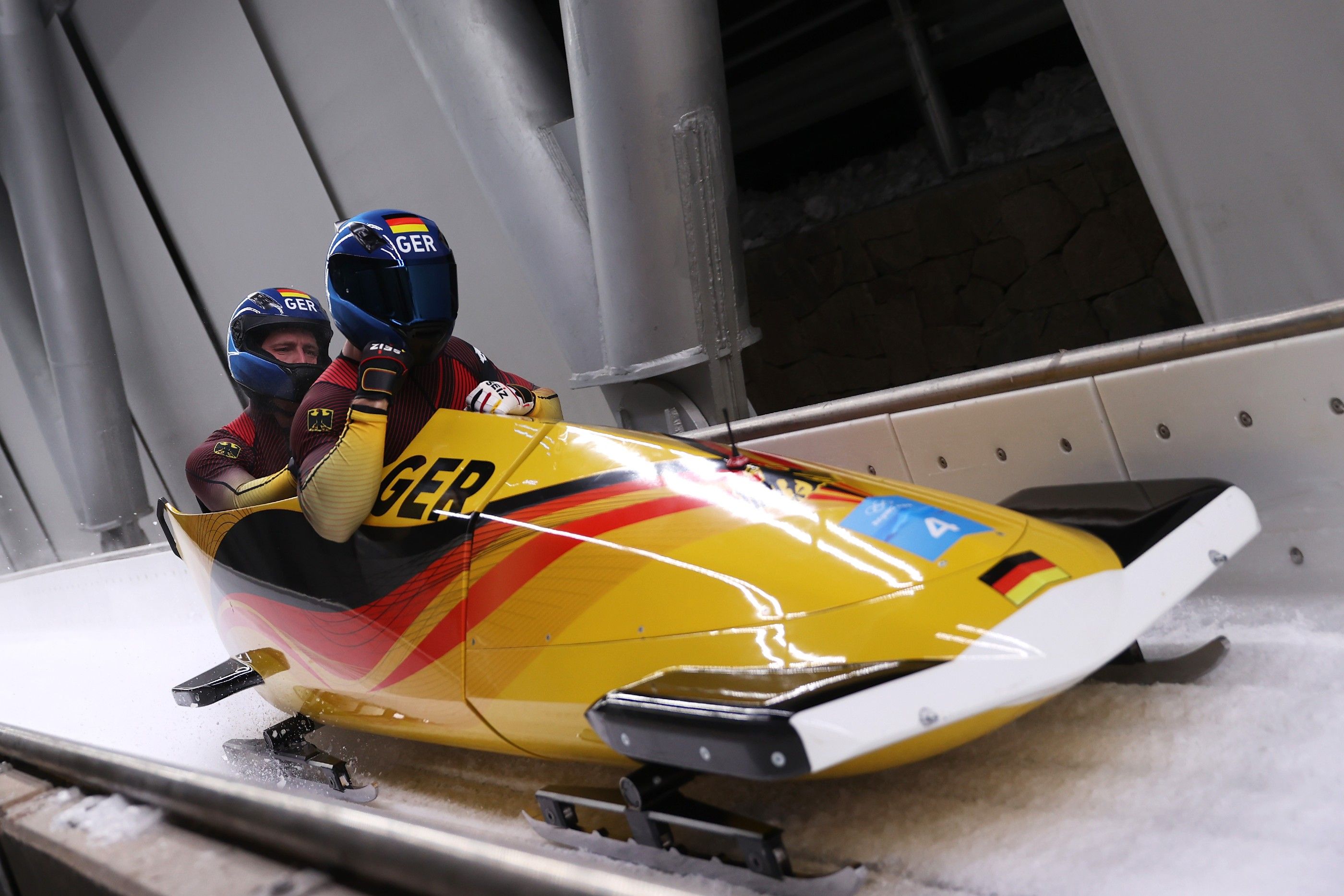 Thorsten Margis and Francesco Friedrich celebrate their win in the two-man bobsleigh in Beijing (© Getty Images)

Meanwhile, Australian former 400m hurdler and sprinter Bree Walker has mastered both piloting and pushing since her athletics career and competed in the monobob and two-woman bobsleigh in Beijing, finishing fifth in the individual event and combining with former heptathlete Kiara Reddingius in the team event.
US sprinter and high jumper Kaysha Love was the brakewoman for Kaillie Humphries in the two-woman bobsleigh, as the pair finished in seventh, and Britain's 2008 Summer Olympian Montell Douglas returned to Beijing to race in the two-woman bobsleigh with her pilot Mica McNeill, a former discus thrower. Along with Douglas and McNeil, Britain's squad also included 17.17m shot putter Adele Nicoll and 10.24 100m sprinter Greg Cackett.
World Athletics