Toshikazu Yamanishi and Antonella Palmisano
As this extraordinary year draws to a close, we look back at the key moments of 2020 in each area of the sport. The series continues today with a review of race walks.
Who knew what lay around the corner when Yusuke Suzuki blew away cobwebs on New Year's Day with a swift 20km in Tokyo?
It was the 68th edition of the race, and the world record-holder, who won in 1:20:01 was little challenged by runner-up Motofumi Suwa finishing 48 seconds behind.
In fact, when it came to superlative performances in the strangest of years, Japanese race walkers were little challenged by anybody.
Admittedly, the race walks programme was decimated; the World Athletics Challenge – Race Walking took a massive hit, but assuming the Tokyo Olympics finally gets a green light, the home nation men are going to be tough to beat.
Whether on road or track, there was immense strength in depth as witnessed on a chilly February day at the Japanese Championships in Kobe. Toshikazu Yamanishi became the only race walker to dip under 1:18:00 four times when he broke the tape in 1:17:36.
In doing so, the bespectacled world champion denied Eiki Takahashi a sixth straight win, and at the time led the world rankings for an incredible 47 weeks. The first four went under 1:20:00, and 55 got under 1:30:00.
A month later at Nomi City, the downscaled All-Japan race saw Koki Ikeda going for broke over the final 500m to come home in 1:18:22 (last 5km in 19:23); second was Takahashi in 1:18:29 and third, a weary Suzuki in 1:18:36. Relative newcomer Yuta Koga was fourth in a massive personal best of 1:18:42.
Practically every official and spectator sported a face mask as a sign of things to come.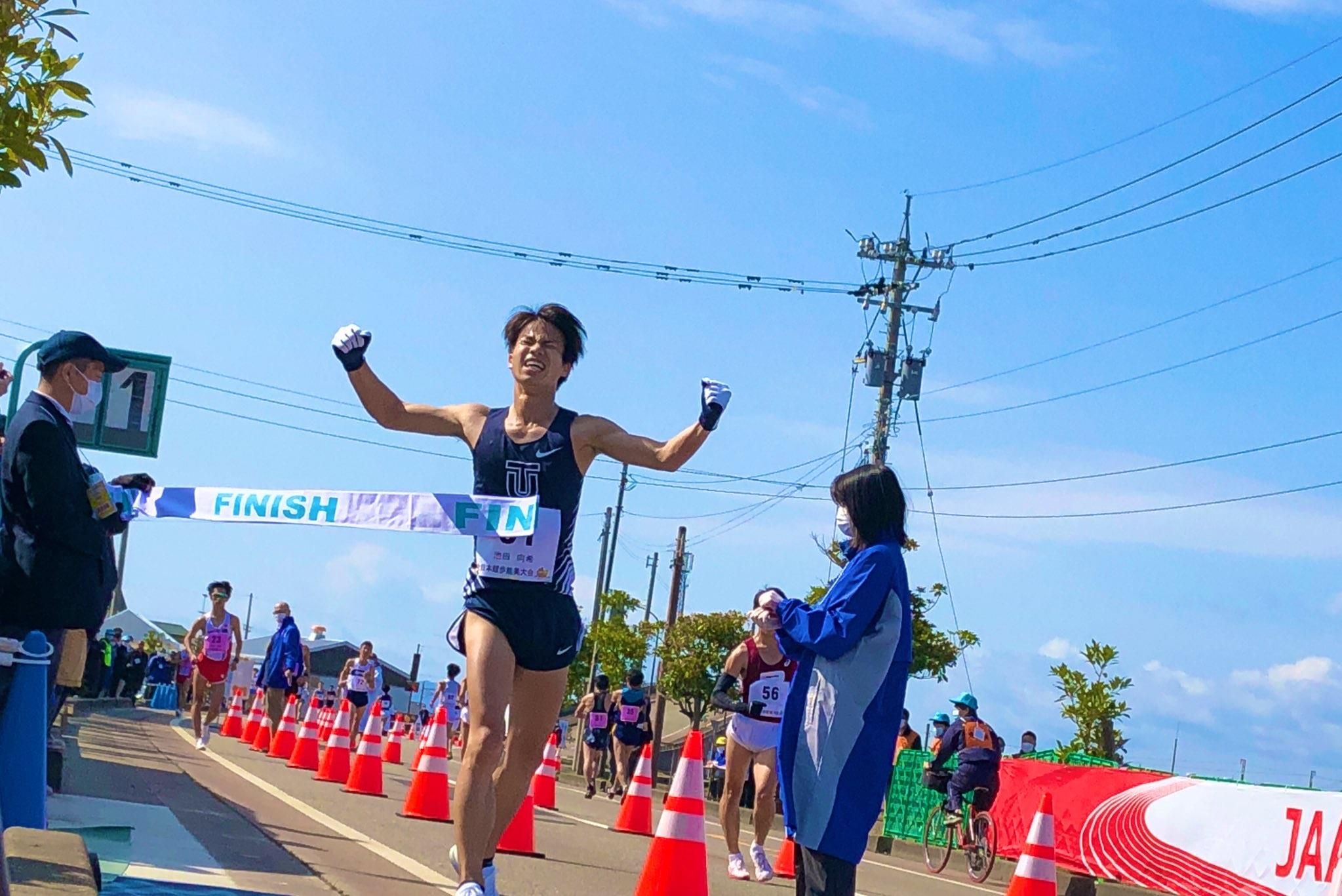 Fast forward to November and the Juntendo Meeting at Inzai in Japan, and Takahashi produced an eye-watering 37:25.21 for 10,000m on the track, with Ikeda less than a 10th of a second behind. Koga was third, in 37:35.00.
Takahashi's time shattered the previous world best of 37:53.09 held by Francisco Fernández set in 2008, and needless to say was a massive improvement by more than a minute on Takahashi's previous best from 2018.
The sprinting pair's last lap was 1:20.0 and the slowest was 1:31.8 on lap 22. To put that into context, even the slowest circuit works out at about 2:36:00 marathon pace.
The year 2020 was a bit like a doughnut: plenty at the edges, not a lot in the middle.
It started well enough for European Race Walking Cup winner Perseus Karlstom as he retained his Oceania 20km Open Championship in Adelaide on February 2. His 1:21:57 proved more than enough to beat Evan Dunfee (1:22:32), with home-grown favourite Dane Bird-Smith equally a distance behind in 1:23:01.



And while some like the Swede were enjoying the sun, the indoor scene brought a slew of decent marks.
Tom Bosworth claimed a sixth consecutive British indoor 5000m title in Glasgow at the end of February in 18:20.97 to rewrite his own previous record by nearly eight seconds.
Callum Wilkinson is the major challenge to Bosworth's British dominance. The 23-year-old proved it in Dublin on a stormy day in September when he clocked 39:52.05 to break Ian McCombie's 31-year-old UK 10,000m record by 14 seconds. Then, 17 days later, Wilkinson cashed in on the coaching from 2013 world champion Rob Heffernan to clock a 20km PB in Alytus, Lithuania.
Ahead of him, Karlstrom was in winning mode again for 1:20:58. Ivan Losev (Ukraine) claimed second in 1:21:10. The bronze went to compatriot Nazar Kovalewnko just two seconds back, and Wilkinson was hot on their heels for 1:21:21.
In Turkey, Salih Korkmaz recorded 19:13.59, and in February lopped more than a minute off his 20km personal best to record 1:19:31 in Antalya. It further underlined the emergence of his country as a race walking force.
In France, Gabriel Bordier clocked a speedy 19:03.49.
In translation, there was a win for Francesco 'Lucky' at Ancona in the Italian Indoor Championships, but there was nothing lucky about Francesco Fortunato's dominant 18:50.22.
Outdoors, and at a distance that will feature at the World Athletics Championships Oregon22, Italians Federico Tontodonati clocked 2:34:55 at 35km in Grosseto at the end of January with Eleonora Giorgi first woman in 2:43:43.
In May, China hatched a novel idea as the pandemic took hold. It staged four major 10,000m races on the same day in different cities, with its top race walkers spread out, minus Olympic gold and silver medallists Liu Hong and Qieyang Shenjie.
The best results of the four came from Wang Kaihua, who, racing at altitude in Inner-Mongolia, notched 39:04.00 in front of Xu Hao (39:26.20).
The women's race was no less emphatic for 2017 world champion Yang Jiayu who stopped the clock at 42:00:40, with Liang Rui more than six minutes behind in 46:26:20.
If there is one country that also has the depth to take on Japan, it's their near neighbours.
June produced a surprise when Zivile Vaciukeviciute announced her retirement at just 24. Voted Lithuanian athlete of the year in 2019 when she also won the European Cup, she clearly thought that was as far as she wanted to go.
Compatriot Brigita Virbalyte was in a class of her own in Alytus in mid-September when she triumphed over 20km in 1:30:54.
Liu Hong is now 33 and something of a veteran in race walking terms. But anyone dismissing her Olympic chances in Sapporo is making a big mistake.
The multi-medallist racked up a winning 1:27:48 to come home in September's China Autumn Championships at Taian, modest by her standards, but she raced in 33C heat to go with interrupted training schedules. The world record-holder got the better of arch rivals Yang Jiayu and Qieyang Shenjie by a margin.
Talking of talented veterans, and in a very different and rainy October, 37-year-old Matej Toth prevailed for an impressive 50km world lead of 3:41:15 in Dudince, thus making him a four-time winner of the classic Slovakian race.
In fact, four went under the Olympic qualifying time with Poland's Rafal Augustyn (3:47:42), Ecuador's Andres Chocho (3:48:57) and Germany's Karl Junganns (3:49:45) following home the Olympic and 2015 world champion.



At the beginning of the same month, Samuel Gathimba was just as commanding when winning the Kenyan 20km title in 1:22:56 – nearly six minutes ahead of Simon Wachira.
Another race postponed from the spring brought yet another victory for Karlstrom, who appears to have effortlessly weaved his way through a difficult year.
This time the Swede broke the tape at the 88th edition of Podebrady Walking in the Czech Republic after biding his time in the early stages for 1:19:43, and close to the 1:19:34 he clocked in Kobe in February.
Italy's Matteo Giupponi recorded a PB of 1:19:58 for second, and France's Bordier was third in another PB in 1:20:19.
Antonella Palmisano splashed through the rain to take an early lead, reined back, and went again to get the better of Brazil's Erica de Sena and Ecuador's Glenda Morejon in 1:28:40, her fastest time since taking bronze at the 2018 European Championships. All three were comfortably under 1:30:00.
Palmisano enjoyed a sensational October. One week before her Podebrady triumph, she clocked a world-leading 21:00.0 over 5000m. Then, eight days after racing in Podebrady, she was back in action on home soil in Modena, winning the Italian 10km title in a national record of 41:28 – just 24 seconds shy of the world best for the distance and the fastest time in the world for 18 years.
One other challenge competition survived, albeit as a cut-down version, and postponed until December. The Around Taihu stage series was restricted to just hosts, China. Nonetheless, there were some swift times in the 15km race.
Zhang Jun won by 100 metres in 57:10 from Wang Kaihua, but it was the second 5km split that caught the eye. Zhang stepped on the gas to record 18:46 and pass 10km in 38:03. Needless to say, it gave him an unassailable lead.
The second race over 10km was much better as masked spectators were concerned. The winner was decided by photo finish, measured in hundredths of a second. 2012 Olympic champion Chen Ding got the benefit of technology over Jun: 38:17.224 to 38:17.310.
Jun recovered quickly from his 15km exertions, but Chen rolled back the years to hammer out a last kilometre in 3:39 and remind everyone that, at 28, he's still a force to be reckoned with.
There was sad news in a turbulent year when race walking lost four all-time greats.
Jordi Llopart succumbed to a heart attack in November, 30 years after he became Spain's first athletics Olympic medallist when taking 50km silver at the 1980 Moscow Games.
Almost straight after, Mexico mourned the death of Ernesto Canto at just 60 years of age. The 20km race walker won gold in the 1984 Olympics at Los Angeles.
Canto was track world record-holder at the time of his greatest success, and had triumphed at the inaugural World Championships the year before.
In mid-December, Great Britain's Paul Nihill also passed. He won silver at the Tokyo Olympics in 1964, gold at the 1969 European Championships, and claimed his first competitive race walk was the day World Athletics President Sebastian Coe was born: 29 September 1956.
Earlier in April, the race walker who headed Llopart into Moscow's Olympic stadium also succumbed. The gold won by Hartwig Gauder fought for space in a trophy cabinet that brought triumphs at world and continental championships for East Germany. He too passed prematurely at 65 after fighting heart problems for some years.
It was emblematic of a difficult time for race walking and athletics in general.
Paul Warburton for World Athletics