Ryan Crouser in training (© Justin Britton)
Here's the thing about the perfect throw: it doesn't exist. Not yet, anyway, and maybe not ever.
Ryan Crouser knows this, accepts it, and has learned to work around it. If there's one thing you realise as a two-time Olympic champion and the world record-holder in your event, it's that perfection is a place that must remain out of reach.
It's out there somewhere, he knows, requiring a freakish alignment of factors ranging from peak physical fitness – a state he reaches for about two weeks a year – to precise technical mastery, hitting a host of highly specific body positions and angles as he pirouettes around the circle, marrying the balletic grace of a ballerina with the raw strength and explosive power of a sumo wrestler.
Then there's the mental aspect, which, as Crouser puts it, is "always a challenge". His best throws, his biggest throws, are typically those when he thinks the least.
"The most important thing is getting out of your own way and letting it happen," he says. "Your mind is completely blank. You're almost in a trance."
There are many ways to break down the greatness of Crouser, but the best way to start is with some numbers.
The 29-year-old owns the four biggest throws of all time – his world record of 23.37m a whopping 25 centimetres better than anyone in history. He owns seven of the top 10 throws of all time, 20 of the top 30. Crouser is a 201cm (6ft 7in), 145kg (320lb) mountain of a man who chows down 5000 calories a day to maintain his hulking physique. In a golden era of men's shot putting, no one has thrown within half a metre of his season's best this year. In 2021, Crouser was 75 centimetres clear of his closest pursuer. In 2020, it was almost a metre.


Ryan Crouser, winner of the shot put at the US Championships (© Getty Images)

There is, however, one thing missing.
Crouser's athletic resume is already replete with a rake of records and medals, but he has – somehow – never a world title as a senior, either indoors or outdoors.
"It's been jokingly called a bit of a curse," he says. "So it'll hopefully be my year."
This month's World Athletics Championships Oregon22 will provide the perfect opportunity in what is, in more ways than one, a home meeting. It's where Crouser, an Oregon native, will search for his first ever gold medal at the event.
And it's where he'll continue his search, that ever-elusive search, for the perfect throw. The journey towards it has taken 20 years – and counting.


* * *

From Eugene, the journey to Redmond, Oregon, takes about two and a half hours by car, the road winding through the Willamette National Forest, alongside the McKenzie River, flanked all around by Douglas Fir – the tree that adorns the state licence plates of Oregon.
Redmond is a city of about 32,000 inhabitants, though outside its main street, which is littered with modern restaurants and hip coffee shops, it's a place that feels unmistakably rural. Its location, east of the Cascade Mountains, means it rains a whole lot less here than in Eugene or Portland – that natural barrier causing most threatening clouds to burst long before they reach Redmond. It's a place that attracts a population that enjoys a tranquil way of life – a blue-collar, down-to-earth, nice-to-meet-you folk who typify the best of USA's Pacific Northwest.
Redmond is also home to the family of the greatest shot putter in history.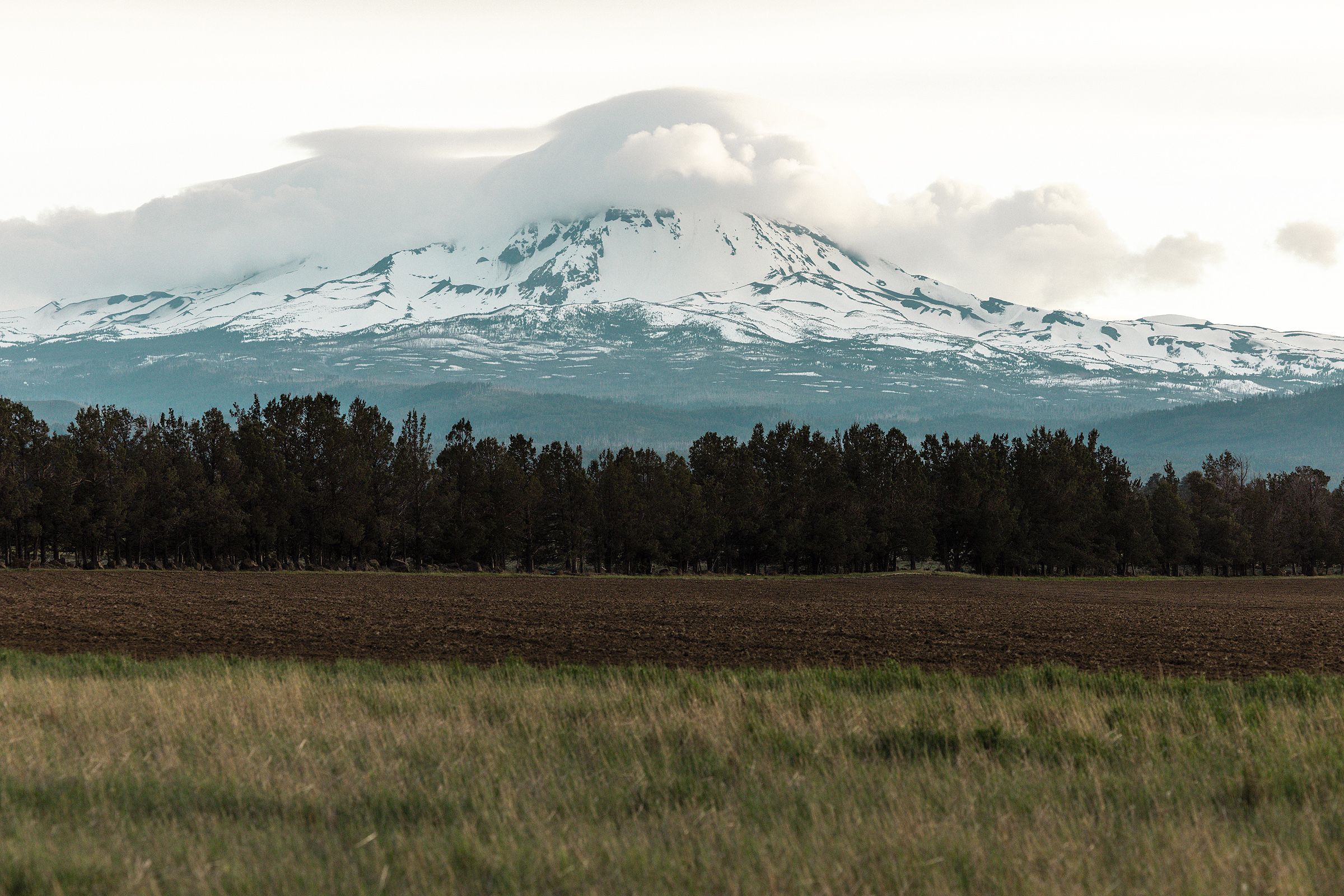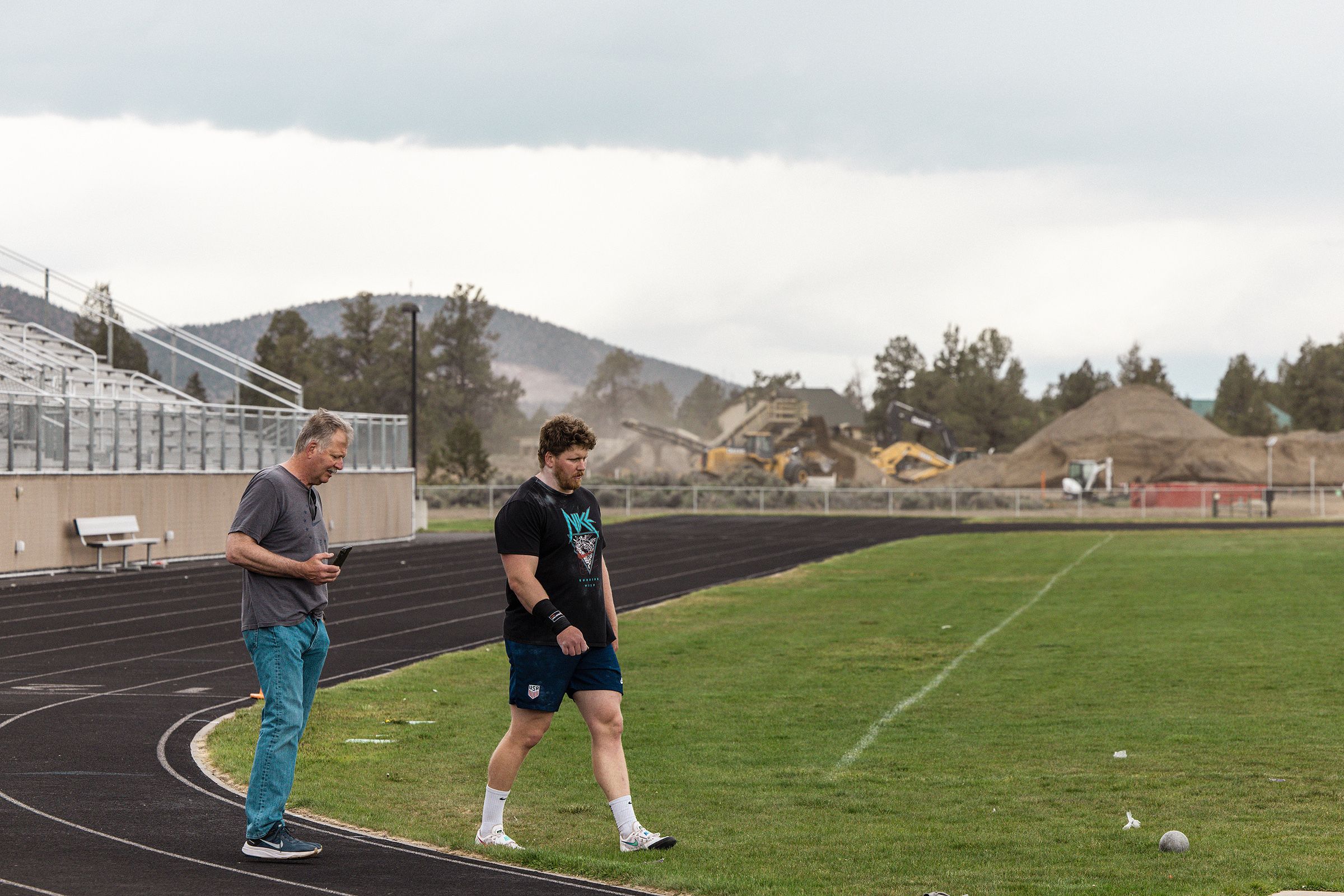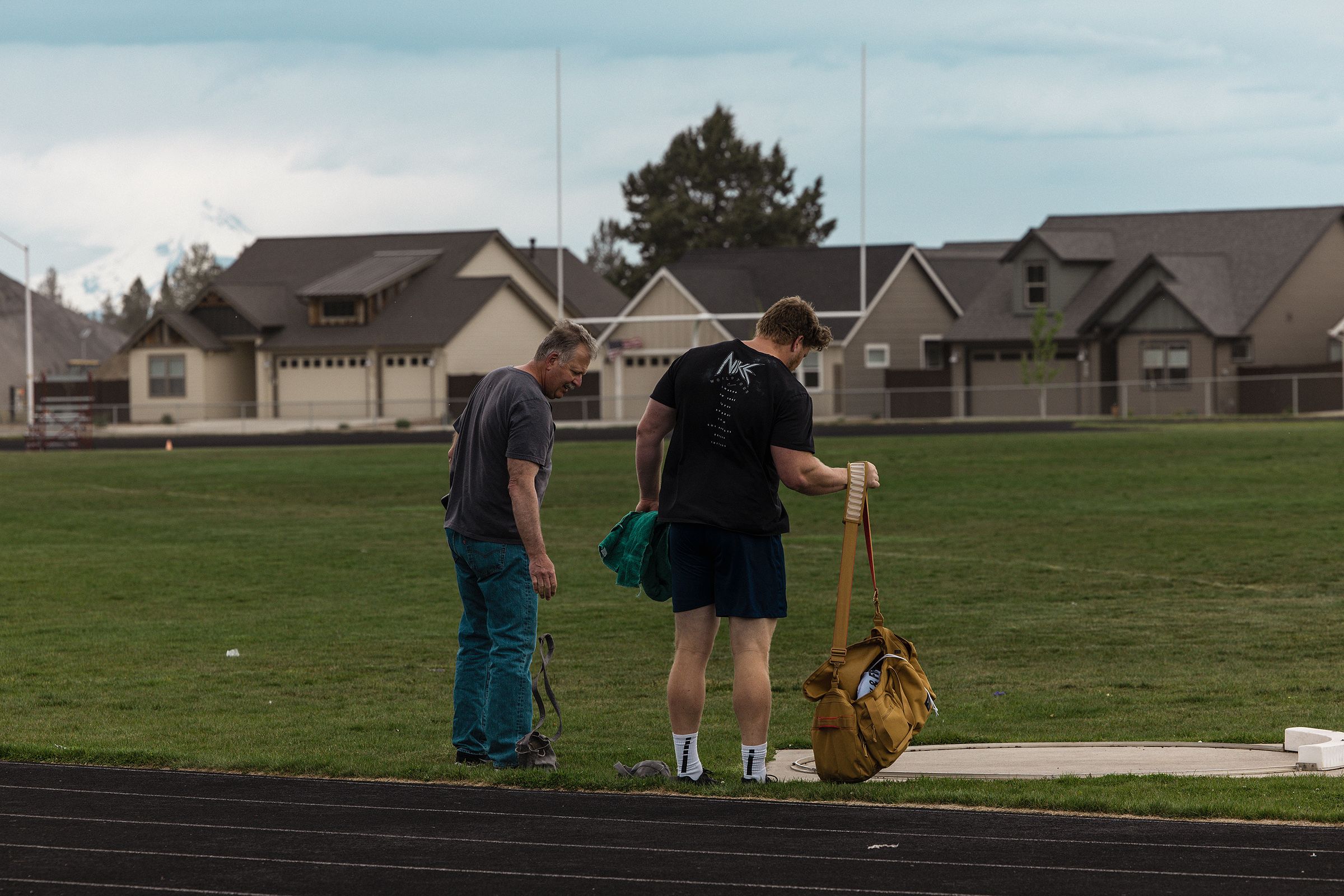 Ryan Crouser with his father Mitch (© Justin Britton)

It's a Thursday afternoon in late May, two days before the Wanda Diamond League meeting in Eugene, and Crouser has asked us to meet him at Ridgeview High School. These days, he's usually based in Fayetteville, where he still works as a volunteer assistant coach with the University of Arkansas, but every competition in Oregon gives him the chance to visit his family.
He arrives just before 4pm with his father, Mitch. The track is nearly deserted, save for a couple of high-school athletes, who hang around for an hour to get a photo with Crouser after his workout.
Crouser drops his gear by the shot put circle, then sets off on his warm-up, striding up and down the grass with surprising bounce for a man of his size. After some dynamic warm-up drills, he enters the throwing circle and begins going through his routine, a speaker alongside blasting out country music.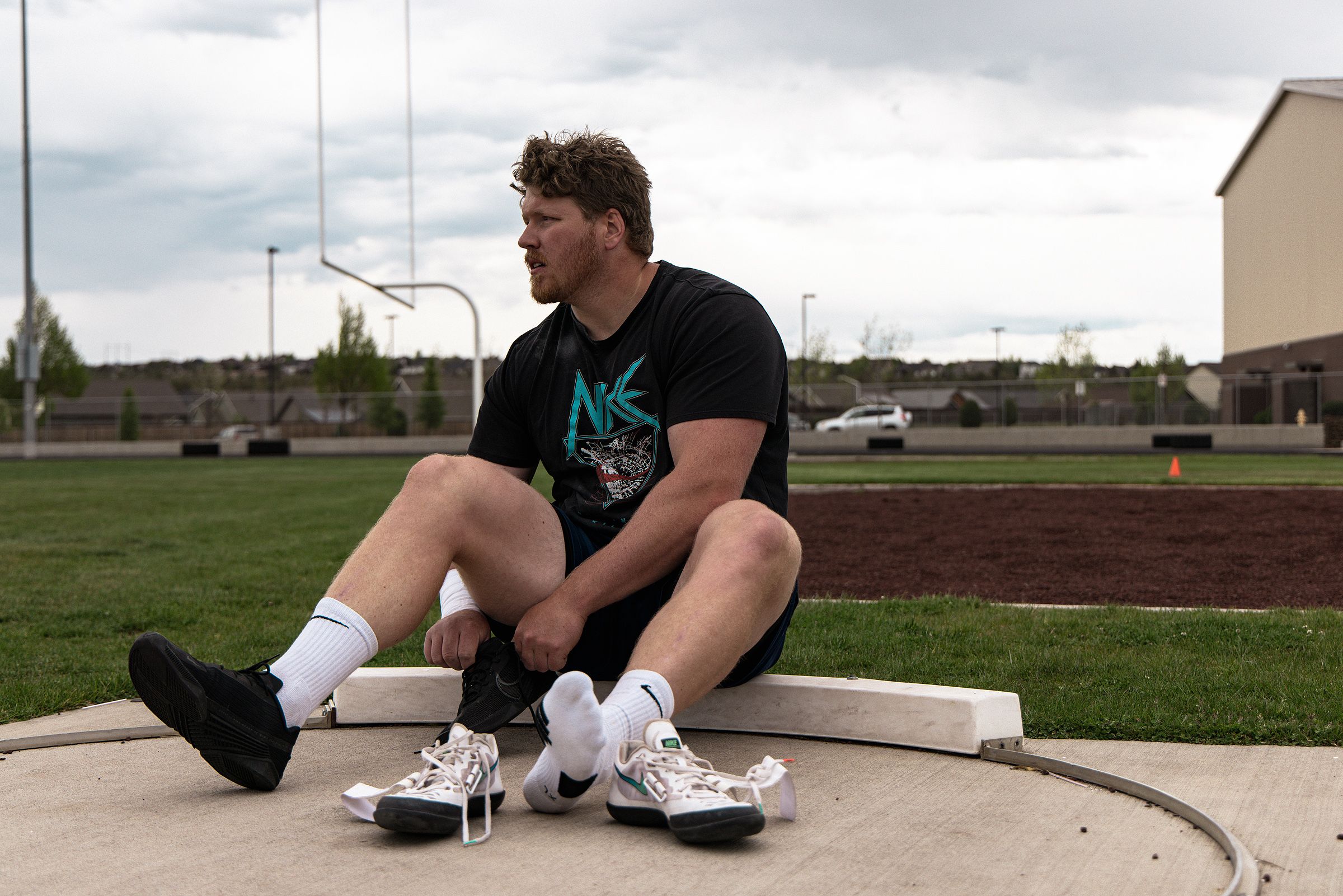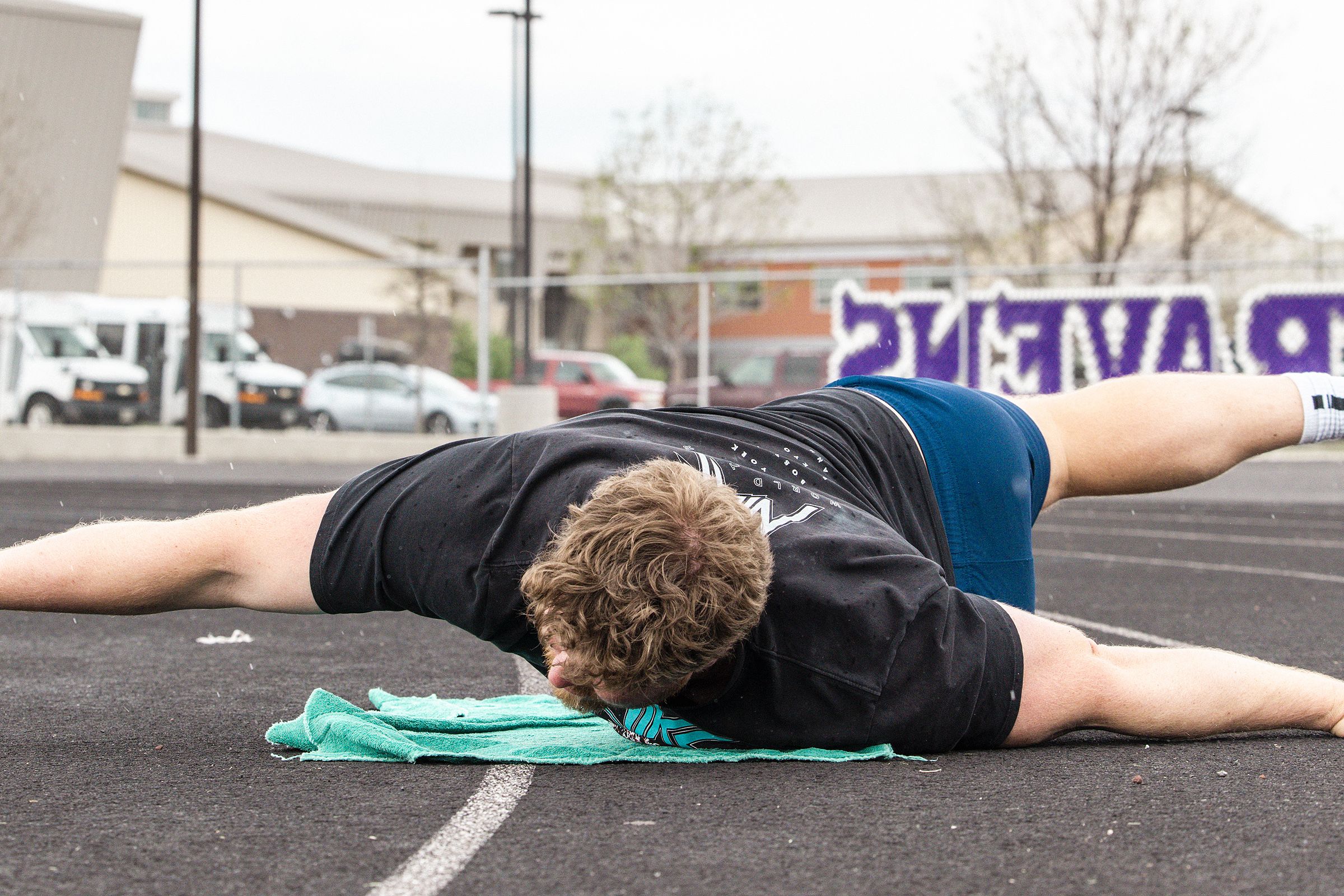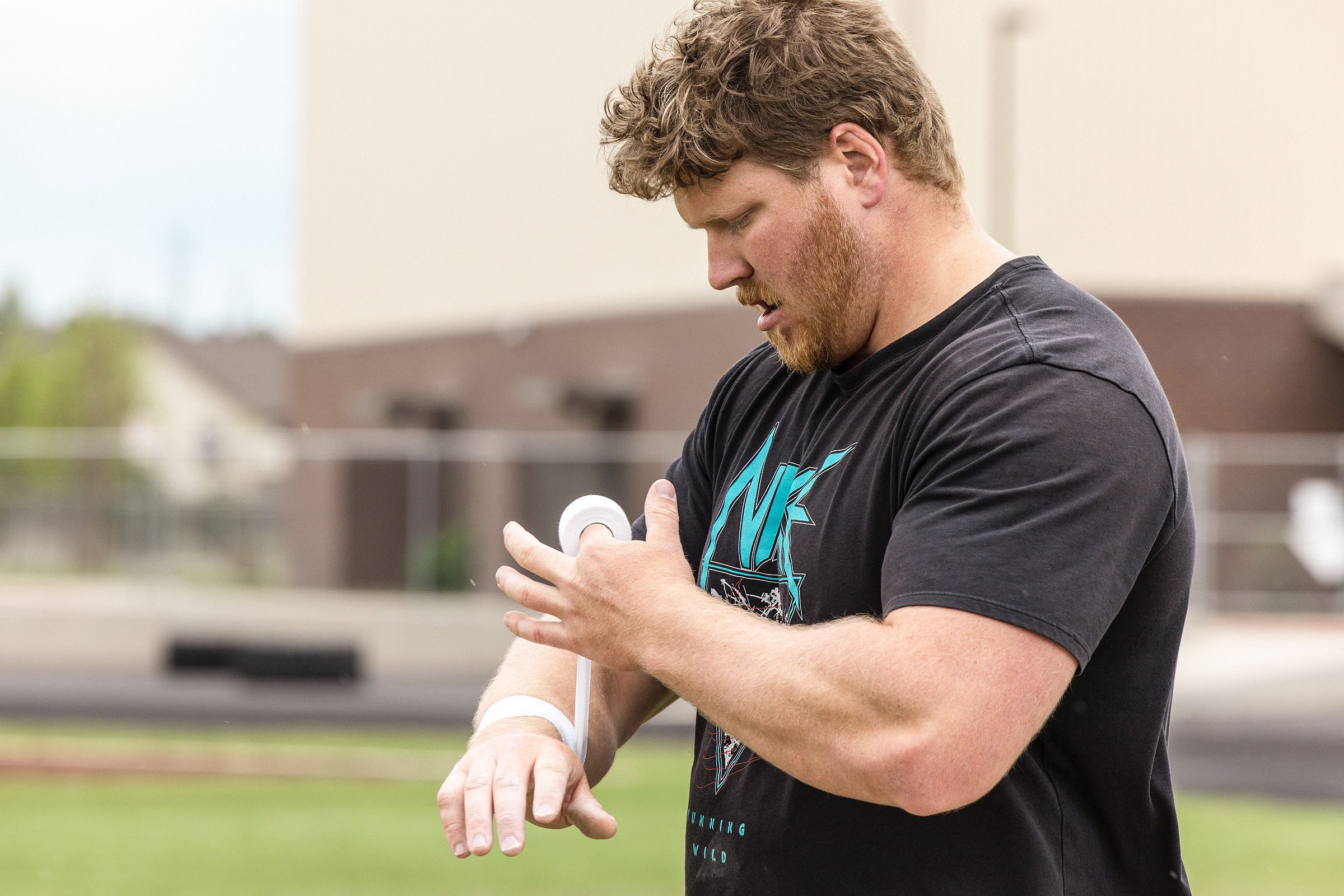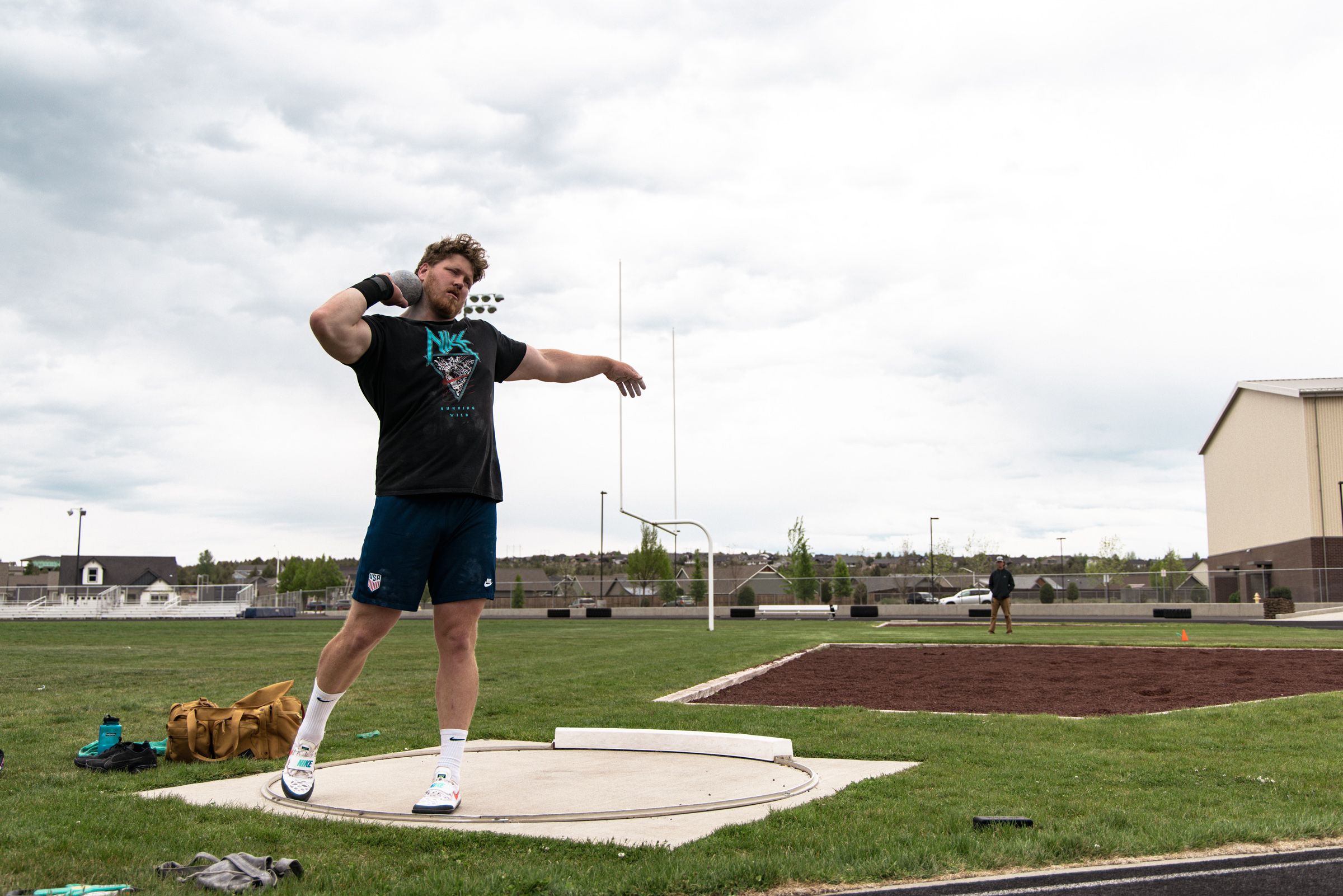 Ryan Crouser training in Oregon (© Justin Britton)

The throwing sector at the high school – about 18 metres long – was not built for men like Crouser, whose composed, sub-maximal efforts still sail three metres past the gravel, plunking down in the grass.
This has long been an issue for Crouser – an outlier among outliers.
He grew up in Boring, a rural community about 30km east of Portland, and played soccer, American football, baseball and basketball through his youth. Crouser was a tall, skinny kid, and he says he "looked more like a runner or high jumper" than a thrower for most of his teens. But when it came to throwing, whether it was balls or rocks, he "always had a really good arm."
He was a studious kid, "kind of a nerd", and was fascinated by space, his childhood dream having little to do with the Olympics: he wanted to be an astronaut. "But then I got way too big, and now I don't think anyone who's 6' 7'', 320 can fit in a space shuttle," he laughs.
He came from a family of accomplished throwers. Crouser's grandfather, Larry, was a javelin thrower who continued to compete while serving abroad in the Korean War in the early 1950s, throwing about 70 metres with the old wooden javelins, according to Ryan's father.
Larry had three sons – Mitch, Dean and Brian – who have a decorated list of achievements. Brian competed at the 1988 and 1992 Olympics in the javelin, throwing 95.10m with the old implement, while Dean was NCAA champion in the shot and discus, with a 65.88m personal best in the latter. Mitch, meanwhile, was a 67.22m discus thrower who was an alternate for the US Olympic team in 1984.
Dean's son, Sam – Ryan's cousin – was a two-time NCAA javelin champion who competed at the 2016 Olympics, while Dean's daughter, Haley, finished fourth in the javelin at the World U18 Championships in 2011 and threw a North American U20 record of 55.22m in 2012.
Whether it's nature or nurture, there's long been a sense of fate about the path Crouser took. After all, his father knew as much as there was to know about throwing, and he could see very early on that his son had something special.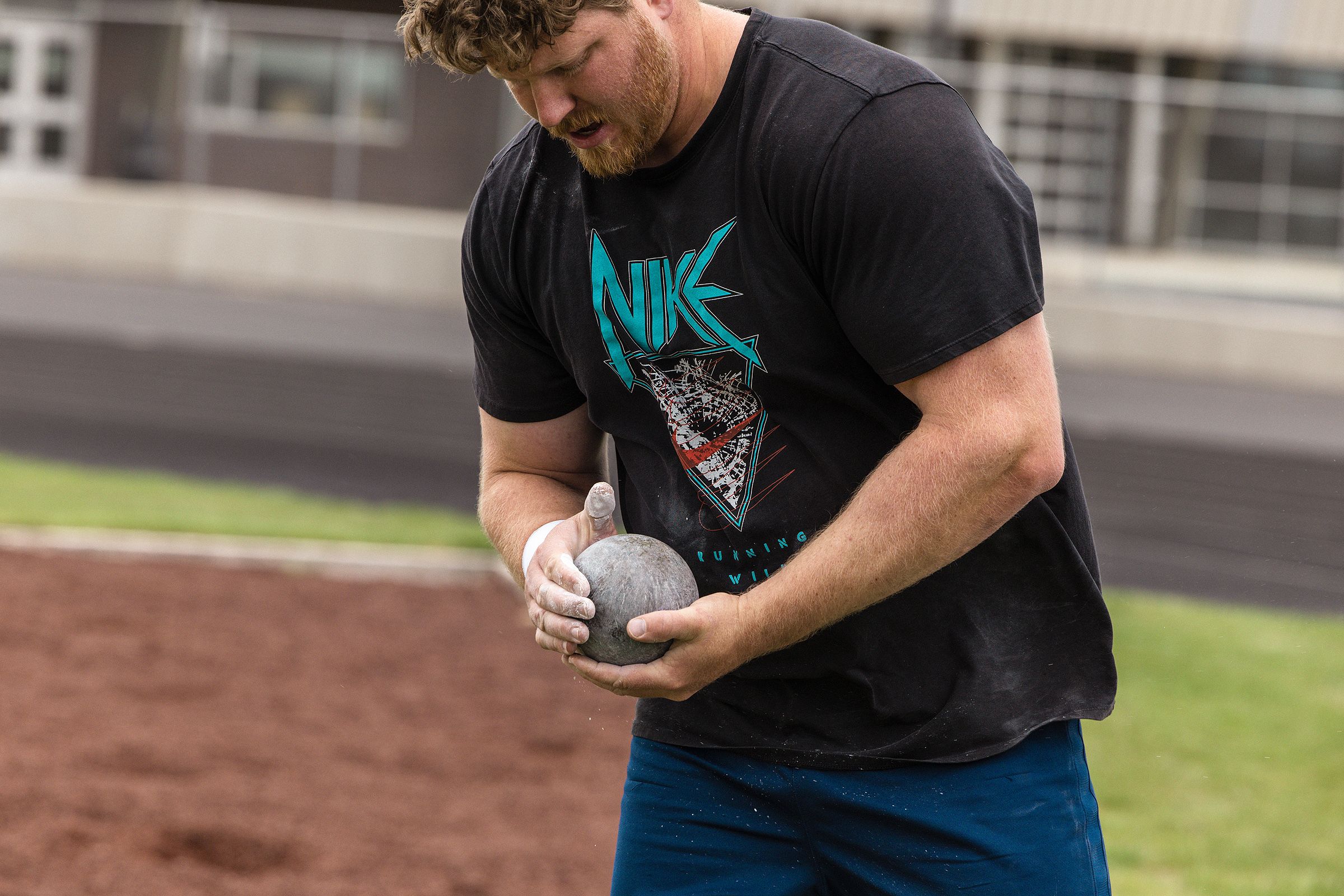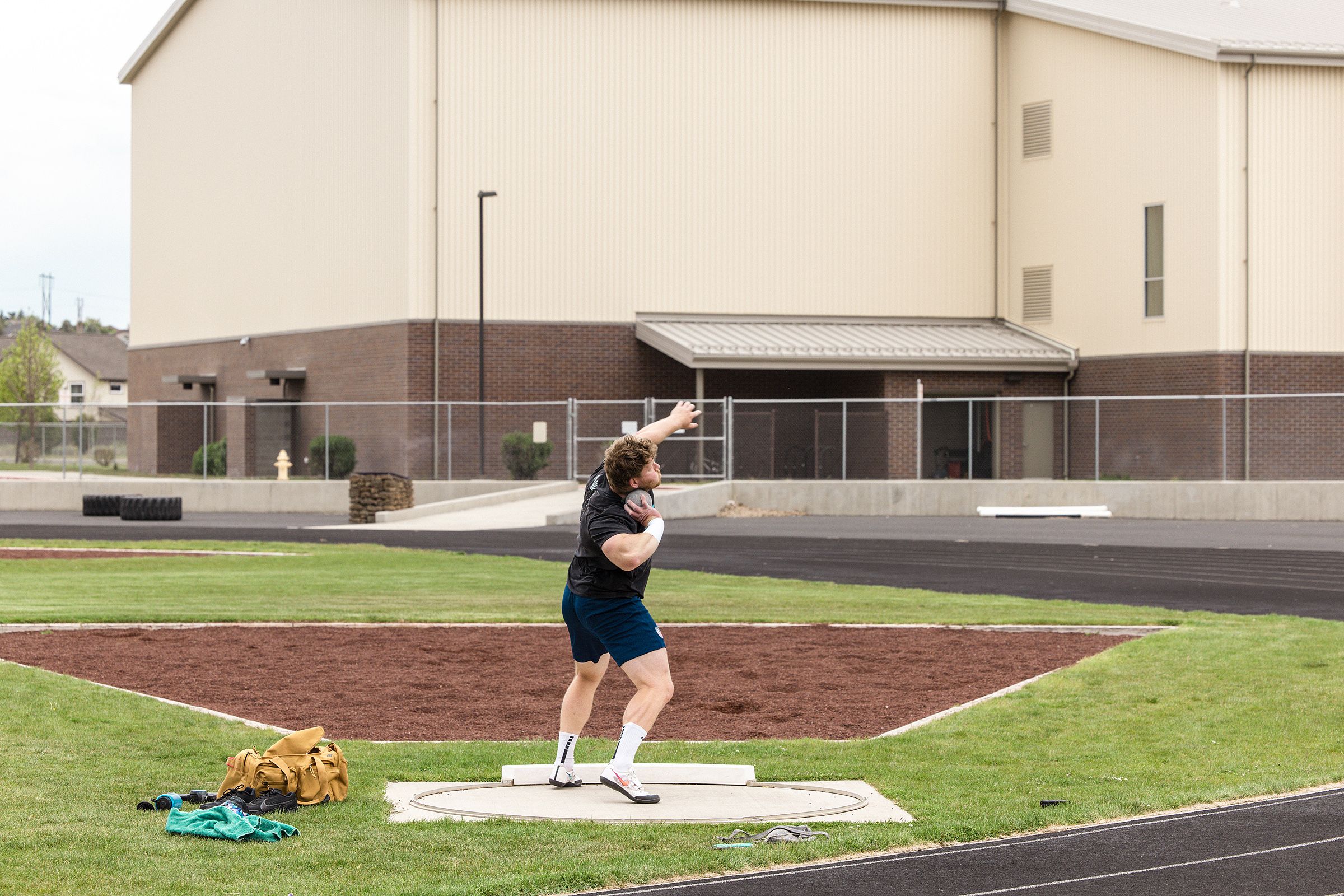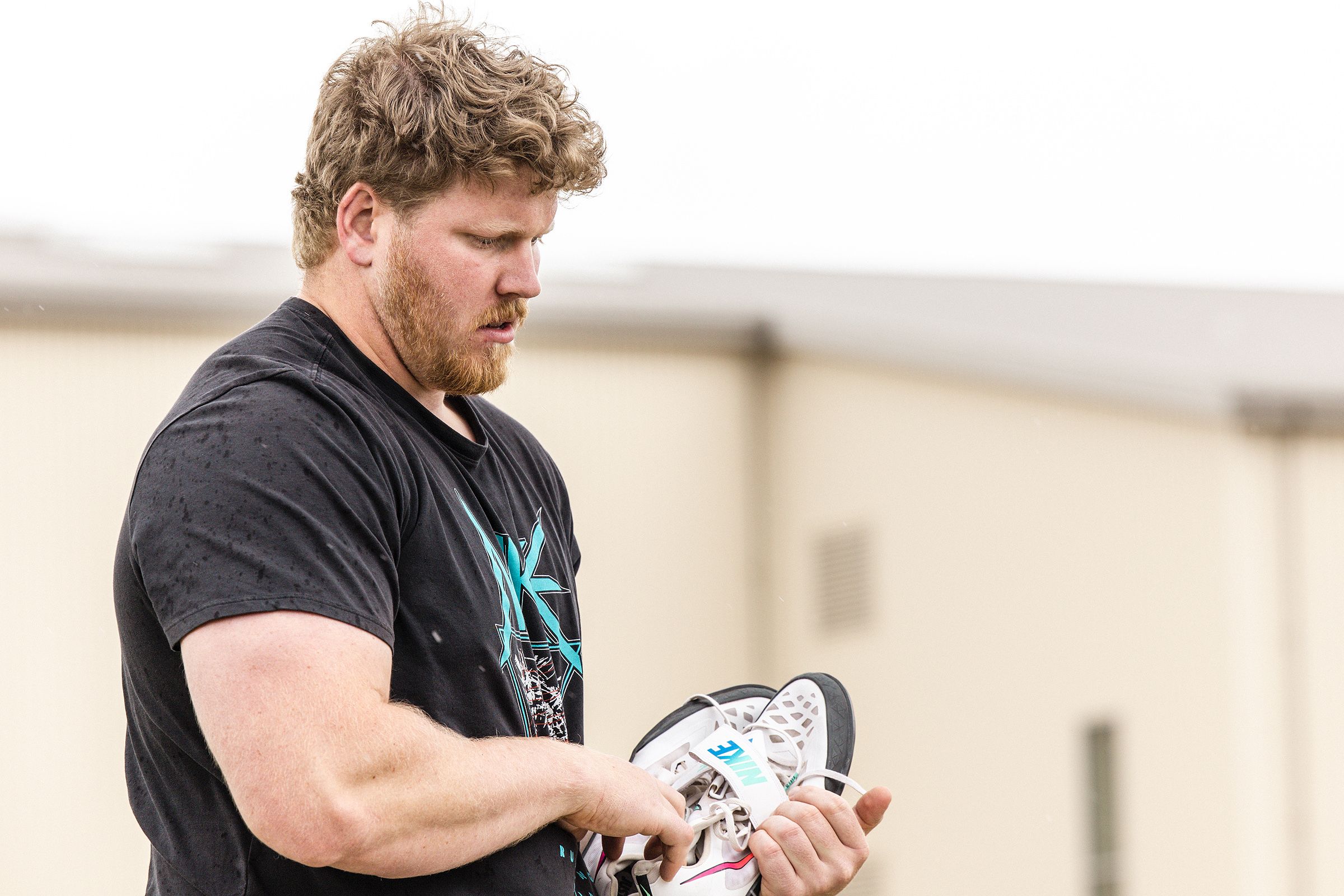 Ryan Crouser (© Justin Britton)

The first time Crouser tried the shot put was at his grandparents' house, where Larry's lawn had a concrete slab and a section of sand. You had to throw at least eight metres to reach the sand, which meant Crouser wasn't allowed to attempt it through much of his childhood. But by the time he was in eighth grade, the issue was more about the length of the sector. Crouser found himself hitting the fence, 18 metres away, before one day throwing it out of the sector and through the roof of his grandad's shed.
"I had to go back the next day to fix it," he says. "That was my last throwing session there."
For Mitch, there was one specific day when the depth of his son's talent truly dawned on him. Ryan was 13 at the time, and competing in the discus at a middle-school event. His father noticed a big storage container in the throwing sector, about 45 or 50 metres from the circle, and warned an official that his son might hit it.
"I've been doing this for 20 years, no one's ever hit it," the official told him. "I think we're safe."
Crouser scuffed his first throw, which skidded off the ground less than 30 metres away. "The guy sarcastically says: 'oh, he didn't quite hit it, did he?'" recalls Mitch. "I talked to Ryan. 'Do your next one nice and easy, just like a drill.' He hits it perfect, it goes out over the container, into the baseball field on the other side. They had figure out how to measure it. It was 60 metres, almost 200 feet, and that was the first sign for me that this was starting to turn into something that could be pretty crazy. This was 100 feet farther than what the other kids were throwing."
Mitch has coached a raft of young throwers over the years, and he knows the art of competing goes far beyond the physical. As such, he often played psychological games with his athletes, ending each practice by placing a number of small sticks in the ground. He started doing it with Ryan when his son was in middle school, getting him to imagine he was competing against Ulf Timmermann or Randy Barnes, the sticks representing their Olympic and world records, which he had to surpass with this one final effort.
Mitch played those games with other athletes, too, promising them ice cream if they could surpass the sticks. But not everyone handled such big-pressure moments the way Crouser did.
"They'd be crying if they didn't get it, the stress of it was breaking them," says Mitch. "But it was much less than I was putting on Ryan. All these games, through thousands and thousands of practices, I never realised at the time how much it was helping him. When he got to Rio, he'd never been an Olympian, but we played a lot of: 'Here's the Olympics. (Joe) Kovacs is here, (Tom) Walsh is here. You've got to do it.'"
Mitch laughs as he recalls an interview Ryan gave at those 2016 Games when he was asked, after winning gold with 22.52m, how it felt to beat Timmermann's Olympic record.
"It's funny, but I'd already done it thousands of times before," he said. "Those little sticks were always Timmerman or Barnes."


* * *

There's a thing that's not often talked about by Olympic champions, something gold medallists only really learn when they're on the other side. All their lives, they look to that achievement as the pinnacle, something that will fulfil them, and change them.
But most often it doesn't.
"It's when you wake up the next day," says Crouser. "You expect it to be different, but then you're still the same person. I don't want to call it a disappointment, but it's an adjustment in perspective because you build it up in your mind and, in reality, you're still the same person you were the day before. The outcome is fantastic, a beautiful thing, but the journey that got you there is what you should be celebrating."
Muhammad Ali once said a fight is won or lost "far away from witnesses – behind the lines, in the gym, and out there on the road; long before I dance under those lights."
Crouser's grandfather, Larry, always instilled a similar message in Ryan.
"He always said once you get to the competition, the hay is in the barn," says Crouser. "The preparation is where you win meets. In the next six or seven weeks, I'll be preparing myself as best I can for that moment. Even if I do lose, you know you prepared as best you could."
Larry passed away last July, shortly before Crouser departed for the Tokyo Olympics. Five weeks before his death, Ryan fulfilled a long-held ambition – for himself and the family – by breaking the shot put world record of 23.12m, which had stood to Barnes for the previous 31 years.
"I feel like there's two kinds of world records," says Crouser. "The one that surprises everyone and comes out of nowhere and the athlete is the most surprised. Then there's the one you get it and say, 'finally.' That's how it felt for me."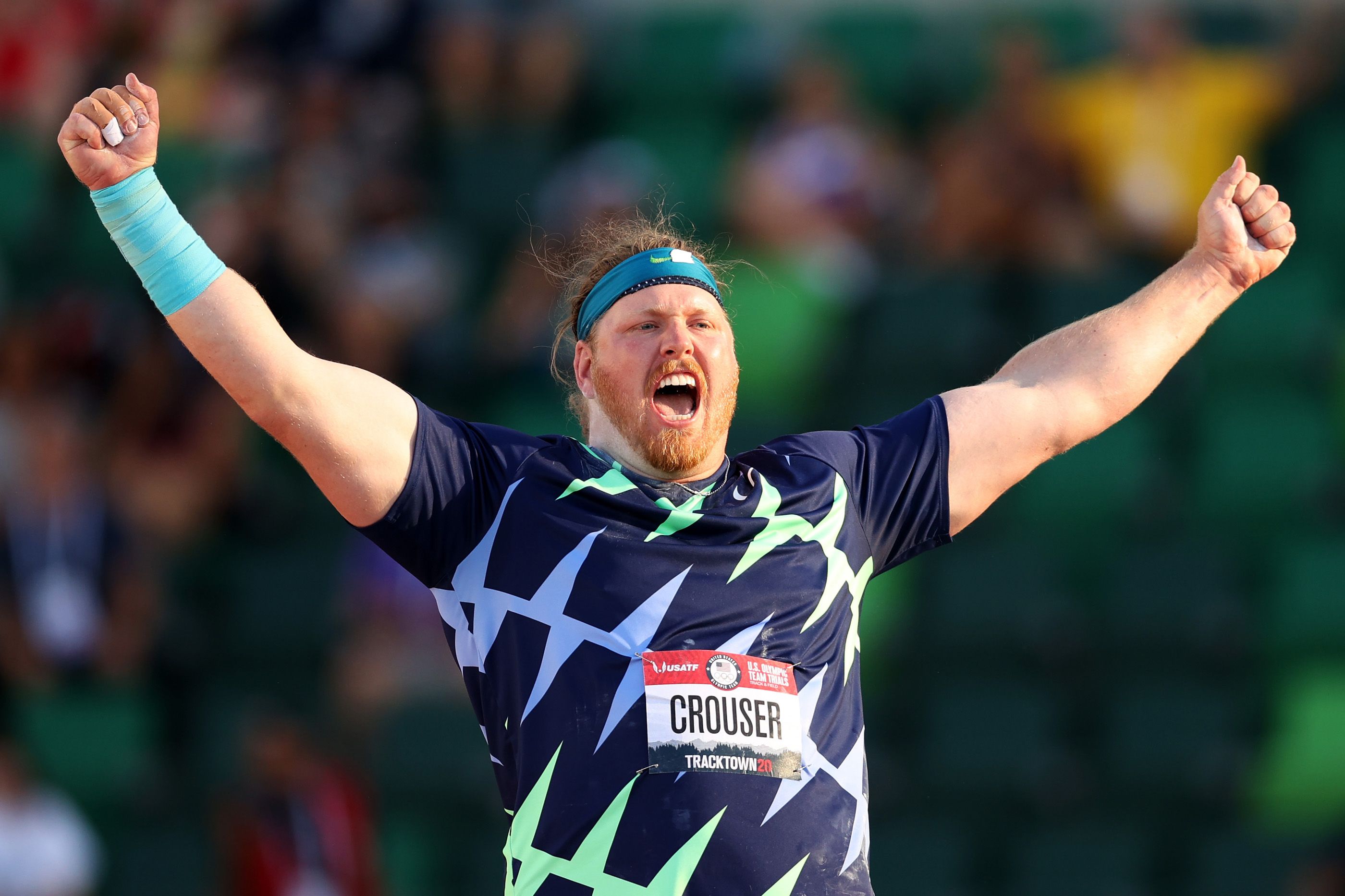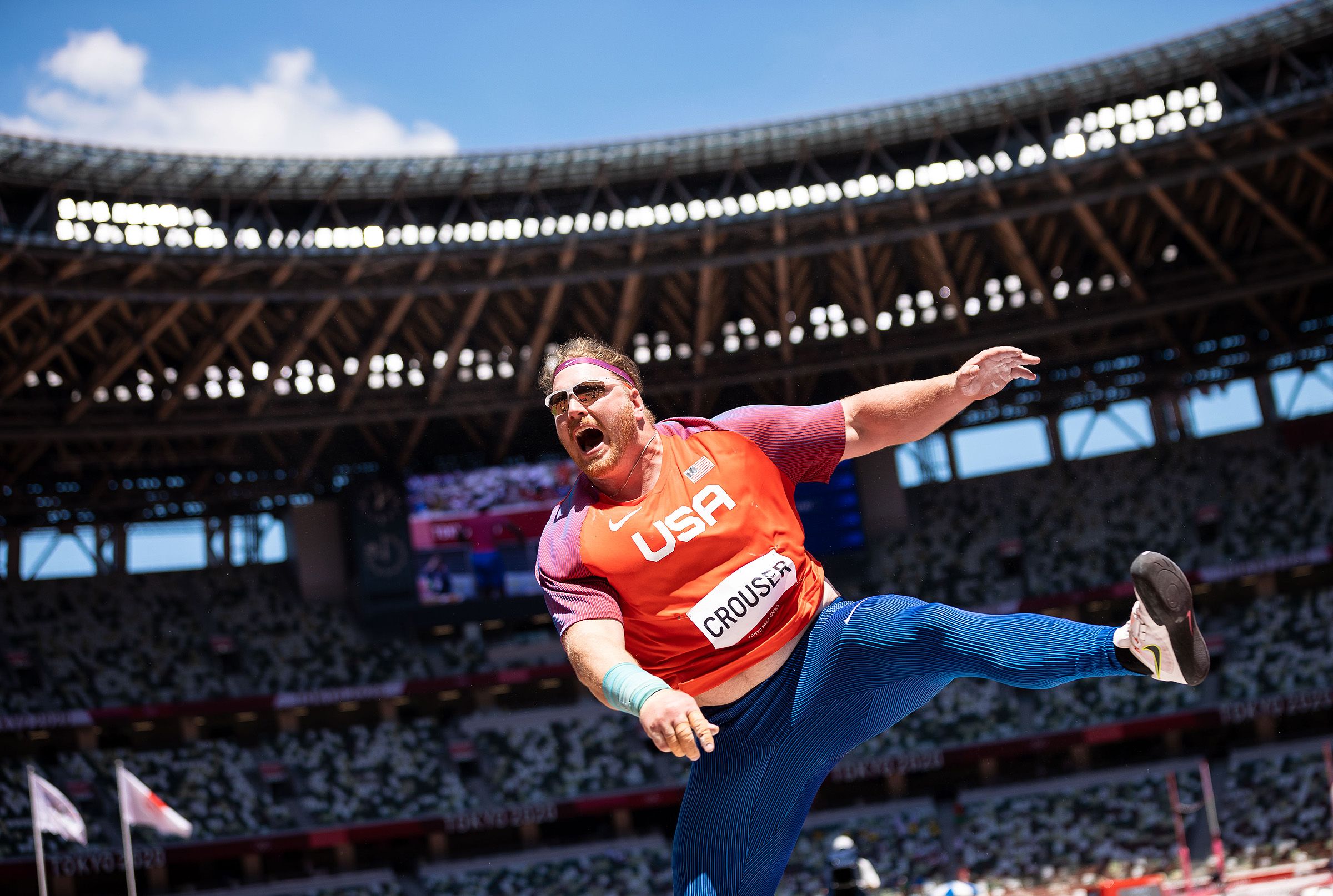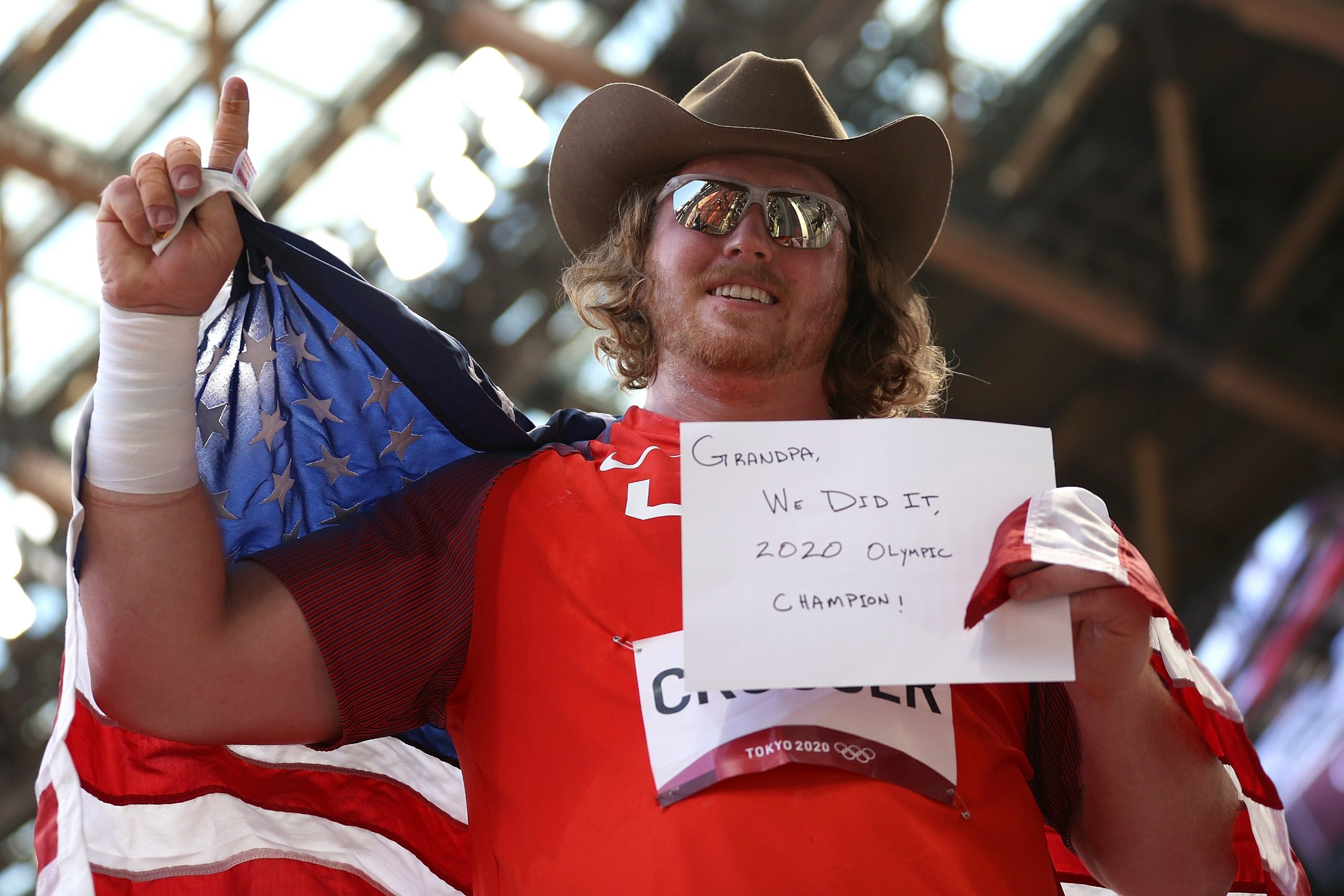 Ryan Crouser celebrates his shot put win at the Tokyo 2020 Olympic Games (© Getty Images)

His father felt the same emotion when those digits flashed up on the screen at Hayward Field at the US Olympic Trials last June. "We knew it was possible since 2017, 2018, and when he finally did it, it was such a relief," he says. "Because he'd been so laser-beamed focused for years."
It was a journey they'd taken together – almost every step of the way. It was in 2011 when Crouser left home to enrol at the University of Texas, where he came under the guidance of Mario Sategna, who worked in collaboration with Mitch, sending videos of Ryan's training each day.
Crouser won four NCAA shot put titles (two indoor, two outdoor) but his dedication to academics meant his true potential didn't emerge until after he graduated. He studied engineering for two years before transferring to economics, graduating with a degree in economics before completing a master's in finance.
"My training was constantly taking a back seat to what I was doing in the classroom so when I graduated it felt like all that hard work came forward," he says. "I was dedicating myself to track and field, but the reward was a long time coming."
That lesson – on the importance of patience – is one his parents had taught him.
"It's been such a blessing to have the family I've had," he says. "They've been super supportive and the best thing they've done is help me keep a perspective. That's why my Dad is so good, instilling in me staying the course, and that hard work pays off.
"You put in the work and you might not see (the results) today, you might not see it tomorrow, but if you keep doing the absolute best you can, then at some point you will. That's been the key to my success: continued dedication in the face of adversity."
* * *
It's not easy, what he does. It can't be. Given his workload, and the performance altitudes he now inhabits, Crouser spends a huge amount of his time sore, fatigued or just downright exhausted.
The day we meet, he has already completed a weights session in morning – Crouser writes his own gym programme, while the rest of his programme remains a collaborative coaching effort – and he's visibly tired as he soldiers through an hour-long throwing session.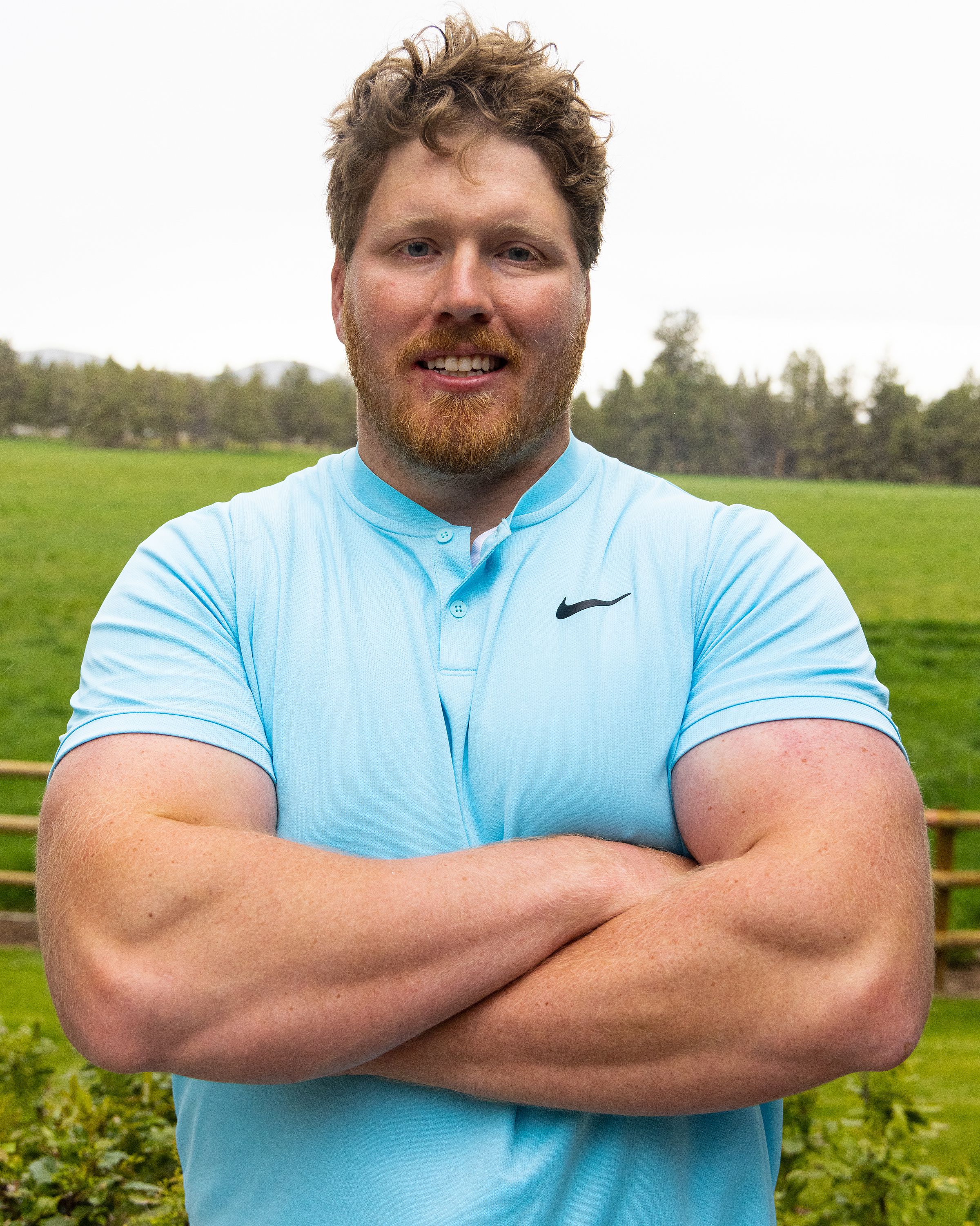 US shot putter Ryan Crouser (© Justin Britton)

Then there's the eating, which is much less fun than it sounds.
Crouser's natural weight is significantly lighter than the 145kg he tips the scales at, but to maintain his size, strength and power, he consumes twice the amount of the average man. Breakfast is two burritos, with eight eggs, bacon, sour cream, salsa and cheese. Lunch is half a kilo of ground beef with rice. In the mid-afternoon he'll squeeze in a sandwich and, depending on where he's at in training, he'll eat either one or two hefty dinners, with ravioli being one of his favourites. Oh, and then there's another snack before bed.
"You're force-feeding yourself to an extent," he says. "I never want to feel hungry. If I feel hungry, it means I'm not in a recovery state. I feel there's a misconception that you can eat whatever you want as a shot putter but when you're eating that much, you have to make sure what you're eating is quality. When you're eating low-quality food it's easier to get calories, but your training is not going to be the same."
Being as good as he is doesn't have many drawbacks, but one of them is the burden of expectation. Over the winter, Crouser struggled with a nerve issue which meant he was unable to fully extend his arm without pinching pain, and it meant he was well below his best at the World Athletics Indoor Championships in Belgrade.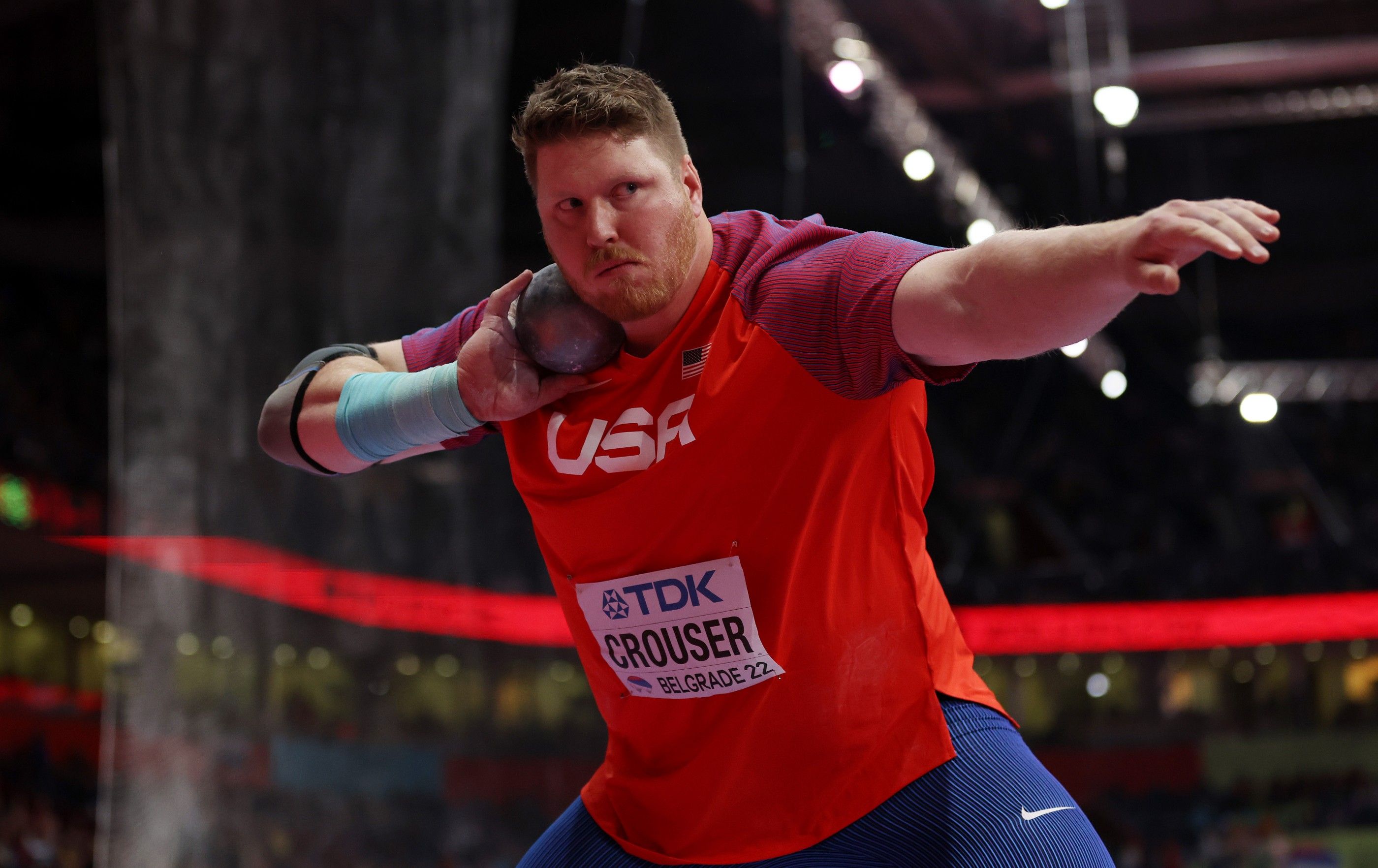 Ryan Crouser at the World Athletics Indoor Championships Belgrade 22 (© Getty Images)

He still won silver with 22.44m – impressive given the circumstances – but given Brazil's Darlan Romani launched 22.53m to win gold, many saw it as a disappointment. That expectation – to produce consistent brilliance – is always there, and always unrealistic.
"The one thing, I wouldn't say that bothers me, but that I find comical is (when) people expect a world record in every single competition," says Crouser, who has donated his Belgrade singlet and number to the Museum of World Athletics (MOWA). They are currently on display in the MOWA Track & Field Heritage Exhibition in the Erb Memorial Union of the University of Oregon, less than 400 metres from Hayward Field. "Whereas for me, 22 metres is still not a throw I'm unhappy with. It's still a very far throw."
Crouser's preparation is like a game of Jenga, his training and technique constantly being refined and re-arranged throughout the year to make sure he shows up at championships with a towering level of fitness – while being careful not to push too hard and bring the whole thing tumbling down.
At the Diamond League meeting in Eugene at the end of May the puzzle was still far from complete which, given how he performed, is a terrifying thought for those hoping to come between Crouser and his first World Athletics Championships gold. In damp, cool conditions, Crouser opted for a 'static' technique for most of his throws, a more reliable approach where he begins from a stationary position, without his full wind-up that adds more power due to the stretch-reflex effect. He threw 23.02m that day.
"Usually I add anywhere from 40 to 60 centimetres from a static to a full (technique)," he says. "So it's a really good indicator of the upside that's there."
His father knows Crouser has yet to achieve his ultimate potential, but the weeks ahead might see him get closer to it. "There could, if everything goes perfect, be more," says Mitch, who is in no doubt that the presence of Kovacs and Walsh has helped his son reach the level he has. "Undoubtedly, he wouldn't have done what he's done without those guys. All three of them, none of them would have done it without this (rivalry)."
Ryan is in agreement. "If I have a day I'm feeling lazy, then I still go out there and do it," he says as he sits in the garden of his parents' home, the wind and rain starting to worsen on a day that feels so very Oregonian. "Because I know if I'm not, they definitely are."



Crouser's loved ones will pack the stands at Hayward Field when he takes on his chief rivals this month at the first ever edition of the World Athletics Championships to be held in the United States.
"We'll finally be at home," says Crouser. "For me, growing up in Oregon, all my state meets and NCAAs have always been at Hayward Field, so it's always been the pinnacle of my season. I'm super, super excited."
He knows winning gold would, in a sense, bring his career full circle, from leaving Oregon as a promising teenager, as the world U18 shot put gold medallist, to returning as an all-conquering senior champion who's trying to complete his collection at home – in a stadium that feels like his own backyard.
But Crouser knows, too, that the journey still wouldn't end there. Not in this sport. Not in this event.
"The (world record) throw I had at the Olympic Trials was excellent, but it wasn't perfect," he says. "That's what keeps me going. That's the thing about shot. You're always chasing that perfect throw."
Cathal Dennehy for World Athletics