Ryan Crouser at the World Athletics Championships Doha 2019 (© Getty Images)
Few would assume that a town called 'Boring' would produce one of the most exciting sporting prospects in the world.
But take just one look at Olympic champion Ryan Crouser – a mighty and dynamic 201cm (6ft 7in) powerhouse – and it's easy to see why the US shot putter from Oregon has long been tipped to break world records.
At the end of 2019, in the aftermath of a remarkable shot put final at the World Athletics Championships in Doha, Crouser sat at fifth place on the world all-time list, just 22 centimetres shy of the world record.
Although his PB improved by just one centimetre last year to 22.91m, he consistently threw well beyond 22 metres and – in terms of sheer distance achieved – produced the greatest shot put season in history.
No other man in the world threw beyond 22 metres in 2020. At the conclusion of the outdoor season, the undefeated Crouser had surpassed the 22-metre line on 36 occasions – more than any other shot putter has achieved across a whole career span. To say he dominated his discipline in 2020 would be an understatement in the extreme.
When he took a brief break from training in December last year to compete at a low-key indoor competition in Manhattan, Crouser was encouraged by the result. His 'shortest' throw of the series landed at 21.71m, while his best was 22.58m – just eight centimetres shy of the long-standing world indoor record.
With a few more weeks to prepare for his first real competitive outing of 2021, he knew he stood a great chance of breaking the 22.66m standard set by Randy Barnes in 1989.
"The competition in December was just a check mark to see where things were at," he says. "I was still in heavy training, doing sets of eight and six in the weight room, so I really didn't expect to throw that far. I just wanted to get out there and compete and have some fun.
"I'm not a super high intensity thrower in practice, so I always like competing to see where I'm at, especially in the middle of the off season. I definitely learned from that meet and I feel like it set me up really well to know what I needed to focus on in that first American Track League competition."
But even Crouser was surprised by what happened at the World Athletics Indoor Tour Silver meeting in Fayetteville. In his first competition of 2021 and with his first throw of the series, he sent his shot out to 22.82m, smashing the world indoor record by 16 centimetres.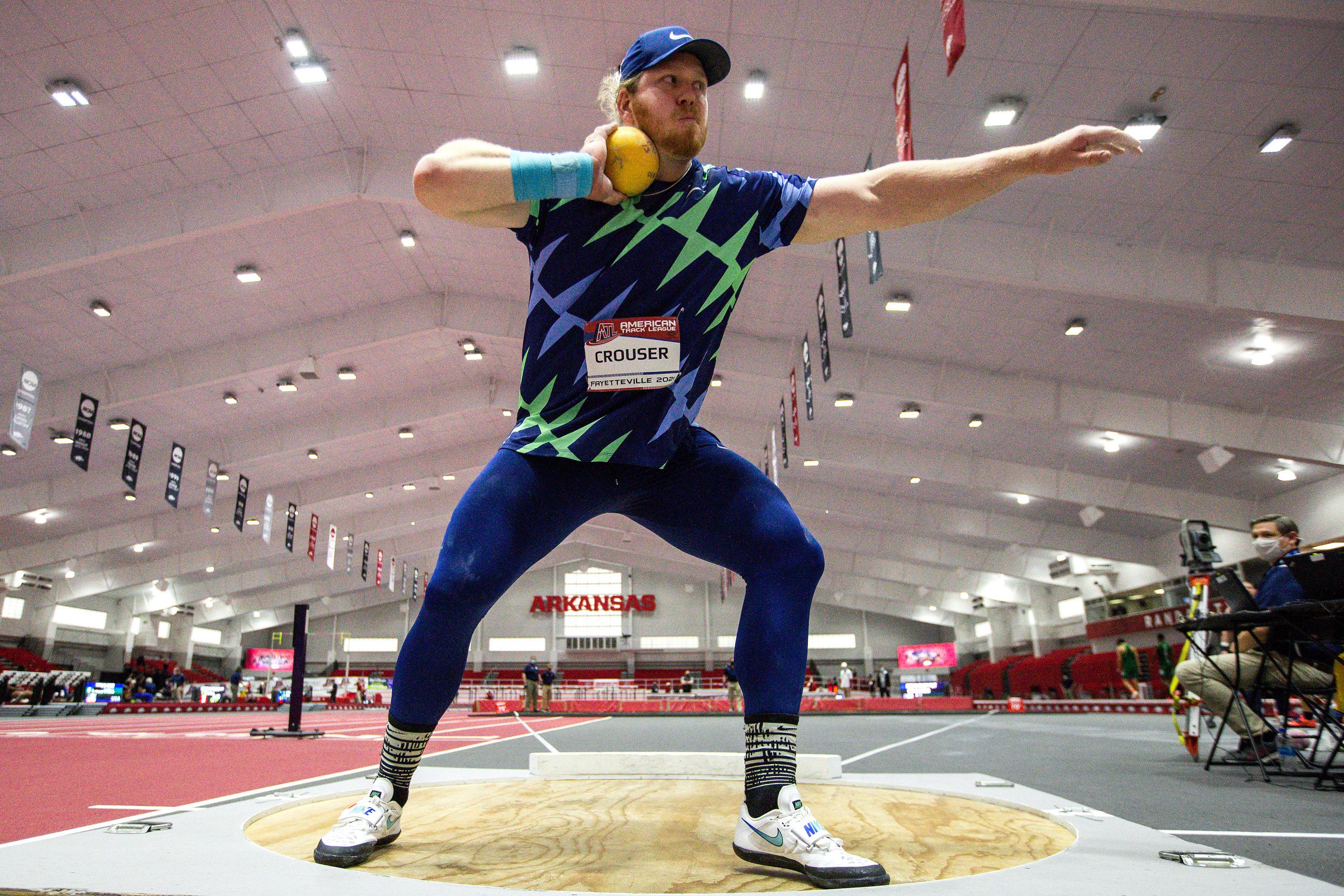 Ryan Crouser in action in Fayetteville (© Kevin Morris)
"That first throw was a great first-round throw," said the 28-year-old. "Usually that's one of the things I tend to have a little bit of trouble with. It put a lot of pressure on me to build from there, but I was really content to follow it up later in the series with a 22.70m and 22.48m.
"It still hasn't really sunk in," he added. "It has been a goal for me, but it feels more like a stepping stone to the outdoor world record and the 23-metre mark. I'm always looking forward, so I'm just really happy to throw an indoor PR and be so close to my outdoor PR in the very first meet. I'm obviously ecstatic to break the world indoor record and really happy with where I'm at, but it still just feels like a building block to getting that 23.12m. I'm still hungry to get that.
"I'm also just happy to have the chance to compete again. It's been a long year, so I'm happy to see track and field making a comeback, and showing that meets can be fun and safe."
One week after his record-breaking performance, Crouser returned to the Randal Tyson Track Center in Fayetteville and won with 22.66m – the same distance as the pre-2021 world indoor record – and had throws of 22.65m, 22.43m and 22.26m in his series.
And this is from an athlete who hadn't even tapered for the competitions.
"There are some really good takeaways from that first competition," said Crouser. "Firstly I've got a lot of power in the ring, and secondly there's still a lot to improve on with my consistency.
"We're still in heavy training and we haven't started tapering at all," he added. "We're lifting heavy in the weight room, I'm throwing a lot, especially with heavy shots. Once I start to work with some lighter balls and get in some speed work, I'm really excited by the possibilities moving forward.
Destined for throws success

Crouser was born into a throwing dynasty.
His father Mitch was a 67.22m discus thrower and 20.04m shot putter who narrowly missed out on making the US Olympic team in 1984. His uncle Dean was also a good all-round thrower with a shot put PB of 21.07m and discus best of 65.88m. Another uncle, Brian, was a javelin specialist with a PB of 95.10m (with the old model) and represented the USA at two Olympic Games.
Brian's son and daughter, Sam and Haley, are also accomplished javelin throwers: Sam is a two-time NCAA champion with a PB of 83.33m while Haley held the North American U20 record at 55.22m back in 2012.
It's little surprise, then, that Crouser ended up as a thrower. But his sporting success wasn't just a case of winning the genetic lottery; ever since his days as a leading high school athlete, he has been driven by a desire to continually improve.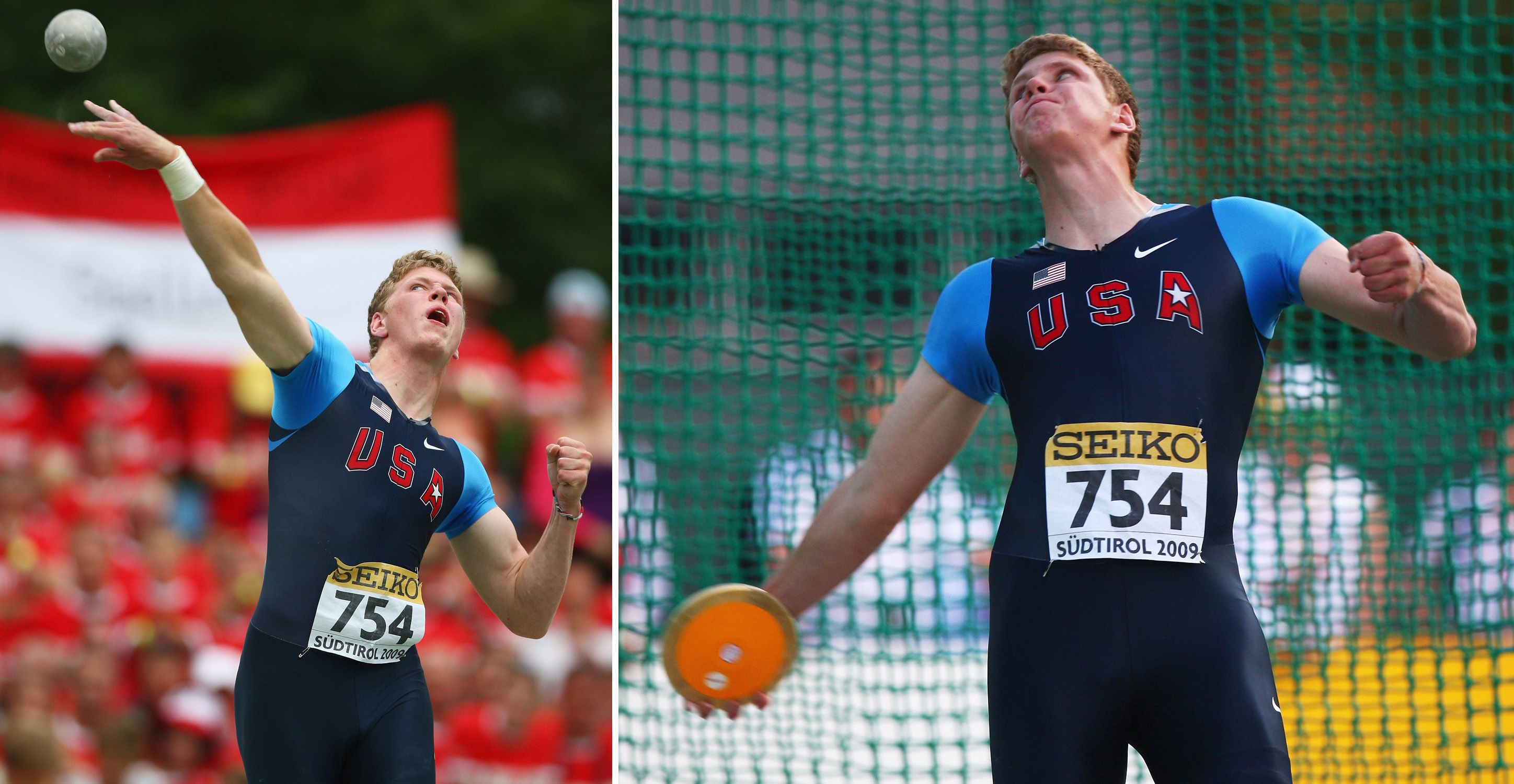 Ryan Crouser at the 2009 World U18 Championships, where he won shot put gold and discus silver (© Getty Images)
He went from winning the world U18 title in 2009, to breaking US high school records in 2011 and then breaking the Olympic record just five years later when he won in Rio with 22.52m. After that breakthrough on to the global stage almost five years ago, Crouser has gradually extended his PBs indoors and outdoors.
In his quest for continual improvement, Crouser relocated 2500km from San Diego to Fayetteville in 2020 to train with Arkansas throws coach Mario Sategna and help out with the university's track and field team. Now that he has settled into his coaching role and his new location, Crouser is pleased with how his training is going, but it took a while for him to adjust.
"I feel like right now I'm in a much better place than I was at this point last year," he says. "It's a completely different year for me.
"Last year I felt like I was actually struggling a little bit. It was just a big change, moving from the Olympic Training Center to Fayetteville. I was coaching a lot and I was really happy with how life was going in general but it was a learning process.
"But now I feel like I've hit my stride and I'm where I want to be in terms of my training and my diet, I'm happy with my body weight.
"The distance I'm now throwing is more, but I feel like in general the foundation is even better than what the distance shows," he adds. "I'm really happy to break the world indoor record and I'm really excited to continue to build on that. I feel like there's even more to come."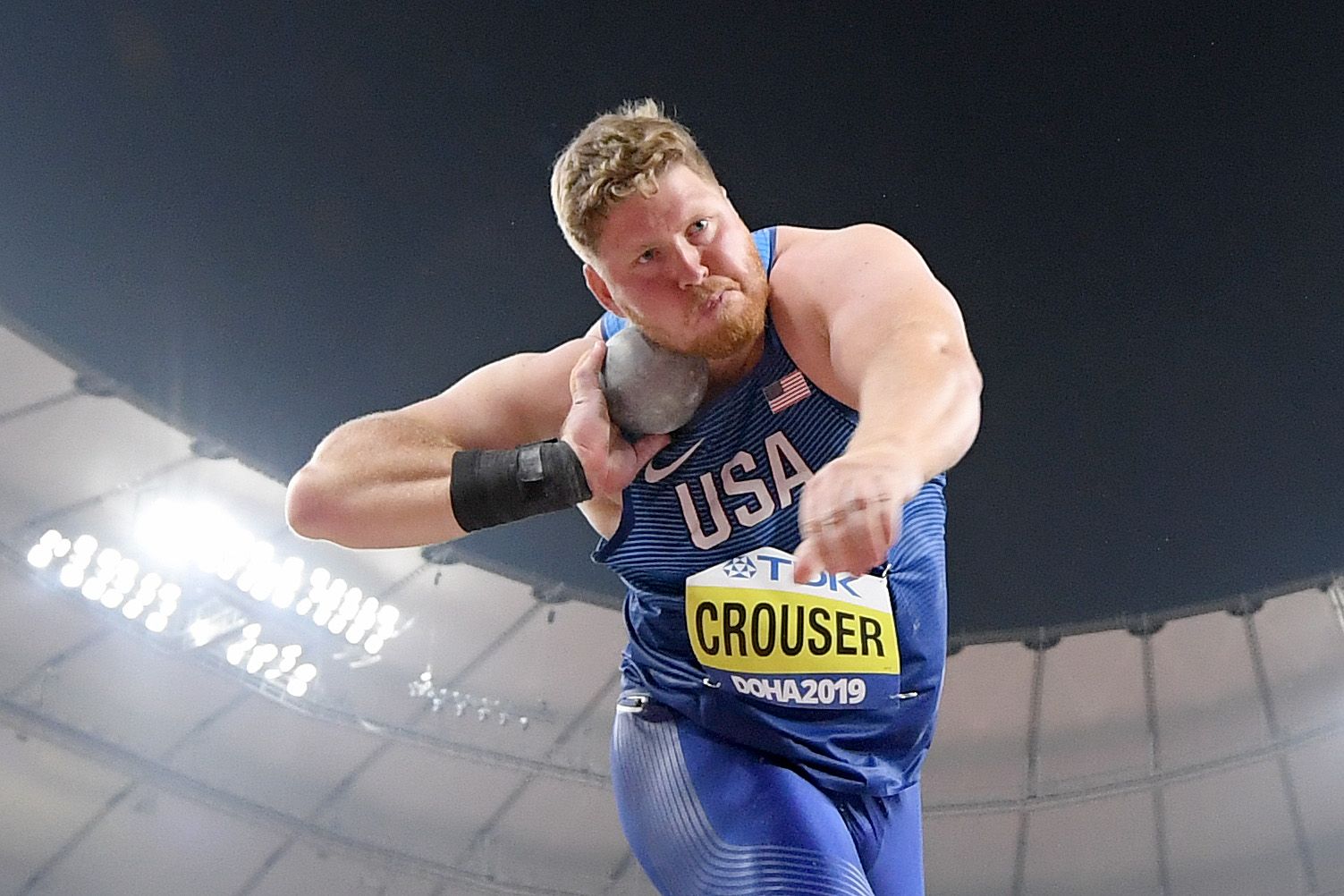 Ryan Crouser at the World Athletics Championships Doha 2019 (© Getty Images)

Fourth time lucky in Belgrade

There are few athletes who have broken a world indoor record while having also never competed at a World Indoor Championships.
Crouser is part of that very exclusive club, though not necessarily by choice.
He was still a collegiate athlete when the World Indoor Championships was held on home soil in Portland – his city of birth – in 2016. The NCAA Indoor Championships that year was scheduled for the same weekend as the US Indoor Championships, so Crouser didn't have the opportunity to earn selection for Portland.
He was in great shape heading into 2018 but picked up a hand injury, ruling him out of the indoor season. In 2020 he won the US indoor title in 22.60m, narrowly missing the world indoor record, but then the coronavirus pandemic struck, forcing the postponement of the World Indoor Championships in Nanjing.
"I like indoor track and field in general because it's a controlled environment, so you know the weather's going to be good!" he says. "Reaching the World Indoors just hasn't worked out for me in recent years, but I'm going to continue to hope that I can do one. Hopefully I'll make it to an indoor championships some time before my career is done."
Crouser will have to wait until next year to make his World Indoor Championships debut when Belgrade hosts the event. And, if all goes to plan this year, he hopes he'll be heading to the Serbian capital as a two-time Olympic gold medallist.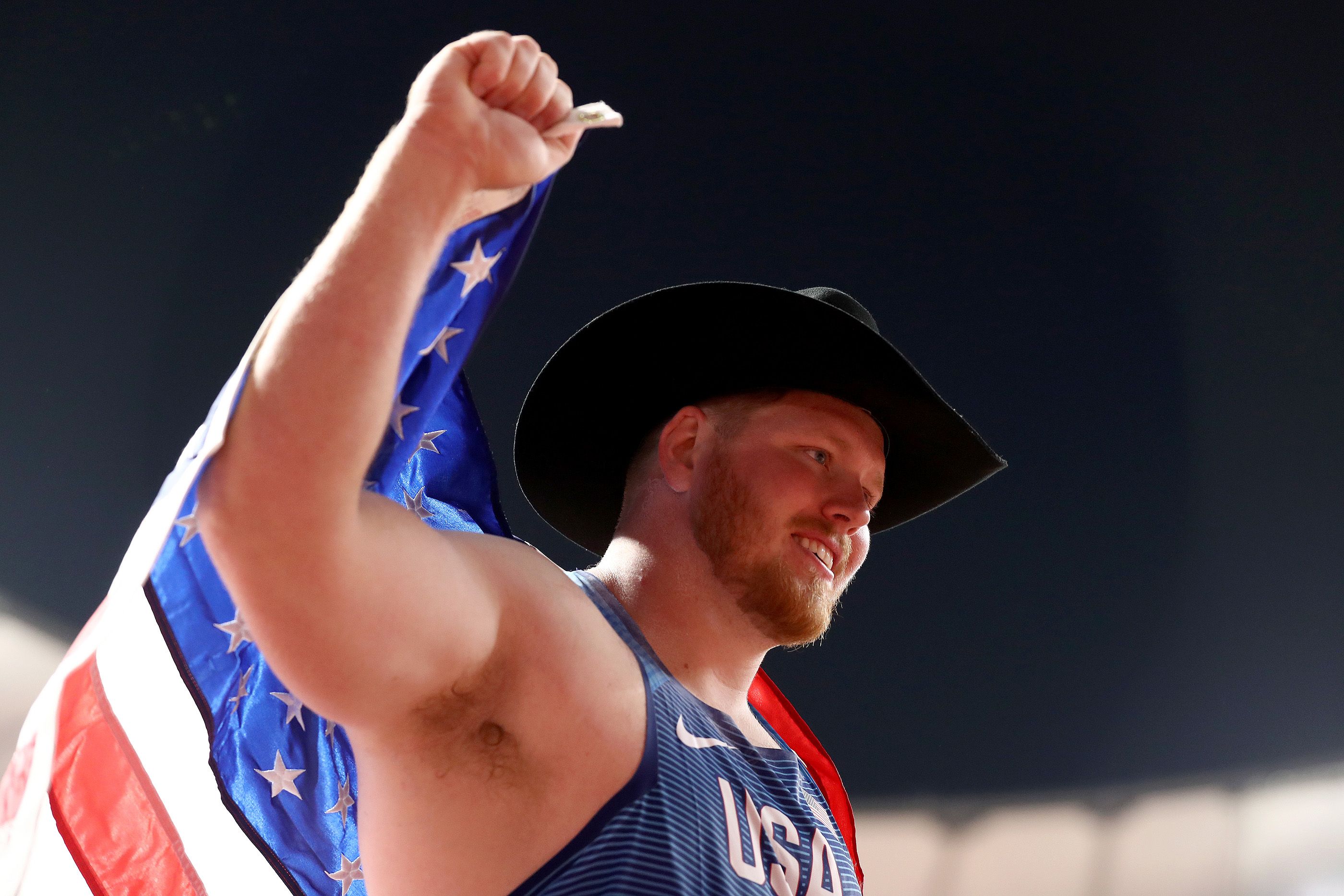 Ryan Crouser at the World Athletics Championships Doha 2019 (© Getty Images)
Before then, though, he will use the final American Track League fixture of 2021 – set to take place in Fayetteville on Saturday (21) – as his big target for the current indoor season.
"This is essentially the extent of my indoor season, so I'll start to taper down a bit now," he said. "I know the foundation is there, so I just need to execute some of the technical aspects.
"I'm going to treat the final American Track League competition like it's the US Championships or World Indoors," he added. "I'd like to throw far at that one and try to do the best I can with what the indoor season has given me."
Jon Mulkeen for World Athletics