Tom Walsh with coach Dale Stevenson (© Getty Images)
If you were down on Doha's Corniche towards midnight on 5 October, 2019, you probably noted at least two things.
Most notably, the heat and humidity of the previous nine days was coming off its peak. Conditions were much more conducive to being outdoors, which was undoubtedly good for the second thing you might have noticed: the men's marathon for the World Athletics Championships Doha 2019 was in progress.
Two of the spectators looked a little out of place. Young, fit and athletic they may have been, but looking way more like throwers than distance runners. One was Tom Walsh who, a couple of hours earlier in the main stadium, had taken the bronze medal for New Zealand in the men's shot put. The other was his coach, Dale Stevenson of Australia.
They looked as happy as larks. Just two mates hanging together on the Corniche watching the marathon go by. Minus the marathon, this was pretty much how the Dale Stevenson-Tom Walsh relationship started, first as competitors, then as friends and, finally, in 2014, as coach and athlete.
We know where that relationships has gone. A bronze medal at the Rio Olympics, a world championships gold medal in London a year later, a Commonwealth gold medal and a world championships bronze are the signature highlights, the latter coming in one of the greatest competitions in the history of track and field athletics.
Now Stevenson has been joined at the Christchurch high performance centre by Valerie Adams. Olympic medals are scarcely more common 'Down Under' than hens' teeth and here's a 33-year-old Aussie in line to coach two athletes to medals' ceremonies in Tokyo later this year.
"(The magnitude of) the task is not lost on me," says Stevenson. "I'm relishing the challenge."
Challenges, Stevenson adds, "have been coming thick and fast since moving here in 2014."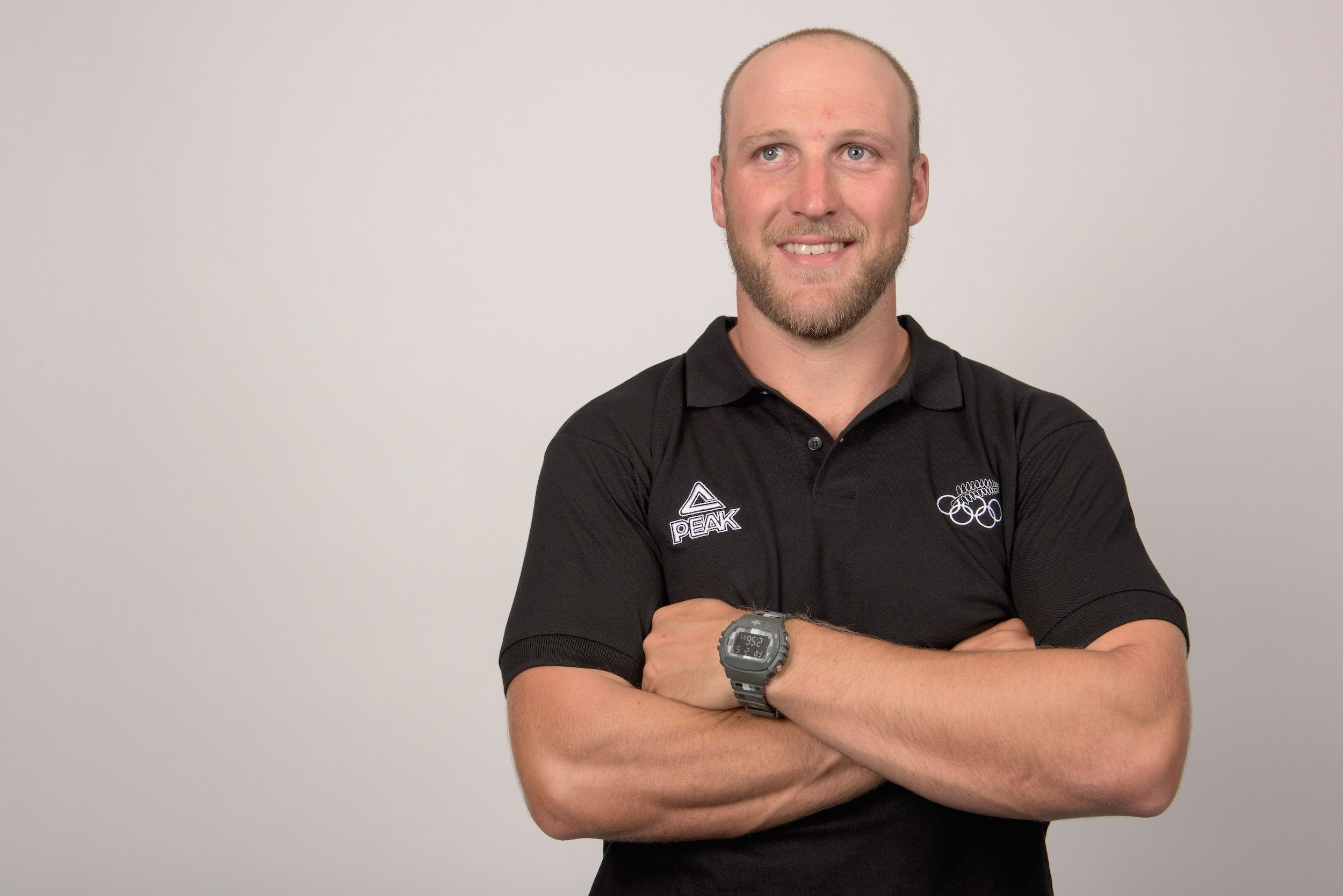 Age-wise, Stevenson sits mid-way between Walsh (29 in March) and Adams (36). As a competitor, he had a personal best of 20.63m, was a bronze medallist at the 2010 Commonwealth Games and competed at the London 2012 Olympics. He was on a trajectory to coaching before he had finished as a competitor. Professionally, he was a school teacher, who happily uses the word pedagogy – the method and practice of teaching – in relation to his passion for coaching.
"I was already coaching at an amateur level. I'd done some of my courses," Stevenson says of his experience on taking on the Walsh job. "I didn't feel overwhelmed, but I had to 'unlearn' a few things."
Stevenson's other great influence was his own coach, Gus Puopolo. Puopolo has long been a significant part of the furniture of Australian throws coaching. Based at Ringwood, in Melbourne's eastern suburbs, he has mentored a string of Australian performers including Werner Reiterer, Scott Martin and, for part of his career, Benn Harradine.
Along his path into coaching Puopolo benefited from a colleague's advice to seize an opportunity to travel to Cologne in Germany and base himself at the famous Leverkusen club. The experience fired Puopolo's interest in coaching; Puopolo, in turn, urged Stevenson to seize the chance to move to New Zealand on his own coaching journey.
"I moved to Gus (as a coach) as soon as I left secondary school," Stevenson explains. "The thing that is most to his credit is the establishment of an environment that has produced a centre and a culture where people can achieve world-class results.
"(Gus) was, and continues to be, a formative influence."
Puopolo also forged links with the New Zealand throwing scene, going back to the days when Beatrice Faumuina and her coach, Kirsten Hellier, would come to Australia for training camps. At various stages Adams and Walsh have both spent time training and competing in Melbourne.
Queenslander Justin Anlezark was the first Australian shot putter to break through, reaching the finals of both the 2003 World Championships (finishing fourth) and 2004 Olympics (sixth). Since then, there has been a steady string of competitive putters on both sides of the Tasman, Walsh, Jacko Gill and Adams showing the way in New Zealand, Martin, Stevenson and Martin-coached Rio Olympic finalist Damien Birkinhead on the Australian side.
Doha's after-shock


In looking ahead to Tokyo, Walsh and Adams are coming from starkly contrasting situations. Walsh hit a peak in Doha, but had to come to terms with the gold medal's being snatched from his grasp in the last few minutes of the competition. Adams, on the other hand, is trying to re-climb the mountain.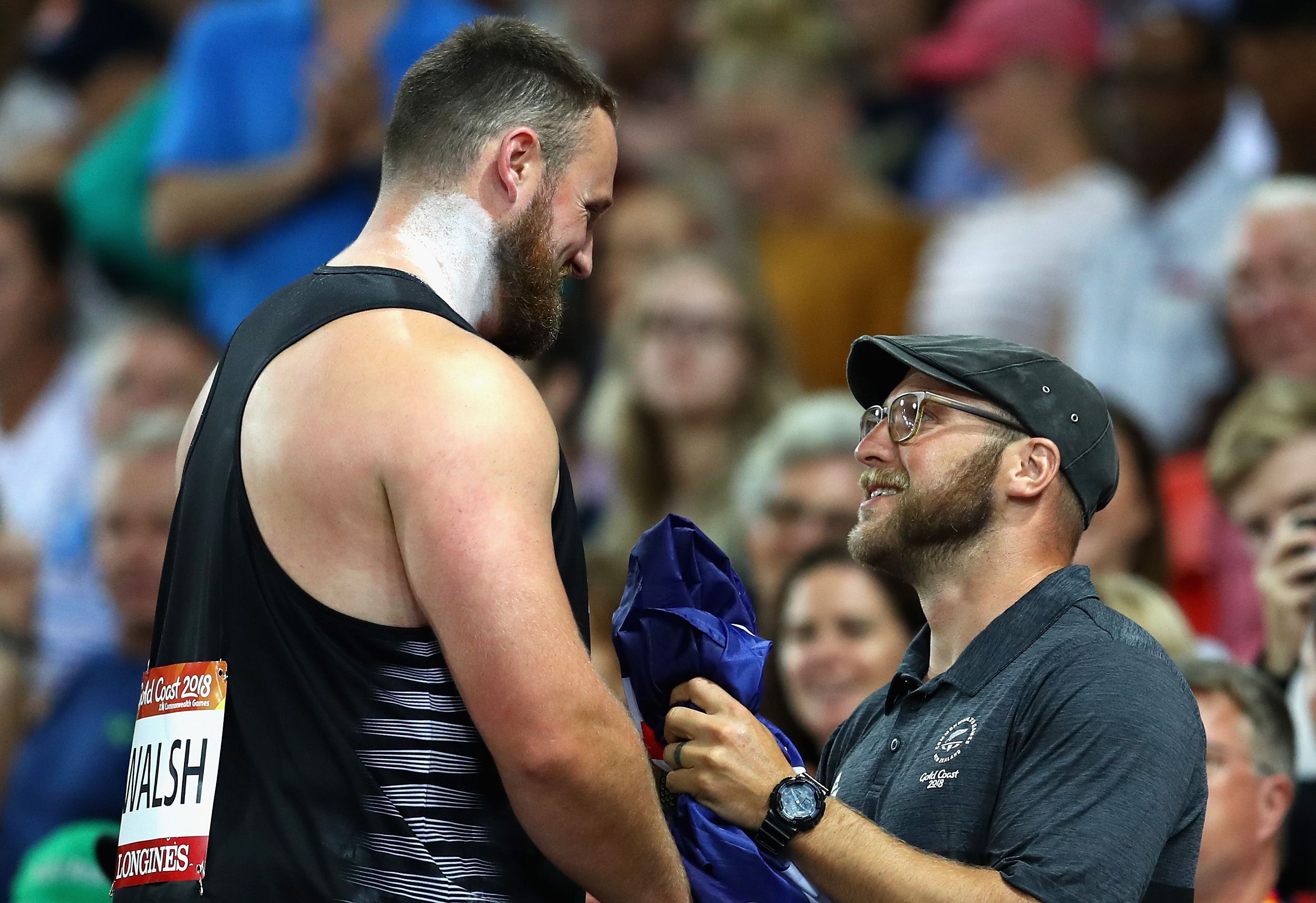 The men's shot in Doha was a classic, instantly acclaimed as one of the best competitions in athletics' history. Officially, just one centimetre separated the three medallists. According to the electronic distance measuring device it was even closer: four millimetres.
The drama played out in the last seven throws of the competition. Joe Kovacs, second in the throwing order of the eight remaining competitors, leapt from fourth to first with a monstrous 22.91m throw. Five throws later, Ryan Crouser produced a 22.90m effort to move into second place on countback.
That left just one throw for Walsh, who had led throughout the competition with his opening effort of 22.90m, to try to grab the gold medal back. His last throw was a big one: sadly, it was also a foul. He had gone from gold to bronze in just a few minutes.
The demeanour of the three medallists was exemplary, especially in light of the margin between them.
According to the EDM system used to measure the throws electronically, just four millimetres separated the three medallists. The equipment reads the distance to the millimetre, but the process still relies on an official determining the landing point of the shot, which may not be as precise as the nearest millimetre.
To see Walsh outwardly chirpy and happy down on the Corniche just hours later would suggest he was quickly over any disappointment. That impression was accurate only up to a point. The outcome took a little while to process, Stevenson says.
"At the time, it was tough to swallow. We were happy with the campaign, but we weren't quite sure what to feel about (the bronze medal result)."
The nature and high-quality of the event was unique. Stevenson says it was a "once-in-a-lifetime experience to land in that space." The 22.53m Darlan Romani threw for fourth would have won every other World Championship and Olympic competition in history.
"To be part of one of the greatest field events of all-time," Stevenson concludes, "we can't feel too aggrieved."
Nor can they afford to stand still. Kovacs and Walsh had a relatively quiet 2020, but Crouser kept going from where he left off. He pushed his personal best out to 22.91m in one of seven competitions in which he surpassed 22 metres.
The task awaiting Adams


If Kovacs, Crouser and Walsh are trying to stay on top of the men's event, Adams is facing the task of regaining her dominance of the women's. From 2005 to 2016 she won two Olympic gold medals (plus the silver in Rio), four world championships (and four more world indoors) and countless Diamond League victories. Since Rio, she has had two children, drastically curtailing her career.
As witnessed by her renewed commitment to training, Adams wants to get back to the top. The evidence as to whether she can will start to be seen when she competes at the Potts Classic In Hastings, NZ, on 23 January.
Stevenson is optimistic. "I don't see any reason, based on the evidence of the last three or four months, why she can't."
It is not as if the women's shot has moved away from Adams during her absence. Nor does she need to gain experience in the big competitions.
"Valerie doesn't need to spend time getting battle-tested," says Stevenson. "She's not 20 or 21, in need of building up kudos on the world stage."
For Adams, it's a case of adding to her reputation, not establishing it.
If it all comes together, New Zealand could be looking at two Olympic shot put medals in Tokyo.
Len Johnson for World Athletics