Nick Ponzio at the World Athletics Indoor Championships Belgrade 22 (© Getty Images)
The famed Irish poet Oscar Wilde once wrote that there's only one thing worse than being talked about, and that's not being talked about. For Italian shot putter Nick Ponzio, the latter is rarely an issue.
Over the past couple of years, the 27-year-old has attracted attention both due to his performances – edging ever closer to the 22-metre barrier – and his choices outside the throwing circle. There's his competition kit, his charisma, his social media posts – all of which can vary from the curious to the downright hilarious.
Ponzio is here to perform, first and foremost, but he's not one of those athletes who thinks his job description ends there. He feels a duty to his sport, his event, to take it much further.
"Being a performer, an entertainer, a big part of it is wanting people to talk about what I'm doing," he says. "That's why I wear a fanny pack when I throw, headbands, and why I have this sweet rocking moustache. It's about going into these meets being prepared physically to do my job, but also (make the crowd say), 'what's that guy doing?'"
Competing at this level can be a serious business. As Ponzio progressed up the ranks, he recognised that reality and then rejected it.
"The biggest thing for me as I've grown into the athlete I am is to have a really good time," he says. "I hope that's something people observe: the character, the personality that I have. Throwing can be kind of a bland thing so I want to bring more eyes and viewership to the sport. It brings both good and bad things to me but ultimately I'm just being myself, and it's awesome to be that way."
So, who exactly is Nick Ponzio?
"I was born in San Diego, but grew up in Temecula, California," he says. "I went to college in the University of Florida, then USC (University of Southern California), then after college I went to Arizona to train professionally with Ryan Whiting."
In high school, American football was his thing, but during his off-season a teammate convinced him to give shot putting a try, explaining how it involved eating what he wanted, never having to run, and lifting lots of weights.
"I was like, 'sign me up, count me in,'" he says.
He started throwing at the age of 17 and was California state champion the following year, throwing the 5.44kg shot beyond 20 metres.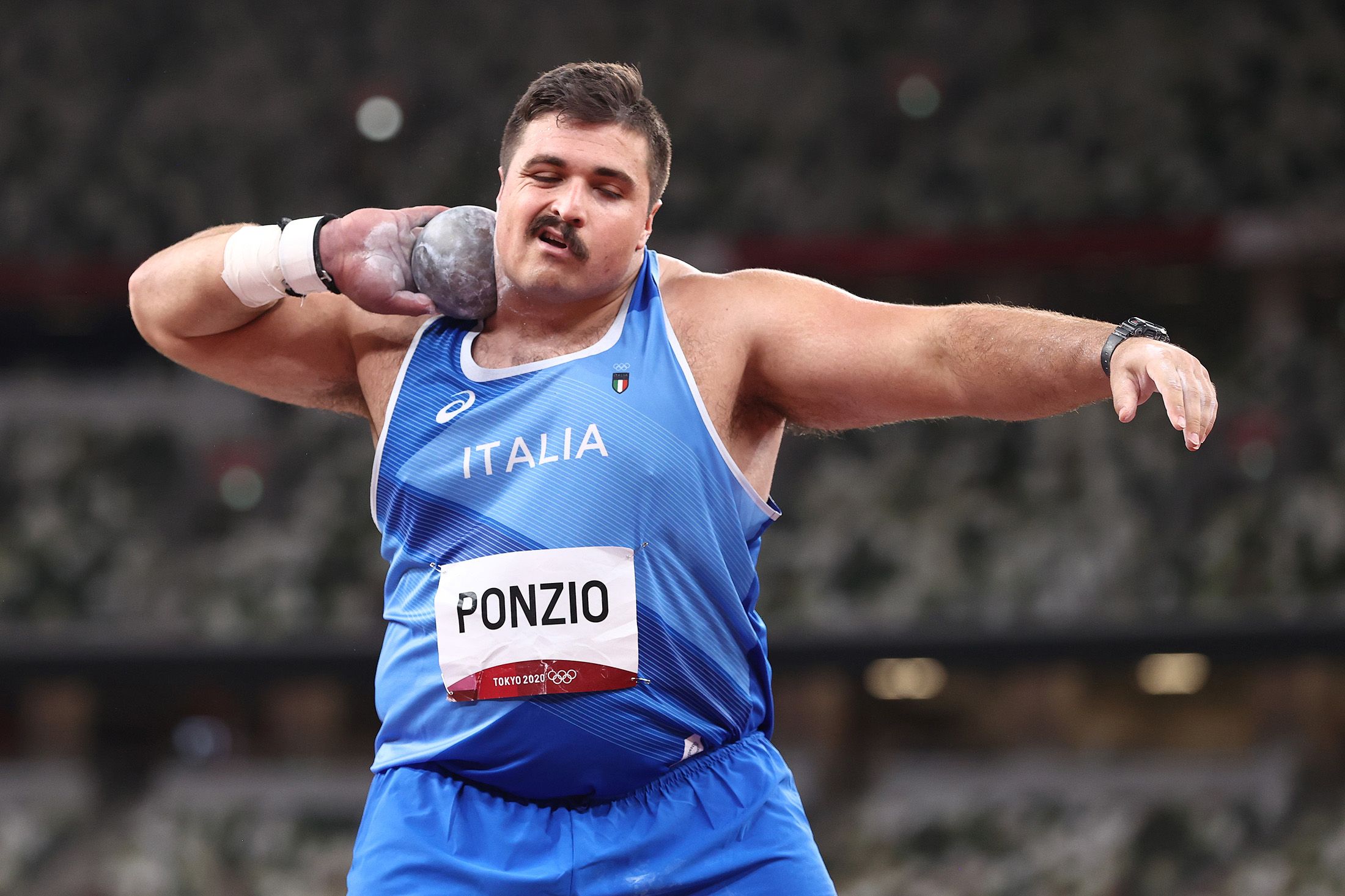 "I felt I had a really good knack for it," he says. "I had good proprioception, good movement patterns. I had nice strength numbers but there are negatives to that too. Throwing is an art form, it's not just about being big and strong and moving really fast. In any sort of movement pattern-based sport, it's about perfecting the craft and trying to get the stretch-reflex."
The shot put was initially his ticket to a free college education, but it soon became more. "It changed to becoming a passion," he says. "And now it's really a lifestyle."
In 2018, his final year at USC, Ponzio threw a PB of 19.62m but didn't have the NCAA titles to ensure a big professional contract came his way. Still, he knew he'd yet to realise his potential.
"I said I wanted to give this through the next Olympic cycle, until I'm 24 or 25 and from there, I have the rest of my life to follow any other career path," he says. "Why not do what I want?"
After moving to Arizona to be work under Whiting – a 22.35m thrower and two-time world indoor champion – Ponzio hit a new level in 2019, throwing a PB of 20.73m. The following year he threw 21.72m, and soon was in talks with the Italian athletics federation (FIDAL) about representing them internationally.
His parents, Jeff and Jamie, are both Italian. His mother's side of the family is from Naples, his father's from Sicily.
"I'm born and raised in America but we have thick Italian culture and Italy has one of the richest cultures in the world," he says. "I always thought it'd be a cool thing to do, because it's so competitive in the US but also because it brings me just as much pride to represent Italy as it would America."
He's been a full-time athlete since 2020, and Ponzio says FIDAL has been "absolutely amazing, supporting me and allowing me to be the athlete I want to be."
He was cleared to represent Italy in June last year, just in time to be named on their Olympic team for Tokyo. He'd been in strong form earlier in the summer, throwing 21.40m in California, but an accident in the gym just before he left for Japan – in which he dropped a bar from overhead that landed on his knees – ruined his chances.
The swelling was severe, and Ponzio couldn't do much other than apply tight wrapping and hope for the best. But he was eliminated after throwing just 20.28m in qualification.
"Last year I felt like the rug got pulled out from underneath me, it felt unfinished," he says. "This year I'm trying to make it on my own terms."
After throwing an Italian indoor record of 21.61m in Belgrade at the start of March, he returned to the Serbian capital for the World Athletics Indoor Championships Belgrade 22 high on confidence. In a highly competitive final – the greatest depth indoor competition of all time – Ponzio finished seventh with 21.30m.
In between his two performances in Belgrade, Ponzio set an outdoor PB of 21.83m when finishing second at the European Winter Throws Cup in Leiria.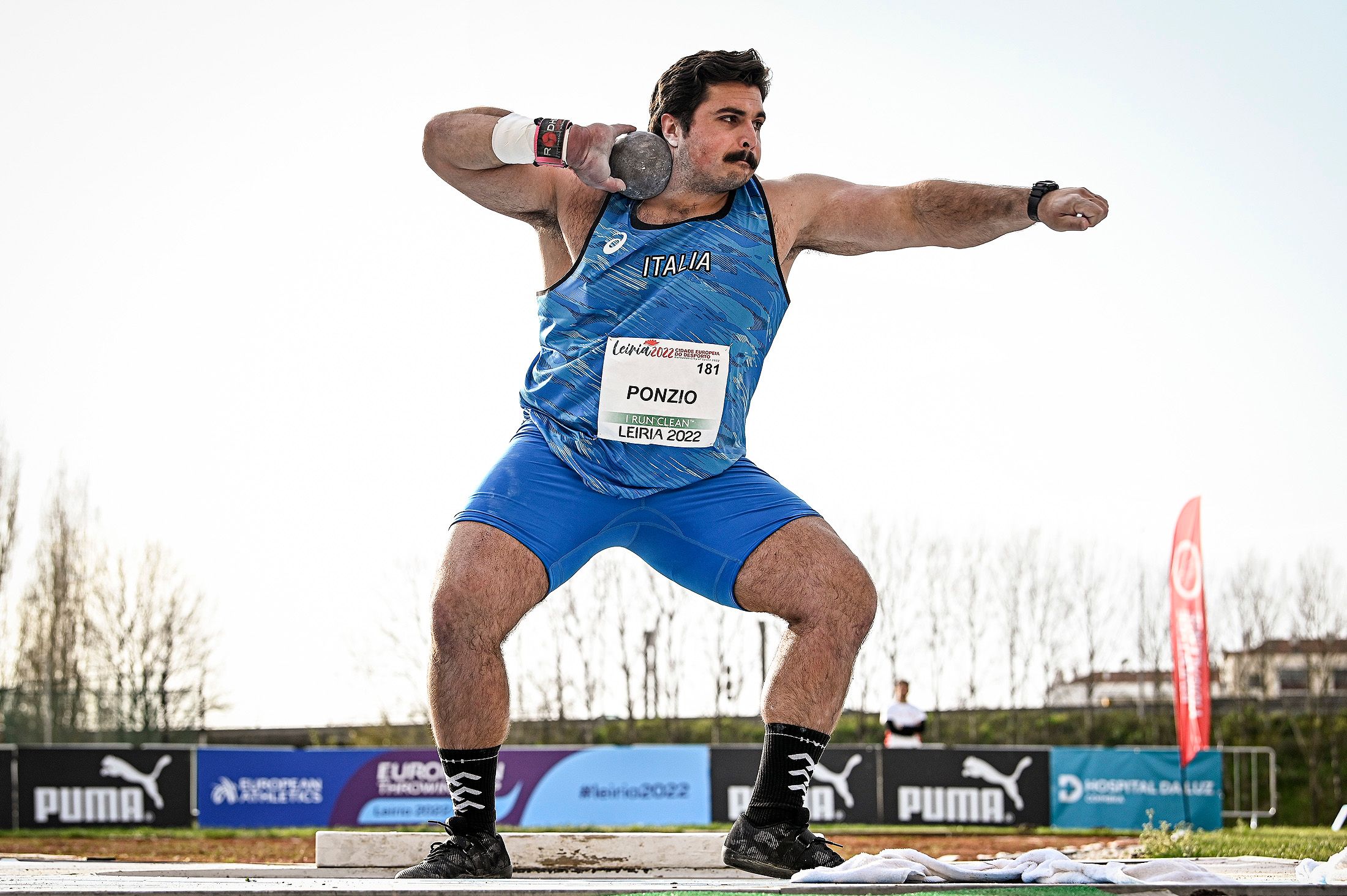 Outdoors, Ponzio has two major targets: the World Athletics Championships Oregon22 in July and the European Championships in Munich in August.
"Going through the NCAA system, Eugene was on my mind every single year because that's where NCAAs were," he says. "I haven't been there since 2018 so to go back on the biggest stage is going to really warm my heart and make my adrenaline pump."
What are his goals this summer?
"Going to a major championship, competing very well, being in the thick of the action for a medal is what I want," he says. "But it's about being the best I can be. As long as I get everything I could out of my talent, that's the best result."
But as he mentioned before, Ponzio's metric of success is about more than measurements.
"I think the sky's the limit," he says. "But the achievements and the joy you have along the way is also a big thing."
These days, Ponzio steers his own ship, having parted ways with Whiting after moving to Nashville last year.
"Most people think you can't do that: coach yourself and have success," he says. "But for me it's really allowed me to hit the ground running and take off. It's been great to see and feel this sense of breaking through again. I got into a really strong headspace where I understand who I am, I'm taking the reins myself, and I feel very confident and motivated moving forward."
In his spare time, he does some coaching at Belmont University, though his reason for moving to Nashville went beyond sport.
"Being a self-contracted employee, I was at the liberty of being able to choose where to go and that was a place I set my sights on for years," he says. "I love it there. It had a piece of my heart."
As good as he is, Ponzio is aware, like most male shot putters, that his achievements exist in the shadows of Ryan Crouser's, though he's more than gracious when speaking of the world record-holder.
"I have a good relationship with Ryan so I always like to say that I hate him," he laughs. "But in reality I have a tonne of respect for him. He's an incredibly hard-working guy, superhuman with a lot of different things but also in terms of understanding the sport. He's almost like a savant. What he does, it's incredible, but he's also incredibly deserving."
He's knows Crouser's achievements – along with several epic battles with his biggest rivals – have shone the spotlight on the shot put like never before, and Ponzio is doing his best to keep it there.
"The level of athlete we have in athletics is so phenomenal," he says. "As a whole, we have superhumans performing at a level maybe the entire world has never seen. But most people can't understand or relate to some events and I think by being flamboyant, that'll at least bring them in. People connect to characters, stories, and being able to follow it that way is a big thing I can do.
"If we can do more of that, get more rivalries, it'd bring so much more to the sport, garner more entertainment at a higher level. That's what people want to see."
And with Ponzio – the man who brings a colourful splash of showbiz to the shot put – that's what people get.
Cathal Dennehy for World Athletics