Gavit Murli in action at the Asian Championships (© AFP / Getty Images)
Estimates say that, as early as 2026, more people will live in India than in any other country on the planet. An Asian powerhouse home to thriving industry with an average population age of under 29, there is perhaps no other nation on earth with such limitless potential.
And yet despite its prowess elsewhere, Olympic success has so far largely eluded them. India's record in the Summer Games belies its size and status, its only medals in athletics coming in Paris 1900 through one man, Norman Gilbert Pritchard, winner of silver medals at both the 200m and the discontinued 200m hurdles.
But India is looking to change that, and it is a vision which has seen help from beyond its shores.
In the summer of 2014, Dutch distance runner Hugo van den Broek was back in his adopted home of Iten, Kenya living with his wife and fellow athlete Hilda Kibet. Kibet hails from nearby Kapchorwa and the pair had made the move from the Netherlands in 2008. It was a base from where both had enjoyed considerable personal success at the top end of the sport. Kibet was by then a two-time Olympian competing for the Netherlands, became European cross-country champion in 2008 and earned a bronze medal over 10,000m at the 2010 European Championships. A seasoned marathon contender, she had finished on the podium in Rotterdam, Amsterdam and Turin.
Van den Broek himself had represented the Netherlands on multiple occasions over the marathon, competing at the 2006 European Championships in Gothenburg and the 2010 edition in Barcelona. Having qualified for the 2014 version, he was eyeing one last swansong in Zurich.
On one of his final runs in Kenya, 10 days before the championships, he slipped on the mud and damaged his hip. Van den Broek still flew to Switzerland but was unable to compete, the injury forcing his withdrawal and the realisation that life as an elite level athlete was approaching its end.
Van den Broek lay at a crossroads and, with his first child on the way, contemplated what life looked like beyond competing. He need not have pondered for too long; in a conversation with Jurrie van der Velden, the Global Sports Communication athletes manager asked Van den Broek if he would consider taking on some athletes of his own. The only catch? It would involve working in India.
Global Sports Communication, in partnership with Procam International – organisers of the Airtel Delhi Half, the Tata Mumbai Marathon and TCS World 10k in Bangalore – were looking to 'elevate and enliven the professional face of sports' and together with the Sports Authority of India (SAI) were attempting to identify and develop a generation of Indian runners able to compete on the global stage.
Van den Broek said yes, sending a CV featuring masters degrees in Human Movement Science and in Special Education. Ten days later he was in Bhopal, nestled in the heartlands of the Indian subcontinent, the capital city of the state of Madhya Pradesh. The city was freshly minted as the home of India's Elite Distance Running Programme (EDRP) and boasts an impressive set up on the shores of the lake Bhojtal.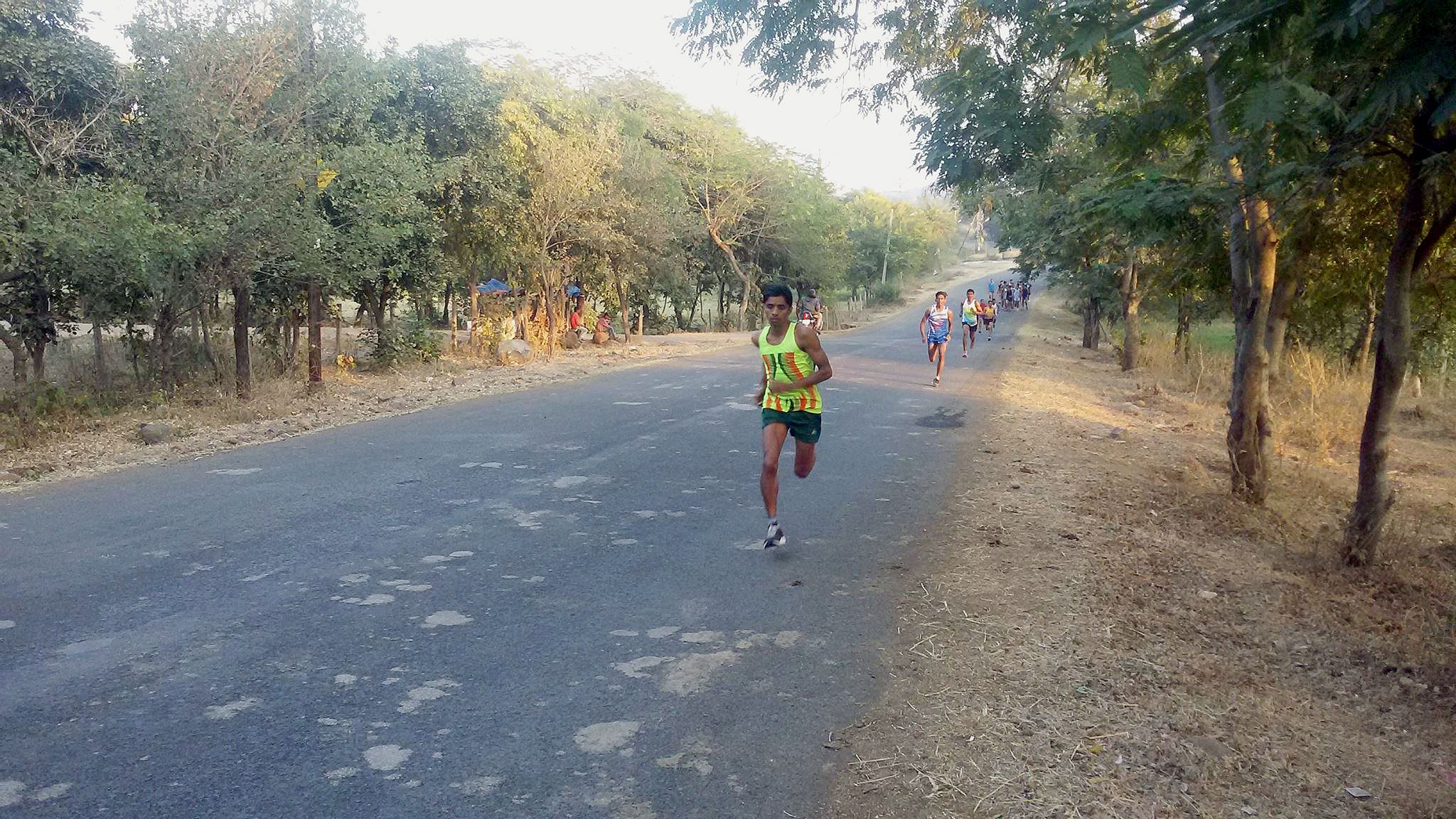 Surrounding Van den Broek were 50 teenagers, boys and girls aged between 14 and 18 who had excelled in a series of races forming a preliminary trial. Four weeks later, 50 would be reduced to between 10 and 15, and those winning a place would move to the complex and train there for all but a few weeks a year.
Over those four weeks, different characters would emerge. Some polished and experienced, some completely raw. One of the strongest was Abhishek Pal, a stylish runner who had excelled from an early age and who came to the camp already with a solid understanding of the fundamentals of endurance training. Another was Gavit Murli Kumar (known as Murli), whose apprenticeship came on the construction sites of Gujarat. As a strong young man, fellow workers tasked him with the role of carrying cement bags up flights of stairs. The hardest running training, he later told Van den Broek, was much lighter work. At the time he had run 33:20 for 10km, a performance notable only with the hindsight of what happened next.
Over the months and years that followed, Van den Broek would spend three to four weeks in Bhopal three times a year, timing visits in the lead-up to major competitions. Slowly, they adjusted the programme and reshaped the athletes' perspective of the sport.



A trail was made around the complex, meaning athletes for the first time began to do some of their training outside the track. Less focus was placed on hitting specific times on each individual run and his charges were encouraged to go by feel. Improvements were made to diet. Once a year some of the group would join Van den Broek in Iten and gradually they began to develop at impressive rates.
By 2019 both Murli and Abhishek had transformed into athletes capable of competing on a new level, finishing first and second respectively at the Indian Championships over both the 5000m and 10,000m. The reward: a trip to Doha for that year's Asian Championships.
Murli would go on to earn the bronze (later upgraded to silver) in the 10,000m and place fourth in the 5000m. Abhishek, despite a late illness close to the competition, placed fifth and seventh in the same events. Slowly but surely the pair were making their way to the elite end of the sport.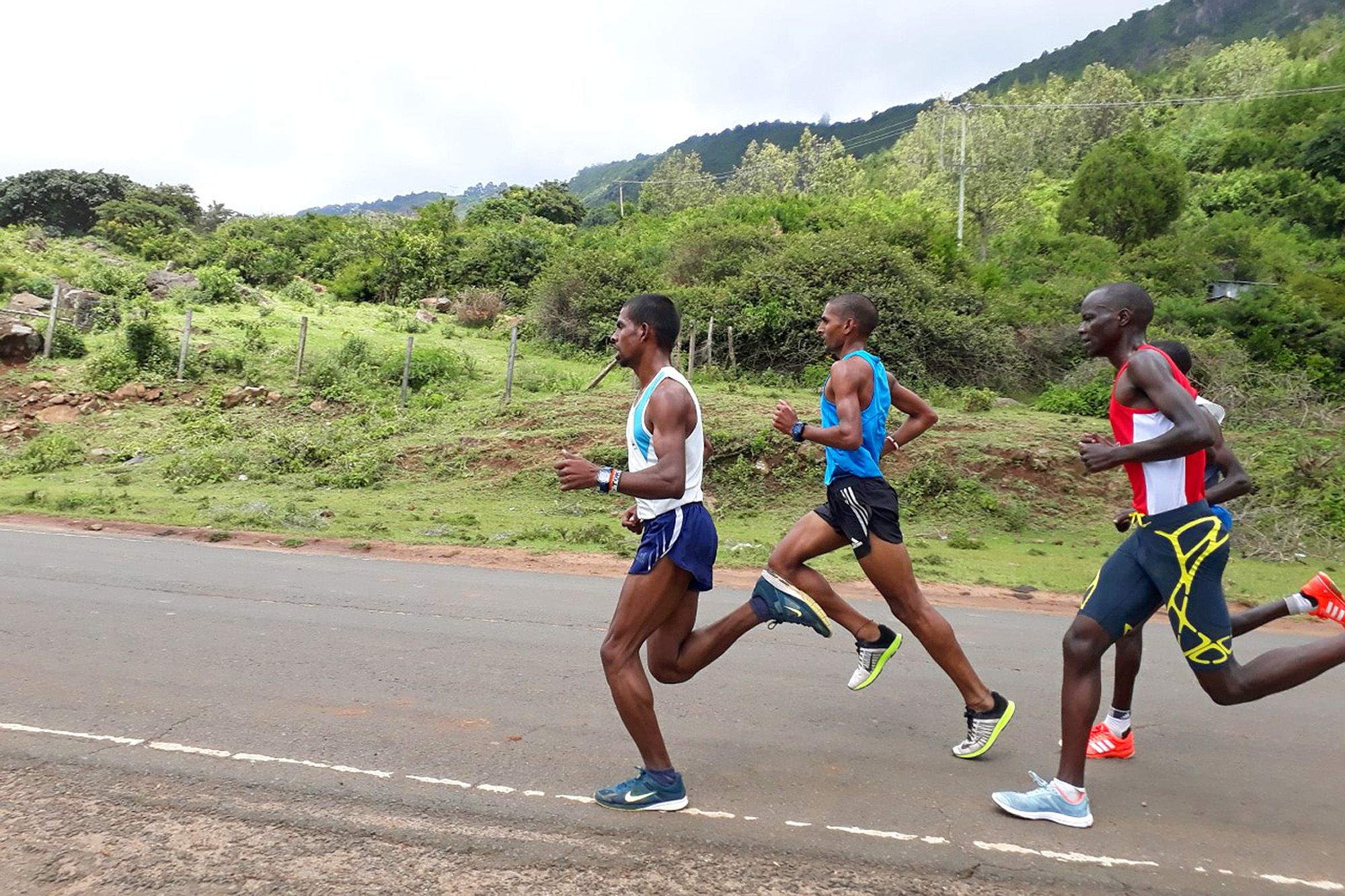 Abhishek Pal and Gavit Murli training in Kenya
Then the Covid-19 pandemic hit. Events stopped. The income generated by GCS and Procam International ceased overnight. The Dutch government stepped in and provided financial assistance for GCS's Dutch employees, but as an overseas employee Van den Broek slipped through the cracks. With no money coming in, GCS had no option but to end his contract.
India, of course, has felt the effects of the pandemic as bad as any country and in early 2020 Bhopal's athletes were sent home, the centre shut and the Olympics postponed.
For athletes who had spent the past four years with nothing on their mind other than to sleep, eat, train and recover, they now returned to busy lives and multigenerational dwellings. Household expectations, which weren't there when the athletes are hours away in Bhopal, came back and new stresses entered their lives. Certain athletes struggled, the postponed Olympics and lack of events on the horizon sapping their motivation. Some, including Murli, actually contracted the virus themselves.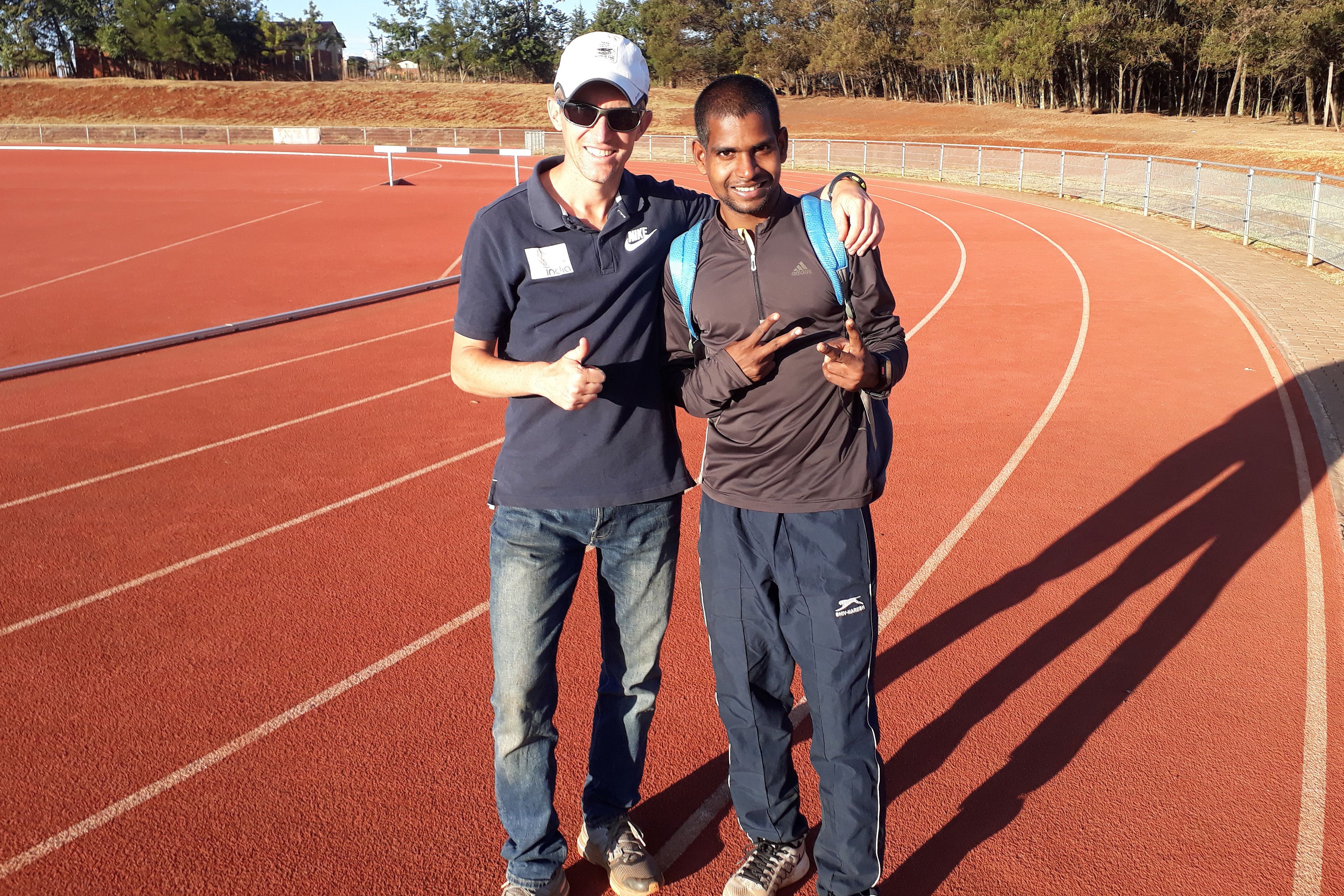 Hugo van den Broek with Gavit Murli (left) and Abhishek Pal (right)

Despite Van den Broek's paid support ending, it did not mean the termination of their relationship. He now coaches five of them unpaid and from across the Indian Ocean. The ongoing difficulties with overseas travel mean the Dutchman hasn't seen his athletes for more than 18 months.
And yet in spite of all this, his Indian five are still enjoying success. And the satisfaction Van den Broek gets now is even greater than his early days in the role. Back in 2014 in those first few camps, finding promising young girls was difficult. The talent was there but, like many countries, there was still work to be done in locating it. The situation gradually improved, though, and Van den Broek undertook some talent-spotting at the Delhi Half. And now it appears as though India may have found a gem.
Middle-distance specialist Ankita Dhyani joined the programme in late 2018. Initially relatively raw to the world of athletics, she now finds herself competing at a high level. Even through all the pandemic has thrown at her, Dhyani has qualified for the World U20 Championships in two different events, the 1500m and 5000m. She now hopes to make her first visit to the adopted country of her coach, to the Nyayo Sports Complex in Nairobi this August, ready to mix it with the brightest teenage prospects in athletics.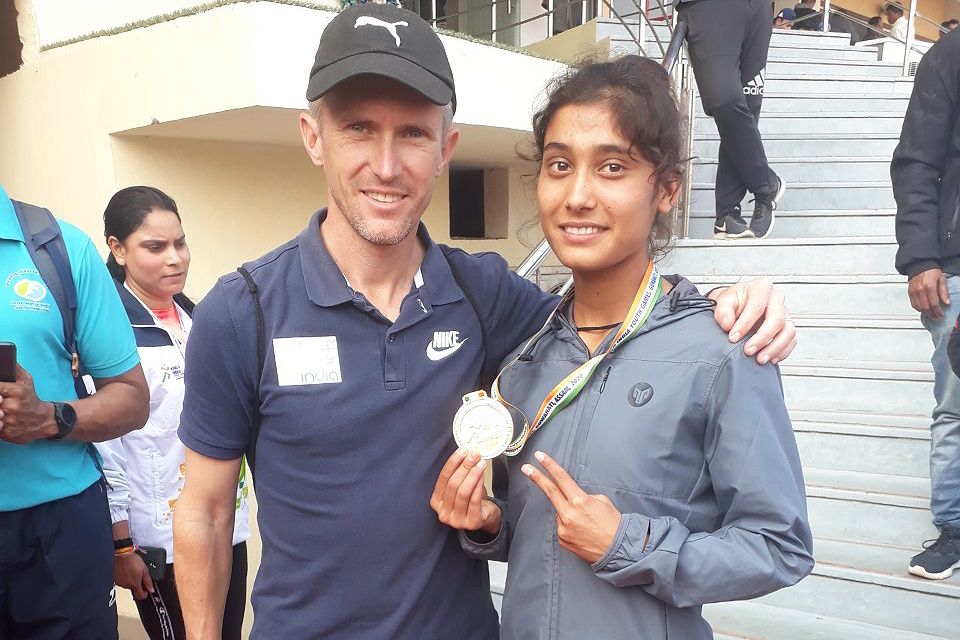 Hugo van den Broek with Ankita Dhyani

What is next for the rest? Van den Broek sees great potential for India to produce some top marathon runners. Outside his group, Avinash Sable front-ran a national 3000m steeplechase record of 8:20.20 earlier this year and may surprise a few come Tokyo.
With the progress they have made so far, few would bet against India one day realising their ambitions to become a force in global athletics.
George Mallett for World Athletics, with thanks to Hugo van den Broek