Hakone Ekiden (© Monthly Athletics Magazine Japan / Getsuriku)
The Melbourne Cup in horse racing is known as the race that stops the nation but, in truth, there's an event in athletics that holds a country in a far-more-captivated grasp: the Hakone Ekiden.
This 10-leg, 217km relay in Japan has for years garnered viewing figures that defy belief, and this year's race on January 2-3 was watched by 49.8 million people on day one and 52.6 million people on day two, according to Video Research Ltd. It was estimated that just over half the Japanese population tuned in at some point in the race.
This year's broadcast, which ran for more than 12 hours across two days, hit a record high with 32.3% average viewership in the greater Tokyo area.
The competitors may be students, some of them not yet old enough to buy a drink, but the best are idolised like rock stars, their faces splashed across pull-out supplements in newspapers, their performances dissected on national radio and TV, their appearances mobbed with hordes of screaming fans.
Why so much hype for a long-distance relay involving university teams from one region (Kanto) of Japan? It's best to ask those who've seen it – it's the only way to believe it.
Before British author Adharanand Finn arrived in Japan in 2013, he knew Ekidens were a big deal, but he didn't realise how big.
"I had this idea the Japanese are really into marathon running but when you get in with the serious end, their whole year is built around Ekidens," he says. "To compete in the Hakone is bigger than the Olympics for a runner."
Finn spent six months in Japan before writing his superb book, The Way of the Runner, and towards the end of his time there he experienced the enchanting electricity of the Hakone Ekiden.
"I went to the start and finish and it was insane, people had camped out all morning," he says. "There was no way I'd get to the front; it was seven or eight deep on each side."
Massive television viewership


Finn believes the media coverage is key to its popularity and to the audience's understanding.
"Everyone is reading the background stories, the histories, the timelines and that's what gives sport its hook. There's this soap opera connected to it. The TV coverage is brilliant; I've often ranted about how terrible coverage of marathons in the UK and US is, cutting away at the wrong time, but in Japan all the stats are all over the screen. It's so well produced that you can really follow it. A lot of people who watch are not running fans, but they cater for a wide audience."
It's a point echoed by Takeshi Nishimoto of Ekiden News.
"I've seen TV broadcasts of many races but Hakone is probably the best road race in the world," he says. "The director of the broadcast came up with the idea that 'Hakone Ekiden is a drama of each athlete'. Nippon Television (NTV) closely follows each athlete throughout the year and commentators are fed personal stories to talk about in detail. That's how it truly captivated the hearts of Japanese people."
Brett Larner, who runs the Japan Running News website, says the Hakone Ekiden has the biggest TV audience of any sporting event in Japan and the second-highest viewership of anything, "surpassed only by Kohaku, a long music special that's broadcast on New Year's Eve."
Larner knows countless athletes who participated and the stories they bring back from the course strike a similar tone. "That it's like a blur," he says. "They can't remember much due to the roar the entire way except for their ears hurting. There are thick crowds almost the entire way, with tens of thousands crowding the start and finish."
Nishimoto believes the viewing figures are even more extraordinary given the duration of the race, which runs for 11 hours. In an era when brevity is seen as essential, the Hakone Ekiden captivates the public for two seven-hour broadcasts.
"Some people may compare it with the Superbowl in the US, but this (TV) rating is the average from the total airtime for two days. I don't think there are many sporting events that would draw the attention of a nation (for that) period."
Founded a century ago


The race dates back to 1920, and was founded by Shizo Kanakuri, an Olympic marathoner for Japan in 1912.
"The original purpose was to have college athletes compete in the half marathon to develop and identify talent who can excel in the Olympic marathon," says Nishimoto. "However, in recent years, the number of entrance applicants of a university is directly affected by the result of the Hakone Ekiden, so universities invest in building state-of-the-art training facilities for Ekiden teams or recruiting systems offering scholarships."
The legacy it has built over the century since its founding earned the ekiden a World Athletics Heritage Plaque in 2019.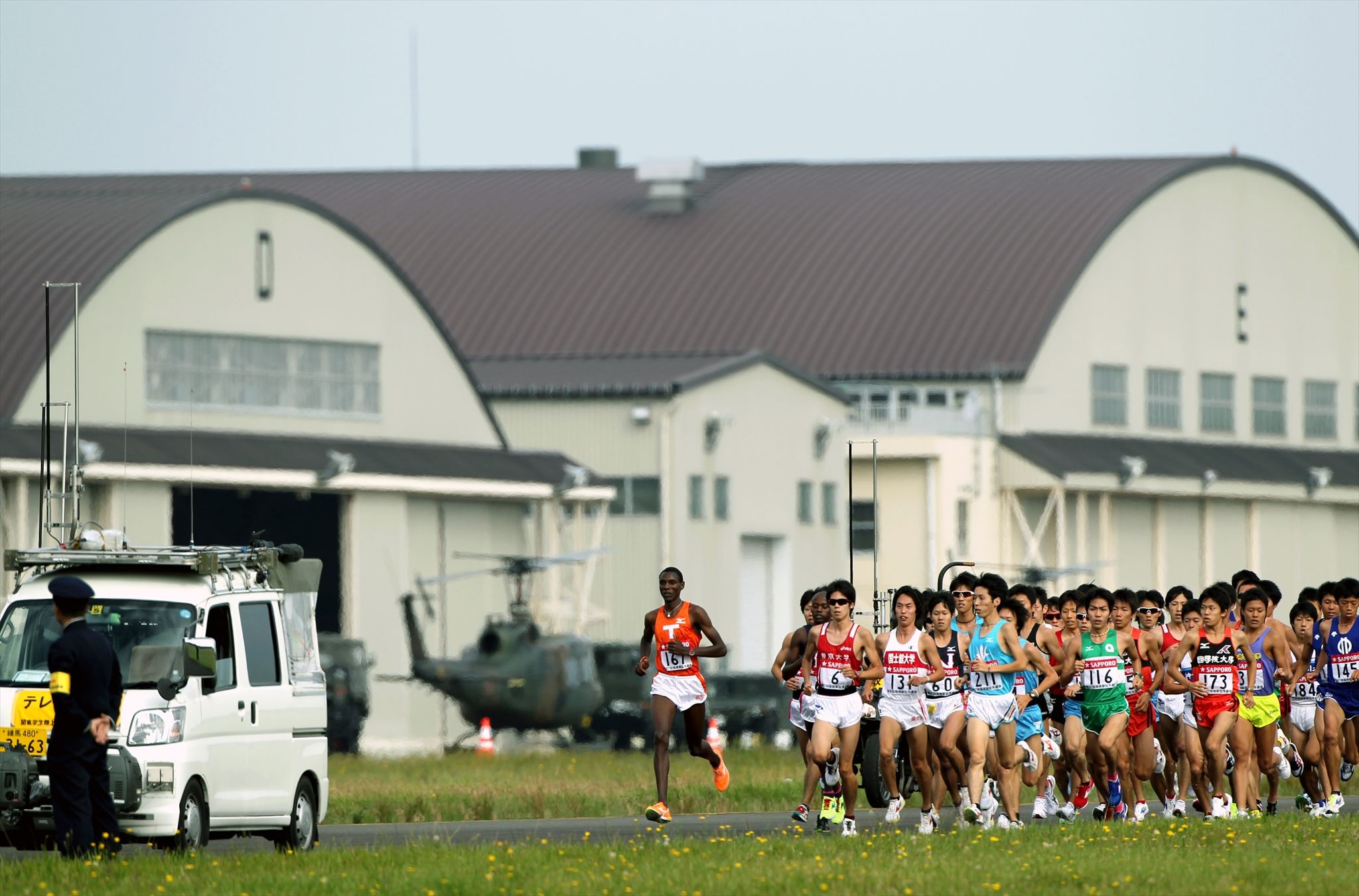 Larner explains that the emphasis on the half marathon in Japanese distance running is most notable in the Kanto Region, given all the legs of the Hakone Ekiden are close to 20 kilometres.
"Hakone is the peak of the year, so the entire year is focused on being ready to run a half marathon at 100% come January. But the rest of the year people are running 1500m, steeple, 5000m and 10,000m, cross country, and not just the half."
The emphasis on the distance can be a double-edged sword for young talent, according to Finn.
"It's one reason running is so popular so it's really good in that way, but with high school and college kids, they train really hard for the half marathon on the roads and it burns a lot of them out, physically and mentally. At 20-21, half marathon training is quite hard on them and it has this all-consuming effect."
A main event


The day before Hakone, the New Year Ekiden takes place over 100 kilometres, a race that features the best athletes running for corporate teams in Japan. Despite the high standard it's seen as a side-show to the collegiate event.
"Many Japanese traditionally like amateur sports more than professional sports," says Ken Nakamura, an athletics writer and statistician. "In the early days of professional baseball, it was not held in as high esteem as college baseball, and national high school baseball tournaments held every summer are followed by even those people who do not consider themselves sports fans."
In much of the athletics world relays remain an after-thought, but in Japan they're often the main event.
"They're popular not just at elite level but for not-so-fast runners," says Nakamura. "Another reason why Japanese favour relays is because they emphasise team efforts."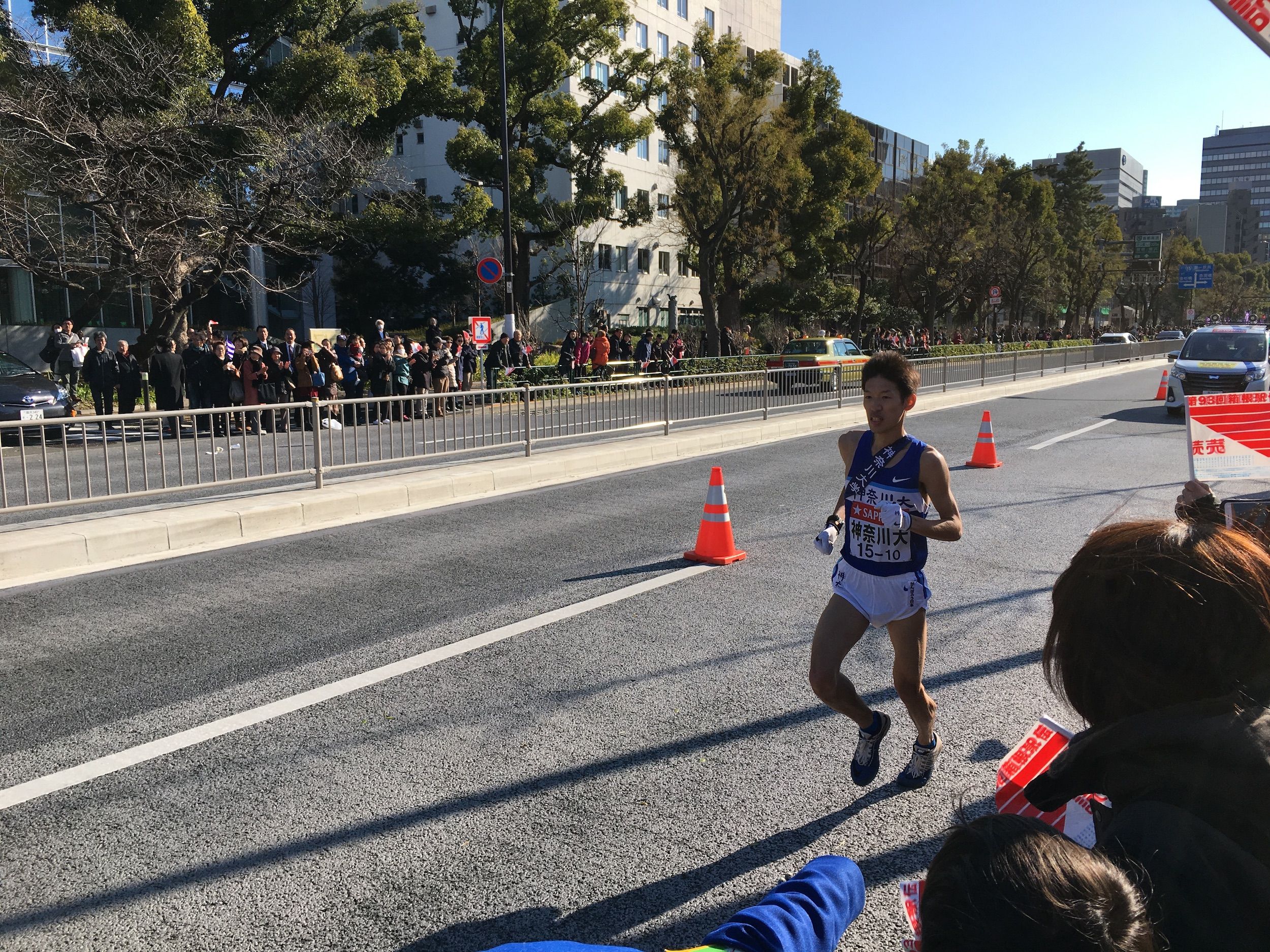 Nishimoto believes they possess a drama like no other: "In Japan, track and field is an extension of physical education classes from school, but Ekiden or relays are a spectator sport. The strategies involved, such as who is placed on each leg, or the drama of how young athletes develop and mature in the process, are what make Ekidens enjoyable as a spectator."
Packaged for success


For Larner, the event's packaging is a big reason for its success.
"It's a really exciting form of racing, both to take part in and, when presented and marketed skilfully, to watch. The broadcasters figured this out decades ago and have it down to an art. A sport that is presented and marketed in a serious, skilful and exciting way will attract fans over time, no matter what it is."
But could there be something in the Japanese culture, with its collectivist traditions, to explain its popularity with the public?
"I don't like making cultural generalisations, but the popularity of the Ekiden is partially from the way it emphasises how the contributions of every individual involved are critical to the success of the group," says Larner. "If you think of cross-country, where a team might have seven runners with five scoring, there's a margin of error. In an Ekiden, every single member is important, and if anyone fails then everyone fails. Likewise, they share in the success equally. This reflects the dominant cultural mythology."
Finn noticed that sentiment again and again during his time in Japan.
"There's this saying: the nail that sticks out gets hammered down," he says. "If you're running for yourself it's seen as a less noble pursuit than if you're part of this collective unit. From looking at it closely, it potentially inhibits the runners because they're taught not to do anything stupid in the race. If you blow up, you've ruined the whole team's chances, so it makes them more risk averse."
Finn has stood at the start of the Hakone Ekiden and watched the students warm up on nearby streets, the crowds 10-deep, the television helicopters loitering overhead, the nerves starting to fray. Unlike professional Ekidens, there's always an unpredictability about the Hakone.
Popularity of pop stars
"They're young and not experienced enough to always control their emotions so the results can be quite surprising," he says.
That was clear in this year's race, the 97th edition, as Komazawa University bridged a one-kilometre deficit on the final leg to deny Soka University, with Takuma Ishikawa producing an inspired run to snatch victory in the final two kilometres.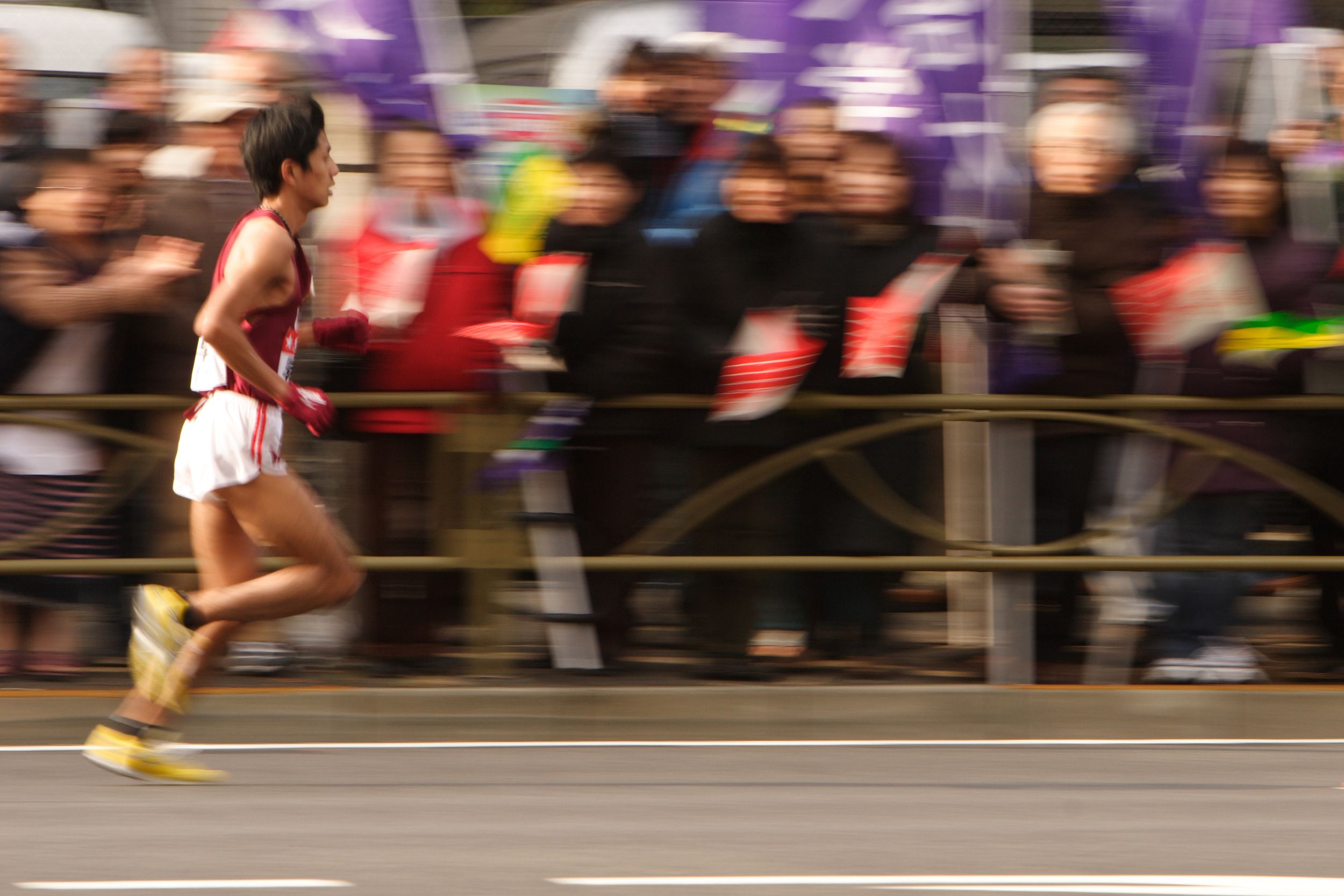 In a 10-leg race, which runs from Tokyo to Hakone and back again, the fifth leg is renowned as the toughest, with the road rising steeply to Lake Ashi. Those who excel are often referred to as God of the Mountain, and Finn made friends with one such runner while in Japan. To be around him at a subsequent track event was an experience he won't forget.
"It was like David Beckham was there," he says. "It's hard to get your head around; there's young girls fainting at the sight of them and crying; it's like pop stars."
The runners' ability to generate such feelings is undeniably linked to the way the race is followed by fans. They're not just viewers; they're supporters.
"People develop an affinity with a certain team," says Finn. "They wear the colours, the scarves, they get really into it and that doesn't exist in running anywhere else, unless it becomes international."
The effect of Ekidens' popularity is that Japan has astonishing depth in the half marathon. According to Nakamura, 78 Japanese men broke 62 minutes last year and 194 broke 63 minutes, while 45 Japanese women broke 72 minutes and 59 broke 73 minutes.
For the vast majority of those who run the Hakone Ekiden, however, the race will prove the peak of their career. "Only a handful advance to run professionally or for corporate subsidised clubs," says Nishimoto.
Although such clubs are amateur by definition – with runners paid to work for a company – Larner explains it's really a hybrid version of professionalism.
"The athletes are recruited to run for the team like professional athletes, given a salary, a bonus structure, housing, travel and other support," he says. "In most cases they have some sort of work obligation, which depending on the size of the company and team budget ranges from doing legitimate office or factory work to a facade of actual employment."
During his many years based in Japan, Larner has witnessed an astonishing progression in standards at the Hakone Ekiden, which can only partially be explained by shoe technology.
"The sharpest growth in performance has happened since 2012, when Toyo University became the first school to break the 3:00/km barrier for average pace over the entire 217km Hakone course, (which is) no joke given the mountain stages," he says. "Hakone has continued to grow in popularity, which has created more financial investment, which has resulted in higher performance levels, which has resulted in greater popularity."
In the Land of the Rising Sun, the event shines as an example to the rest of the world about the sport's capacity to captivate.
Cathal Dennehy for World Athletics