French decathlete Axel Hubert (© Decathlon9000 / Shinji Vitaly)
It was June 2020 in Bernay, Normandy, and French decathlete Axel Hubert was preparing for a very unusual decathlon.
With strict Covid restrictions in place, competitions were hard to find and so Hubert decided to organise his own event. It proved to be a successful endeavour. He scored 8113 points, the first big score of the 2020 season and the first 8000-point decathlon of his career. But one detail made the feat even more remarkable: Hubert was the only participant in the decathlon.
Three months later, he would convert that unofficial mark into an official one, scoring a world-leading 8260 to win the French Championships and move to eighth place on the French all-time list.
Hubert's breakthrough in an extraordinary year was a product of three factors: frequent disruption to his training environment, emphasis on performance over podium, and an ability to focus completely on his own results.


Alone with the pain
"If you told me a year ago my 2020 season would be like that, I would not have believed you," Hubert says. "I want to say thank you to Covid. The lockdown changed my plan. With the European Championships cancelled and Olympics delayed, there were no big goals and championships. So, I decided to create my own competition. Me versus me. The first 8000 points of my career, doing a solo decathlon. It is a glorious memory that will stay with me all my life."


View this post on Instagram

Hubert's solo decathlon was intended to test whether he could beat his PB of 7810 points. In the previous few years, he had improved each year by some 120-160 points: from 7526 in 2017 to 7683 in 2018, and then to 7810 in 2019. If he were to continue that sequence, it would take him close to the 8000-point gateway to world-class ten-eventing.
The event was a meticulously planned affair; an intense collaboration between all the most important people in Hubert's life. His family, girlfriend, friends, physio and others worked together to replicate competition conditions as closely as possible, including electronic timing and wind measurement equipment.
If decathlon is the hardest of events at the best of times, then 10 events without the benefit of competitors to provide both motivation and companionship are considerably more demanding. "The hardest event was the 400m," Hubert recalls. "I felt the lactic like never before – and I was alone with my pain!"
He exceeded his PB marks in all three of the throwing events – including a 69.33m javelin – and while the final result of 8113 wasn't valid for official purposes, it was sufficiently credible to give Hubert a sense of what might be possible when competition resumed.


From javelin to decathlon
"I actually started doing decathlon thanks to an injury," he explains. "I had surgery on my elbow in 2015 and it was difficult to throw the javelin every week. So, I had to find another event, and I wanted to stay in track and field. I don't like swimming; I don't like basketball. My father – Thierry Hubert - was a decathlete, so I had that option in my mind."
Hubert completed his baccalaureat and the opportunity arose to attend the University of Annecy, where he started training for decathlon. When his coach retired, Hubert then moved to the elite club at Aix-les-Bains, home to Olympic and world 200m medallist Christophe Lemaitre, and an excellent opportunity to develop his speed.
"That allowed me to improve my 100m speed from 11.22 to 11.04. There was also a good multis and pole vault coach, Nicolas Boutron, who helped me improve my pole vault PR by 20cm."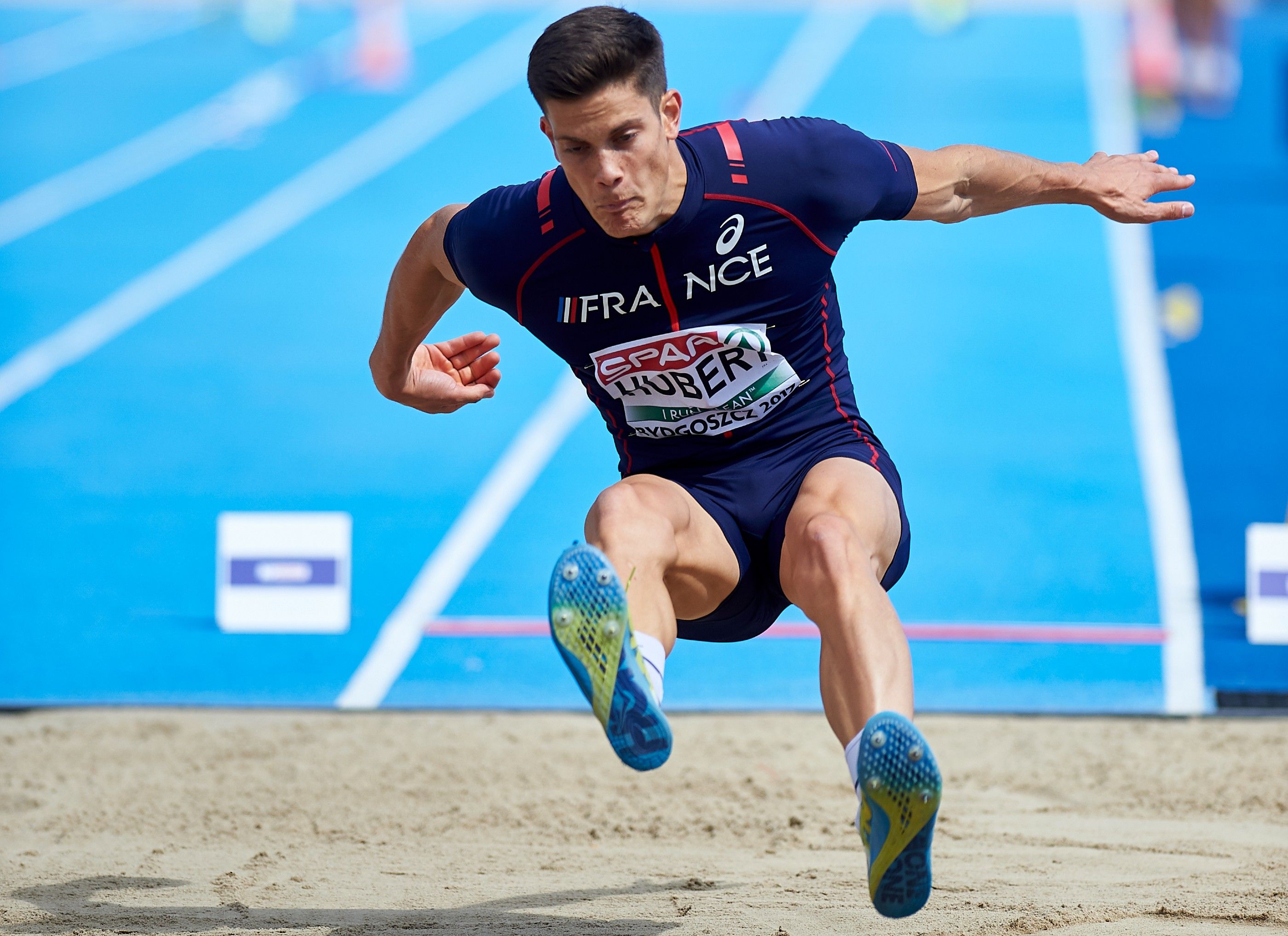 Hubert at the 2017 European Athletics U23 Championships (© Getty Images)

While some might have settled into the stability of a steady routine, Hubert was hankering for another change. "I finished my studies in France and I needed some changes to break my routine and discover new training methods. I got a scholarship and moved to Texas State."
Hubert's time on the US college circuit was short, just one season, but it was hugely successful. He won both the 2019 indoor and outdoor Big 12 titles for Texas State, and set school heptathlon and decathlon records, the latter his PB of 7810. The disruption to his habits had yet again brought impressive results.
"I always need some change in my life to be better," Hubert explains. "It's in my personality. I want to know new people, train with new people; take the positive and negative from everywhere I go and adapt my training. That's how I improve and get stronger every year."
Hubert returned to France from Texas tired – "we had to compete every week" – but with fresh insights on how to get the best out of himself. "I learned a lot about team support in Texas. I had a physio, I had several coaches and I had roommates who supported me. And it was in Texas that I decided to do track and field 100% of my time.
"I was persuaded that if went back to France and trained with my father, like when I was young but this time 100% focused on decathlon, I would be one of the best decathletes in the world. My parents, Thierry and Michelle, helped me financially since I had no sponsor, no job, nothing. My father is a good analyst and always knows what's best for me. We are a good duo and that's why we levelled up in 2020 – and we can move mountains when we work together."


Making it official
Fast forward to September 2020 and the French combined events championships arrived. International competition had resumed and the world lead of 8231 resided with Switzerland's Simon Ehammer. Hubert had a storming first day at the championships, with PBs in the 100m, shot and high jump, and he reached the halfway mark with a total of 4200 points overall. "4200 is a big score for me on the first day," he observes. "So that motivated me for the second day. I'm a good hurdler, and a good javelin thrower.
"But I never follow my points during the decathlon, and I didn't know how many I had before the 1500m. With 400m or 500m to go, I heard the announcer say, "he has to run under 4:43 to beat the world lead!" So, I cleared my mind and accelerated. I finished strong in the 1500m and finished with the world lead."


View this post on Instagram

Hubert ran 4:39.62, just a tenth away from his 1500m PB, and scored 8260 to win his first French title. World record-holder Kevin Mayer aside, it was the best mark by a French decathlete in a decade, since Romain Barras' 8453 in 2010.
Hubert's final decathlon of 2020 was in December in Reunion, won by teammate Mayer in an Olympic qualifying score of 8552. Hubert finished fourth, just short of another 8000-point score with 7980, and unfortunately collected a foot injury which would affect his 2021 season.
The competition was also the final decathlon for multiple French champion Gael Querin, and Hubert and Mayer were among the athletes who shaved off their hair in homage to their smooth-headed teammate.
"We wanted to do something for Gael's last decathlon. We had a WhatsApp group and I think it was Bastien (Auzeil) who had the idea to shave our heads. It was a bad idea!" Hubert laughs.


View this post on Instagram

Aside from their temporarily bald pates, Mayer and Hubert have something else in common. The world record-holder was considered a "slow" decathlete and didn't run under 11 seconds for the 100m until relatively late in his career.
"I'm a pretty slow athlete," Hubert explains, "and 11.03 is not a good performance for a sprint. But Kevin Mayer ran 100m in 11.10 five years ago. Now he is running 10.5, 10.6. So, I think everything is possible.
"I reached my first goal in my career, to achieve 8000 points in 2020. But I want to be one of the few athletes who have 9000 points.
"Everyone says to me, with 8260 points you can do the Olympics, you can do the World Championships. But that's not my primary motivation. It's not the medal. It's not the championships. It's not the podium. When I train hard every day, it's not for the gold medal, it's not to beat another man.
"It's to beat myself and my performance."
Gabriella Pieraccini for World Athletics