Dina Asher-Smith wins the 200m at the Wanda Diamond League meeting in Florence (© Diamond League AG)
Dina Asher-Smith had just reached the peak of the mountain when she was plunged into the unknown.
Fresh from her triumph in the 200m, and a silver medal in the 100m, at the 2019 World Athletics Championships in Doha, where she was confirmed as one of the fastest women in the world, Asher-Smith had just begun her run into the Tokyo Olympic Games in 2020 when the whole world came to a screeching halt, her and her sport included.
The 25-year-old Londoner could never have imagined voluntarily sitting out a year of international competition before the pandemic hit but that is what she elected to do when the world changed in March last year.
"We were in a situation that nobody around the world has been in before and I know that I was no different from anyone else," she reflected, after a triumphant return to the 200m in the Wanda Diamond League in Florence on Thursday (10).
"Every day I was worried for my parents' health, my grandparents' health. With that in mind, I was thinking, is it right for me to be bouncing around the world and doing that? I don't know. That was my emotional frame.
"But also, from a more athletic point of view, we just saw it as: Okay, the Olympics have been postponed. If you had been given, or were forced, to have an extra year (of preparation), what would you do? For us, it was to get stronger, it was to improve my technique, it was to improve my mentality, my nutrition, my sleep, everything. So we really used the time to go up another level and I really hope that I can perform and show that's what I was doing."
Asher-Smith admits it felt more like a risk than an unexpected gift at the time, stepping away from the known path to glory, sitting out while her rivals returned to racing in the latter part of last year. But she and her coach John Blackie believed it was the right approach for her and she trusts that the benefits will show when she finally arrives in Tokyo next month.
So far, it looks like a good decision.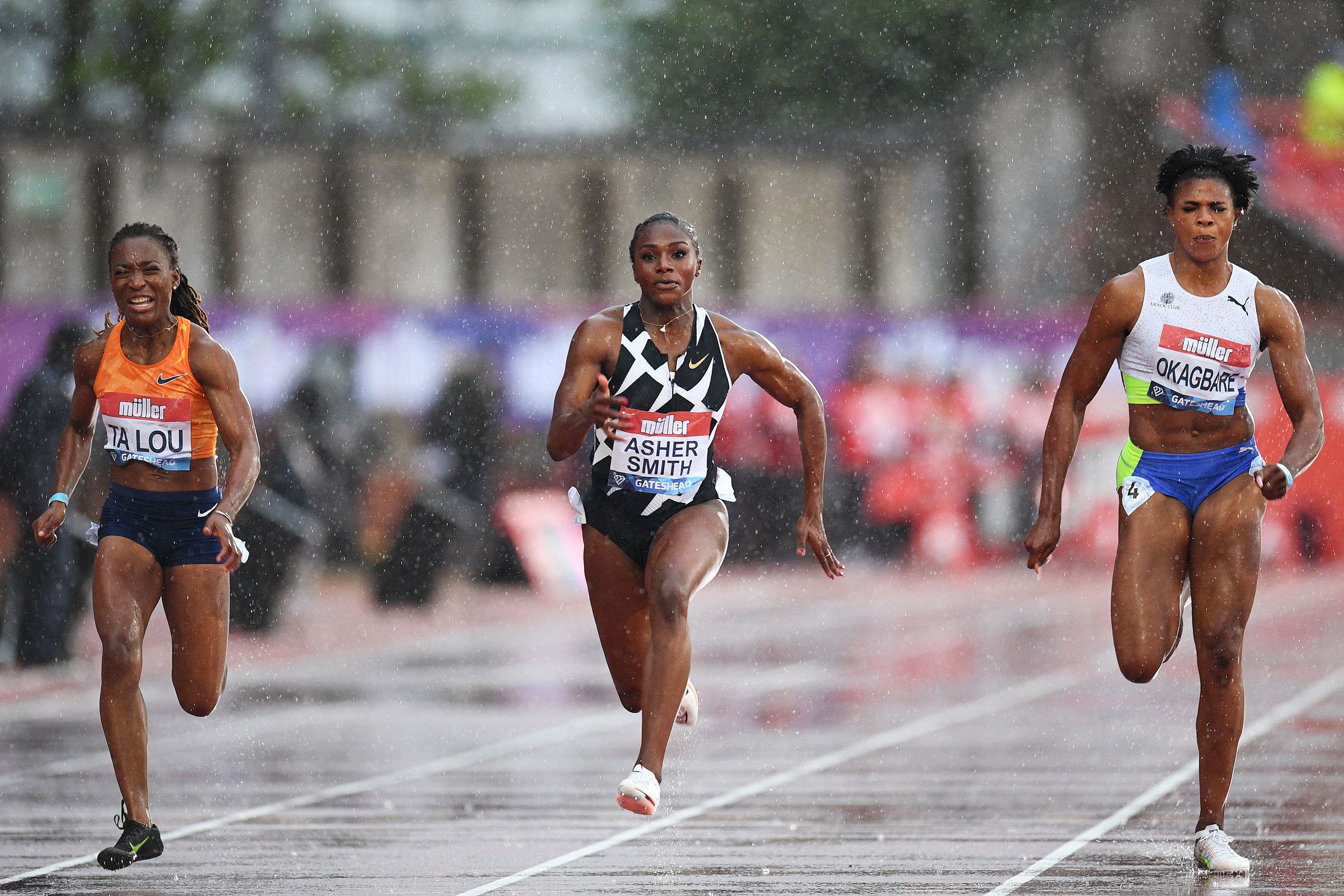 Dina Asher-Smith on her way to winning the 100m in Gateshead (© AFP / Getty Images)

Asher-Smith returned to the international scene last month, running, and winning, the 100m at the Gateshead Diamond League meeting against a stacked field that included the new American threat Sha'Carri Richardson and the dual Olympic champion Shelly-Ann Fraser-Pryce, and in appalling weather.
"You have to take the good performances when they come, so I was really happy to do well and do well in front of a home crowd," she said afterwards.
"I think psychologically it was good that I was able to focus in the circumstances - the fact that it was my first 100m, the fact that it was at home. It was suddenly a very big race for my first 100m against some incredibly talented women with some incredibly fast PBs, some incredibly fast times already run in the season and then the weather. I was just happy that despite all of those things happening in the background I was just able to focus on me and perform the way that I wanted to, at the end of the day."
She found better conditions at the FBK Games in Hengelo, a World Athletics Continental Tour Gold meeting, last week, where she registered her first sub-11 second clocking (10.92) of the season, before turning her attention to the 200m in Florence.
At the press conference before this meeting, she confessed she still felt a little race rusty, but it didn't show as she dominated an international field to win in 22.06, just a touch slower than Shaunae Miller-Uibo's world-leading time of 22.03 for this year.
"My team and I know I'm in good shape and I'm happy to come out and run that today but I know I can go quicker so I'm excited to be able to go again," she said.
What is already clear is that she will need to be better than ever to triumph in Tokyo. Richardson set the early season pace with a 10.72 clocking in April, then Fraser-Pryce blasted to 10.63 in Jamaica last week, the fastest time in the world for more than 30 years.
The British Championships and Olympic trials (25-27 June) are next on Asher-Smith's agenda and then she has more international racing lined up, finishing with the second Diamond League meeting to be held in Gateshead on 13 July, to bring her to a new peak in Tokyo.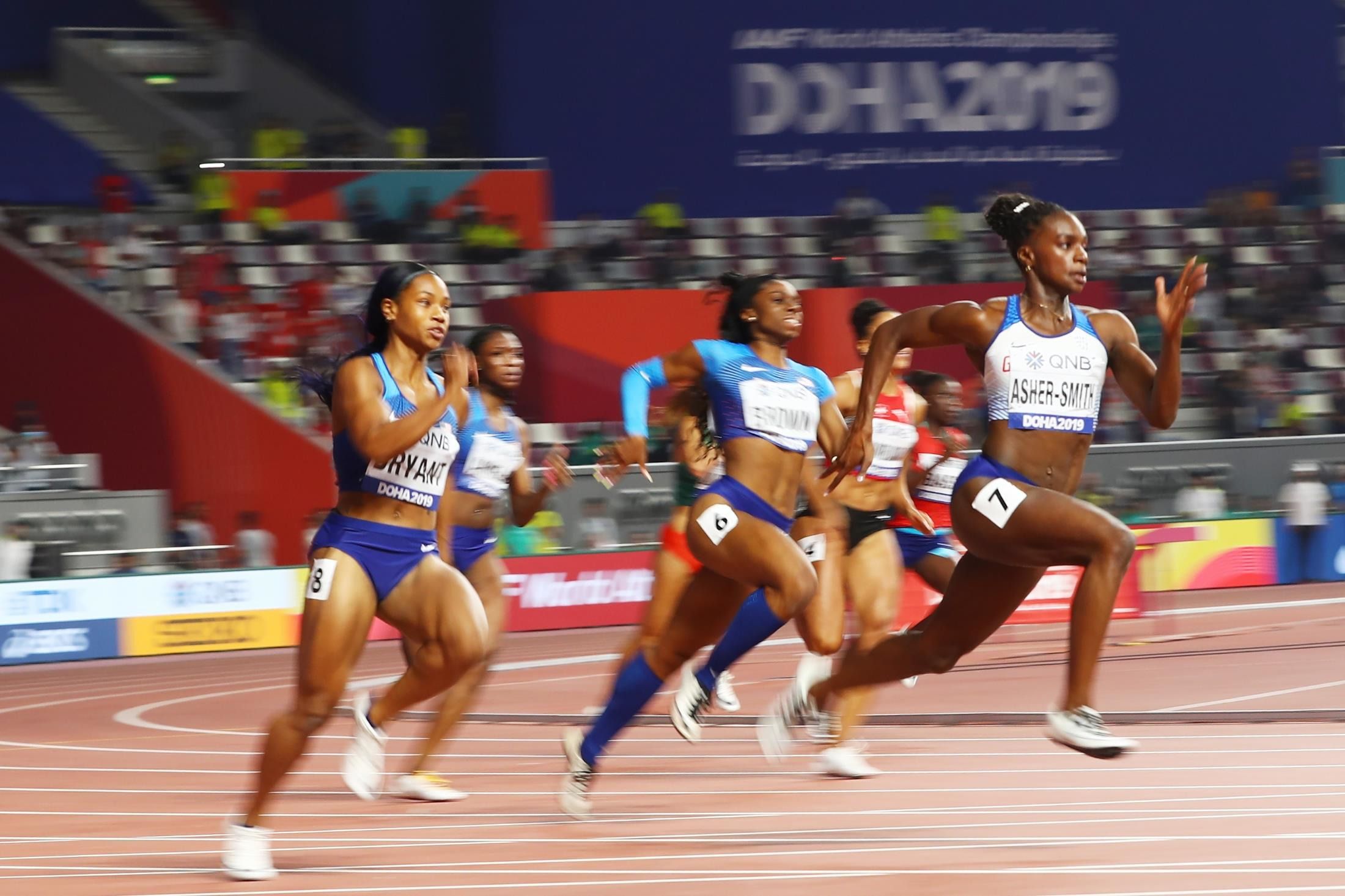 Dina Asher-Smith on her way to winning the 200m at the World Athletics Championships Doha 2019 (© Getty Images)

For now, she is feeling fresh and unburdened and that is the mindset she needs to run fast.
That's partly due to another gift of the pandemic. It gave her time to pursue some of her other passions – writing, reading, fashion ("not necessarily the shopping side but more the actual artistic art form side and the power of clothing throughout time, the power of clothing and how it transforms people").
"I think those things are really interesting and they are completely away from sport," she said. "I think having a balanced life is really important for performance. It's actually in my best interest to dedicate time to other stuff. Everybody is different, but for me, I have to be happy all around - if I wasn't being myself, I wouldn't be happy which is my personality, and when I'm happy, I run much faster."
She's now confident that stepping away from the competition treadmill has left her in a better position than she would have been if she had gone on as usual.
"For me to continue doing stuff like normal last year, this would have felt like a fifth Olympic year in the cycle and that's unnatural for us, so I'm happy we did that," she said.
But the quest for improvement continues and she has boxes she wants to tick before she arrives at the Olympic Games.
"I'd like to improve my turnover, I'd like to keep getting sharper and that comes naturally with racing more, racing on the Diamond League circuit, racing high quality opposition,'' she said. "And honestly, it's just being able to apply things like that and react to situations in the race because you never know what's going to happen in a major race. I've been in so many races where these girls are just whooshing past and I'd like to have the skillset to react and really put myself up there."
Her over-arching goals are to stay healthy, stay strong, and keep an open mind about what is possible for her this year.
"Even though I am relatively young I have enough experience to know that championships are very unpredictable, so who knows where your chances are,'' she explained. "You have just got to stay in shape and stay focused and perform well on the day. I want to put together a good performance in the Olympic Games. Obviously before we get to that point, I have to make the team and get there in one piece, so before I start to imagine and forecast what a good Olympics would look like for me, I have still got to fulfil the essential stepping stones to getting there."
But for the first time in a long time, the path ahead is clear.
Nicole Jeffery for World Athletics