Peter Norman, Tommie Smith and John Carlos on the podium at the 1968 Olympic Games (© AFP / Getty Images)
In the history of athletics, it's one of the most iconic images: the men's 200m medal ceremony at the 1968 Olympics in Mexico City.
The bowed heads, the black gloves, the raised fists – a courageous stand taken by Tommie Smith and John Carlos that shook up the world.
More than half a century has passed since it happened, but after a seminal year in the battle for equality, the actions of the US sprinters feels as relevant as ever.
Indeed as an Olympic year prepares to dawn, it seems a pertinent time to ask the two protagonists what they would say to athletes looking to follow in their footsteps.
"I would say you have to check into your emotions, what you believe in," said Carlos. "If you have a passion for human rights and you want to make a stance, make sure you do your homework and have a clear understanding of why you are making the stance – what you anticipate in terms of bringing to society. And be prepared for any challenges or questions that come to you thereafter."
Smith believes athletes should tread carefully, but have courage in their own convictions.
"Follow their own mind," he said. "Don't be confused with doing things someone is telling them to do. They have to plan purposefully (and) please proceed with caution. But proceeding has to be pursued with persistence, and there has to be a purpose. You will be responsible for what you put in front of your lips."
The pair offered that advice during the World Athletics Awards last Saturday, where Smith and Carlos – along with the late Peter Norman of Australia, the 200m silver medallist in Mexico City – received the President's Award from Sebastian Coe, who highlighted "the bravery, dignity and morality" of the trio.
Coe was 12 years old during the Mexico City Games and he told both Smith and Carlos how the experience of viewing their races, and their subsequent stance, had been a catalyst for his commitment to athletics.
"One of my ambitions is that all our athletes in the current batch become students of their sport, that they understand our history," said Coe. "You are a seminal part of that history and while I'm in this role I will continually remind them of the sentiments you've expressed. You are an iconic part of our sport."



The decision to do what they did was a long time in the making, even if its execution that night was improvised, with Smith borrowing a pair of black gloves before the medal ceremony, which they shared between them upon the advice of Norman. Both Smith and Carlos wore black socks without shoes to bring attention to black poverty, with Smith wearing a black scarf and Carlos a necklace of black beads.
Both wore badges supporting the Olympic Project for Human Rights (OPHR), and when Norman became aware of their plans shortly before the ceremony, he borrowed an OPHR badge to lend his support. Norman became friends with both Smith and Carlos in the years that followed and both of the US sprinters were pallbearers at the Australian's funeral in 2006.
"Peter crossed over into a situation in which he wanted people to know he believed in human rights," said Smith. "That's why Peter was such a great friend, a great orator. Going to his funeral and bearing the casket on our shoulders was a pride within our holy bodies, giving him what he deserved."
That sense of respect – of love – was mutual.
"They were his brothers," said Jan Norman, Peter's wife. "He went to America a couple of times and hung out with them, he felt such a connection to them. Peter would be so proud to be here accepting this award and his whole family is happy to accept it on his behalf."
Carlos remembers his Australian friend with great affection.
"Peter Norman was like me, a free-spirited individual who at the same time had a calm eye on the prize," he said. "When I say prize, I'm talking about humanity in terms of having love for society and feeling that he has to wake society up sometimes to make them realise love is the thing that powers the generations of this world.
"I always have a place in my heart for Peter Norman. He's a brother from another mother. I will cherish him for eternity."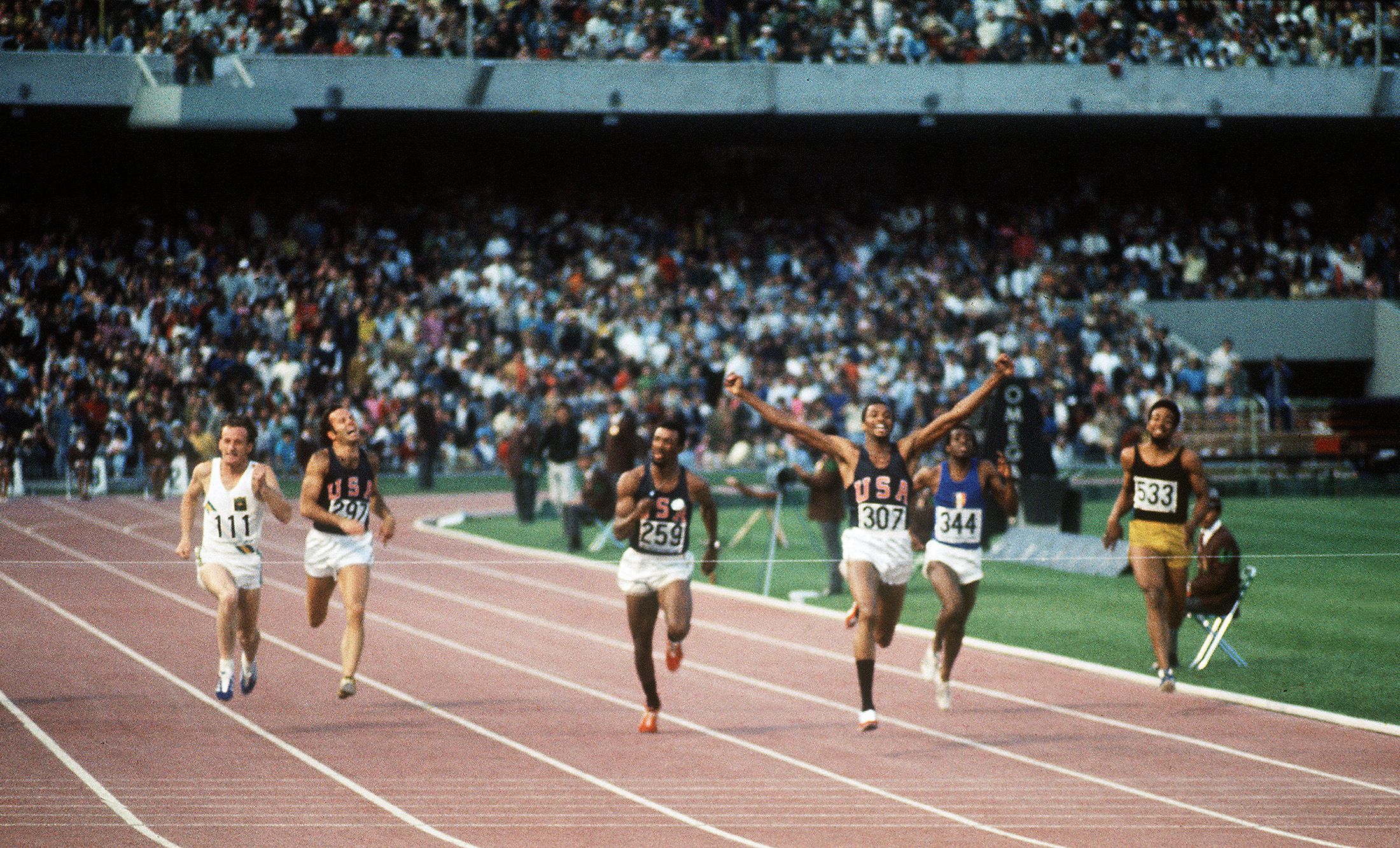 Tommie Smith (307) wins the 200m from Peter Norman (111) and John Carlos (259) at the 1968 Olympic Games in Mexico City (© AFP / Getty Images)
Long before 1968, Carlos believed he would make a substantial difference in the world, even if he didn't know what form it would take.
"The first thing was the vision I had as a kid letting me know I'd be involved in something that was special in life," he said. "But who moulded me and gave me the vision, creativeness and heart to do the things I've done is my Mom and Dad."
How did Smith find the courage to take his stand? He felt he had no other option.
"We had been put in that position by society and by the need to withstand the pressures of a system that didn't recognise everyone as equal," he said. "We did it from an athletic platform of courage and excitement and a need to provide an avenue for those who didn't have one to go down this road, headed for that intersection where you had to choose."
The story has been told many times over the years, and its context was laid out in superb detail by filmmakers Tom Ratcliffe and Becky Paige in The Stand, a documentary released earlier this year. In the film civil rights activist Harry Edwards, the architect of the Olympic Project for Human Rights, draws a parallel between Smith and Carlos and current athletes who use their platform for a higher purpose.
"These athletes today who are protesting against injustice stand on the shoulders of giants," said Edwards.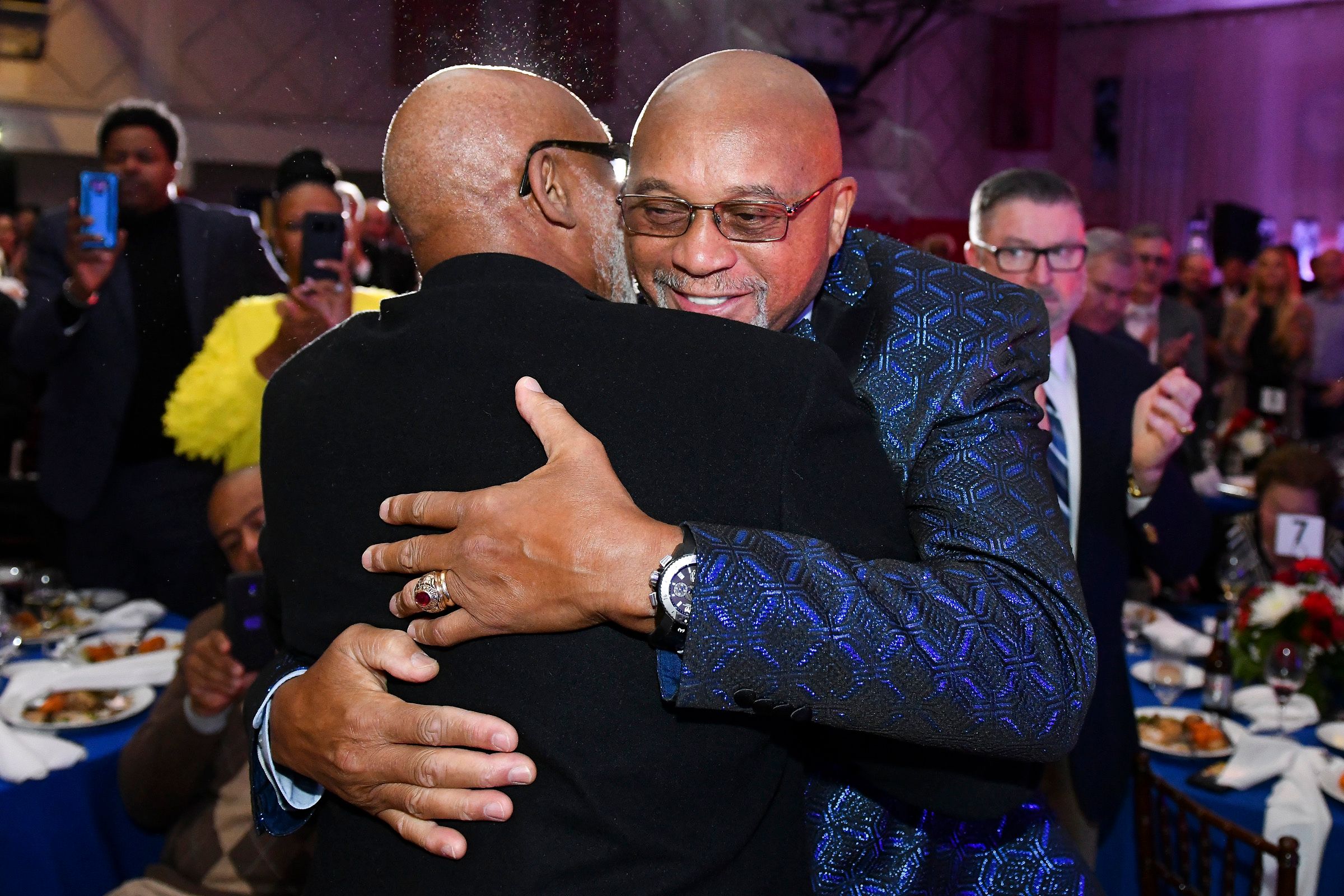 Tommie Smith and John Carlos at the 2019 US Olympic Hall of Fame Induction Ceremony (© Getty Images)
It was Smith's hope in 1968 that their actions would inspire others.
"We picked that direction because it was a needed direction, not only by the athletes, to do something everyone would see and understand," he said. "It was time for the athletes to stand up."
Their athletic feats in Mexico City ensured they would be remembered in the annals of athletics – Smith won the 200m in 19.83, Norman was second in 20.06, with Carlos third in 20.10 – but their actions afterwards ensured their names will echo an eternity. Smith describes the race itself like a sentence, and their stand on the podium as like a full stop.
"We left that period for a succession of other sentences to be written in the history of athletics," he said.
Before and after, others did the same, and one of the more overlooked protests at those Games was that of long jump champion Bob Beamon, who rolled up his pants to reveal long black socks ahead of his medal ceremony. After the national anthem ended, Beamon faced the crowd and raised his right arm with a fist.
After a harsh reaction to their stance – both Smith and Carlos were expelled from the Games and faced a fireball of fury upon their return to the United States – Smith realised their gesture had been largely misconstrued.
"What happened in Mexico City wasn't done to hate the flag," he said. "I love the flag. It was the platform I had to make others realise we need love, joy, and not hate."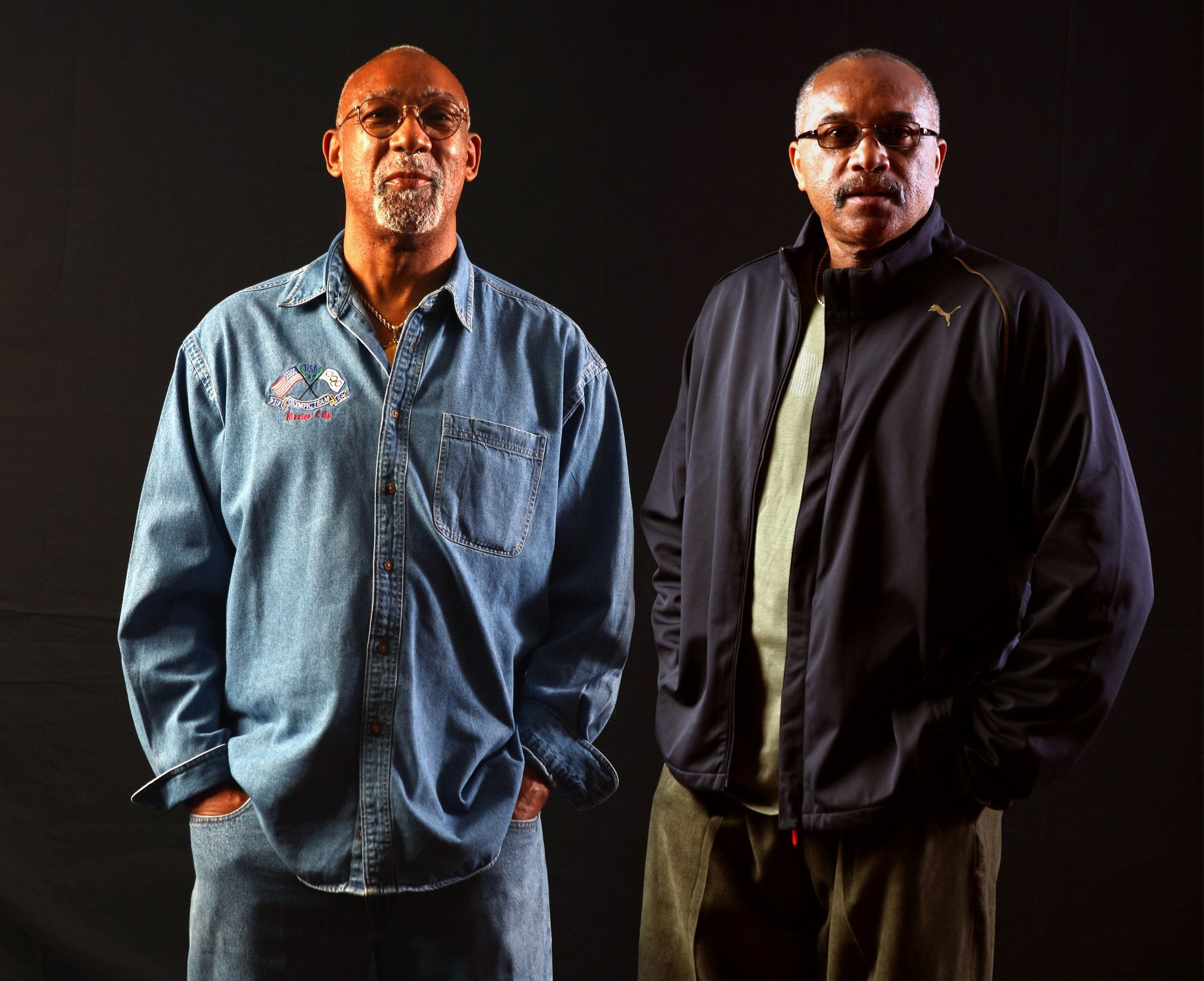 John Carlos and Tommie Smith at the 2007 World Athletics Gala (© Getty Images)
A clear correlation can be drawn between their actions – and indeed the subsequent fallout – and that of American footballer Colin Kaepernick, whose taking-a-knee protest before NFL games in 2016 has since gone global, representing a way for sportspeople to peacefully protest racial inequality. Many others have followed suit, like tennis champion Naomi Osaka or basketball legend LeBron James, and Smith takes a certain pride when he sees the actions of the current generation.
"The history of the actions of the athletes who participated on that victory stand carried through and that was the cause of what happened with Colin, LeBron and others," he said. "A plethora of athletes understood and began to stand up. That brought in a younger generation to say, 'well, if they can do it, I can do it'."
Cathal Dennehy for World Athletics