Qieyang Shenjie wins the Gran Premio Cantones de La Coruña (© Nicola Maggio)
China's Qieyang Shenjie and Spain's Alvaro Martin captured respective 20km race walk victories at the 35th Gran Premio Cantones de La Coruña, a World Athletics Race Walking Tour Gold event, held on Saturday (28) in Spain's northwest coastal city.
While Olympic and world medallist Qieyang enjoyed an overwhelming win in 1:27:50, European champion Martin fought hard to defeat his compatriot Diego Garcia inside the closing kilometre, 1:19:58 and 1:20:00 their respective clockings.
Qieyang destroys any opposition
Likely due to the warm temperature at the start of the event, the women's race kicked off quite cautiously at a steady 4:28 per kilometre pace. Right from the start, six women formed a leading group: Qieyang, Australia's Jemima Montag, Peru's Kimberly Garcia, Colombia's Sandra Arenas and the Spanish duo of the current European champion Maria Perez and Laura Garcia-Caro.
The opening 5km was reached in 22:20 and shortly afterwards the world silver medallist Qieyang picked up her pace to cover the following two laps in 4:15, with only the Peruvian Garcia for company. Another 4:11 lap by the 31-year-old Qieyang was decisive and saw her leave Garcia well behind.
Qieyang led through half way in 43:44 and had an eight-second advantage over Garcia, herself 16 seconds ahead of Montag. Way back, local star Perez travelled 44 seconds behind the leader but 13 seconds clear of her compatriot Garcia-Caro, while Olympic silver medallist Arenas had begun to falter, already 1:25 behind Qieyang.
With the win all but secured, Qieyang eased her pace and covered the next laps in the 4:21/4:23 range, which proved to be more than enough to keep Garcia at bay. Meanwhile, Montag was a lonesome third, 41 seconds in arrears, with Perez in fourth another 20 seconds adrift. The Australian then dropped out during the 14th lap.
With 5km to go, Qieyang remained a solid leader having built a 22-second margin on Garcia. European champion Perez was a distant third, 1:16 behind the leader, while Garcia-Caro lost another full minute on her fellow Spaniard. Over the closing laps Qieyang kept on her triumphal walk, even slowing her pace to 4:28 splits but still strenghtening her lead over her pursuers.
Qieyang clocked 1:27:50 at the tape to grab her second win in Cantones after her 2018 success. The Chinese athlete had a massive 48-second advantange on Garcia (1:28:38), with Perez completing the classy podium, recording a 1:29:33 performance. Arenas was never a factor and decided to drop out of the race shortly after midway.
Martin leads local 1-2
Held in much more favourable weather conditions with the temperature having dropped sharply, the men's event opened with a slow first kilometre in 4:11 but the trio of India's Suraj Panwar, China's Xianghong He and Italy's Gianluca Picchiottino soon began to increase their rhythm. All the favourites, such as Brazil's Caio Bonfim and the Spansh duo of Martin and Garcia, were in close attendance.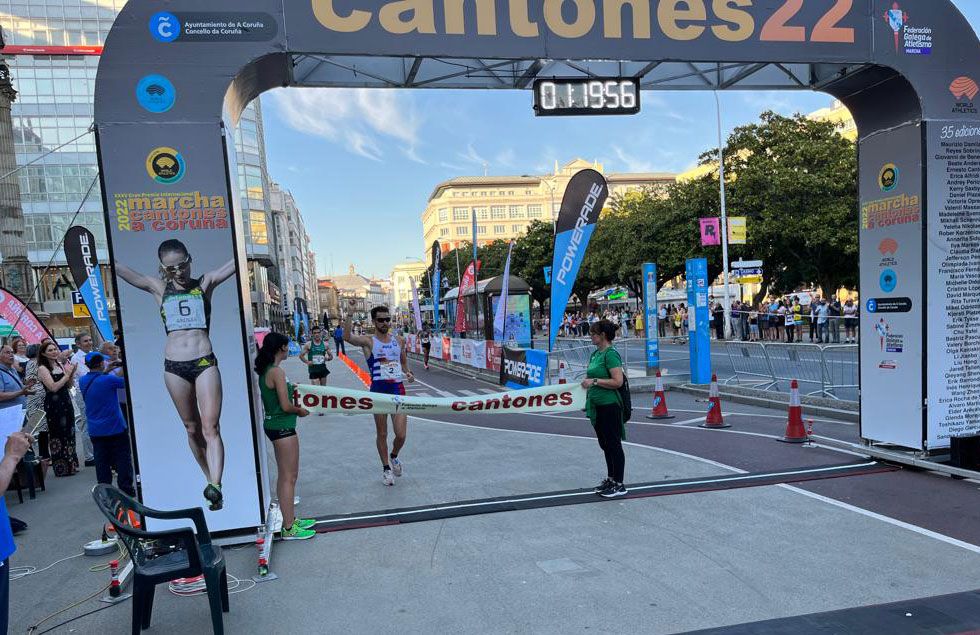 Alvaro Martin wins the Gran Premio Cantones de La Coruña (© Nicola Maggio)
The 5km checkpoint was reached in a moderate 20:16, with Bonfim and Ecuador's Brian Pintado in the lead. The following laps didn't witness any major changes, with a large group of no less than 22 race walkers travelling together. Peru's Cesar Rodriguez and Bonfim were taking on most of the pacing duties, to go through half way in a moderate 40:46.
It was then that Martin and Garcia moved to the head for the first time, much to the delight of the home crowd, to walk at Bonfirm's shoulder. The 11th kilometre became the first 1000m section covered in under 4:00, which whittled down the lead group to nine: Bonfim, Rodriguez, Germany's Christopher Linke, the Ecuadorian trio of Pintado, Jordy Jimenez and David Hurtado, and the Spanish triumvirate of Martin, Garcia and Tokyo Olympics 50km fourth-place finisher Marc Tur.
Pintado, the winner at the Rio Maior event earlier this month, seemed determined to bounce back from his recent DNF in the Madrid 10km a fortnight ago and stepped up the pace to record successive splits of 3:56 and 3:57, which proved to be too fast for Tur and Jimenez.
With the clock reading 58 minutes it was Garcia who took the lead but that was short lived and Bonfim returned to the front to go through 15km in 1:00:39. That came after a quick 3:55 lap by the leading quintet comprising the Brazilian, Hurtado, Rodriguez, Martin and Garcia.
Garcia began to push hard and it became clear that the podium would be made up by the two Spaniards and Bonfim as Hurtado and Rodriguez began to lose ground.
Following a brisk 3:52 antepenultimate lap, the closing two circuits promised to be thrilling and they really were as Martin, a fine fourth at the Tokyo Olympics, tried to break away from Garcia, but the latter didn't let his compatriot get away, the pair clocking 3:49 for the penultimate lap.
Martin led with Garcia tucked behind at the bell, but with some 700m left the 28-year-old Martin managed at last to get rid of Garcia to cross the finish line in 1:19:58, a couple of seconds ahead of his rival, with Bonfim securing third place.
"Major championships aside, Cantones is the best race walking event worldwide so I'm ecstatic to win here again after my 2017 victory," said Martin. "It's very nice to have two Spaniards battling for the win in front of our home crowd."
Asked about his ambitions for the World Athletics Championships Oregon22, he said adamantly: "Last year at the Olympics three Spanish walkers came fourth in our respective events, so this year we'll be looking for revenge."
Martin now plans a training stint at the altitude of Sierra Nevada before travelling to Colorado three weeks prior to the World Championships to continue his build-up for Oregon, where he will be contesting the 20km event.
Leading results
Women
1 Shenjie Qieyang (CHN) 1:27:50
2 Kimberly Garcia (PER) 1:28:38
3 Maria Perez (ESP) 1:29:33
4 Laura Garcia-Caro (ESP) 1:31:25
5 Li Maocuo (CHN) 1:31:43
6 Ji Haiying (CHN) 1:32:22
7 Viviane Lyra (BRA) 1:32:56
8 Johana Ordonez (ECU) 1:33:44
9 Ayse Tekdal (TUR) 1:35:41
10 Cristina Montesinos (ESP) 1:35:44
Men
1 Alvaro Martin (ESP) 1:19:58
2 Diego Garcia (ESP) 1:20:00
3 Caio Bonfim (BRA) 1:20:14
4 David Hurtado (ECU) 1:20:31
5 Brian Pintado (ECU) 1:20:38
6 Cesar Rodriguez (PER) 1:21:45
7 Christopher Linke (GER) 1:20:54
8 Manuel Bermudez (ESP) 1:21:02
9 Francesco Fortunato (ITA) 1:21:28
10 Jordy Jimenez (ECU) 1:21:44