Massimo Stano wins the 35km race walk at the Dudinska 50 (© Milan Duroch)
Some of the world's best race walkers will compete in Madrid on Monday (16) when the first Gran Premio Internacional Madrid Marcha LaLiga takes place in the Spanish capital.
One of the most iconic streets of Madrid, Gran Vía, will be the venue for the World Athletics Race Walking Tour Gold event, where Massimo Stano, Perseus Karlstrom and Qieyang Shijie are among the entries.
There will be a mixed 10km race featuring 45 men and 37 women on a kilometre circuit. Before the start, Spain's eight-time Olympian and 1993 world 50km champion Jesus Angel Garcia will receive a warm tribute.
The driving force behind Monday's competition is Spain's European 20km silver medallist Diego Garcia.
"I come from Madrid. There wasn't a first-class competition here and I was eager to perform in my home town, so I decided to take a step forward," said the 26-year-old, who finished sixth at the Tokyo Olympics. "After talking to so many people over the past few years, the event will finally become a reality on Monday."
Garcia himself has acted as the elite athlete coordinator and the line-up assembled is of a high calibre.


Tough challenge for Stano
Italy's Olympic 20km champion Stano should be one of the athletes to beat. After his Olympic success, the 30-year-old competed twice in the short space of eight days and remains unbeaten following a fine 2:29:09 35km win in Dudince and another 1:21:21 victory at the Italian 20km Championships a fortnight ago. Stano looks set to contest the 35km event at the World Athletics Championships Oregon22, before returning to his 20km speciality for the European Championships in Munich.
Yet Stano will face stiff opposition from a number of world-class walkers, led by world bronze medallist Karlstrom. The 28-year-old Swede proved to be in top form at the World Athletics Race Walking Team Championships in Muscat in March, when he took a 40-second win in the 35km event with a 2:36:14 clocking.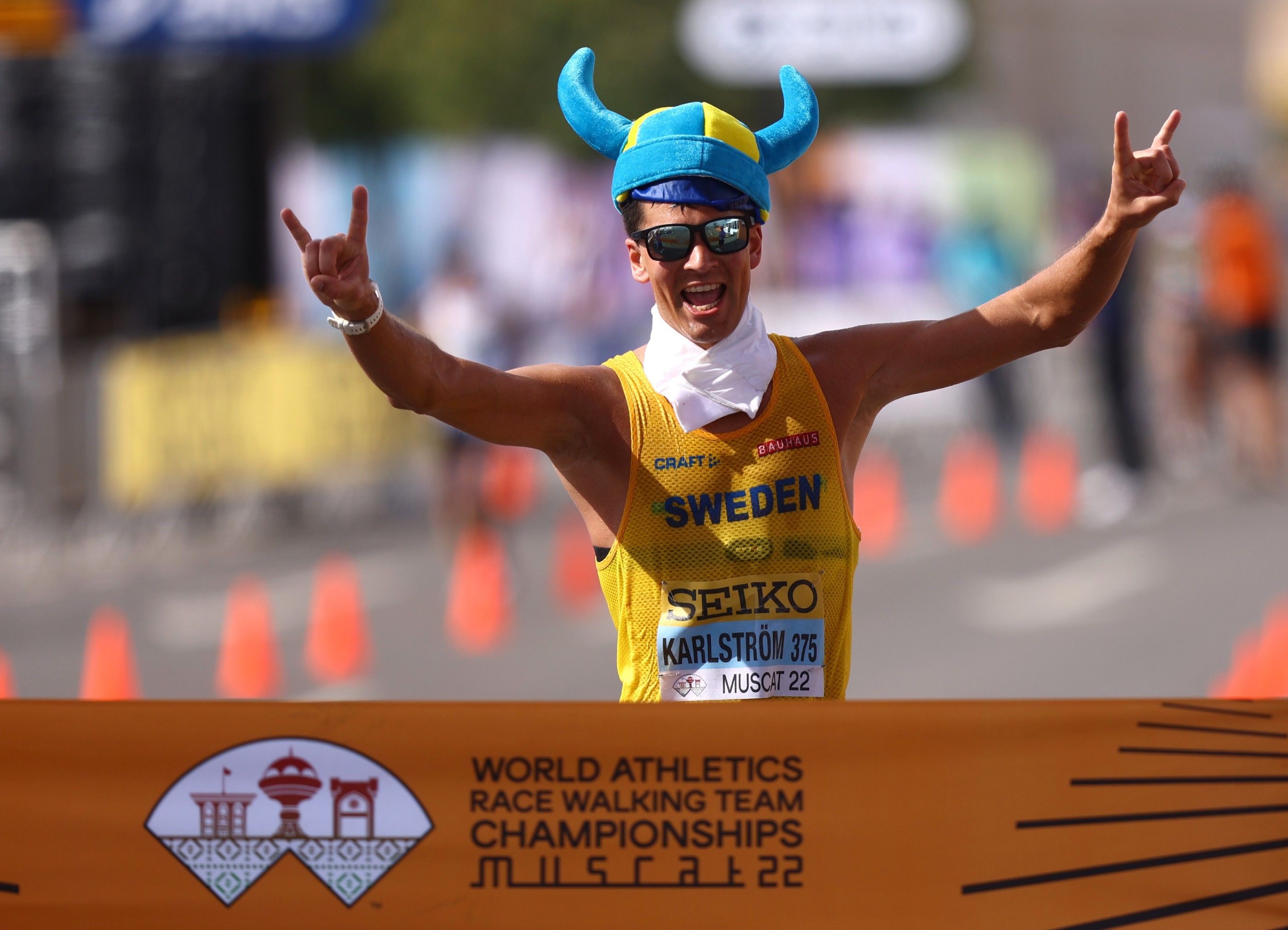 Perseus Karlstrom celebrates his win at the World Athletics Race Walking Team Championships Muscat 22 (© Getty Images)
He had to settle for the runner-up spot the following month in Podebrady, where he was beaten by Brazil's Caio Bonfim – 1:18:54 to 1:19:42. The 31-year-old 2017 world bronze medallist, one of the most consistent walkers over the past decade, will also be in contention on Monday and is fresh from a second-place finish last Saturday in Rio Maior, where he was outclassed by Pan-American champion Brian Pintado, who achieved his first victory in a World Athletics Race Walking Tour Gold race.
The Ecuadorian continues his busy campaign, as he will be contesting his seventh competition in 2022 in Madrid, topped by his success last weekend and respective fourth places in Muscat and Podebrady, where he managed a 20km PB of 1:19:47.
There will also be several dangerous outsiders. Britain's Tom Bosworth holds the world indoor 3000m race walk best and is an accomplished specialist over shorter distances. He will line up alongside Canada's Olympic 50km bronze medallist Evan Dunfee and the Indian pair of Sandeep Kumar and Amit Khatri, the world U20 10,000m race walk silver medallist. Wang Kaihua, holder of the third-quickest ever 20km performance at 1:16:54, leads the Chinese challenge.
Local hopes rest on Garcia, fifth-place finisher in Muscat just behind Pintado. The Spaniard's final week has been frantic, having to combine his roles as organiser and athlete, but he's confident of performing well in front of his home crowd.
Garcia will be joined by his compatriots Marc Tur, who just missed an Olympic 50km medal in the closing stages, plus Podebrady fifth-place finisher Luis Alberto Amezcua and Paul McGrath, the world U20 bronze and European gold 10,000m race walk medallist.


Qieyang aims to prevail
On the women's side, the leading athlete is China's Qieyang, who claimed 2012 Olympic 20km silver but is expected to be awarded gold following the disqualification of the winning Russian athlete. Qieyang is also the world 20km silver medallist and showed great shape in Dudince, where she captured a convincing victory over 35km in 2:43:06.


Qieyang Shijie celebrates her 35km race walk win at the Dudinska 50 (© Milan Duroch)
She will be accompanied by her compatriot Li Maocuo, the world 50km silver medallist.
Trying to avoid a 1-2 for the Asian squad will be Peru's Kimberly Garcia, the recent victor in Rio Maior ahead of Portugal's Ana Cabecinha, who also competes on Monday. Garcia seems to be in the form of her life having achieved podium spots in Muscat, where she finished third, and Dudince, the venue of her 35km debut at which she clocked 2:43:19 and finished second.
Watch out too for the emerging Czech athlete Eliska Martinkova, silver medallist at the World U20 Championships in Nairobi last year over this distance. The 20-year-old finished a fine fifth in Podebrady in a PB of 1:30.53.
The line-up also includes France's Clemence Beretta, Britain's Heather Lewis and some top Spaniards such as national 10,000m record-holder with 42:24.12 Raquel Gonzalez and Laura Garcia Caro, a 1:28:07 20km race walker who placed fourth in Muscat over 35km.
Weather forecasters predict a pleasant sunny day, with the thermometer reaching 22°C by the time of the event.
Emeterio Valiente for World Athletics