Purity Komen wins the N Kolay Istanbul Half Marathon (© Spor Istanbul)
Purity Komen was a surprise women's race winner of the N Kolay Istanbul Half Marathon, while Daniel Ebenyo won the men's race to complete a Kenyan double at the World Athletics Gold Label event on Sunday (30).
Overtaking her compatriot and the pre-race favourite Ruth Chepngetich, 24-year-old Komen stormed to her biggest career win in a personal best of 66:30. Course record-holder Chepngetich followed in second with 67:18, while Evaline Chirchir made it an all-Kenyan podium with 67:31.
In sometimes windy conditions, hopes for a course record also faded in the men's race after a fast first section. Ebenyo clocked 59:52, the 27-year-old winning ahead of Morocco's Hicham Amghar in 59:58 and Ethiopia's Haftu Teklu in 60:03.
The women's race began as expected. Chepngetich sped away from the field at the start and was so quick that even the TV cameras missed her on a few occasions early on. Passing the 5km mark in 15:16, the Kenyan was almost on course to improve her national record and Istanbul course record of 64:02, which in 2021 was also a world record.
However, once the 2019 world marathon champion came off Galata Bridge and had to run against the wind for almost four kilometres, she slowed considerably. At the 10km point, her 31:09 split indicated a 65:45 finish and her lead had shrunk to just four seconds. Komen, Chirchir and Ethiopia's Bosena Mulatie caught her a few minutes later.
Then it was Komen, who started the race with a PB of 67:08, who moved ahead before the 15km mark. Chepngetich tried to follow her in a bid to make it six wins from six races in Istanbul, but she was unable to do so.
Komen won the race in a PB of 66:30 to become the first woman to beat Chepngetich on the historic roads of Istanbul.
While Chepngetich is an experienced marathon runner, victory in Istanbul may well have brought Komen closer to her debut at the classic distance.
"This victory was unexpected," said Komen. "I was surprised when I suddenly saw Ruth in front of me and was then able to pass her. I had hoped to achieve a 65-minute time, but it was too windy today. I now plan to run my marathon debut next year."
Chepngetich said: "My body did not respond after the early part of the race. I don't know why, but I assume that maybe the race came a bit too soon after the Nagoya Marathon in March. I have not yet decided if I will run the World Championships marathon or an autumn race. The big goal is the Olympic Games next year and I hope to be selected for the team."
The men's race also began very fast, with the first couple of split times indicating a finishing time of around 58:00. But as in the women's competition, the pace then dropped considerably once the leading group hit the wind.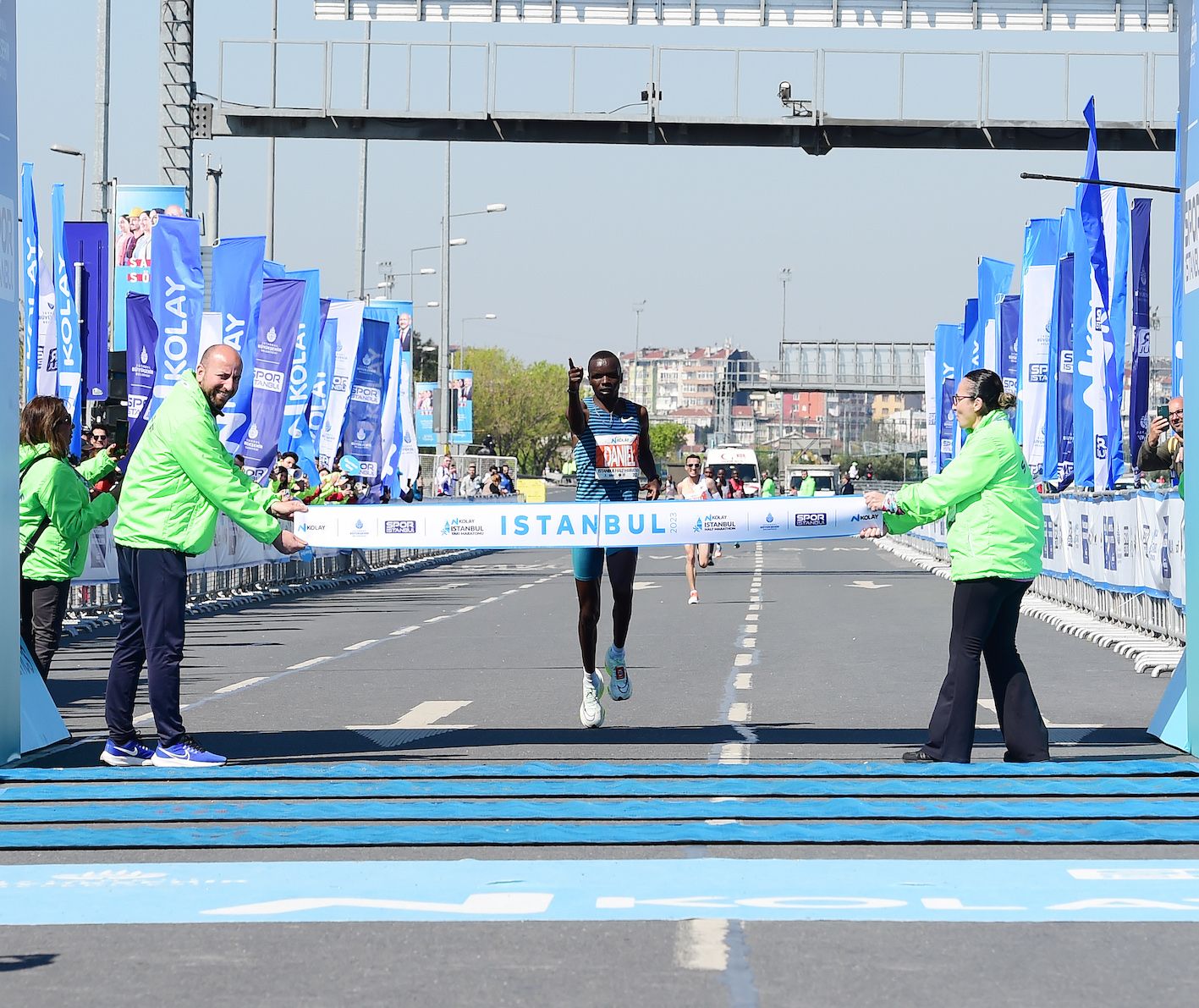 Daniel Ebenyo celebrates his victory at the N Kolay Istanbul Half Marathon (© Spor Istanbul)
A group of around 10 athletes passed the 10km mark in 28:22, with two athletes pushing the pace: Ebenyo and Amghar, who have PBs of 59:04 and 59:53 respectively.
Soon after the 15km point (42:33), Ebenyo took the lead, covering the 16th kilometre in 2:46. Only Amghar was able to follow him, but when Ebenyo indicated to him to help push the pace the Moroccan stayed right behind him. Ebenyo continued to press ahead and opened up a decisive gap with around 4km to go.
"I am excited to have won this race," said Ebenyo after his first major half marathon victory. "My aim was to run 59:00 minutes but it was too windy for that. I will probably run my marathon debut next year. Maybe I'll come back to Istanbul for that."
A record number of 12,300 runners competed in the 18th edition of the half marathon and the 10km race staged parallel. Many athletes ran for charity, collecting money for the victims of the devastating earthquake that shook southern Turkey earlier this year.
Organisers for World Athletics
Leading results
Women
1 Purity Komen (KEN) 1:06:30
2 Ruth Chepngetich (KEN) 1:07:18
3 Evaline Chirchir (KEN) 1:07:31
4 Bosena Mulatie (ETH) 1:07:43
5 Tigist Gezahagn (ETH) 1:08:49
6 Betelihem Afenigus (ETH) 1:09:04
7 Beatrice Cheserek (KEN) 1:09:14
8 Bekelech Gudeta (ETH) 1:09:35
9 Shamilah Kipsiror (KEN) 1:09:38
10 Stella Rutto (ROU) 1:10:05
Men
1 Daniel Ebenyo (KEN) 59:52
2 Hicham Amghar (MAR) 59:58
3 Haftu Teklu (ETH) 1:00:03
4 Charles Langat (KEN) 1:00:07
5 Vincent Kipkemoi (KEN) 1:00:09
6 Boniface Kibiwott (KEN) 1:00:23
7 Benard Biwott (KEN) 1:00:47
8 Kiros Ashenafi (ETH) 1:01:21
9 Alfred Ngeno (KEN) 1:02:24
10 Alene Mekonen (ETH) 1:02:32