Ryan Crouser in action at the Millrose Games (© John Nepolitan)
Reigning Olympic champions Ryan Crouser, Athing Mu and Katie Nageotte are among the headline acts set to light up the 114th edition of the Millrose Games – a World Athletics Indoor Tour Gold meeting – in New York City, USA, on Saturday (29).
Crouser will be looking to pick up where he left off in 2021 after an unbeaten year in which he set indoor and outdoor shot put world records and claimed his second straight Olympic gold in Tokyo. It's now a year since the 29-year-old launched the world indoor record of 22.82m in Atlanta and, having thrown 23.37m outdoors, the 23-metre barrier is sure to be in his sights on Saturday in his opening competition of the year. He should prove a class apart with his nearest rival on paper, Payton Otterdahl, holding an indoor PB of 21.81m.
"The best thing about being the world record holder: now if I throw a personal best, it's a world record," laughed Crouser at the pre event press conference. "There's no other feeling in the world like doing a new personal best.
"I'm coming off a big training block. I'm under a heavier training load and implemented a new training style. I'm building a foundation in the weight room, throwing heavy shots, to be able to throw farther in the summer."
Nageotte will face a stiffer task in maintaining her supremacy in the women's pole vault, given she faces fellow US star Sandi Morris, who broke the stadium record during the 2020 Millrose Games with 4.91m. Morris cleared 4.88m indoors last year and is the reigning world indoor champion in the event, and will be looking to start her season on a high with victory in the Big Apple.
This will be Nageotte's first competition since she no-heighted at the Diamond League final in Zurich last September – a forgettable end to what was nonetheless an unforgettable year in which the 30-year-old claimed Olympic gold, soaring over 4.90m in that Tokyo final.

"I'm jumping from a shorter approach, that's just where my training is at, we're trying to peak in Eugene," said Nageotte. "But that's not to say I'm not going to give it my all here. I'm jumping from six steps, I've jumped 4.80m off that approach and I think I can be competitive."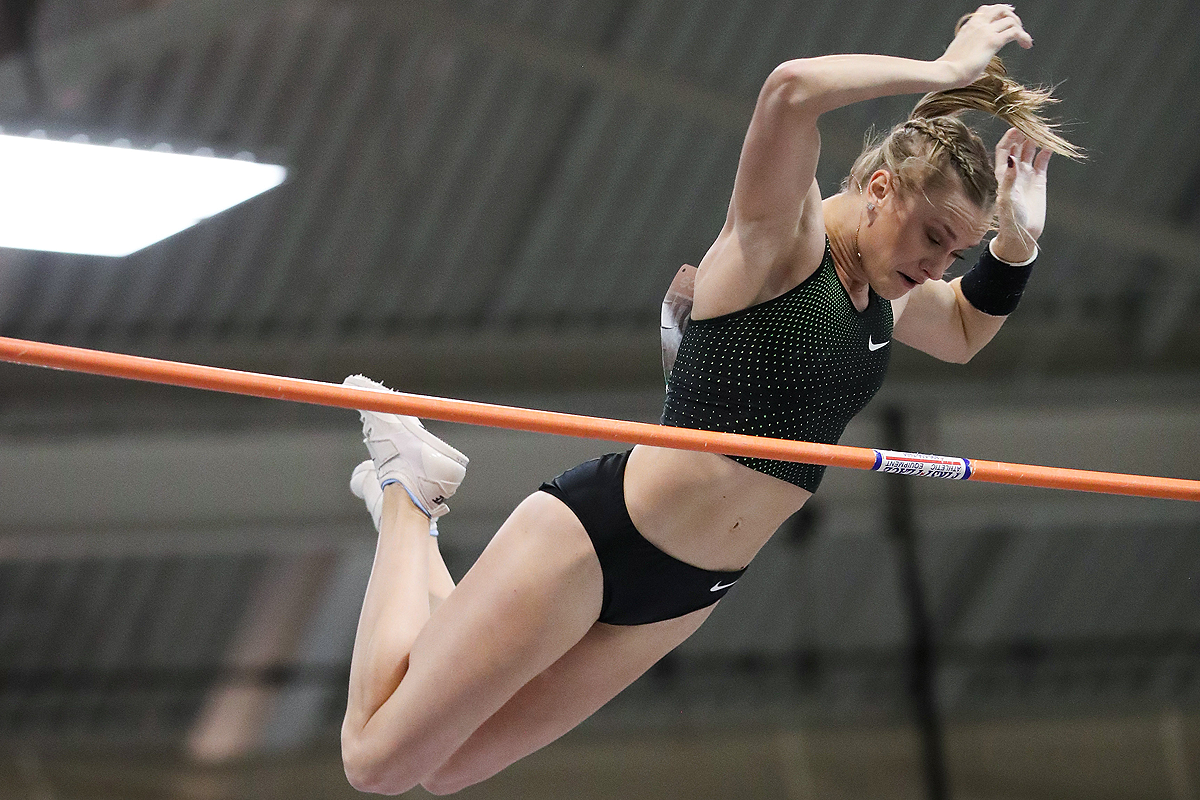 Tara Davis will undoubtedly command the spotlight in the women's long jump. The exuberant 22-year-old jumped an NCAA record of 7.14m last year and went on to finish sixth in the Olympic final. She will face a field of decent quality, including fellow US jumpers Sha'Keela Saunders, Keturah Orji, Tiffany Flynn and Quanesha Burks, along with Britain's Jazmin Sawyers.
"I'm going from a 12-step approach," explained Davis. "My training, we're not in that block of a full approach, but I've jumped seven metres from a 12-step approach so we'll see what happens.
"I wanted better and I expected better of myself (in Tokyo), but it did fulfil my dream of being an Olympian. When we landed in Tokyo I started bawling my eyes out: now I'm an Olympian. I can't wait for Paris to get that feel of a crowd and get all that energy that was missing in Tokyo."
On the track, there's a host of star-studded fields, with the men's 60m the strongest of all. The 2016 world indoor champion Trayvon Bromell will take to the blocks alongside world record-holder Christian Coleman, Noah Lyles, Marvin Bracy, Ronnie Baker and Jamaica's Omar McLeod.
Coleman returned to action earlier this month with a 33.20 clocking for 300m on an oversized indoor track, and if he brings anything close to his best over 60 metres (6.34) he should prove impossible to beat. Baker is a similarly fast starter and has the second quickest PB in the field at 6.40, while he lowered his 100m best to 9.83 at the Tokyo Olympics.
For Bromell, who went into the Olympics as the men's 100m favourite but was knocked out in the semifinals, this will be a chance to start 2022 where he left off in 2021: he finished the year with a blazing 9.76 100m at altitude in Nairobi, Kenya.
"I've a new training regimen this year and I set a lot of goals for this year," said Bromell. "I'm here to have fun, get back to competition."
There have also been some changes for Lyles. "I decided to switch my feet (in the blocks)," he explained. "I used to start with my left leg back, but now it's my right leg."
The women's 60m is also loaded with quality, and teenage star Briana Williams will certainly be one to watch, the 19-year-old who dipped below 11 seconds for 100m last summer and who helped Jamaica to gold in Tokyo in the 4x100m. Also in the line-up is US star Gabby Thomas, who clocked 21.61 for 200m last year and won Olympic silver in Tokyo, her 60m best of 7.21 appearing ripe for revision. Fellow US sprinters English Gardner, Aleia Hobbs and Mikiah Brisco should also be in the shake-up.
Reigning world indoor champion Keni Harrison will take star billing in the women's 60m hurdles, and the Olympic silver medallist arrives in flying form, having clocked a world-leading 7.81 in Clemson earlier this month. Christina Clemons is the second quickest in the field, her best of 7.73 dating back to 2018, the year she won silver behind Harrison in the world indoor final.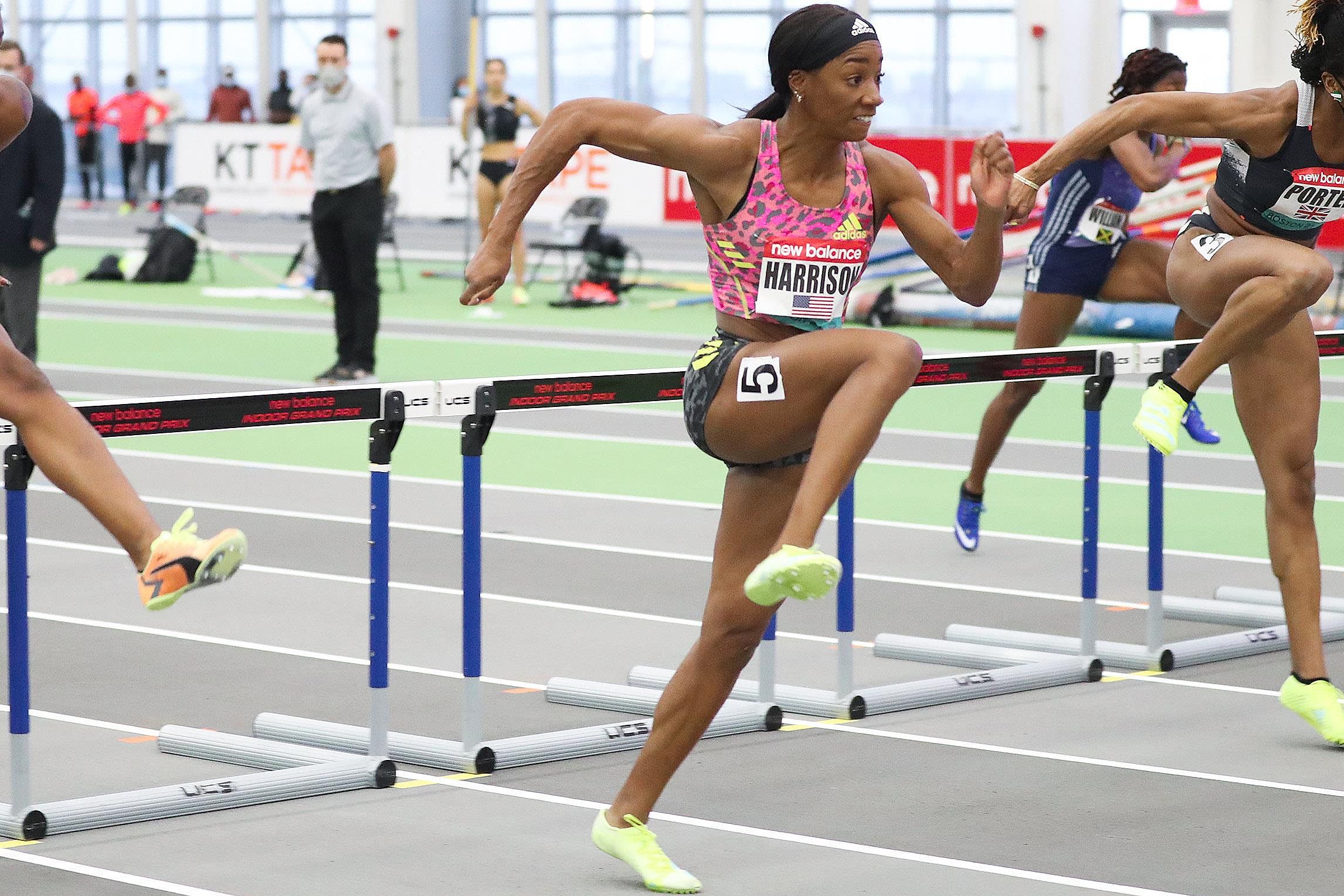 The men's 60m hurdles is headlined by US pair Devon Allen and Daniel Roberts. Allen's best of 7.49 goes back to 2018, while more recently he finished fourth in the Olympic 110m hurdles final. Roberts has a best of 13.00 outdoors and 7.41 indoors, which he ran to finish second to Grant Holloway in the NCAA final back in 2019.
The men's 400m will feature an intriguing clash as reigning world 800m champion Donavan Brazier drops down to take on event specialists Vernon Norwood and Christopher Taylor. Brazier's indoor 400m best of 46.91 was run during his college days in Texas back in 2018. Taylor lowered his outdoor best to 44.79 to finish sixth in the Olympic final and the Jamaican holds an indoor best of 45.73, while Norwood's indoor best of 45.31 was run back in 2015.
There'll be a similar narrative in the women's 400m as Raevyn Rogers, the 800m Olympic bronze medallist, sharpens her speed against sprint specialists. Rogers has an outdoor best of 52.06 for 400m and has clocked 53.19 indoors and she will face fellow US athlete Jessica Beard, who ran 50.38 outdoors last year; Jamaica's Roneisha McGregor, who clocked 50.02 last year; and Wadeline Jonathas, who clocked 49.60 to finish fourth in the 2019 world final.
The women's 800m features a fascinating duel between longtime rivals Ajee' Wilson of USA and Natoya Goule of Jamaica. Wilson holds a 27-3 record during their career (counting championships where one didn't advance to the final), though Goule has fared best in their last two clashes, most notably at the Tokyo Olympics where Goule beat Wilson in the 800m semifinal before finishing eighth in the final.
Goule is a 1:56.15 performer outdoors and her indoor best of 1:59.13 was set in 2019, while Wilson's outdoor best is 1:55.61 and her indoor best of 1:58.29 was run to win the last edition of the Millrose Games in 2020.
The men's 800m is loaded with quality, featuring US Olympians Bryce Hoppel and Isaiah Jewett along with Kenya's Michael Saruni, who clocked an African indoor 800m record of 1:43.98 to win at the 2019 Millrose Games.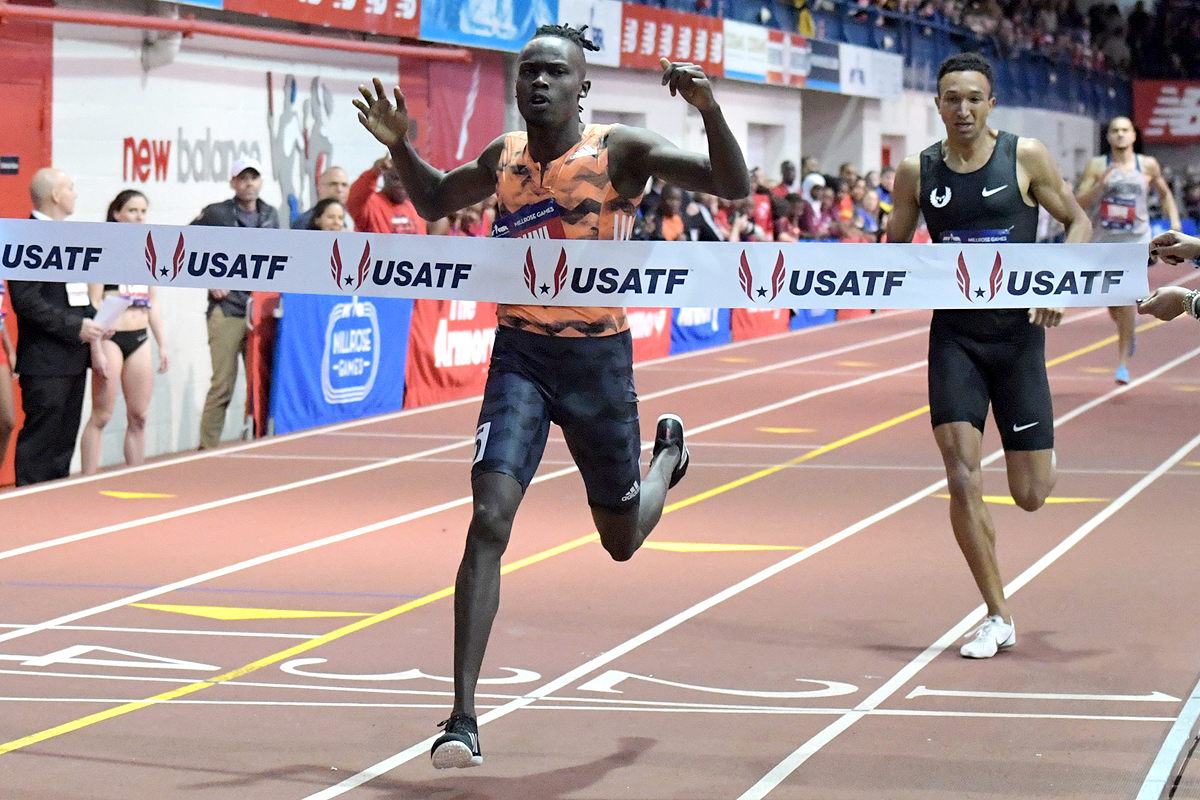 As is traditional at the famed meeting, there will be much focus on the Wanamaker Miles and both men's and women's races are again loaded with quality.
In the women's race, the US charge will be led by defending champion Elle Purrier, who clocked 4:16.85 to outkick Germany's Konstanze Klosterhalfen in 2020. Klosterhalfen is back in the line-up this year, along with training partner Shannon Osika, a 4:00.73 1500m runner last year, and Cory McGee, who clocked 4:00.67 last summer and finished 12th in the Olympic final.
Australia's Jessica Hull and USA's Nikki Hiltz are sure to also feature, while the late addition of Athing Mu adds an intriguing layer to the race. Mu swept all before her in 2021, winning the NCAA title over 400m in 49.57 before setting a North American record of 1:55.21 to win Olympic gold in Tokyo.
However, speed that potent usually results in a trade-off when it comes to endurance, and as brilliant as she is Mu has little form to suggest she can contend at this level over a mile. She ran one 1500m last year in 4:16.06 and warmed up for this with a facile 4:37.99 mile win in Texas earlier this month.
The men's mile is headlined by Tokyo 1500m bronze medallist Josh Kerr of Britain, who finished fourth in this race in 2019 when he clocked his PB of 3:53:65. Also in the field is two-time Olympic medallist Nick Willis, the New Zealander aiming to run a sub-four-minute mile for the 20th consecutive year.
Olympic finalist Ollie Hoare should also feature, along with USA's Clayton Murphy, Craig Engels, Sam Prakel, Johnny Gregorek and rising star Hobbs Kessler. Andrew Coscoran of Ireland and Charles Philibert-Thiboutot of Canada, both Olympic semifinalists over 1500m, should also be in the mix.
All eyes will be on Cole Hocker in the men's 3000m, the reigning NCAA champion in the mile (indoors) and 1500m who finished sixth in the Olympic 1500m final. He'll take on his former teammate at the University of Oregon, Cooper Teare, who is the NCAA 5000m champion and NCAA indoor mile record-holder with the 3:50.39 he ran last year. Two-time NCAA cross country champion Conner Mantz, who recently ran 1:00:55 to win the US half marathon title, is also in the field.
"I'm confident with where I'm at," said Hocker. "I enjoy running the mile here, it's a staple in my event calendar throughout the year. It's one of the craziest indoor races you can find. I pick the races pretty intentionally throughout the year and this is one I wanted to race."
USA's Alicia Monson and Weini Kelati will renew their rivalry in the women's 3000m less than three weeks on from their duel at the US Cross Country Championships, where Monson took victory. Also in the field is Rachel Schneider, a Tokyo Olympian over 5000m.
Cathal Dennehy for World Athletics