Sheila Chelangat on her way to winning the Kenyan Cross Country Championships (© Michelle Katami)
Uneven terrain, a 50-metre-long water and mud section, tough competition and a new winner in the men's race all characterised the Kenyan Cross Country Championships in Nairobi on Saturday (13).
Rodgers Kwemoi and defending women's champion Sheila Chelangat fed off stiff competition and cold conditions to win the senior titles on a course that was made more challenging following a heavy downpour on Friday night. The two races were both tactical but played out in different ways.
The women's race was compact through the first two-kilometre lap. Chelangat took on the race in her typical style – running from the front, only to slow down at the water section. Chelangat forced the pace until a lead pack of just five women had broken away from the rest of the pack at about 6km.
With four kilometres to go, Daisy Cherotich took the lead and Chelangat dropped back to third place. Chelangat, a world U18 bronze medallist in 2015, took command again before the bell and opened up a 50-metre gap on her way to retaining her national title in 34:56. An exhausted Chelangat collapsed to the ground soon after and briefly needed medical attention.
In the battle for second place, Cherotich held off world marathon champion Ruth Chepngetich, 35:00 to 35:03.
"I developed a headache and a minor stomach ache, and by the time I finished the race I was so tired," said Chelangat. "The National Cross Country is hard in Kenya; almost everyone is in good shape, everyone is training hard. It was a tough competition, the race today was hard, but I worked hard for this win.
"There were so many obstacles, I struggled through the water and mud," she added. "They were tough, but I managed to regain my speed on the rest of the course. I'm glad I have made the team for the African Cross County Championships.
"I had prepared well, knowing very well that, due to coronavirus, athletes haven't competed much, therefore I came expecting very tough competition. Everyone wanted to test their shape."
Chelangat was among the athletes who would have competed at the cancelled RAK Half Marathon on Friday, but she will now turn her attention to the African Cross Country Championships.
The men's race played out differently with 5000m specialist Michael Kibet taking on the lead half way through the first lap. He opened a 30-metre gap, stringing along a pack that included world half marathon record-holder Kibiwott Kandie, two-time world cross-country champion Geoffrey Kamworor and 2019 Kenyan 5000m champion Daniel Simiu.
Kibet eventually tired and Kandie closed the gap, hitting the front about half way into the race. He continued to lead until just after the bell. All the while, Japan-based Kwemoi had been working his way through the field, going from 15th to seventh and then to third with two kilometres to go. Sensing fatigue in Kandie, Kwemoi unleashed his kick with about half a lap left and opened up a gap on the long-time leader.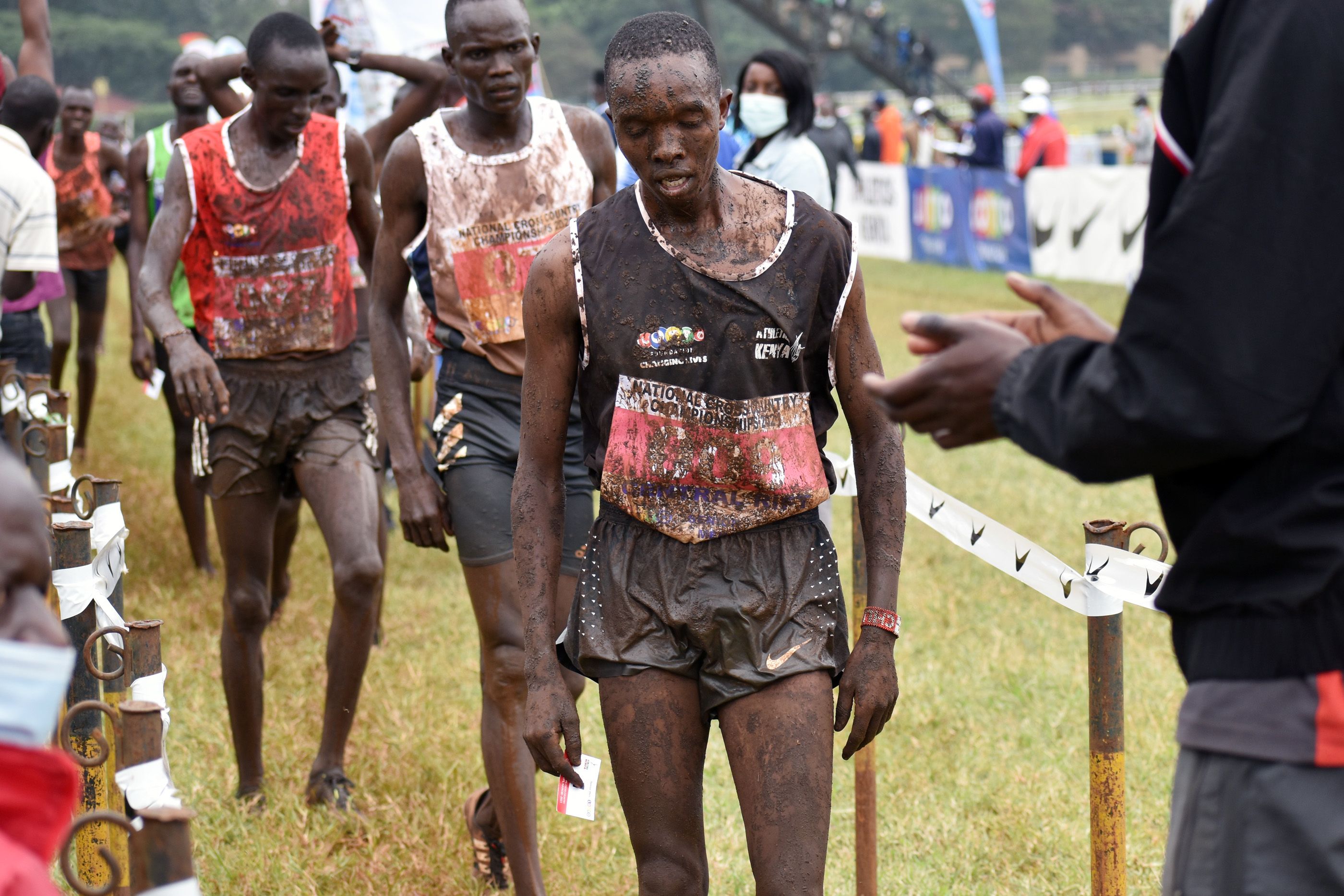 Rodgers Kwemoi after winning the Kenyan Cross Country Championships (© Michelle Katami)
Kandie closed in on Kwemoi down the homestretch, but Kwemoi held on to cut the tape in 31:04, finishing two seconds ahead of Kandie. Bett completed the podium in third in 31:11. Kamworor and Bedan Karoki dropped out of the race after two laps.
"I'm really happy to win the senior men's race," said Kwemoi, the 2016 world U20 10,000m champion and fourth-place finisher at the 2019 World Championships. "I wasn't expecting to win but after the second lap (4km) I felt like I could win. I realised some of the athletes in front of me, including Kamworor and Kandie, were getting tired.
"I'm usually a front runner but this time I opted to sit back so that I could reserve my energy. And now I am 100% sure I can win the gold medal in Lome (at the African Cross Country Championships)."
The U20 men's 8km and U20 women's 6km races were won by Gideon Rono (24:44) and Purity Chepkurui (20:51) respectively. In the mixed relay, Hellen Obiri anchored her Kenya Defence Forces team to victory.
Leading results
Men (10km)
1 Rodgers Kwemoi 31:04
2 Kibiwott Kandie 31:06
3 Edwin Bett 31:11
4 Nicholas Kimeli 31:13
5 Phenus Kipleting 31:15
Women (10km)
1 Sheila Chelangat 34:56
2 Daisy Cherotich 35:00
3 Ruth Chepgnetich 35:03
4 Agnes Kibet 35:08
5 Everlyne Chirchir 35:10