Lucy Mawia wins at the 40th Cross Internacional de la Constitucion Alcobendas (© Asociación ADOC)
Kenya's Lucy Mawia and Burundi's Rodrigue Kwizera captured commanding victories at the 40th Cross Internacional de la Constitucion, the seventh Gold meeting in this season's World Athletics Cross Country Tour, in Alcobendas, Spain, on Sunday (27).
In doing so, both winners improved on their performances last year, when Mawia had to settle for second place and Kwizera crossed the finish line as a clear victor but was later disqualified for not wearing the official vest of his team.
Mawia is strongest
On a pleasant (13°C) sunny afternoon, it was Argentina's Maria Luz Tesuri who first took command of the women's 8.04km race, closely followed by a trio of favourites: Mawia, Burundi's Francine Niyomukunzi and Italy's European U23 cross country champion Nadia Battocletti.
Around 2000m into the race, that quartet had built a 10-second lead over the chasing group, headed by Spain's Laura Luengo. Shortly afterwards, the Argentinean began to lose ground as Mawia moved to the front to inject a brisker pace, with Niyomukunzi running at her shoulder and Battocletti always in third.
Just before reaching the fifth kilometre, the Italian could not live with Mawia's relentless pace across the up and down circuit and the event became a two-horse battle between the Kenyan and Niyomukunzi.
The key move came just before the pair entered the closing 2.3km lap, when Mawia broke away. At the bell she travelled a couple of seconds ahead of Niyomukunzi and five seconds clear of Battocletti, while Luengo, who had overtaken Tesuri, was a lonesome fourth, 33 seconds back.
During that final loop the Italian bounced back and easily passed Niyomukunzi, although she never threatened Mawia's win.
At the tape, the Kenyan clocked 27:06 to Battocletti's 27:17, while a fading Niyomukunzi finished 24 seconds behind the winner but also 24 seconds ahead of Luengo in fourth.
"I'm quite satisfied with my third win this season. I feel much more comfortable on cross country than on the track," said 23-year-old Mawia, who also claimed recent victories in Bydgoszcz and Soria.
"After my European tour of four races, I now return to my country to contest the Kenyan trials for the World Cross Country Championships."
Another successful day at the office for Kwizera
In the men's 10.06km race, Spain's world 3000m steeplechase finalist Daniel Arce set the early pace and the 30-year-old led a 15-athlete pack for the first three kilometres. Chilean Carlos Diaz plus Spain's Yahya Aouina and Fernando Carro ran closest to Arce, while the big favourite Kwizera travelled quietly in the middle of the pack.
Diaz and Carro then replaced Arce on pacing duty but the rhythm didn't heat up until Kwizera moved to the front for the first time, the clock reading 14:00.
Once the 22-year-old Burundian began to push, the lead group whittled down progressively and two kilometres later only Spaniards Carro, Aouina, Andreu Blanes and Sergio Paniagua remained close to the Spain-based Kwizera.
At exactly the same point as Mawia chose to pull away from her rivals, a few metres before the bell, Kwizera also took advantage of a downhill section to kick and leave his competition behind.
It was only during the final 2000m that Kwizera seemed to run near his full potential. Blanes, a 7:52.70 3000m indoor athlete, lost ground from the chasing group, led by Aouina from Paniagua and Carro, the Spanish 3000m steeplechase record-holder at 8:05.69.
Kwizera crossed the finish line unopposed in 29:59, while 27-year-old Paniagua, a 3:38.63 1500m specialist, easily got rid of his compatriots to take the runner-up place seven seconds behind the victor but three seconds ahead of Carro.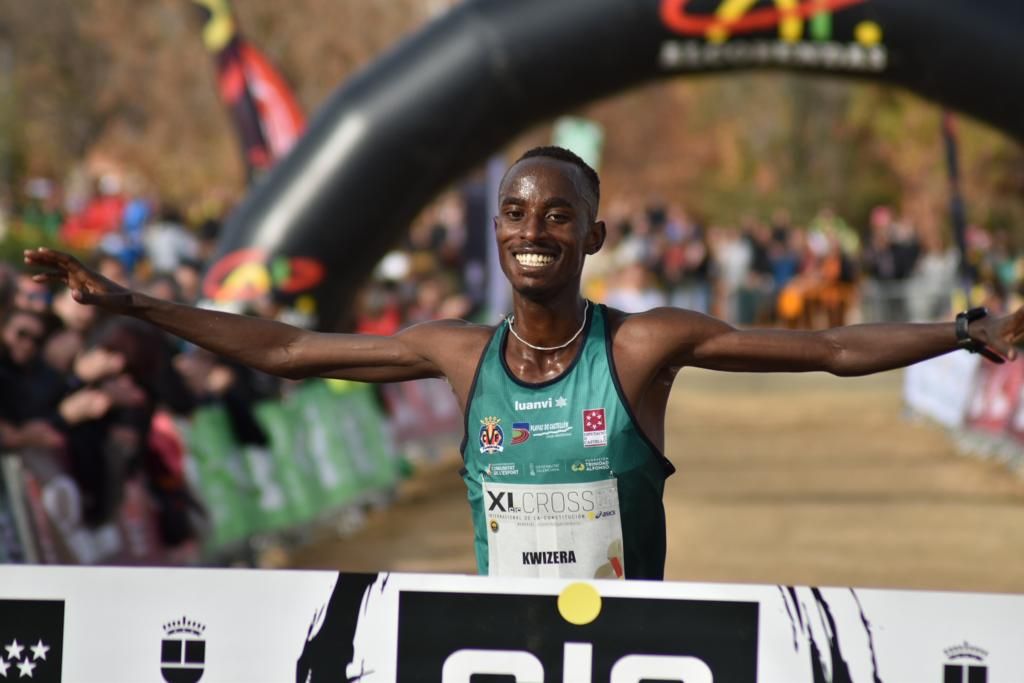 Rodrigue Kwizera celebrates his win at the 40th Cross Internacional de la Constitucion Alcobendas (© Asociación ADOC)
"I wanted to make amends from what happened last year, so my win today makes me happy," said Kwizera.
"Tomorrow I'll be travelling for a 25-day training camp in the altitude of Sierra Nevada. My primary goal this winter is the World Cross Country Championships in Bathurst where I want to win a medal."
Emeterio Valiente for World Athletics


Leading results
Women (8.04km)
1 Lucy Mawia (KEN) 27:06
2 Nadia Battocletti (ITA) 27:17
3 Francine Niyomukunzi (BUR) 27:30
4 Laura Luengo (ESP) 27:54
5 Maria Luz Tesuri (ARG) 28:01
6 Idaira Prieto (ESP) 28:22
7 Muriel Coneo (COL) 28:28
8 Irene Pelayo (ESP) 28:30
9 Lidia Campo (ESP) 28:40
10 Azucena Diaz (ESP) 28:44
Men (10.06km)
1 Rodrigue Kwizera (BDI) 29:58
2 Sergio Paniagua (ESP) 30:05
3 Fernando Carro (ESP) 30:08
4 Yahya Aouina (ESP) 30:09
5 Andreu Blanes (ESP) 30:27
6 Younes Kniya (MAR) 30:28
7 David Bascunana (ESP) 30:28
8 Abderrahman El Khayami (ESP) 30:35
9 Miguel Baidal (ESP) 30:37
10 Alejandro Onis (ESP) 30:40