Woddy Kincaid at the World Athletics Championships Oregon22 (© Getty Images)
Many athletes have a trademark tactic. For Woody Kincaid, it's his kick. No matter the distance, something switches when he hits the bell.
"It's like, I have to give everything now," he says. "I've come this far, maybe I have something left and we're about to find out."
Now Kincaid is applying the same strategy to the rest of his elite racing career.
"It's definitely the back nine of my career, no doubt, but it's also time to make it happen," he says. "I have the development, I have the workouts underneath me, I have the aerobic base. Everything is there, if I can just put it together."
The first demonstration came at the Boston University John Thomas Terrier Classic, where on 27 January he ran a 12:51.61 season opener to break the North American indoor 5000m record and move to fourth on the world indoor all-time list. That was Kincaid's first race after a switch in coaching set up and he followed it with a 7:40.71 3000m win at the New Balance Indoor Grand Prix – a World Athletics Indoor Tour Gold event – and a 10,000m triumph at The TEN in San Juan Capistrano, where he ran 27:06.37.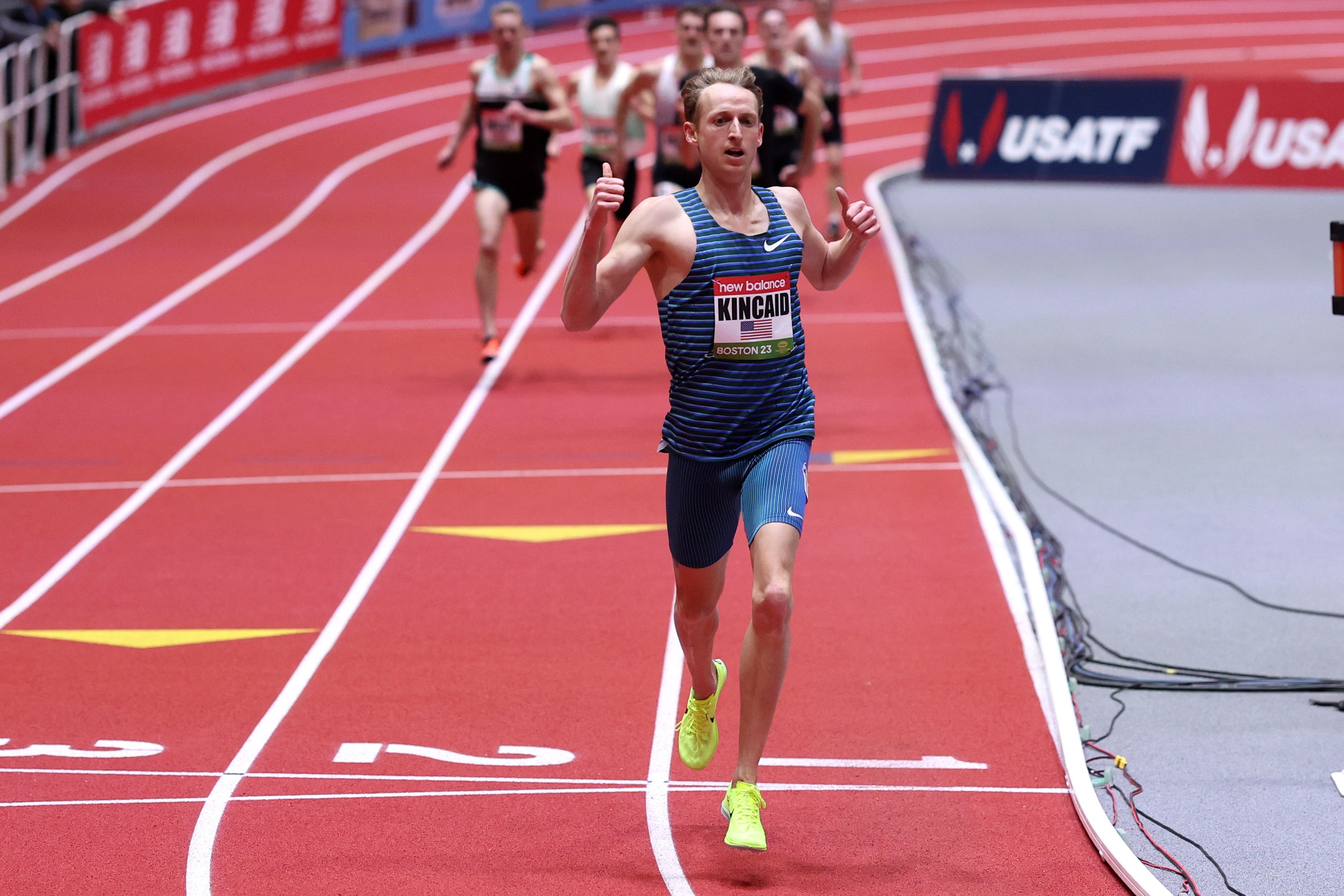 Woddy Kincaid at the New Balance Indoor Grand Prix (© Getty Images)
Kincaid clocked a 25.79 final 200m en route to his 3000m win and 55.96 for the final 400m of his 10,000m victory, while the last lap of his North American indoor 5000m record was timed at 26.27. A couple of seconds behind Joe Klecker at the bell of that 5000m race, Kincaid blazed past his rival – who was also on sub-12:55 pace – down the back straight and would not relent. He eventually crossed the finish line more than two seconds inside Grant Fisher's area record that had been set on the same track in February 2022.
"First, we go through (the first mile) in 4:12, and I'm like 'this is nothing spectacular, we can probably run low 13'," he reflects. "Then when I moved up, I made all the right moves and the short bursts didn't really flatten me.
"When we came through (3000m) in 7:48 and I went around the college kid Dylan Jacobs – he's good – and I knew I still had something left, I'm like: 'Okay, we're running really fast. If we really wind it down here, we're going to be in the 12:50s'. So, I did recognise that, and at that point it was 'just compete and stay in the race'. You can feel it coming."
The race had been building up to that point; much like Kincaid's progression towards this latest chapter in his career.
While now a passionate distance runner, Kincaid's first sports were skateboarding, soccer and Gaelic football, in which he played for the Denver Gaels. "I'm a risk taker, I liked to push myself," the 30-year-old says of his skateboarding days. "The freedom of skateboarding and the teamwork of soccer and Gaelic football, that's what I really enjoyed."
It was while at Columbine High School that his talent for running was spotted by coach Natalie Reyes. "She was a big influence," he adds. "She got me into running and I really got along with her. If I didn't like my coach, I probably wouldn't have kept running at that point."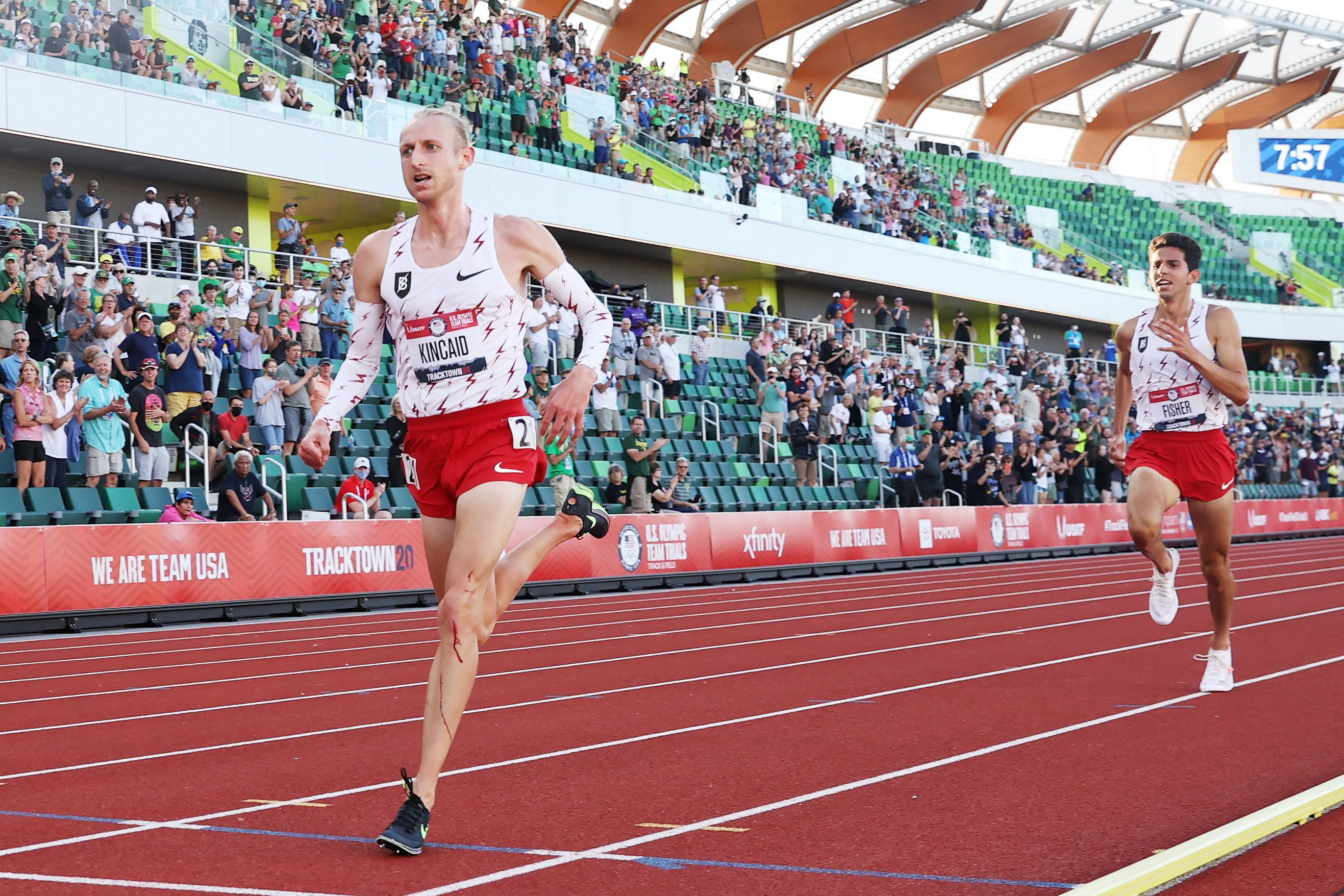 Woody Kincaid at the 2021 US Olympic Trials (© Getty Images)
From there, Kincaid moved to the University of Portland, where he was guided by Rob Conner, and he turned pro in 2016, joining the Bowerman Track Club under coach Jerry Schumacher.
The early part of his professional career was impacted by injury and he had surgery for a hernia in 2018, but in 2019 his comeback included a 12:58.10 5000m that qualified him for the Olympic Games in Tokyo. In June 2021, following postponements caused by the pandemic, he won the US 10,000m title and a place on the US team for Tokyo. Nine days later, his third-place finish in the 5000m secured his spot for a second event. What made it even more special is that his parents, Sharon and Mike, were there in Eugene to see it happen.
They also watched on TV as Kincaid raced both events at the Olympic Games – his first competition outside of the US.
"My dad was an athlete, he loved sports," says Kincaid of Mike, who passed away in November 2021. "He talked about sports all the time. Everything was sports related, we watched sports movies together."
Woody took 2022 day by day. "I was really close with my dad, and after he passed away, I had good days and I had really bad days," he told Track & Field News. "And I was still getting in the work."
Kincaid started 2022 in the same way he would begin 2023 – with a 5000m win in Boston. After that 13:05.56, which at that point was an indoor PB, he raced at the US 10,000m Championships but had to drop out due to a diaphragm spasm. He rebounded at the US Championships 5000m the following month, finishing second to make the team for the World Athletics Championships Oregon22, but once there he fell in the heats and broke his elbow.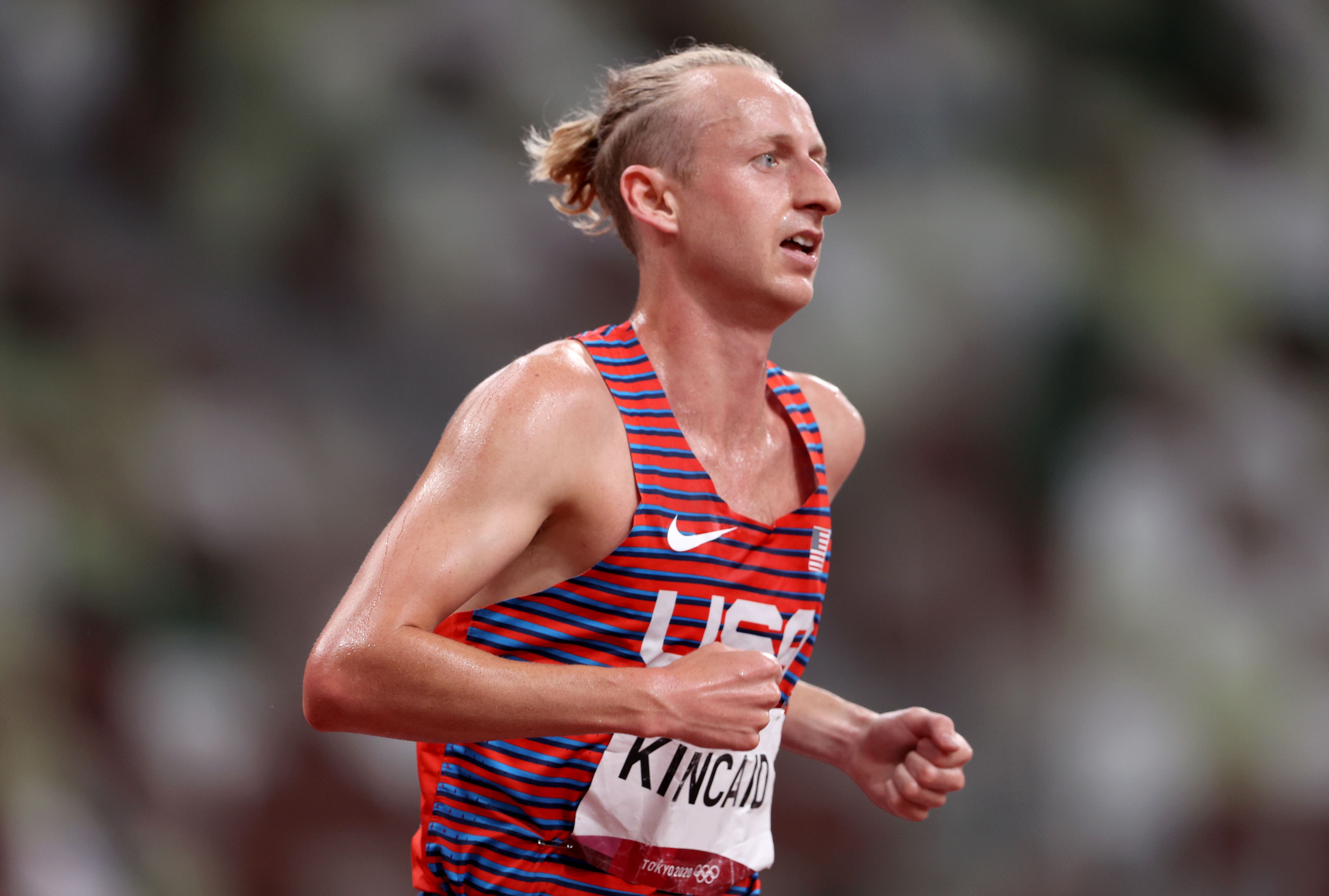 Woody Kincaid at the Olympic Games in Tokyo (© Getty Images)
Bouncing back again, Kincaid made his European race debut at the Diamond League meeting in Monaco, won the NACAC 5000m title in The Bahamas and ended his season with a 3000m victory at the Continental Tour Gold meeting in Zagreb.
Then came the decision to step away from the Bowerman Track Club. After a spell being self-coached, Kincaid went to work with Northern Arizona coach Mike Smith in Flagstaff, where he could still do the solo runs he relished, but also train alongside athletes such as fellow World Championships finalists Luis Grijalva and Abdihamid Nur.
"I was training a lot on my own before I joined Mike Smith," Kincaid explains. "I joined Mike on 6 January. Before that I was doing double threshold work with speed work intertwined with it, and hills. It was a mix of threshold work and all my past training, with a lot more hills.
"When I joined Mike, he does double threshold at 7000ft and it's a little bit faster than what I was running, so that was also a little step in the right direction, and his rest is a lot shorter than what I was doing. He's really about building the engine and then sharpening through different ways – short hills and through specific sessions."
Kincaid has also enjoyed the variety in the training group, which features world-class runners as well as upcoming athletes. Has that been beneficial, as a way to help him remember the fundamentals?
"That's exactly how I feel," he says. "At Bowerman, everybody is already an expert, or they are doing their own thing. But with them (Smith's group), I feel like I can help in a situation, I can help them develop as runners. But they are also making me relax and focus back on the fundamentals – getting back to showing up at practice, having a good time and pushing myself in workouts, and not worrying about things outside of running that I think can be distracting."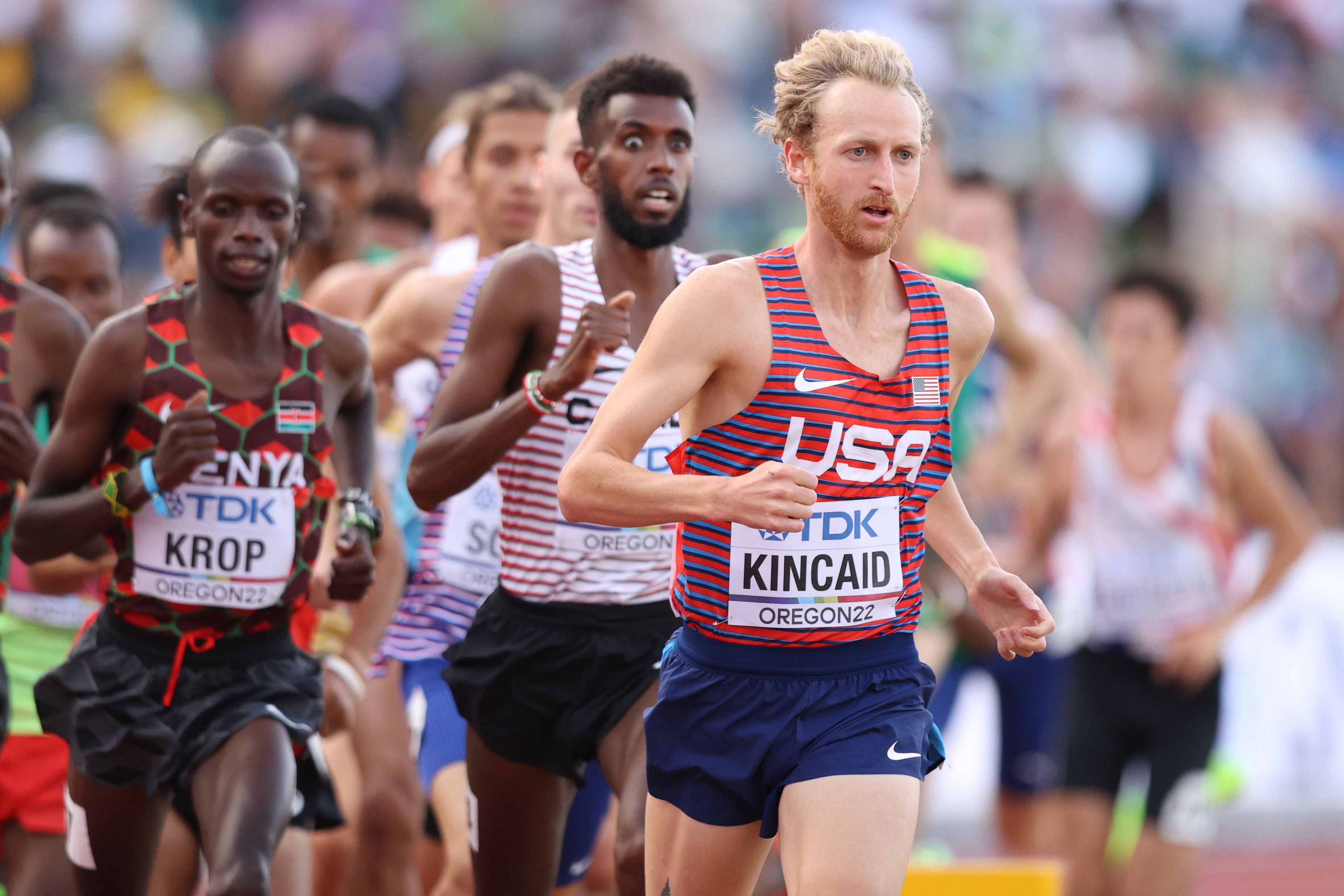 Woody Kincaid at the World Athletics Championships Oregon22 (© Getty Images)
While his passions in the past included hosting his own podcast, Kincaid is happy right now for his focus to be on the track.
"I used to have a lot of passions, but I feel like recently I have become a little more like 'this is my moment' and very focused on doing that, and I'm happy just doing that," he says. "I know other people say you have to have things outside of the sport, but I've done so many things outside the sport, and I just want to focus on the sport the last few years that I can. I have a lot to learn. I have to learn new workouts, I have to learn my competition, I have to learn how to race well. There are a lot of ways that I still need to improve, that requires all my attention."
As such, he has become a student of the sport.
"On Bowerman, I never felt like I had to be a student of the sport, I was part of an elite team and it kind of happened on its own," he says. "Now I have to take time out of my day to watch races and to figure out my training and things like that."
And this student could one day become teacher, with coaching also a path that Kincaid can see himself taking. But right now, his focus is on another strong finish as he targets further global goals such as the World Athletics Championships Budapest 23 in August and next year's Olympics in Paris.
"I want to ride this fitness for as long as I can," he says. "We'll look at doing some Diamond League races before USAs (US Championships) and then USAs, Worlds and hopefully the Diamond League final. That's the goal for the year but it's easy to promise these things, it's really hard to maintain this kind of fitness for ever."
One thing is for sure, he has put himself in the best position possible.
"There's a long way to go," he says. "I don't think my goals have been reached and part of my goal is not just doing exceptional things in the sport, but I want to keep doing it (the sport).
"I know how hard life outside of the sport is and I want to keep doing something that I look forward to doing every day. That might be the ultimate goal, right there. And as long as I keep excelling and reaching new goals, then I can keep doing this."
Jessica Whittington for World Athletics