The 1991 World Athletics Championships in Tokyo were a transcendental moment for United States track and field.
The third edition of what was then the IAAF's signature event catapulted Americans Michael Johnson, Gail Devers, and Dan O'Brien onto the global stage and into international consciousness.
Those World Championships witnessed one of the greatest head-to-head rivalry performances in the sport's history when Carl Lewis and Mike Powell took aim on Bob Beamon's men's long jump world record from the 1968 Mexico City Olympics and produced one did-you-see-that moment after another.
The Tokyo Championships marked the greatest all-around meet for Lewis, on the short list of track and field's greatest stars ever, outside of the 1984 Los Angeles Olympics. Every event Lewis was part of in Tokyo produced a world record.
Competing against the Soviet Union at the height of its athletics powers, the United States won 26 medals in Tokyo, a mark it wouldn't surpass until the 2011 World Athletics Championships in Daegu, Korea.
Lewis was among those who competed in the first World Athletics Championships in Helsinki, Finland, in 1983. When he competed in the third edition of the World Championships in Tokyo, it was a completely different event.
"It went from the first World Championships trying to get its footing to now a total global event," Lewis recalled. "In Japan, the emperor was there, it was sold out every day. It had evolved dramatically.
"For me, especially, you're talking about a 21-year-old kid going to his first one and now all of a sudden, I'm a 30-year-old guy and the pressure is on. So, it was a totally different situation, and Tokyo was amazing."
O'Brien won the first of three straight World Athletics Championships decathlon titles in 1991. He said watching the second edition of the 1987 World Athletics Championships in Rome on TV was an eye opener.
"That was the first time I really recognized that, OK, there's a competition outside of the Olympics that really matters," he said. "Then when the World Championships came up in 1991, it also came with the information that the World Championships were going to be every two years, not every four years, and that meant a lot to me as well."
Perhaps no one found greater purpose in the 1991 World Athletics Championships than Devers, whose career was nearly derailed by health problems. After being diagnosed with
Graves' d
isease in 1990, she almost had her feet amputated
because of the side effects of her treatment. But she overcame that to win the silver medal in the 100m hurdles in Tokyo on the road to becoming one of the sport's all-time greats.
"I have very fond memories of '91," Devers said. "My silver medal marks my comeback for me, and it was just a start to say I'm not a washed-up athlete, and let's see where I can go from here."
The World Athletics Championships have gone all over the world, including places such as Edmonton, Alberta, Daegu, Korea, and Doha, Qatar. Along the way, the World Athletics Championships have also been to some of the world's largest cities, including Berlin, Beijing, London, Paris, and Moscow. They've been to Helsinki twice (1983 and 2005), and in a matter of days will be in the United States for the first time when the
reimagined Hayward Field
at the
University of Oregon
hosts the 18
th
edition of the World Athletics Championships from July 15—24.
For America's greatest track and field superstars, it's been a long time coming.
"I think World Athletics, even when it was the IAAF, has always been wrestling with this and wanting to have a World Championships here," said Johnson, history's greatest 200m-400m combination sprinter, "especially given that the U.S. always dominates the medal table at the World Championships.
"It's always been something that the sport has considered and wanted to happen, and I felt like, yeah, it would happen at some point, and it's great that it's happening this year."
In setting the stage for WCH Oregon22, which will see nearly 2,000 athletes from 200 nations compete before a global audience of 1 billion people, here's a look back at the World Athletics Championships experiences of some of America's greatest stars.
Devers' heroic tale of greatness
When Devers went to the 1991 World Athletics Championships, she was trying to break up the stranglehold Eastern Bloc countries had on the women's 100m hurdles at that time.
In the first two World Athletics Championships, East Germany and Bulgaria won all six medals in the event. In non-boycotted Olympics, those two nations and the Soviet Union had dominated the event.
"There was never a 100-meter hurdle final on television back in the States," Devers said, "because we never had an American in the final, so they just didn't show it. Going into that race, I said my goal was to break up the Eastern Europeans. My goal was to somehow get in there so I could get on television and get to the finals, first of all, and then claim a medal."
Mission accomplished. Devers finished second in Tokyo in 12.63 seconds in between the Soviet Union's Ludmilla Enquist, who won in 12.59, and Natalya Grigoryeva, who was third in 12.69. That was just the start of big things for Devers in major global competitions.
In Stuttgart, Germany, in 1993, Devers won the 100m and the 100m hurdles at the World Athletics Championships and remains the only person to have accomplished that feat. She won two more gold medals in the 100m hurdles at the 1995 and 1999 World Athletics Championships and added a silver medal in 100m hurdles in 2001, just shy of her 35
th
birthday. Devers also won the 100m at the 1992 and 1996 Olympics, becoming the first Olympic women's repeat winner in that event since Wyomia Tyus (1964 and 1968), and the last American woman to win the 100m at the Olympics. Devers competed past her 40
th
birthday, made five Olympic teams, and competed in seven outdoor World Athletics Championships.
"I got criticized when I was competing in the hurdles because people were like, 'do you think running in the 100 and hurdles, you're going to jeopardize one for the other,'" Devers said. "And I'm like, 'no, I'm a sprinter and I just happen to go over hurdles,' so I love watching these athletes now like (Olympic gold medalist) Jasmine Camacho-Quinn run the 200 so they're working on their speed knowing that it's going to help them in elements of their hurdle race."
After her 100m repeat Olympic victory in 1996, Devers said she was overwhelmed by the outpouring of support, and it was important for her to win that second Olympic gold medal on home soil.
"To touch somebody's life and make a difference in something I've done, and a talent that I was given, means the world," Devers said. "So, on American soil, it was like you know what, this is what you do. You go all in because you don't let somebody come to your house and show out. You have to show up and show out."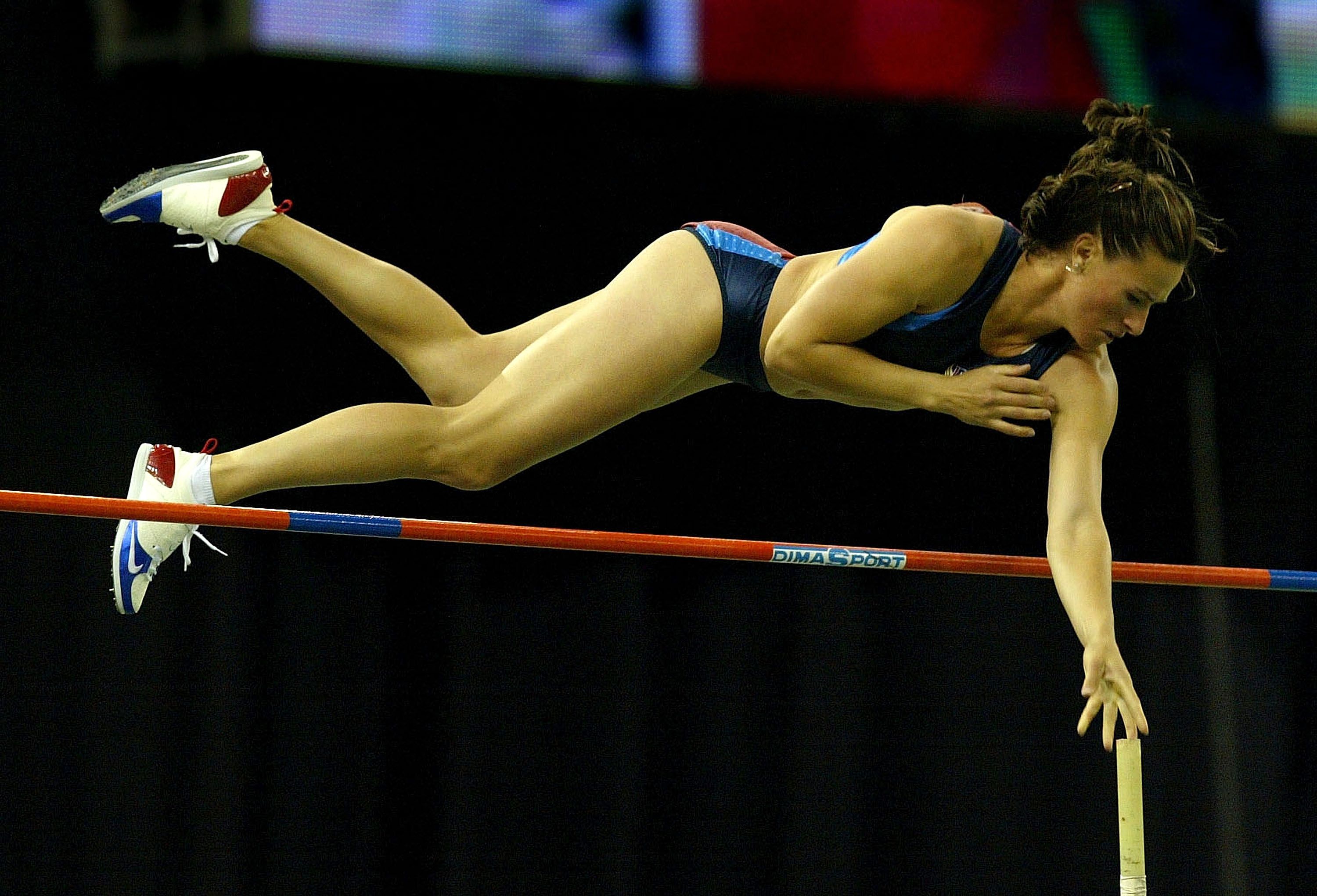 The pole vaulting pioneer
No American track and field great personifies how much the World Athletics Championships have evolved than
Stacy Dragila

,
who won the gold medal at the 1997 indoor World Athletics Championships with a clearance of 4.60m when the women's pole vault was a medal event for the first time at a major global championships. Dragila also who won outdoor gold medals in the pole vault when it made its debut at the 1999 World Athletics Championships in Seville, Spain, and then repeated at the 2001 Championships in Edmonton, Alberta.
And just before the 1999 World Athletics Championships began, the IAAF and International Olympic Committee announced that the pole vault would be a medal event for the first time in the Olympics in 2000 in Sydney, Australia, where Dragila also took the gold medal.
"Women's pole vault has come a long way and sometimes I think to myself, 'wouldn't it be amazing to be a part of the women's posse now or to have been the trailblazer'?" Dragila said. "Just (want to) make sure I've done the women's pole vault justice and tried to get it to the world stage where it needs to be by pushing the record every time we've gone out."
Dragila set 18 world records between indoor and outdoor competitions. She set the last of her world records in 2004 with a clearance of 4.83m and remains fourth on the all-time U.S. list. Sandi Morris, who won the indoor World Athletics Championships gold medal in March in Belgrade, Serbia, holds the U.S. outdoor record at 5.00m while Jenn Suhr has the U.S. record of 5.03m set indoors in 2016. The world record is 5.06m set by Russia's
Yelena Isinbayeva in 2009.
The women's pole vault at the World Athletics Championships Oregon22 figures to be between Morris, who also won the silver medal at the 2017 and 2019 World Athletics Championships, and her training teammate, Katie Nageotte, who won the gold medal for the U.S. at the 2020 Tokyo Olympics.
Dragila said head-to-head rivalries are crucial in growing the sport of track and field domestically.
"We need to branch out and really engage other people because I think there would be a lot of people that would be interested in watching these head-to-head competitions and these phenomenal races," Dragila said. "The field event competitions are so neck-and-neck. There's a lot going on, it's like a three-ring circus. Your eye is pulled in a lot of different directions, which I love about track and field, and when we have great commentary, which we do, you can really feel like you're a part of it."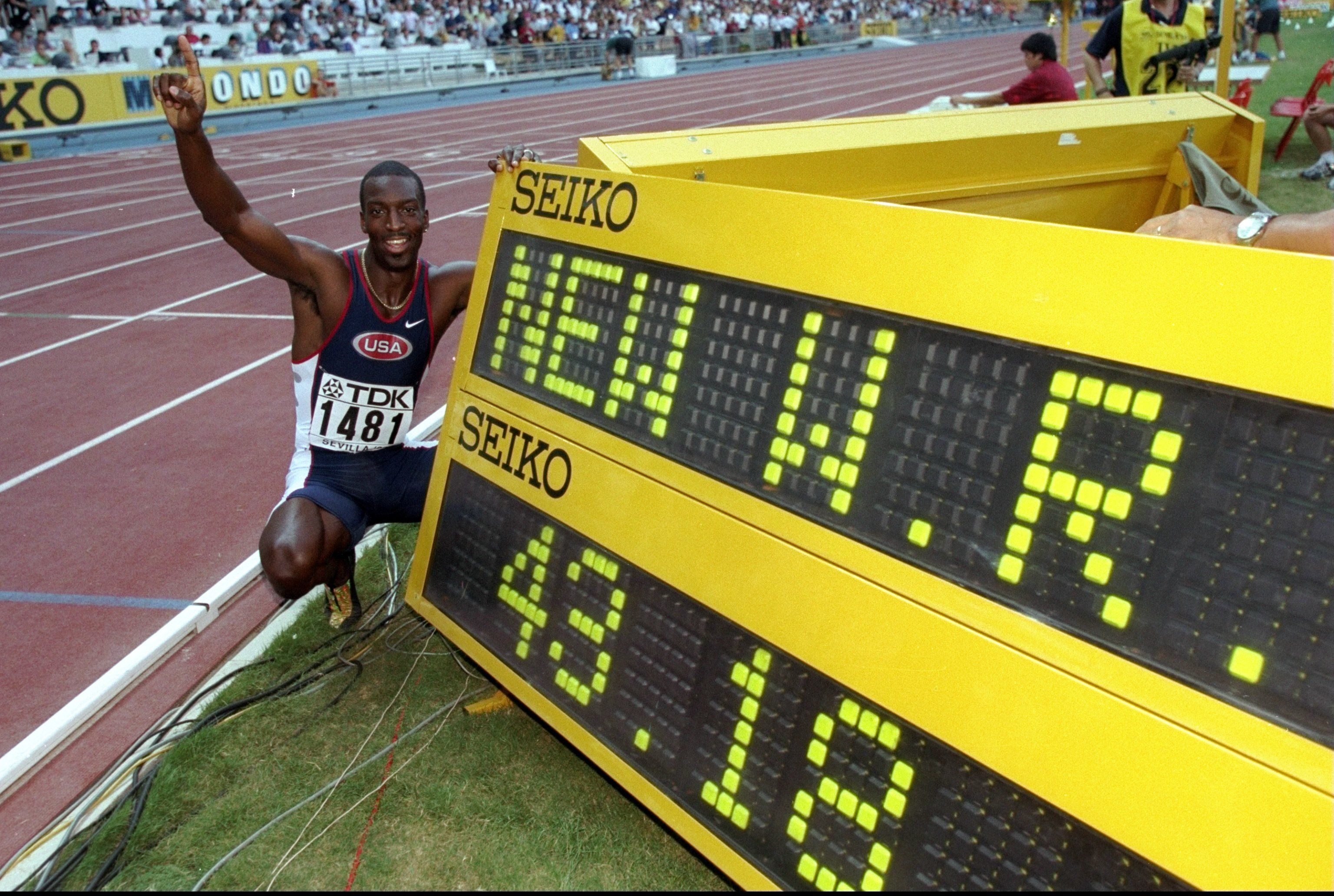 The sprinting double champion
Johnson was as successful as anyone at the World Athletics Championships, winning eight gold medals, including six individual golds. He won the 200m in 1991 and 1995 and took the 400m in 1993, 1995, 1997, and 1999. He also has two 4x400m relay gold medals, and the 4x400m relay team he anchored in 1993 has the oldest track world record in track and field at 2 minutes, 54.29 seconds.
"Every one of mine was special for different reasons," Johnson said of his five World Championships appearances. "It's just really hard (to pick a favorite) because every World Championships, I went into that World Championships with a goal to do something special and every one was something special to me."
After winning the 200m title in Tokyo, Johnson won the 400m title in 1993 in Stuttgart, Germany, over world-record holder Butch Reynolds. In 1995 in Gothenburg, Sweden, Johnson became the only man to win the 200m and 400m at the World Athletics Championships, a feat that remains unmatched.
"What it meant was pulling off the double there meant I would be able to do it at the Olympics or even have the opportunity to do it at the Olympics because it was the Gothenburg organizers who stepped up and decided that they would change their schedule to allow a 200/400 double for me to attempt it," Johnson said. "And then once I was successful, that convinced the IAAF and the IOC to then change the Olympic schedule in '96."
Johnson repeated the 200m/400m double at the 1996 Olympics in Atlanta, and remains the only man to do so. After re-setting his own world record in the 200m at the 1996 Olympics, Johnson added the 400m world record at the 1999 World Athletics Championships in Seville, Spain, when he won his fourth straight 400m world title in 43.18 seconds, breaking Reynolds' 43.29 world record from 1988.
"It took the pressure off," Johnson said. "I had already decided that I was going to retire after 2000, and I wanted to retire as the world record-holder in the 200 and 400, and, of course, I already had the 200-meter world record. Had I not broken it in '99, I would have had to try and break it in 2000, and my plan for 2000 was to double again (at the Olympics) but unfortunately, I got injured at the Trials in the 200, so I wasn't able to run that race.
"Had I not broken the world record in the 400 in '99 and I had not done it in 2000, I would have been debating whether I wanted to keep going or not. I knew I didn't want to keep going, but I wanted that world record."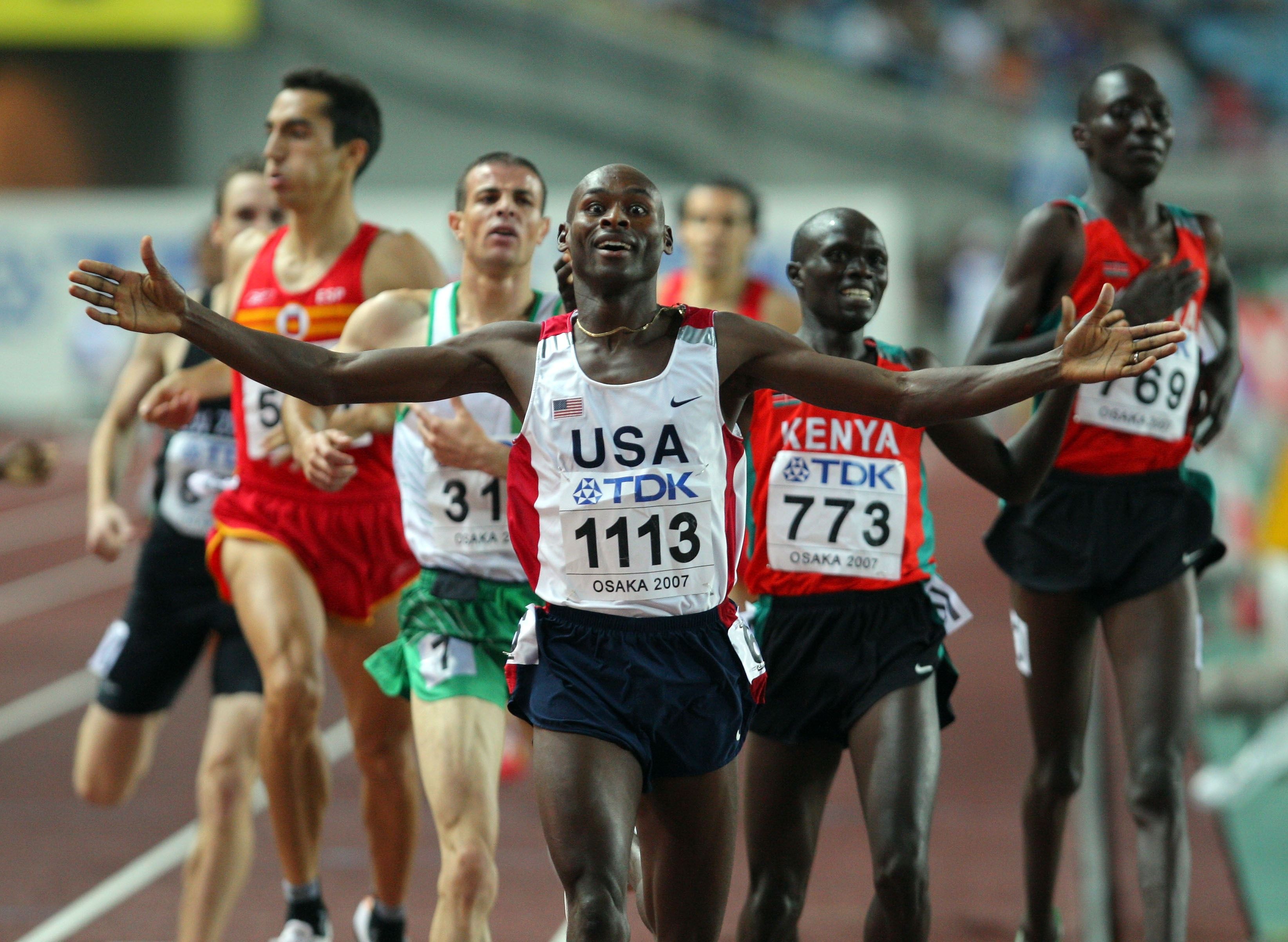 The distance double champion
Lagat competed in five Olympic Games, and was fifth in the 5,000m in his final one in Rio de Janeiro in 2016 at the age of 41. In 2020, he was 18
th
in the U.S. Marathon Olympic Trials at the age of 45. He was also fast. He holds Kenyan (3:26.34) and American (3:29.30) records in the 1,500m, is history's second-fastest 1,500m runner, and owns American records in the 3,000m and 5,000m.
After winning a bronze medal in the 1,500m for Kenya at the 2000 Olympics, Lagat won the silver medal in the event at the 2001 World Athletics Championships in Edmonton, Alberta. Lagat became an American citizen in 2004 before winning silver in the 1,500m at the 2004 Athens Olympics for Kenya, which did not allow dual citizenship at the time, but Lagat was allowed to keep the result and medal. However, he wasn't allowed to compete in a major global championship again until the 2007 World Athletics Championships in Osaka, Japan.
In Osaka, Lagat became the only runner to pull off the 1,500m—5,000m double at the World Athletics Championships, winning the 1,500m on Aug. 29, running the 5,000m semifinal on Aug. 30 and winning the 5,000m final on Sept. 2.
"It wasn't an easy thing to do," Lagat said. "But I went in there thinking this is an opportunity for me. It's an opportunity where I'm able to represent the United States for the first time after I did not run the previous year because of being held by the Kenya federation not to compete internationally for the United States. So, I served those required years and could not to race for the United States because I could have been released, but for whatever reasons, they chose not to release me."
His double in Osaka hasn't been repeated at a World Championships and has been matched only twice in Olympic history — by Finland's Paavo Nurmi in 1924 and Morocco's Hicham El Guerrouj in 2004. El Guerrouj holds the world record in the 1,500m at 3:26.00, and is the only person to run the event faster than Lagat.
"Every time I go to the Championships, people used to know Bernard Lagat as a double defending champion …. so, it was something special for me," Lagat said. "It's something that took me a while, actually, to understand that. That came with a lot of heart. I wanted to win, but I didn't know if I was going to win going into it.
"That also shows that if you work hard, if you are determined, if you do your work relentlessly every single time, day in and day out and have high goals, winning is the highest goal you can get in a World Championships, and I was able to do that."
Lagat won three more medals over the 1,500m and 5,000m at the 2009 and 2011 World Athletics Championships, and won three medals at the indoor World Athletics Championships in the 3,000m, including gold in 2010 and 2012.
Lagat is well-acquainted with Hayward Field from his college days at Washington State, the Prefontaine Classic, the three Olympic Trials he competed in there, and now as an assistant coach at the University of Arizona. He said he's excited about what Oregon will offer as a host to the first World Athletics Championships on U.S. soil.
"To me it was a no brainer, a no brainer," Lagat said. "I was happy that they got it. I know other cities can have it, but I don't know if we could put them on the same pedestal as Eugene. Eugene, Oregon, is by far my favorite to host. I am really excited that we are able to have one in the United States, and what that means for me, is we know that Oregon is going to do the best job and, in a few years, we're going to have another one in the United States."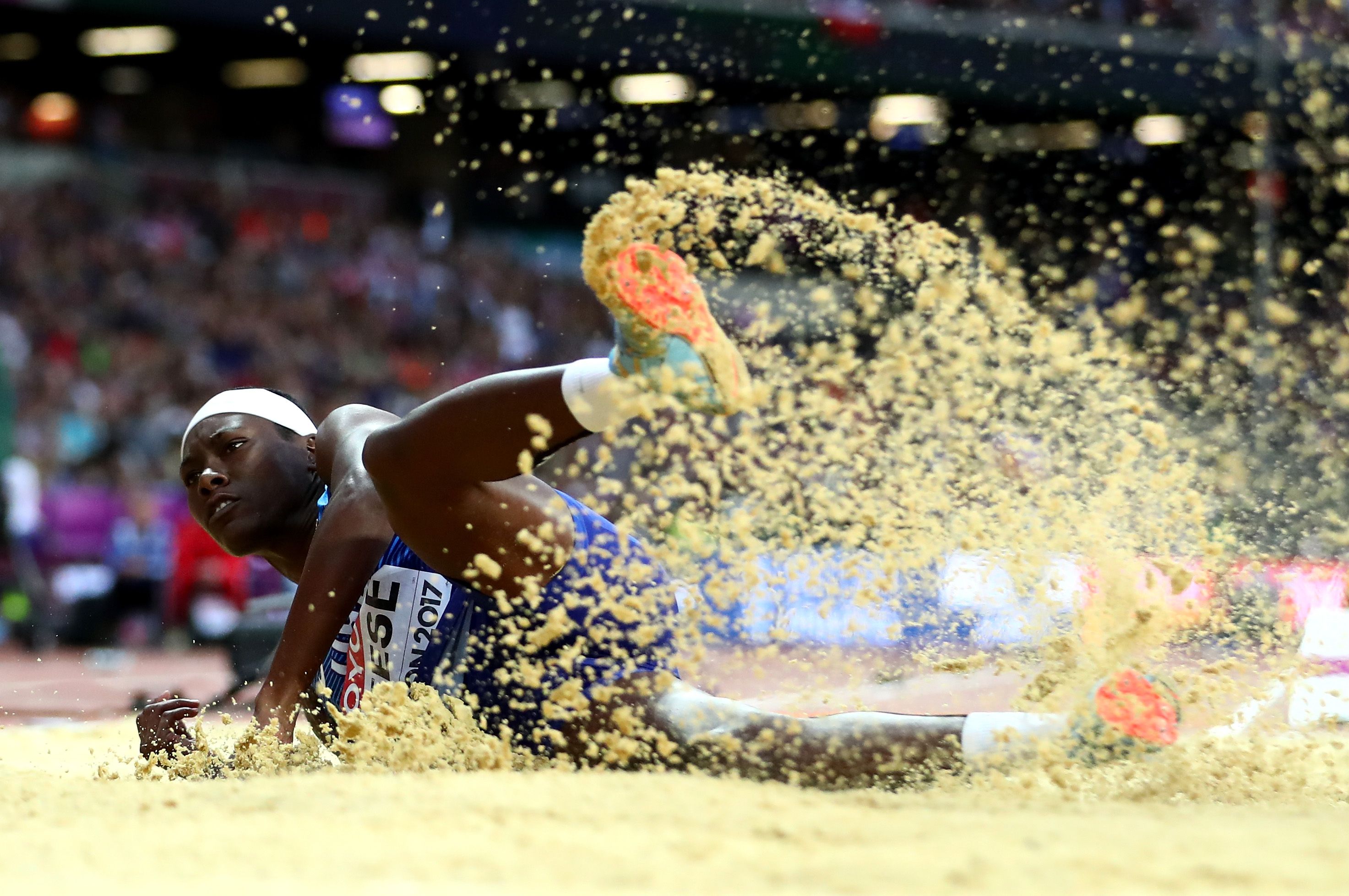 U.S. women's long jumper Brittney Reese won a lot over her career. Especially at the World Athletics Championships.
Reese was a four-time outdoor World Champion, equaling Jamaica's Shelly-Ann Fraser-Pryce (100m), Poland's Anita Wlodarczyk (hammer), and New Zealand's Valerie Adams (shot put) for the most women's individual single-event victories.
Reese's goal was to go for a fifth title in 2021 at Hayward Field and then retire with her son entering high school in the fall of 2021. Because of the COVID-19 pandemic pushing the Olympics and World Athletics Championships back one year, Reese retired following her silver-medal performance at the 2020 Tokyo Olympics.
At Hayward Field, Reese won all four times she competed at the U.S. Olympic Team Trials — Track & Field.
"Hayward Field is a different field from all the rest," Reese said. "The crowd loves track and field, and they get involved with the clapping and the cheering and it's the energy around Hayward Field. There's genuine love for every athlete that's putting their body out there to try to make a team, so I loved competing there."
Reese's love of competition earned her the nickname "Da Beast" from a college teammate at the University of Mississippi when she won the long jump and triple jump at the same meet. Her competitive spirit reached new heights after a fourth-place finish in the 2008 Beijing Olympics as a 21-year-old.
"In my mindset I was supposed to get third because I had one of the top jumps, and when I didn't come home with a medal," Reese said, "I was pretty upset about that and went back to my coach at that time, and we had a lot of long talks about how we can develop me to be the athlete I wanted to be.
"It took 2008 for me not to get a medal for me to wake up and be like 'if this is what you want to do professionally, you have to take this serious.'"
From 2009-13, Reese was unbeaten in major global championships with three World Athletics Championships gold medals outdoors, an Olympic gold medal in London in 2012 and indoor World Athletics Championships gold medals in 2010 and 2012.
Reese said the first outdoor World Athletics Championships gold medal in 2009 "propelled me to be who I am today." The win and confidence that came with it left Reese feeling there was nothing she couldn't do.
"At that time, my mindset was I knew I was already one of the best athletes, so I went in and had that beast mentality to where I knew if I was having a good day," Reese said, "and I did what I was supposed to do, that nobody could beat me on an international level. Because my mindset, I was really hungry. I wanted to be one of the top jumpers, one of the best jumpers in history, so I think that kind of drove me. When I went to a competition, I already knew I was most likely going to win."
And no one won more
. In seven outdoor World Athletics Championships from 2007-19, Reese won four times. She won the first three times she competed at the indoor World Athletics Championships, and added a silver medal in 2018. In four Olympics Games, Reese won one gold medal and two silver medals, and won 13 combined indoor and outdoor national championships.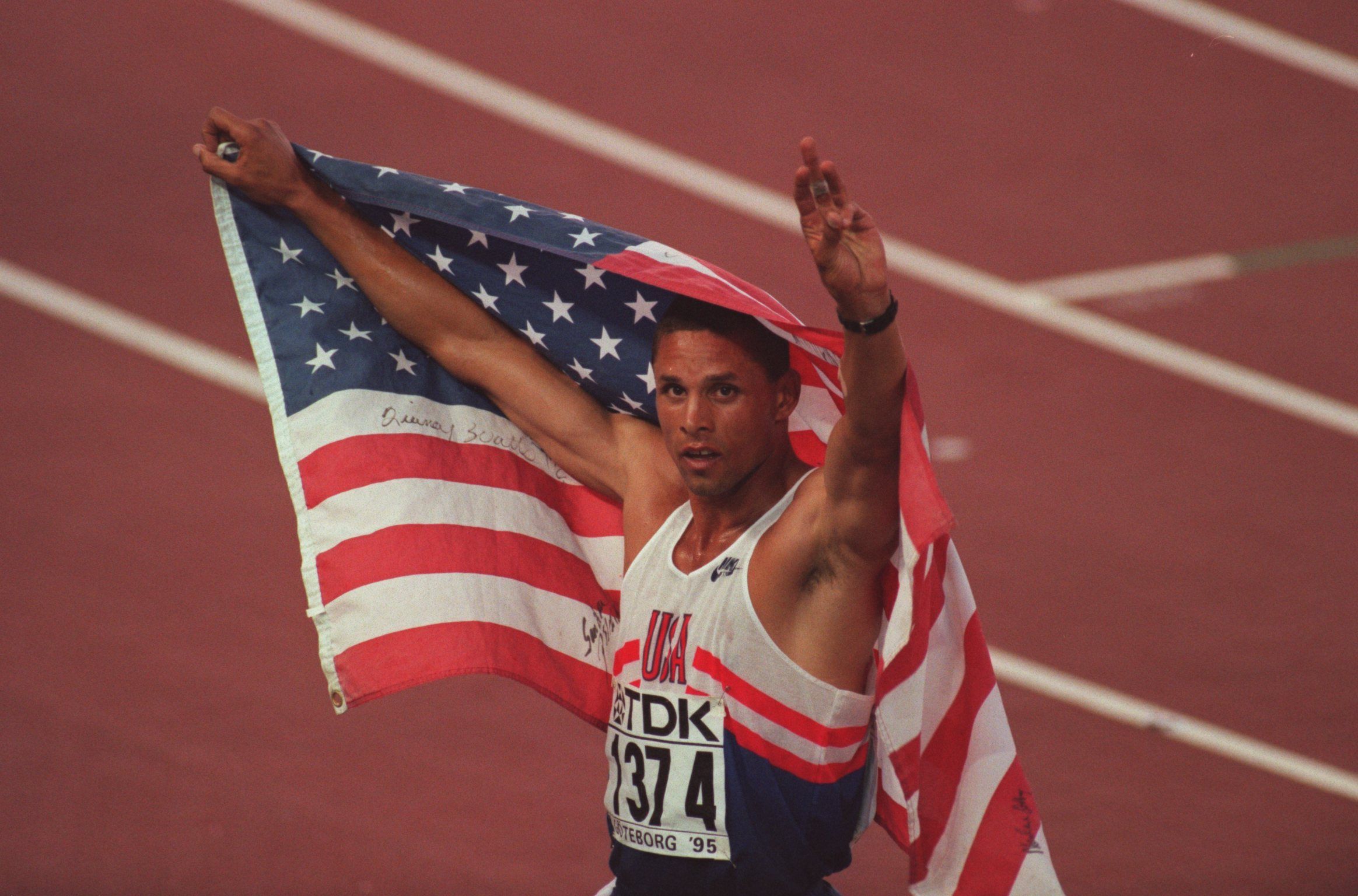 The world's greatest athlete
O'Brien won the first of his three consecutive World Athletics Championships decathlon titles in 1991 in Tokyo. Like Johnson, O'Brien first burst onto the international scene a year earlier when he won his specialty at the 1990 Goodwill Games in Seattle. When O'Brien went to Barcelona, Spain, after the 1991 U.S. Championships to prepare for the third edition of the World Athletics Championships, it marked the first time he was overseas.
When O'Brien reached Tokyo, his confidence was at an all-time high.
"By the time I got to the World Championships, I was already the world champion in my mind," O'Brien said. "It was one of the first times that my training just took over. My training had been so good and once I overcame the nerves and kind of the uncertainty of being at the World Championships, my training just kicked in and stuff just happened really well. I was out there just doing what I was trained to do."
That victory in Tokyo gave O'Brien even more confidence. A no-height in the pole vault at the 1992 Olympic Trials kept him off the U.S. team that went to the Barcelona Olympics, but he broke the decathlon world record in 1992, and held the world record for almost seven years.
"I never thought of myself as on the same level as Carl Lewis or Jackie Joyner-Kersee or people of that stature," O'Brien said. "But when you win the same World Championship medal that Carl wins and Michael Johnson wins, it's like, you know what, I am on that level."
No one was on O'Brien's level in the years directly after 1991. He won World titles again in Stuttgart in 1993 and in Gothenburg in 1995. He's one of only two decathletes to win three World Athletics Championships and added the coveted Olympic gold medal in Atlanta in 1996.
Winning on home soil is something unmatched in sports, O'Brien said, whether it's the Olympics, World Athletics Championships, or any major sporting event. O'Brien believes the uniqueness of the World Athletics Championships, and the excitement it produces will be on full display at Hayward Field for WCH Oregon22.
"I think people are going to go crazy for it," he said. "You want it to feel like a World Championship and Eugene has been able to do that. They hosted World Juniors in 2014, and I really felt like it didn't feel like Prefontaine (Classic). It felt like a World Championship and that's what I want the World Championships to feel like is that yes, we are in Eugene, Oregon, however, it's a super-special meet, it's gigantic, it's international.
"To me it's a more fun meet than the Olympics because it's just track and field. You don't do anything but just talk track and field. You don't have to compete with swimming, or the diving, or anything. It's going to be fun. I look forward to it."
Great times for Lewis in Tokyo
In 1991, Lewis fully expected to win gold medals in the long jump, 100m and 4x100m relay for the third straight World Athletics Championships and then focus solely on sprinting the rest of his career.
"Going in my objective was 100 percent to break the (long jump) world record that night and really to stop jumping, that's what I wanted," Lewis said. "Because the long jump is so much more difficult than the sprints and I was like, 'I'm over it, I don't want to do it anymore, it's too hard.'
"I always wanted to jump 29 feet, I always wanted to jump farther than Beamon and then I started sprinting, so I kind of divided my time, but then I said, 'I'm ready, OK let's do it and let's get it done today.' And I jumped 29 feet, I jumped past Beamon and then lost. So, I should have been more specific with myself. I want to jump 29 feet, I want to jump past Beamon, I want to have the world record and never said that part of it."
Lewis had a 65-meet winning streak in the long jump dating back to 1981 entering Tokyo.
Powell won with a leap of 8.95m to break the world record of 8.90m. Lewis, who was jumping after Powell in the competition, had a better overall series, setting a championship record of 8.68m on his opening jump. He also had wind-aided marks of 8.83m and 8.91m before finishing with legal marks of 8.87m and 8.84m, breaking his PR of 8.78m. Powell moved into second place when he went 8.54m on his second jump of the competition. He remained in second until uncorking his world record in the fifth of six rounds. Powell's previous PR was 8.66m.
Five days before long jump final, Lewis won the 100m in 9.86 seconds to break the world record of 9.90 set about 10 weeks earlier by good friend and training partner Leroy Burrell, who was second in 9.88, with American Dennis Mitchell third in 9.91. Two days after the long jump final, Lewis anchored the U.S. 4x100m relay, which included Burrell and Mitchell, to a world-record win in 37.50 seconds.
Because Lewis didn't end up with the world record in Tokyo, he kept long jumping after that and finished with four Olympic long jump gold medals, winning again in 1992 in Barcelona over Powell and in 1996 in Atlanta at age 35 when he wasn't expected to, after previously winning in 1984 in Los Angeles and 1988 in Seoul. Lewis' four consecutive Olympics gold medals in one event are matched only by U.S. men's discus thrower Al Oerter (1956-68).
Lewis made five Olympic teams in the long jump. He said his favorite Hayward Field memory was the 1980 Olympic Trials when he made the U.S. team as an 18-year-old and his sister Carol made the women's long jump team as a 16-year-old. Unfortunately for the Lewis siblings and other American athletes, the U.S. boycotted those Olympics in Moscow.
The Lewis siblings were both on hand in Helsinki, Finland, in 1983 for the first World Athletics Championships. Carl Lewis won the long jump, 100m, and 4x100m relay in Helsinki, and Carol Lewis took the bronze medal in the women's long jump. Carl Lewis won gold in those same three events four years later at the second World Athletics Championships in Rome. Carl Lewis said the first World Athletics Championships were "hard to try and quantify it because the expectations were pretty short because even when I came on the scene in '81, they were not really talking about it.
"I think Helsinki was an amazing place just because of the history of it and for me, it was a very, very special thing because my mother made the Olympic team in 1952, was injured and could not go and it was Helsinki," Lewis said. "So, it was a real special thing for us as a family to go back there. Great crowds, the energy was good. An incredible experience for that first one."
Hayward Field will be the smallest venue to host the World Athletics Championships, and the key for the World Athletics Championships Oregon22 to be successful will be delivering that incredible experience for all involved, especially the athletes. Devers believes that will be the case.
"I said it when I was competing," Devers said. "When I'm 60 years old, I want to be able to sit in the stands in the USA and see great competition. I'm not quite 60, I'm 55, so we're five years short of what I had as a goal and it's already come true. I know (the athletes are) going to get there and they're going to perform very well, and I can't wait to see it.
"I think the fans make you step up your game. In Oregon, they're very knowledgeable about track and field. They know who you are, they know what you've done. They know when you have a great race, they know when you have a bad race, but they're there and they're supportive. I just loved going there because the competition is always great."