Middle-distance runner Sintayehu Vissa (© Kelcey McKinney)
Most people who know Italian middle-distance runner Sintayehu Vissa simply call her 'Sinta'.
In both Italy and the US, people had trouble understanding her full name, and shortened it to make it easier.
But her full name, Sintayehu, in Amharic, loosely means: "I have seen many things".
Even though Vissa remembers little Amharic from her childhood, she knows the meaning of her name. "The meaning of my name makes me proud," she says. "I feel like I've seen a lot of things." The 26 year-old, who later this week will vie for a medal at the European Indoor Championship in Istanbul, Turkey, has indeed seen a lot.
Patience in seeing
Vissa was born in Bahir Dar, the capital city of the Amhara region of Ethiopia, near to the Blue Nile River, which is one of the two major tributaries to the Nile. At an early age she was brought to an orphanage in Addis Ababa, where she lived until her Italian parents, Giuseppe Vissa and Annetta Bertolini, showed up in Addis Ababa to adopt her.
Like many orphanages in Ethiopia, the little of life Vissa remembers there was difficult. Scrounging for food and living in uncertainty would be a far cry from where she would soon end up – in a tiny town northeast of Venice, Pozzecco.
During her first five years in Italy she struggled. It took her five years to get a good handle on Italian, and being the lone black child in a white Italian family in the northern countryside was, unsurprisingly, difficult. The first day she went to school, other children stared at her, even poked her, as she was the first black child they saw. She went home and was unable to communicate her feelings and fears to her parents, unable to speak Italian, and grew frustrated.
"It took me a while not to feel like an outsider, and I was rebellious," Vissa remembers. "I used to run away and hide in corn fields. I would see my family looking for me like crazy, driving back and forth, searching for me. Then I would just get hungry and come home."
While painful, her parents exercised extreme patience. Her mother used to console her father, telling him that, in time, she would adapt. Vissa notes, in retrospect: "I was lucky they were so patient and understanding."
International adoption can be complicated and dangerous in many cases. Adoptees are vulnerable to an array of issues, including fraud, corruption, exploitation, and abuse. There are nearly always complications adjusting to a new family, country, language, and culture, and if Vissa's nurturing environment is any indication, patience and understanding can go a long way.
American dreaming
As she became more comfortable in Italy, Vissa began running casually, focusing on shorter events like the 400m hurdles. She learned about the opportunities offered in the United States if she could get better at running and English, so after graduating high school in Italy, she went to work as an au pair in Cork, Ireland.
English came quickly. So did caretaking. Vissa is still completing a degree in social work and wants to work helping children in the future. She enjoyed seeing more of the world, but injured herself jumping on a trampoline with the children she was working with. Abruptly, she returned to Italy for surgery and rehab.
View this post on Instagram
Six months later she resumed training and began emailing US track and field coaches. The campus at the Division II school of Saint Leo University in Florida was adorned with palm trees, something Vissa had yet to see and experience, and when she got a near full scholarship, she leapt at the chance.
Although she enjoyed her time at St Leo, she was advised to enter the transfer portal and began writing to coaches at the top schools in the NCAA looking for scholarships. But the timing could not have been worse. With Covid-19, there were no races and chances to prove that she improved. She wrote to coaches, truthfully telling them about how much she had improved in time trials, but had no idea if they would believe her results.
Whether or not he believed her, Ryan Vanhoy, who was the coach at the University of Mississippi at the time, got back to Vissa quickly, and offered her a position on the team. He encouraged her to move up in distance, too, and she quickly found success.
"Up until that point, becoming a professional runner was my dream, but I would never say it," she confessed. "I didn't have any results yet, but I'm a realistic person so I wouldn't say it out loud."
In her first year at Ole Miss, Vissa mostly ran the 800m, but Vanhoy knew that she had talent in longer distances. "I struggled, and still struggle mentally, the longer it gets," Vissa says. "But everyone sees potential in me there."
The next year, 2021, Vissa knew she got a lot stronger when she finished 33rd at the NCAA Cross Country Championships. At the NCAA Indoor Championship in 2022, she ran aggressively in the mile but was outkicked by Micaela DeGenero of Colorado on the last lap.
That spring, Vissa was out for redemption. Running more controlled but staying close to the front, Vissa had more in her on the last lap of the 1500m. When DeGenero tried to make a similarly aggressive move in the last 200 metres, Vissa now had a response. She won in 4:09.42.
View this post on Instagram
With her parents in Italy, unaware of how the professional system works, and with a rapid and quick development, Vissa leaned on Vanhoy and her Ole Miss teammate, Spanish middle-distance runner Mario Garcia Romo, in the process of turning professional.
Looking forward, looking back
Within the span of just a few years, Vissa had gone from being a sprinter in Florida to a middle-distance champion in Mississippi, to a middle- and long-distance professional runner in Boulder, Colorado, now running with the new On Athletics Club.
Her longest long run to date is only 14 miles, and her mileage is increasing, but still low compared to most her teammates. It will get longer as she continues to adjust to training at altitude, demonstrating potential, but gradually. It's an international team – an environment within which
Vissa has thrived in her entire life, enjoying the connection to her name and continuing to see even more things, such as the ways of training, ways of eating, and ways of living.
In January 2023, she broke the Italian national indoor record in the mile, running 4:28.71 to take 0.19 off the previous record that had stood for 41 years to 1984 Olympic 1500m champion Gabriella Dorio. A few weeks later at the Millrose Games, Vissa smashed her own record, running 4:24.24 to move to 15th on the European indoor all-time list.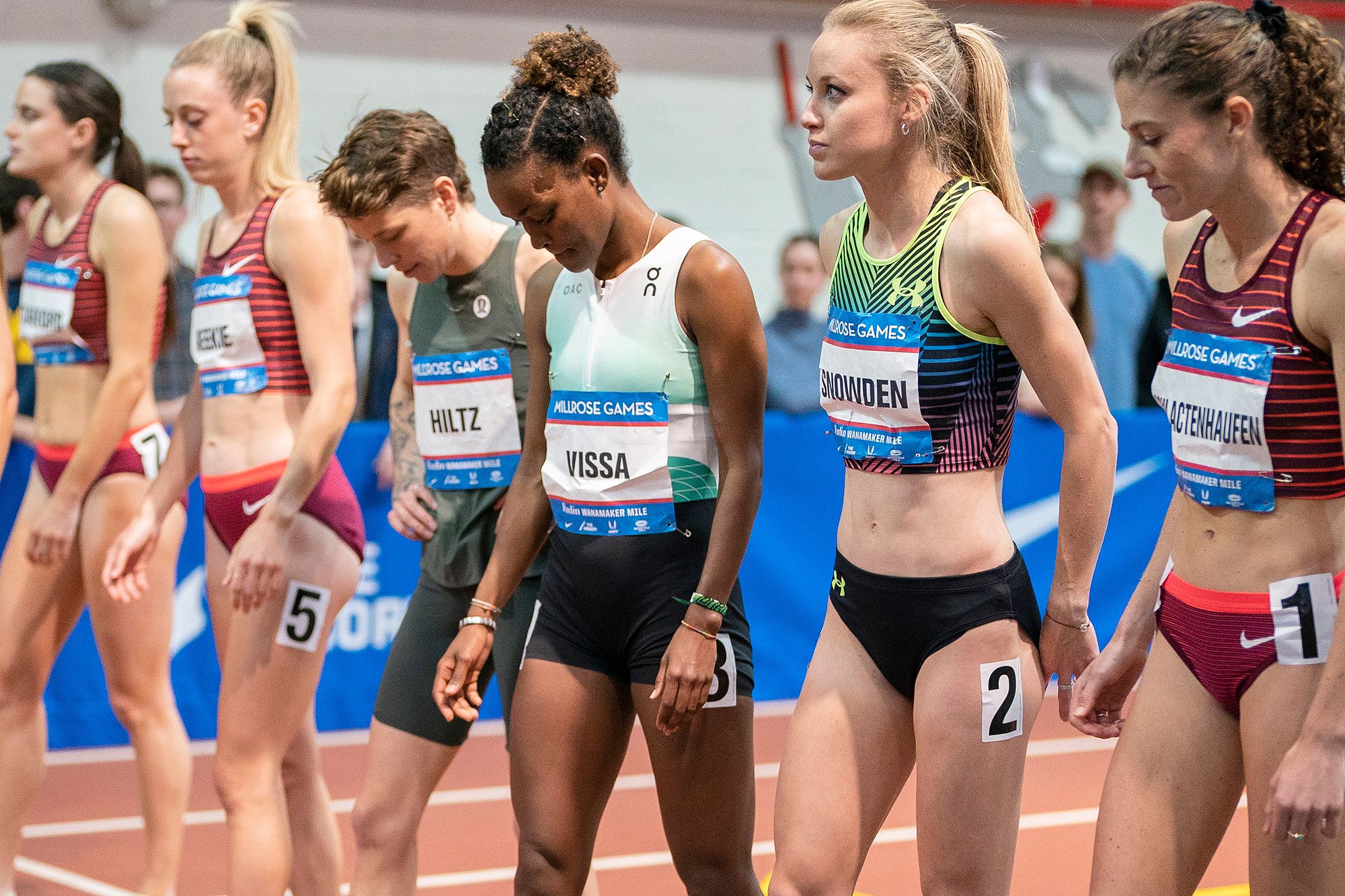 Sintayehu Vissa (centre) on the start line at the Millrose Games (© Taylor Sims)
Vissa hasn't been back to Ethiopia; the idea of going back there brings with it both anxiety and excitement. But she holds on to her background in a range of ways.
When she moved to Italy, her birth year was originally 1999, but she suspected it was wrong. As she got older and more comfortable with her family, she asked her mother to help her find out her precise birth date. They went to a dentist to get an estimate through a tooth decay analysis. Then they worked with adoption agencies in Ethiopia to track down her documents. It was a process of about five years, but to Vissa, it was important.
"It's who I am. My parents invested a lot of money and time in helping me find my correct birth date because I wouldn't be at peace with it, personally, until I knew." Now, she identifies strongly as a Leo.
Leos are said to be ruled by their hearts and driven by fierceness. Their passion can be misconstrued as temperamental but they are driven by passion. It's this passion and this intensity, alongside a perspective embedded in her namesake Sintayehu – "seeing many" – that she is still learning to unleash on the track in new ways.
Hannah Borenstein for World Athletics