Samuele Ceccarelli at the European Indoor Championships (© AFP / Getty Images)
Seeing an Italian sprinter on top of the podium hasn't been an unfamiliar sight in recent years.
At the recent European Indoor Championships in Istanbul, the Italian flag was once again raised during the medal ceremony for the men's 60m. But Marcell Jacobs – the Olympic, European and world indoor champion – was not the athlete standing atop the podium.
"Before the Italian Championships, Jacobs was on another planet for me," says Samuele Ceccarelli, the 23-year-old who scorched to victory in the short sprint in the Turkish city in early March.
His 6.48 triumph in the final, following a 6.47 PB in the semifinals, was considered something of a surprise, but it shouldn't have been. Ceccarelli had beaten his esteemed compatriot by 0.01 at the Italian Championships just two weeks prior, clocking a then PB of 6.54.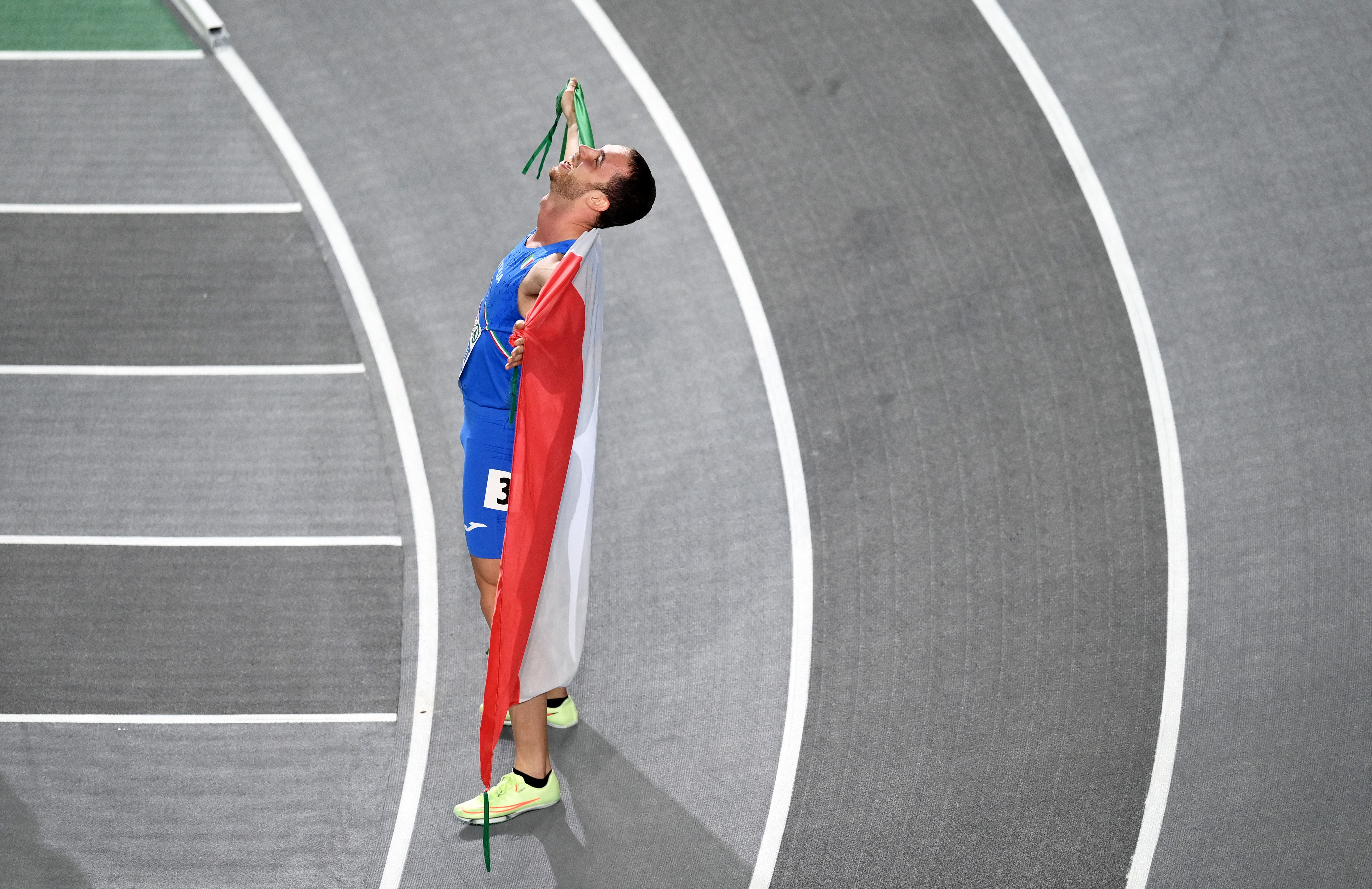 Samuele Ceccarelli celebrates his 60m victory at the European Indoor Championships (© Getty Images)
"Winning my first Italian title and beating the Olympic 100m champion is something that I cannot describe; I did not expect that," says Ceccarelli. "There are no words to express my feeling.
"I thank Marcell for giving me the chance to compete against him in such a great race," Ceccarelli adds. "I knew that my physical form was good, as I demonstrated in the races before the Italian Championships, but the idea of competing with Marcell and beating a champion of this calibre is something that I cannot compare to anything else.
"Beating him in Ancona, I felt the same joy I had when Marcell won the Olympic gold medal in Tokyo."
When Ceccarelli repeated that feat on a championship stage in Istanbul, it made the rest of the athletics world sit up and pay attention.
But when he woke up on the day of the 60m rounds – all three taking place on the same day – with a temperature of 37.5C, Ceccarelli feared he may not be at his best.
"I had a fever but the Italian team doctors gave me aspirin to keep my temperature under control, and my coach helped me remain calm," says Ceccarelli.
"It was a long day with three races (heats, semifinal and final) in just a few hours," he added. "When I received the blue bib as European seasonal leader before the final, I felt some expectations, but I tried to remain relaxed. It wasn't easy to control these emotions, but I tried to keep the energy and give my best."
He advanced through the first round with 6.62, then set a lifetime best of 6.47 in the semifinals before coming within 0.01 of that to take gold in the final.
"It will take a month to sink in what happened," he said at the time. "It's the most beautiful medal that I have in my bedroom. It's a bit strange to share the podium with Jacobs. I cried on the podium because I couldn't hold back my emotions.
"Ever since I started my athletics career, I have always dreamed of being on such a big stage. The biggest dream for any sportsman is to sing the national anthem. I couldn't be happier than this."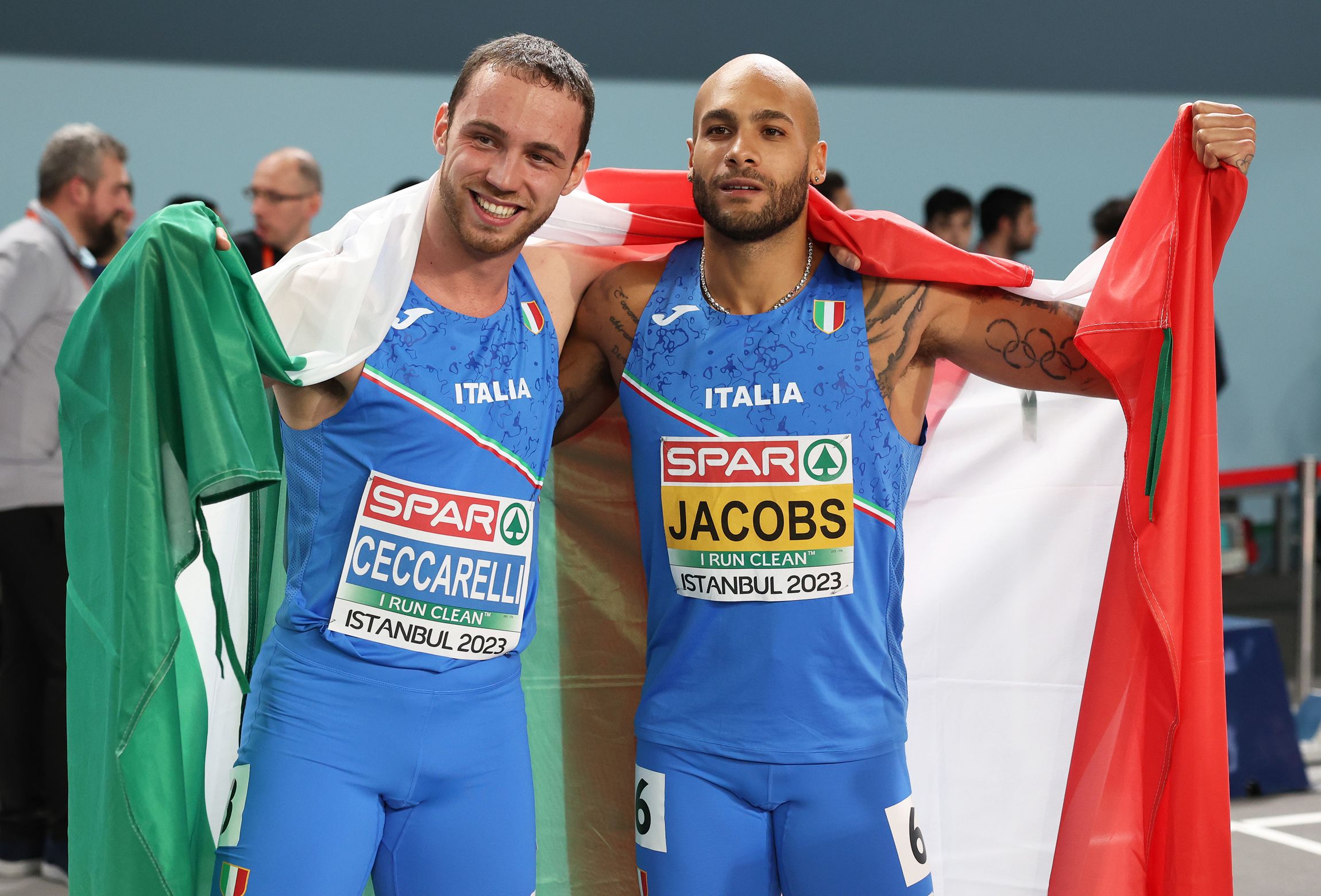 Samuele Ceccarelli and Marcell Jacobs at the European Indoor Championships (© Getty Images)
Jacobs was the first to congratulate Ceccarelli.
"I may not have won the medal that I wanted, but at least the European title remains in Italy," said the Olympic 100m and 4x100m champion. "The 100m at the Italian Championships will be very competitive, and together we will achieve great results in the relay."
Frequent injuries a thing of the past
Beyond the Italian sprinting world, few people in athletics had heard of Ceccarelli before 2023.
He had a 60m PB of 6.72, set while he was still an U20 athlete back in 2019, and his 100m best was – and still is – 10.45. He had represented Italy at the continental level as an U20 and as an U23, but had never reached a final.
Persistent injuries and frequent micro-fractures were the main barriers to Ceccarelli's progress in previous years. And before he turned his attention to athletics, karate was his main sporting focus up until the age of 15. But that, he says, helped with his discipline when he switched to athletics at age 16.
"I credit karate with giving me a grounding of how to behave as a sportsperson because it taught me respect and fair play," says Ceccarelli, whose grandfather Gastone Giacinti played as goalkeeper for Foggia in the Italian Serie A Football league in the 1970s.
Ceccarelli won several medals at the national U20 level between 2018 and 2019, but injury curtailed the final two months of his career in that age group. He suffered a similar fate in 2021, when his participation at the European U23 Championships in Tallinn was hampered by a stress micro-fracture in his right fibula.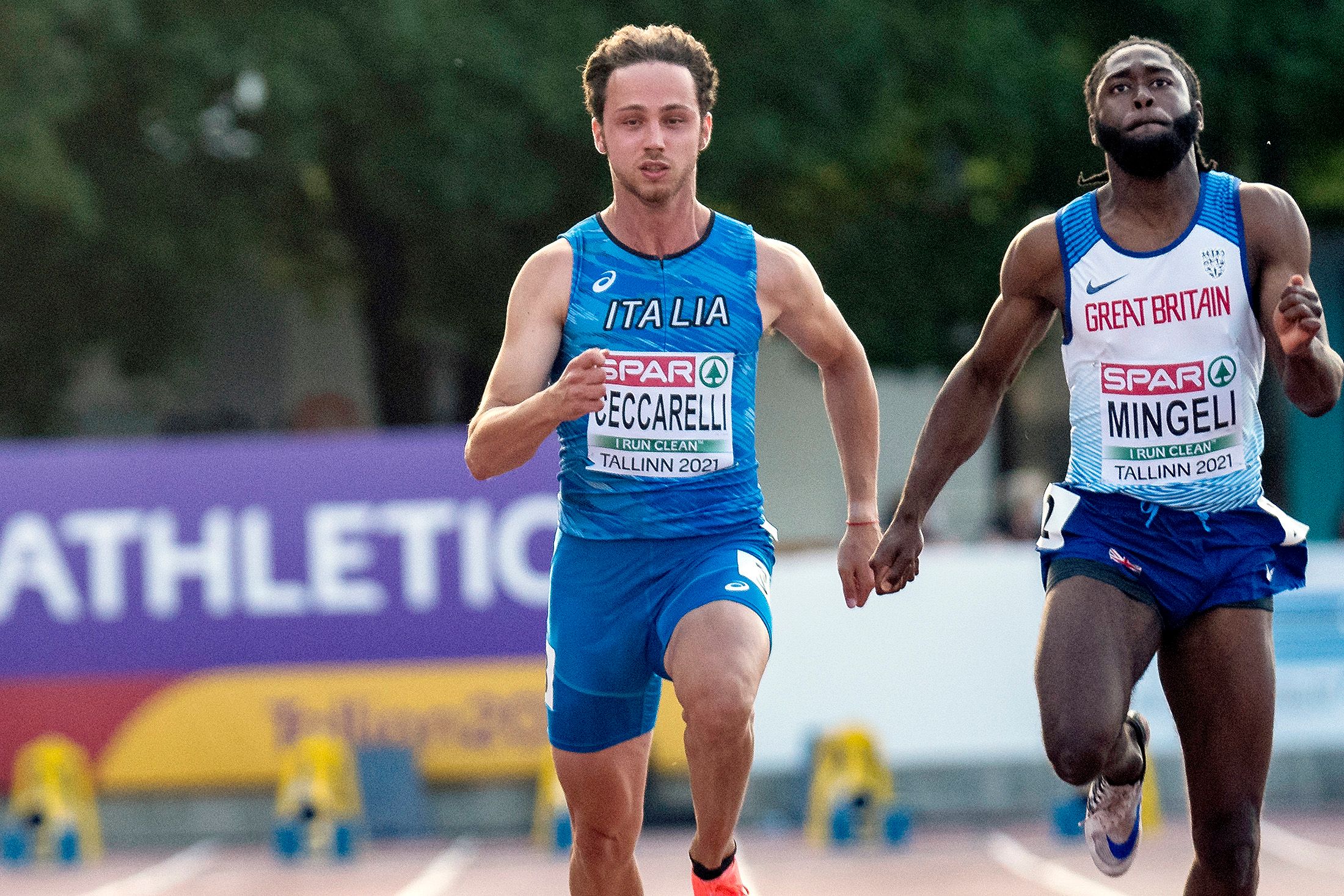 Samuele Ceccarelli at the 2021 European U23 Championships (© Getty Images)
But just a few weeks after returning home from Tallinn, Ceccarelli watched with awe as Jacobs won Olympic gold in Tokyo.
"I was watching the race on TV with my parents," Ceccarelli recalls of the Olympic 100m final. "Jacobs' win gave me an incredible feeling and a lot of energy. He achieved a historic feat and inspired many people, contributing to making athletics popular in Italy.
"Marcell is a good guy," he adds. "We are rivals on the track but our relationship is very good. He is like a big brother to me. When he hugged me after my win in Ancona, it was like a moment of recognition.
"It was an incredible feeling to be part of a national team together with many great athletes who I'd only previously known by watching them on television. They created a very relaxed and welcoming atmosphere, which helped me remain focused and made me feel like I had been part of the team for a long time.
"I built this result (European indoor gold) with patience and sacrifice," adds Ceccarelli. "I had so many injuries before. But for the first time this past winter, I could complete a training cycle with my coach and that was the key to achieving these great results this year."
Looking ahead to the future
Ceccarelli credits his recent success to his coach Marco Del Medico, who was a guide runner for 2000 Paralympic T11 100m champion Lorenzo Ricci.
"I owe my win in Istanbul to my coach," says Samuele, who trains five days a week in Pietrasanta. "Without Marco, I would be a Ferrari car without petrol."
After his incredible indoor breakthrough, many are now keen to see what Ceccarelli can do outdoors.
"My first goal is to improve my PB of 10.45, which has stood since 2021, but I don't want to think too far ahead," he says. "The extra 40 metres between 60m and 100m means I have to work more on speed resistance to be competitive outdoors."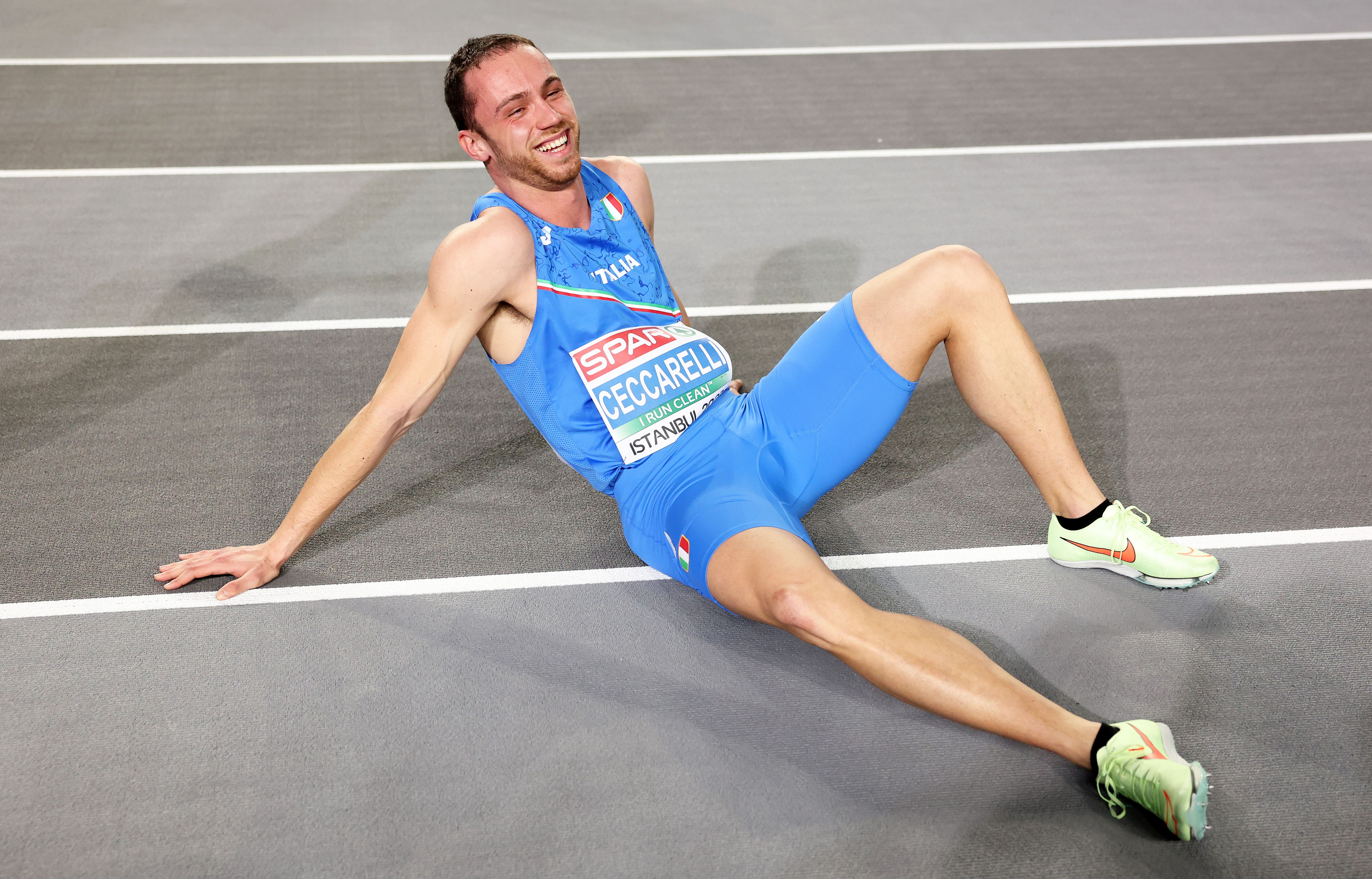 Samuele Ceccarelli at the European Indoor Championships (© Getty Images)
He has also been added to the Italian 4x100m squad. Following their surprise relay triumph in Tokyo, the Azzurri failed to reach the final at the World Athletics Championships Oregon22, so Ceccarelli hopes to help turn their fortunes around.
"It would be an honour to be part of the Italian relay," he says. "I will be prepared, but I will respect whatever (selection) choice is taken."
Outside of athletics, Ceccarelli is a keen linguist and a fan of rap music. He is also currently combining his sports career with law studies at the University of Pisa.
"It's not easy combining athletics and university," says the 23-year-old, who is now in his fifth year of studies. "I study during the morning and I focus on training during the afternoon. The key to balancing all of this is to organise my time well."
In future, Ceccarelli would like to follow in the footsteps of his father by working as a lawyer, or in human resources, as he likes to get to know new people and cultures.
"But for now," he says, "athletics is my priority."
And if he manages to stay ahead of Jacobs outdoors, Ceccarelli may well find himself on more major championship podiums in the near future.
Diego Sampaolo for World Athletics