Wayne Pinnock, Tajay Gayle and Carey McLeod at the World Athletics Championships Budapest 23 (© Getty Images)
Shortly after the men's long jump final at the World Athletics Championships Budapest 23, bronze medallist Tajay Gayle was asked about Jamaican athletes finishing second, third and fourth, with Wayne Pinnock, Gayle and Carey McLeod filling the spots behind Olympic champion Miltiadis Tentoglou of Greece.
"That's never happened before," a Jamaican journalist told Gayle, who smiled as he responded: "Yeah, but a 1-2-3 sounds better."
As the focus starts to turn towards the Paris Olympics, it's not beyond the realms of possibility, even if Tentoglou will take some shifting from the top of the long jump tree. Still, the evidence was there in Budapest, just as it has been across the breadth of the long jumping landscape in recent years: Jamaica is on the rise, and fast.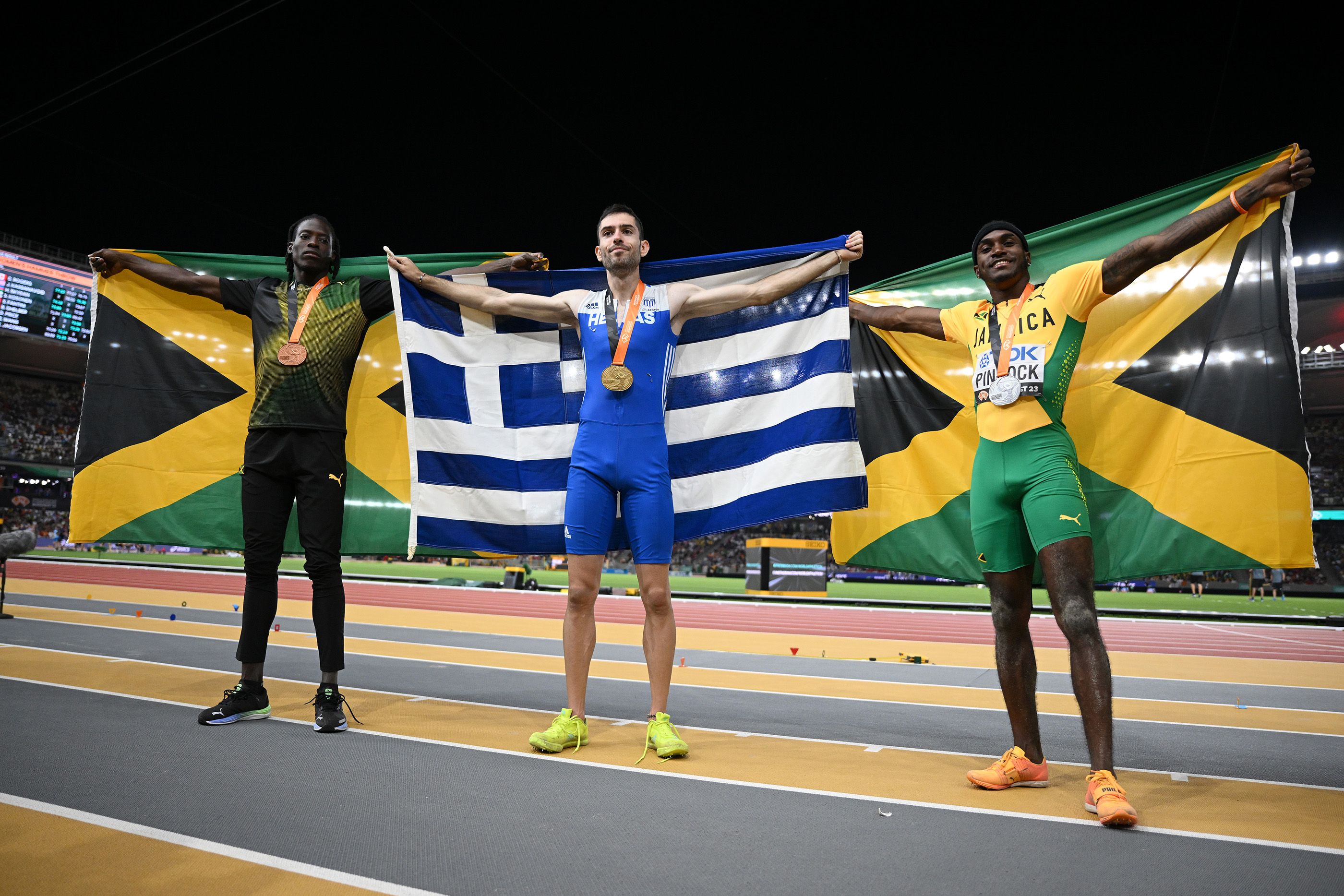 Tajay Gayle, Miltiadis Tentoglou and Wayne Pinnock in Budapest (© Getty Images)
Across the first 16 editions of the World Championships, Jamaica won a total of two medals in the men's long jump. In the last three editions, they've bagged three, the victory by Gayle in 2019 having a clear ripple effect on his compatriots. Chief among them was Pinnock, who won silver in Budapest, his 8.50m leap in the final leaving him just 2cm adrift of Tentoglou.
"Seeing Tajay in 2019, I told myself, 'I want to be on that level,'" he said. "I did it and I'm forever grateful."
Gayle, Pinnock and McLeod have taken similar journeys to this point. The trio are all natives of Kingston. Gayle grew up in August Town, an underprivileged area of the Jamaican capital, and after long jumping 6.50m at the high school 'Champs', he earned a scholarship to the University of Technology in Kingston, or UTech.
"Coming from August Town, I had nothing else to do," he said in an interview with Spikes. "It was a straight road to UTech. No turn-off, no other choices." At UTech, he came under the guidance of Stephen Francis, who has guided many Jamaican greats, and Gayle improved rapidly, jumping eight metres for the first time in 2017.
Pinnock also grew up with few resources, but with a plentiful supply of both ambition and potential. "Coming from the poor population in Jamaica, (athletics) made a big, big impact on my life," he said in Budapest, shortly after winning silver. "It doesn't matter where you're from: anything you put your mind to, you can achieve it. I always tell myself that. It doesn't matter where your background is. Pressure builds diamonds."
Pinnock, 22, started out as a sprint hurdler before gravitating more towards the long jump in recent years. In 2017, he finished sixth in the world U18 long jump final in Nairobi, jumping a PB of 7.27m at the age of 16. The following year, he improved to 7.99m and won bronze at the World U20 Championships in Tampere. He broke the eight-metre barrier for the first time in 2018, while lowering his 110m hurdles best (at the U20 height of 99.1cm) to 13.06, a Champs' record.
In 2021, he enrolled at the University of Tennessee, joining McLeod, who had been his high school teammate at Kingston College. McLeod, now 25, has done a different juggling act to Pinnock in recent years, combining the long jump with the triple jump, holding respective personal bests of 8.40m and 17.17m. McLeod won gold in both of those events at Champs back in 2017 and claimed long jump gold and triple jump silver at that year's Carifta Games.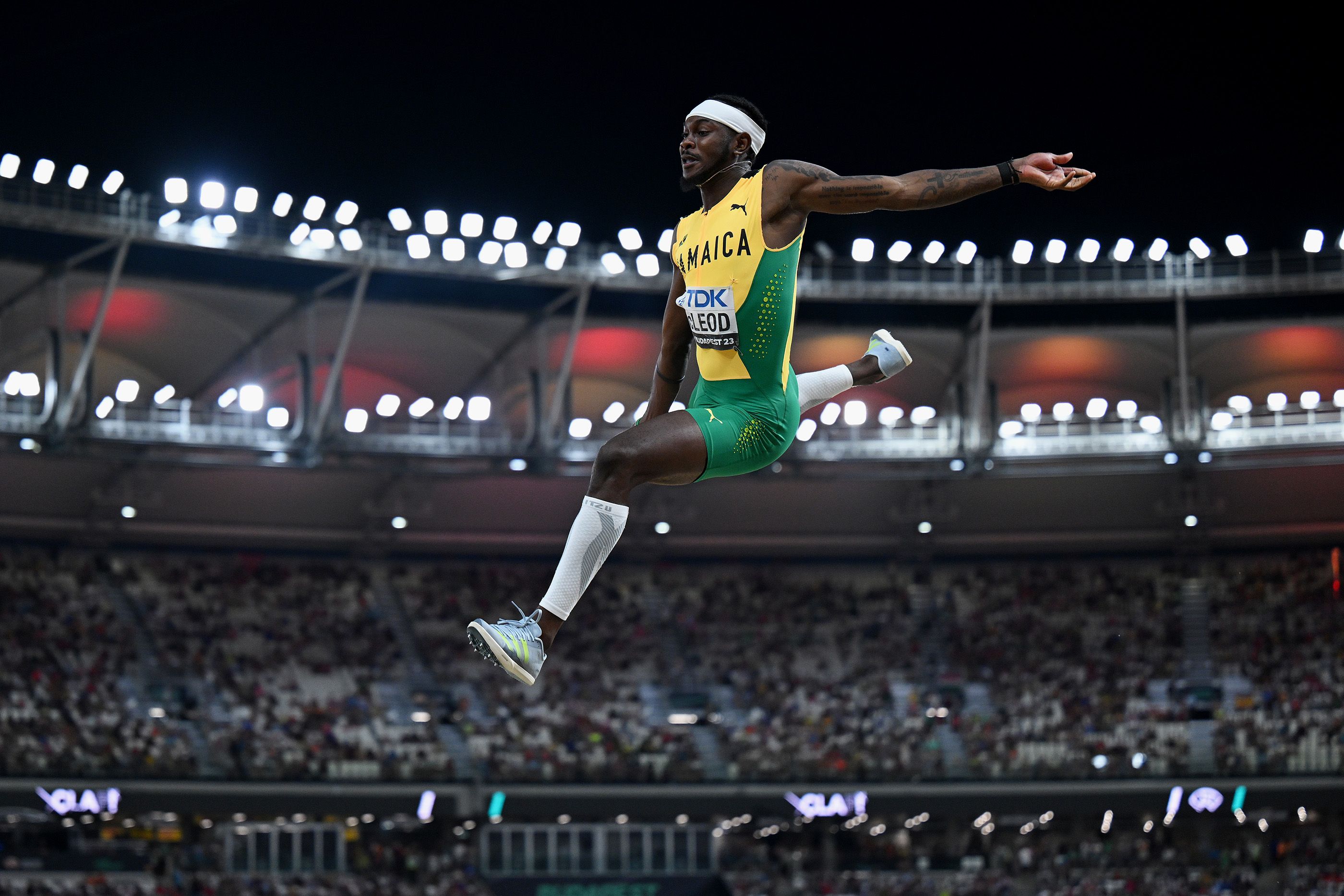 Carey McLeod in long jump action in Budapest (© Getty Images)
Having initially studied at Emporia State in Kansas, he transferred to the University of Tennessee in 2019 and won long jump bronze at the 2021 NCAA Championships, qualifying for the Tokyo Olympics in both the long and triple jump. McLeod was a little below his best in 2022 but after transferring to the University of Arkansas along with Pinnock, he bounced back better than ever in 2023, winning the NCAA indoor long jump title in March with 8.40m and the NCAA outdoor title in June with 8.26m. The pair train under the guidance of coach Travis Geopfert, who returned to Arkansas in 2021 after three years at Tennessee.
Back in 2021, McLeod was asked about the growth of Jamaican jumpers by Sportsmax. "We all are the younger generation coming up in the sport," he said. "I can happily say we are on the rise to taking over in the jumps in the years to come."
It has proven to be prophetic, given the trio's recent exploits.
Heading to Budapest, McLeod, Pinnock and Gayle were ranked fourth, sixth and ninth respectively based on their season's bests, but they rose together towards the top in the final. Pinnock opened with 8.40m, then improved to 8.50m, edging ahead of Tentoglou on countback at the head of the standings. It was only in the final round that the Greek star pulled it out of the bag, his 8.52m handing him the one title he'd been missing in his career. Gayle jumped 8.27m for third, the same distance as McLeod, who was edged into fourth on countback.
For Gayle, the bronze felt like a huge victory, given the injuries he'd dealt with since winning the world title in 2019. The 27-year-old competed through pain in 2021, managing a best of just 7.69m in the Olympic final in Tokyo while jumping with a knee injury, while a bone bruise plagued him in 2022.
"The injuries kind of develop a phobia in the run-up so I don't want to run too fast out of fear of getting hurt again," he said in Budapest. "But it's something I've been overcoming since last year, on to this year. I'm sure I'm going to get it (right) by next year."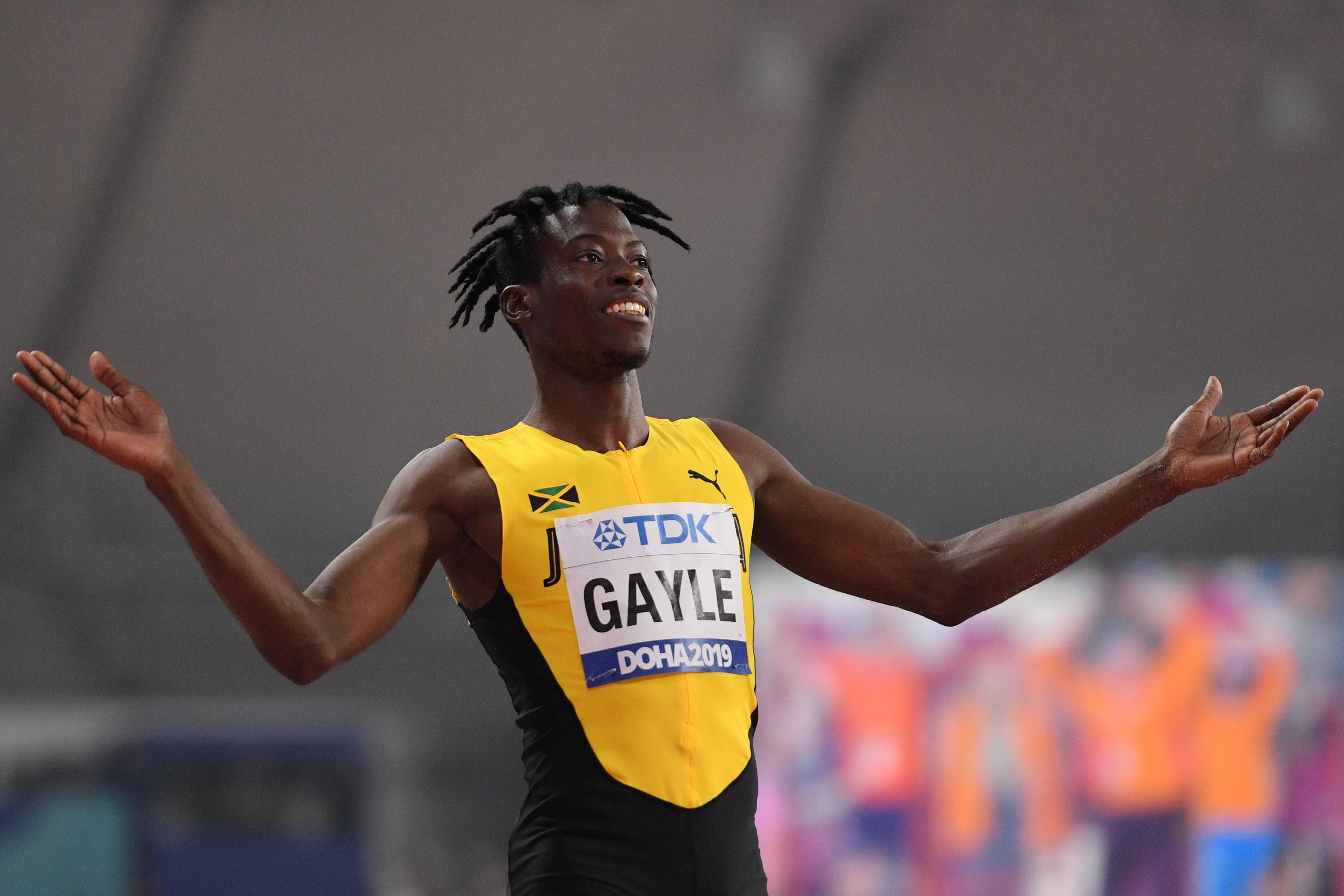 Tajay Gayle at the 2019 World Championships (© AFP/Getty Images)
Gayle trains with the MVP Track Club and hitting a high speed on the runway is an essential part of his optimal jump. His chance in Budapest looked in jeopardy when he re-injured his knee just two weeks before the World Championships. "I wasn't training for three days, and by the fourth or fifth day it was getting better and better," he said. "I'd like to thank MVP and the staff for helping me to overcome that. It's a good day today, we have silver and bronze. We wanted 1-2-3 but the boy showed up today, so we have to go again."
Gayle knows that with a clean bill of health, that bronze could be upgraded to silver or gold in 2024. "I know I can do better, but it's hard for me to really get the run-up since that injury," he said. "But by next year, everything good, man."
For McLeod, a new life now beckons. He recently joined Gayle in the professional ranks, while Pinnock is "going to talk about that" same move in the weeks ahead. Whatever is decided, he plans to finish his studies at Arkansas.
"The first thing to do is to finish school, the most important thing," he said. "You don't know when you can go out there and not (be able to) compete anymore."
For Pinnock, the silver medal crowned a steady rise to the top rank of global long jumping, and in the aftermath of his achievement, his two-year-old daughter Zaharah was foremost in his mind.
"I did this for my baby girl, she made all this possible," he said. "My mind was clear, go out there and compete, and I got a silver. Words can't explain how I'm feeling. It's really a dream come true."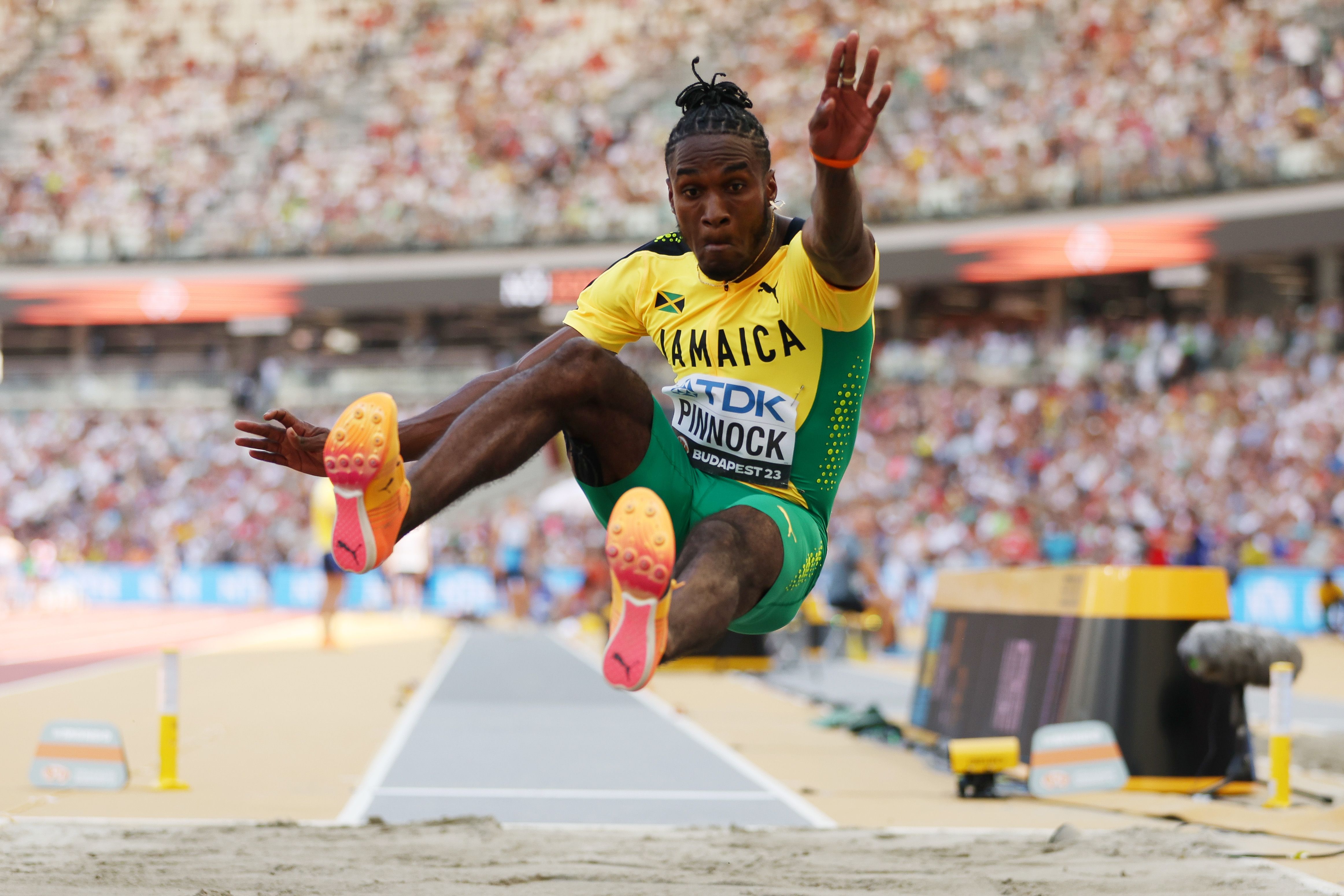 Wayne Pinnock at the World Athletics Championships Budapest 23 (© Getty Images)
As the youngest of the trio, he spent many years following the exploits of McLeod and Gayle, while he also spent countless hours poring over the technique of their international rivals on YouTube, figuring out ways he could surpass them. "Watching people like Tentoglou gave me the motivation as a youngster to reach the top," he said. "And now I'm there, nearly there."
Pinnock had injury issues in 2021 that sidelined his bid to reach the Tokyo Olympics, but he bounced back to win the Jamaican title in a PB of 8.14m last year before finishing ninth in the world final in Oregon. Having improved his PB to a world-leading 8.54m during qualification in Budapest, he knows what could be possible in 2024, for him and his compatriots.
Tentoglou, of course, remains the man to beat, but while the Jamaicans were content to fill the next three positions behind him on this occasion, they'll be looking for more in Paris.
"Congratulations to him," said Pinnock. "We'll come again for the Olympics, and see what we've got in the bag."
Cathal Dennehy for World Athletics