Nienke Brinkman at the European Championships (© Getty Images)
Appropriately for someone who investigates earthquakes on Mars as part of a PhD, Nienke Brinkman has had a seismic impact on the marathon event in a short space of time.
Less than a year ago, she did not even feature on World Athletics' athlete database, having not contested a road or track race at sufficiently high level. Then, a 2:26:34 marathon in Valencia began an earth-shattering 12 months for the student at the Institute of Geophysics in Zurich, during which time she broke the Dutch record with 2:22:51 and earned bronze at the European Championships.
However, she is keen to dial down media hype which has repeatedly hinted she went from couch potato to European medallist in two years. The 29-year-old says her running success is in part a result of a lifetime of sporting activity, which has included playing second-division field hockey in the Netherlands.
Nonetheless, the magnitude of her rise has been remarkable, given she began focusing on running as recently as 2018.
Born into a sporty family in Indonesia, where her Dutch parents were briefly living, she enjoyed running, but her hockey prowess meant she was pushed more towards that in school in the Netherlands.
"I was not able to make the national level [in hockey], but I was not a bad player," she says. "I never related to running as a sport. I actually didn't know it was really a sport until I stopped playing hockey."
She trained for hockey six times per week and ran perhaps as much as 10km during each game. She cycled half an hour each way to training and did one half-hour long running-specific session per week.
"I think it was known I was a good runner, that's probably why I was a midfielder," says Brinkman. "I could always help out everywhere and I was not tired often. But I never thought about split times or how fast I was actually running."
She emphasises: "I don't like the story that I have been running only two years. Of course it's true for specifically running, but, if you play field hockey, you have to run and I have been doing a lot of sports my entire life. I think I built my base through different sports. It's not like I didn't do any sport at all and, all of a sudden, I'm on the top."
When she moved from the Netherlands to continue her studies in Switzerland and found that the sport she grew up with was not popular enough there to be an option, she instead ran, cycled and went to the gym to keep fitness. In the summer of 2019 she finished sixth woman in the hilly, part-trail Zermatt Marathon.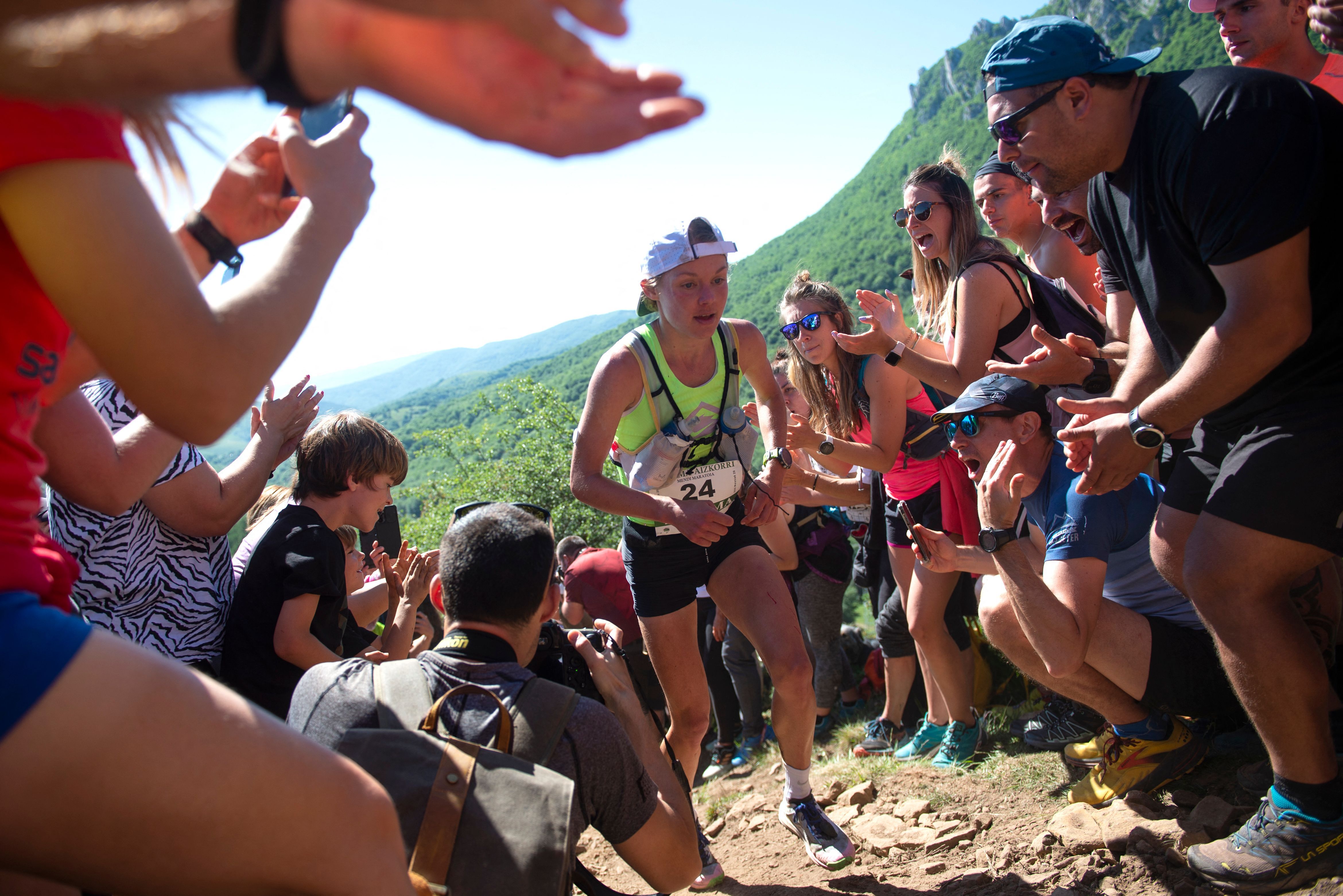 Nienke Brinkman on her way to winning the Zegama-Aizkorri mountain marathon (© AFP / Getty Images)
Echoing a familiar story, though, she upped her running during the pandemic lockdown spring of 2020 in order to relieve stress. She planned to do the Amsterdam Marathon in October of that year, but Covid restrictions meant she would run it virtually. Accompanied by triathlete and 2:23 marathon runner Benjamin Ueltschi, who would a few months later become her coach, she clocked 2:39.
"I think this was the point where I thought, 'this is very good', and I started to learn about pacing and all the things I could learn in running," she says. Before that she had been running 70-100km per week, but Ueltschi added some missing structure into her programme and got her to slow down. "I was doing all my training way too hard and no easy running, so my quality training was not good," she recalls.
Ueltschi adds: "We started off quite gently, but prioritised the interval sessions. We gradually built on the volume over time and that's where I was most surprised; she is just really, really strong. Soon 140-150k weeks were well managed.
"I don't want to make it sound easy here," he added. "Nienke shows extreme passion for running, she is very disciplined, she hardly missed any sessions at all."
Brinkman agrees: "I find it hard to miss training. I would do anything to make it to training but sometimes Ben would say, 'hey man, if you're so tired, it doesn't make sense'. Sometimes he needed to tell me that it's okay to take it easy."
In the summer of 2021, Brinkman competed in trail running with considerable success, placing second in the world-class Sierre-Zinal. However, it was the seismologist's run in Valencia in December that was to truly shake the Richter scale.
"We were going for sub-2:30 and the expectation was 2:28 on a really good day," she says, admitting the attention afterwards was "very overwhelming". She adds: "I really liked all of a sudden that you get a lot of attention for this performance, but I also had to really absorb it."
The performance led to a link-up with NN Running, the team behind athletes such as Eliud Kipchoge, Yalemzerf Yehualaw and Letesenbet Gidey.
As well as helping to deflect a little of the media focus, NN Running helped with support such as a period of training in Kenya, which was perfect preparation for the Rotterdam Marathon.
Nienke Brinkman at the Rotterdam Marathon (© AFP / Getty Images)
It was there in Iten that Brinkman came to learn about Lornah Kiplagat, the holder of the Dutch record at 2:23:43. It's a reminder of how new to the sport she was – and still is – when Brinkman says: "Beforehand I didn't know about her. When I was in Kenya I was with her sister's husband staying in his lodge, so I had heard a little bit about her but not so much."
It was only on her return that Brinkman and Ueltschi started to realise the Netherlands could soon have a new national record-holder. Indeed, the nearly four-minute improvement on her PB would clearly make her a contender for the European Championships in Munich in August. She picked that over the World Athletics Championships Oregon22 in part due to the travel and her PhD commitments.
She was many people's favourite for gold in Germany but ultimately placed behind winner Aleksandra Lisowska of Poland and Matea Parlov Kostro of Croatia, needing to summon every effort to hold off Germany's Miriam Dattke for the final medal place. European bronze was, nevertheless, of course, an amazing achievement for someone so new in the sport, but she feels she learned a lot in her first experience of a tactical road race.
Talking about stomach issues which surfaced on the eve of the race, she says: "My stomach after 27km couldn't take in any fuel and I was a bit traumatised after the race with what happened with my stomach. But also I lost a lot of energy when I went to the aid station … because I was not able to push myself through all the ladies to get my bottle so it was a good lesson for me, I think. Also, just before the race when I am really stressed, my stomach also gets sensitive to this and I need to be careful with what I take in."
Even more impressively, Brinkman succeeded in mixing up her Munich preparation with a trail campaign. She competed in and won four stages of the Golden Trail World Series. She also competed in the Madeira Ocean and Trail Five-Day Stage Race, where she raced five times in five days to seal the overall series win.
"Probably because it's a bit of a smaller group, it's much more like a group of friends sort of environment," she says of the trail running scene. "I really like that the group knows each other so well in trail running.
"I think trail running makes you super-strong in a sense. The small muscles for stabilisation – I think it really helps. Also trail running can be quite tough so it's good mental training sometimes. I think, on the other hand, road running can give me a lot of speed, which helps also on the trails."
However, her eyes are firmly set on the marathon at the next Olympics. "I really want to go to Paris 2024, so I need to prioritise road running, but that doesn't mean I cannot do trail running at all," she says. "I can still do it on the side, but maybe not the full Golden Trail series, for example."
Her preparations for Paris will be eased now she is coming to the end of her PhD and her time spent working with NASA probes on Mars. Having secured sponsorship with Nike, she is hoping to become full-time in her sport.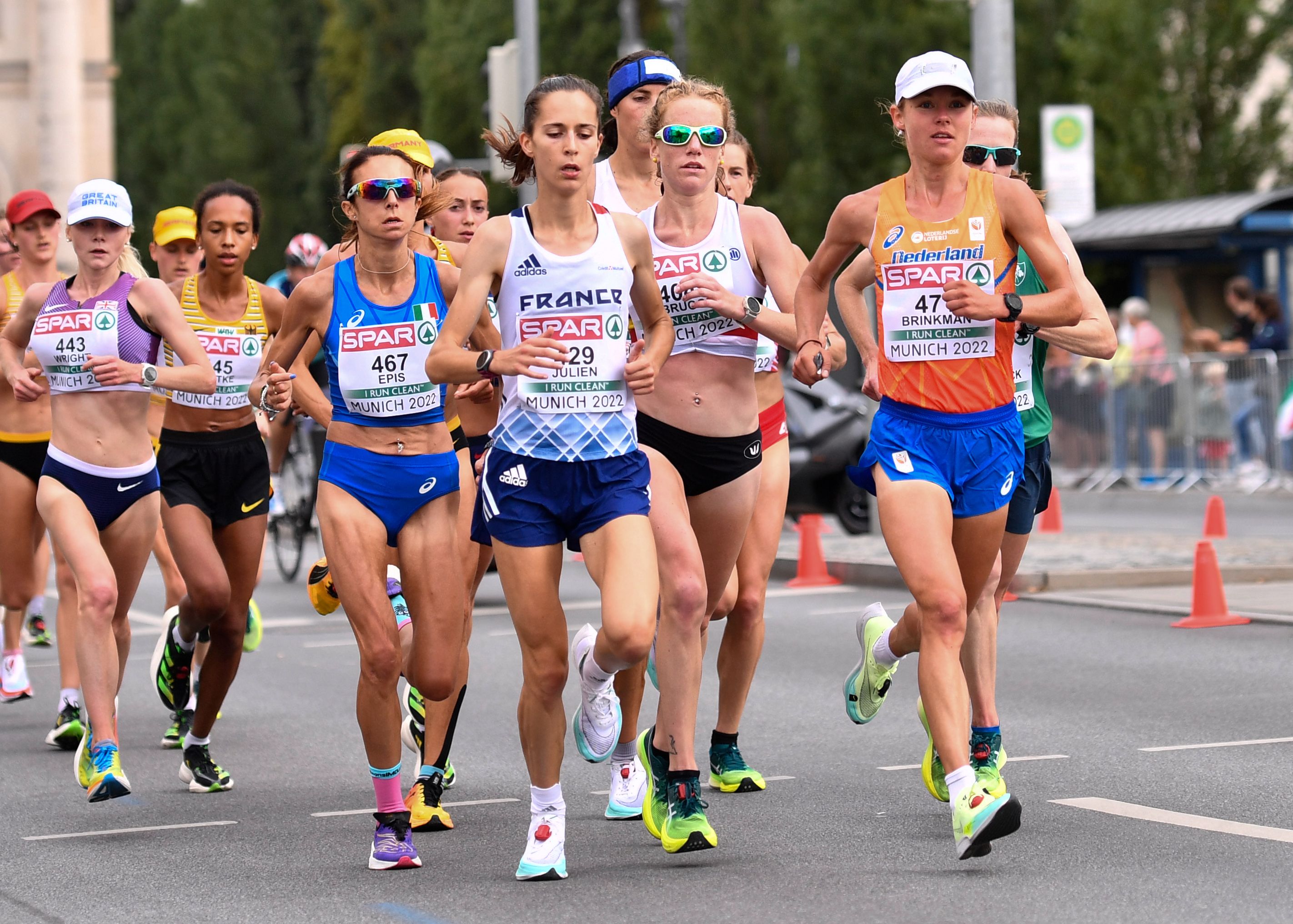 Nienke Brinkman in action at the European Championships (© Getty Images)
So, with increased focus on the marathon and arguably years before she reaches peak 'training age', what is her ultimate potential?
Ueltschi is offered the chance to opt out of risking piling on too much pressure but responds: "We have a lot of plans about how we are going to raise the training stimulus next season. I think performances close to Paula Radcliffe's time (European record of 2:15:25) could be possible in a couple of years.
"But who knows? Will she still have the same passion for running in a couple of years? I do think so… She is a clever girl who can do literally anything she puts her mind to. Maybe she will be an astronaut in 10 years!"
Brinkman laughs: "I haven't heard him say that [about Radcliffe's time]. We talked about 2:19, of course… I always find it scary to talk about. Of course, I want to go there, but I am just scared that I cannot do it. But I want to give it everything I can to try and go for such things."
As for that passion and commitment, Ueltschi need not worry that Brinkman will leave the elite marathon-running scene as quickly as she found it. "After a big event, I really have to sit down with Ben and the only thing he wants is that I go back to training with the mindset that I still want to do this," said Brinkman. "And all the time this is the case.
"I am only starting to like it more and more. For me at the moment, yes, I have a lot of fun in doing this. I really like it. I have been training my body my entire life and now you can see that it pays off."
So a career as an astronaut may not be on the cards after all but, one way or another, it's clear the sky is the limit for Brinkman.
Paul Halford for World Athletics