Nick Willis in action at the Millrose Games (© Getty Images)
Two-time Olympic 1500m medallist Nick Willis broke four minutes for the mile at the Millrose Games on Saturday (29), running 3:59.71 at the World Athletics Indoor Tour Gold meeting in Manhattan.
The time itself is perhaps no surprise from an athlete of his calibre. But what made it special for Willis that night is that, at 38 years old, the New Zealander became the first man to run under four minutes for the distance for 20 consecutive years.


Barriers are meant to be broken
There are many iconic barriers in athletics.
For men, beating 10 seconds in the 100m or clearing six metres in the pole vault defines you as an athlete. Likewise, for women, leaping farther than seven metres in the long jump or breaking four minutes for 1500m is something to be celebrated.
All of this can seem futile or arbitrary. Distances and times are, after all, based upon basic unit systems, so being on one side of a mark or the other should not matter.
And yet, it does. Because it is precisely what makes the sport exhilarating and relatable to people. Breaking a barrier can act as your entry ticket to the world all-time lists.
Breaking a barrier 20 years in a row is something else. Not a world record per se, but an incredible demonstration of consistency and dedication to the sport.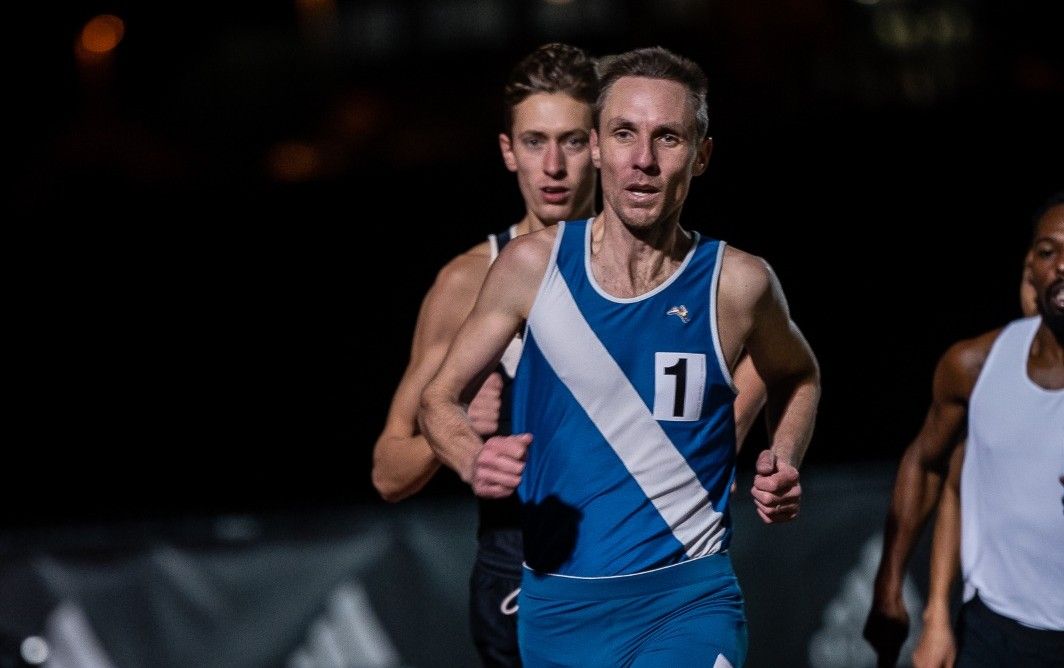 Nick Willis in 2021 (© Tracksmith)

The Everest on the track
Running the mile within four minutes was, for a long time, considered impossible.
In the mid-1950s, as the barrier seemed to be standing still (after nine years without any progress made on Sweden's Gunder Hägg's world record of 4:01.40), the British press referred to it as 'the Everest on the track'. A relevant nickname, since both the ascent of Earth's highest mountain and the athletics feat ended up being accomplished for the first time only a few months apart.
At a time when nobody had ever broken 10 seconds for the 100m, breaking four minutes for four laps of a track was an extremely satisfying and ambitious feat to envision. So ambitious that some scientists called it unfeasible for the human body.
On a foggy evening in May 1954, however, Great Britain's Roger Bannister, a medical intern from the University of Oxford, became the first man to do it, proving the world wrong in the process. At the Iffley Road Track – now known as the Roger Bannister Track – in Oxford, he ran 3:59.40.
The Everest was conquered.


Legacy and consistency
Seven decades later, breaking four minutes for the mile has become something of a prerequisite for professional middle-distance.
Indeed, about 1300 more men in the world have now managed to complete the distance in a time that starts with a three.
While the 1500m is the standard middle-distance championship discipline, the mile is still extremely popular in some countries, especially in the United States where it is often run at collegiate level.
As a matter of fact, this is where Willis ran his first sub-four mark (3:58.15) while competing for the University of Michigan at the 2003 Notre Dame Meyo Indoor Invitational in South Bend, Indiana, just four years after Morocco's middle distance great Hicham El Guerrouj set a still-standing world record of 3:43.13.
The following year, and at the age of 21, Willis lowered his personal best to 3:56.55 at the same venue before eventually running 3:53.51 at the Prefontaine Classic for his first outdoor sub-four mark. A couple of months after that, he participated in his first Olympic Games in Athens, running 3:39.80 in the heats and 3:41.46 in his semifinal of the men's 1500m.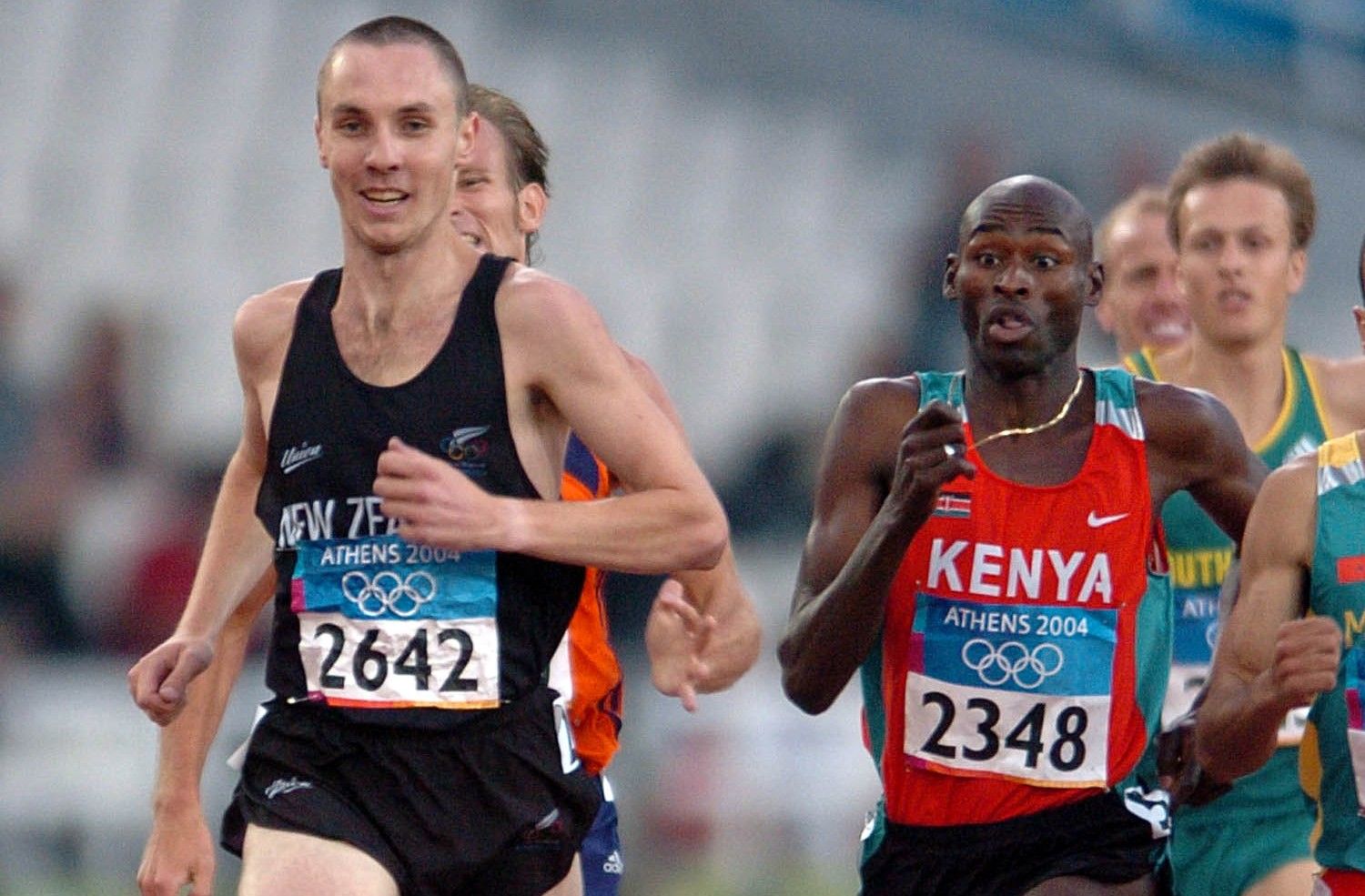 Nick Willis at the 2004 Olympic Games (© Getty Images)

It was in 2006 that Willis experienced international success for the first time, claiming 1500m gold at the Commonwealth Games in 3:38.49 ahead of Canada's Nathan Brannen and Australia's Mark Fountain. That same year, he lowered his mile personal best to 3:52.75.
In 2007, Willis made his first world 1500m final, placing 10th in Osaka in 3:36.13.
The following year, Willis ran what he considers one of his best races to improve his mile personal best to 3:50.66, finishing second behind Kenya's Shadrack Korir at the Prefontaine Classic in Eugene, Oregon. Two months after that, he went on to claim 1500m silver at the Beijing Olympics in China.
At the following 2012 Olympic Games, Willis had the privilege of being his country's flag bearer during the opening ceremony held at the London Stadium. He finished ninth in the Olympic 1500m final and had a season's best of 3:51.77 for the mile.
In 2014 at the Glasgow Commonwealth Games, Willis earned 1500m bronze, his third straight Commonwealth medal after the one he had taken in Delhi four years prior. It was also in 2014 that he set his lifetime best of 3:49.83 in the mile in Oslo.
In 2015, Willis clocked an Oceanian record of 3:51.46 for the indoor mile, and a national 1500m record of 3:29.66 at the Herculis Diamond League meeting in Monaco. That same year he finished sixth with 3:35.46 in the 1500m final at the World Championships in Beijing, his best placing in the competition.
The following year, Willis added two global medals to his tally with a 1500m bronze at the World Indoor Championships in Portland and an Olympic 1500m bronze in Rio.
At 38, Willis was the oldest athlete in the 1500m field at the Tokyo Olympics, where he placed ninth in his semifinal in a season's best of 3:35.41.
Earlier in 2021, he had already broken the record of 19 consecutive years of sub-four-minute miles. And he finally went on to improve that record to 20 on 29 January 2022 with his 3:59.71 run.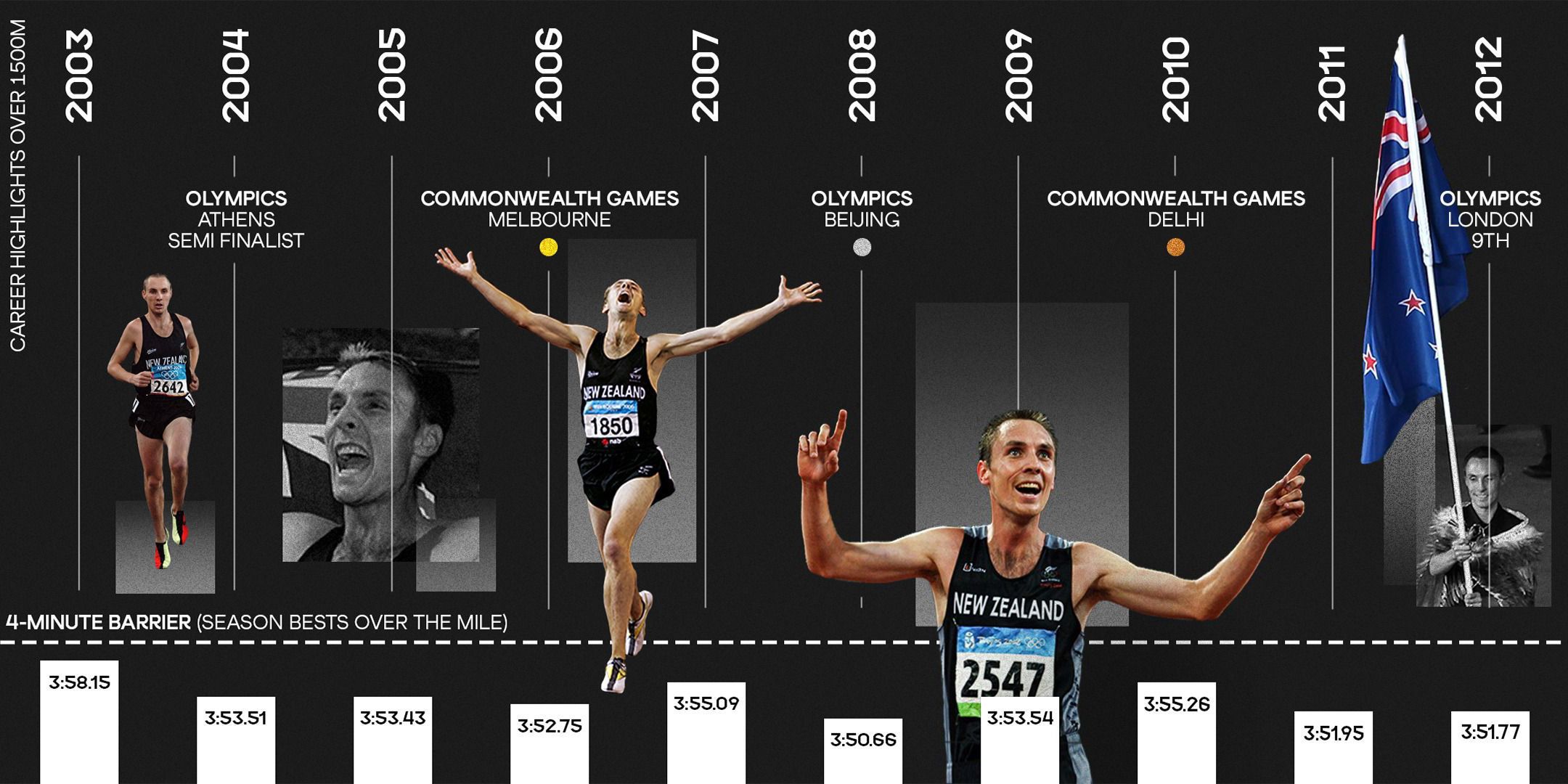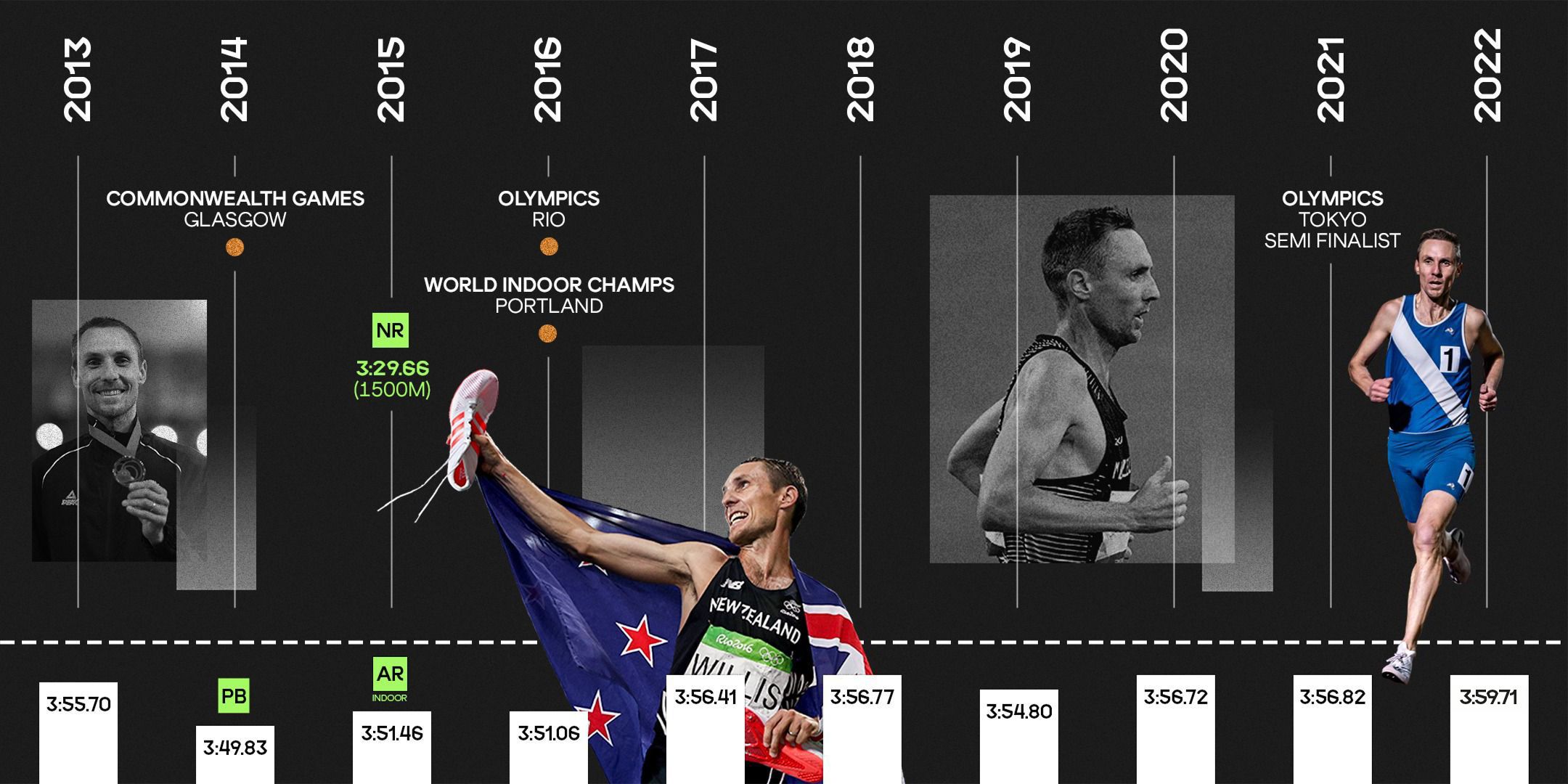 For the love of the sport
In a recent podcast, Willis confessed that his secret to longevity might be that he never experienced any major injuries that forced him to step away from the track for too long.
In 2020, however, Willis left his sponsor to turn amateur.
After years of top-level racing, Willis indeed claimed that he needed to fall back in love with the sport in a different way. And for him to maintain his longevity and consistency, he would have to do it on his own terms. He is now involved with the Boston-based running apparel brand Tracksmith where he is working as an athlete experience manager.
"I am yearning to have a broader impact on our sport, beyond just participating as an athlete," Willis said in one of the brand's releases.
"Ultimately, I want to inspire and help more and more people fall in love with the sport that has given me so much."
Consider that done.
Laurent Dieste for World Athletics


Nick Willis' year bests for the mile (2003-2022, indoor and outdoor):
| | | | |
| --- | --- | --- | --- |
| Year | Season's best | Category | Location |
| 2003 | 3:58.15 | Indoor | Notre Dame Meyo, South Bend, IN, USA |
| 2004 | 3:53.51 | Outdoor | Prefontaine Classic, Eugene, OR, USA |
| 2005 | 3:53.43 | Outdoor | Bislett Games, Oslo, Norway |
| 2006 | 3:52.75 | Outdoor | Wanganui Mayoral Mile, Wanganui, New Zealand |
| 2007 | 3:55.09 | Indoor | Reebok Grand Prix, Icahn Stadium, New York, NY, USA |
| 2008 | 3:50.66 | Outdoor | Prefontaine Classic, Eugene, OR, USA |
| 2009 | 3:53.54 | Indoor | Reebok Indoor Games, Boston, MA, USA |
| 2010 | 3:55.26 | Indoor | Reebok Indoor Games, Boston, MA, USA |
| 2011 | 3:51.95 | Outdoor | Prefontaine Classic, Eugene, OR, USA |
| 2012 | 3:51.77 | Outdoor | Prefontaine Classic, Eugene, OR, USA |
| 2013 | 3:55.70 | Outdoor | Drake Relays, Des Moines, IA, USA |
| 2014 | 3:49:83 (PB) | Outdoor | Bislett Games, Oslo, Norway |
| 2015 | 3:51.46 | Indoor | Millrose Games, New York, NY, USA |
| 2016 | 3:51.06 | Indoor | Millrose Games, New York, NY, USA |
| 2017 | 3:56.41 | Outdoor | Hoka One One Long Island Mile, Huntington, NY |
| 2018 | 3:56.77 | Indoor | Müller Indoor Grand Prix, Birmingham, UK |
| 2019 | 3:54.80 | Indoor | Millrose Games, New York, NY, USA |
| 2020 | 3:56.72 | Indoor | Millrose Games, New York, NY, USA |
| 2021 | 3:56.82 | Indoor | American Track League 3, Randal Tyson Indoor Center, Fayetteville, AR, USA |
| 2022 | 3:59.71 | Indoor | The Armory Track & Field Center, NY, USA |