South Africa's Lythe Pillay wins the 400m at the World Athletics U20 Championships Cali 22 (© Marta Gorczynska)
The struggle was real. For Lythe Pillay, the moment many will remember of him this year came in the men's 400m final at the World Athletics U20 Championships Cali 22 – the 19-year-old South African coasting clear down the home straight, looking left, looking right, and seeing no one within touching distance. That allowed him to begin his celebration long before he reached the finish in a big PB of 45.28.
But the moment few will know about is the backdrop to that performance, and just what Pillay had come back from to get there. Less than six months earlier, he had spent four nights in hospital in Johannesburg, his health in an absolute wreck.
"I won't lie, it's a bit of a haze," he says. "I was on quite strong medication. It was my lungs, my throat, but my whole body was completely locked up. I could barely walk for the first week and a half after hospital. I was pretty much bed ridden."
The exact cause was open to interpretation. He was told it could have been a reaction to the Covid-19 vaccine that he'd taken just two days before. But after he tested positive for the virus while in hospital, it looked likely it was the disease itself.
Either way, Pillay was not in a good place.
Up to that point, his training had been progressing well, with Pillay on track to smash the PB of 45.53 he'd run early last year. But the way he felt after being released from hospital, he wondered if he'd have a track season at all.
"We took a very cautious approach," he says. "I took about three or four weeks off before I started and those first two weeks were just jogging. We made sure we didn't do things too fast. I definitely was concerned, but that's where I tried to keep faith in myself, in the process, trust in the coach and in my abilities."
Pillay's coach, Lindi du Plessis, knew how much Pillay wanted to avenge the disappointment of his fourth-place finish in last year's World U20 Championships final, but she also knew that putting short-term goals ahead of long-term progress would be foolish.
"She was very, very careful about taking time because the last thing I wanted was going back too soon, damaging my body, my lungs," says Pillay.
The teenager had enjoyed a stunning breakthrough in 2021, competing with the South African 4x400m team at the World Athletics Relays in Silesia, Poland, before making his Olympic debut in Tokyo, leading off South Africa in the 4x400m heats.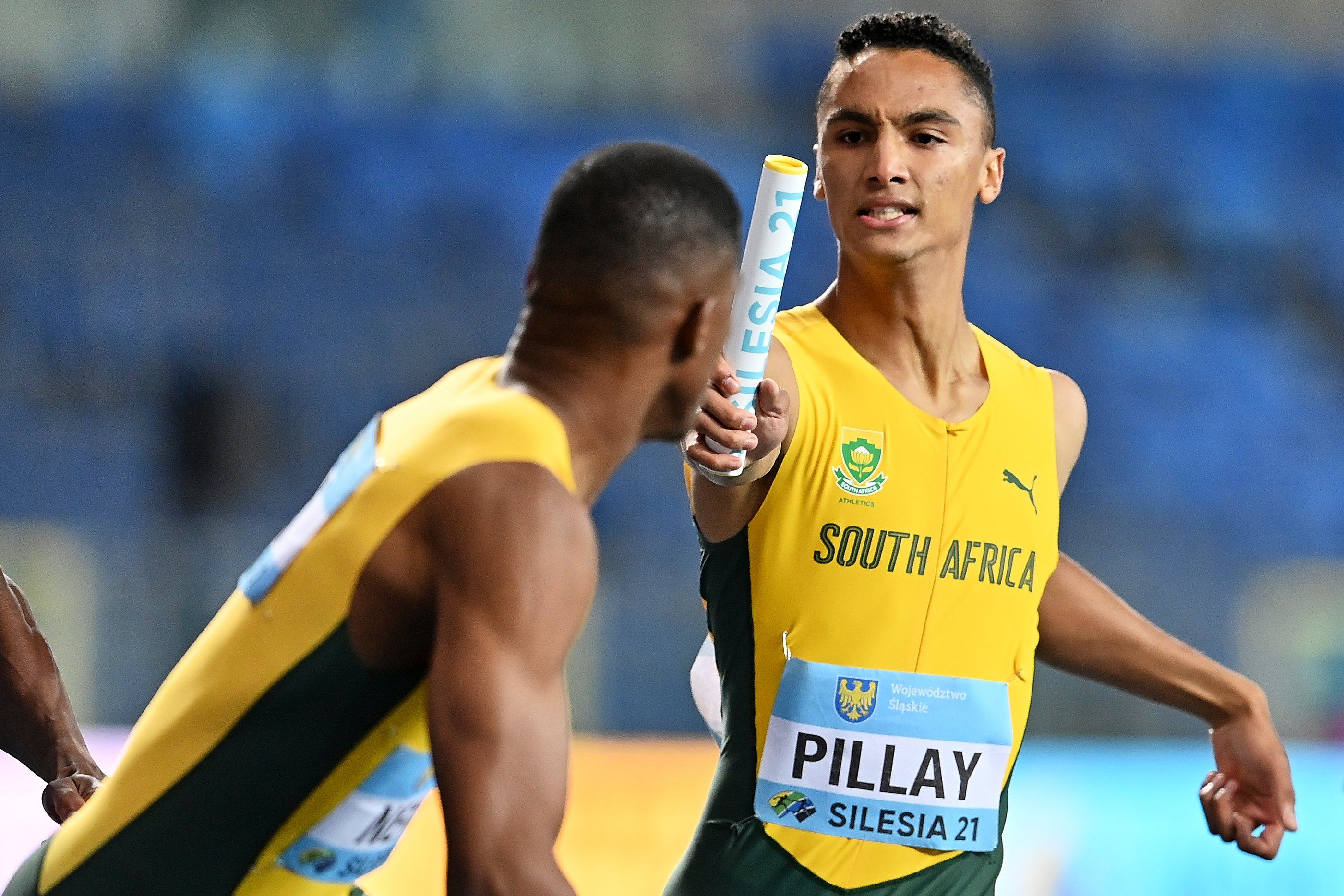 Lythe Pillay competes at the World Athletics Relays Silesia21 (© Getty Images)
A week later, he flew to Nairobi as one of the favourites for world U20 gold over 400m, but after ripping through the first 200m in the final, he faded to fourth in 45.53.
That left a mark.
"It was a huge anti-climax, especially coming off Tokyo," he says. "What it taught me was a lot of people are there to support you when you're winning, but not at your lowest times. I feel like that benefited me coming into this year, especially as I didn't have such expectation around me. I just kept paying attention to the voices who do matter, not the voices that are there just to celebrate."
Over the past year, Pillay got to know a range of experienced seniors. There was 100m star Akani Simbine, who has consistently given him words of advice and encouragement. Then there's Wayde van Niekerk, his "lifelong idol", who he got to know in Tokyo last year.
"I was lucky enough to get along with them," says Pillay. "They are good mentors in my life and they give me advice, motivation, and they also understand what it's like. They prepare me for things to come, how to handle certain situations."


View this post on Instagram

Pillay needed to draw on that experience in the build-up to Cali, given he also missed time with injury following his recovery from Covid-19. His 400m season's best was a modest 46.58 and he knew much more would be needed to get among the medals.
But by the time he got to August, things were starting to click. Pillay had worked hard for several months, juggling his training with his studies at the University of Johannesburg, where he's doing a degree in physiology and biochemistry.
It was a difficult balancing act. Pillay's alarm would go off at 5:30am most days and after navigating the morning traffic, he'd start classes at 8am, finishing around 2 or 3 in the afternoon. Training would start around 4-4:30pm, and after that he'd often spend a couple of hours in the gym before arriving home around 7pm, hopping into the pool to kickstart his recovery process.
Pillay only started weight training this year, and he has a long way to go on that front. "We started off learning the techniques and we're still doing the baby weights – someone has to lift them," he laughs. "We are also doing research into other areas we can improve: nutrition, technique."
Heading to Cali, he felt his form returning. "I'd been hitting some of my fastest times in training and I wasn't going to make it easy for them to beat me," he says. "I just tried to keep faith in myself."
He coasted to victory in his heat in 46.02 and did the same in the semifinal, utilising a controlled first 200m and a powerful finish to clock 45.61. His plan for the final? "It was the same as the heats and semis," he says. "Just to turn up the dial a little bit."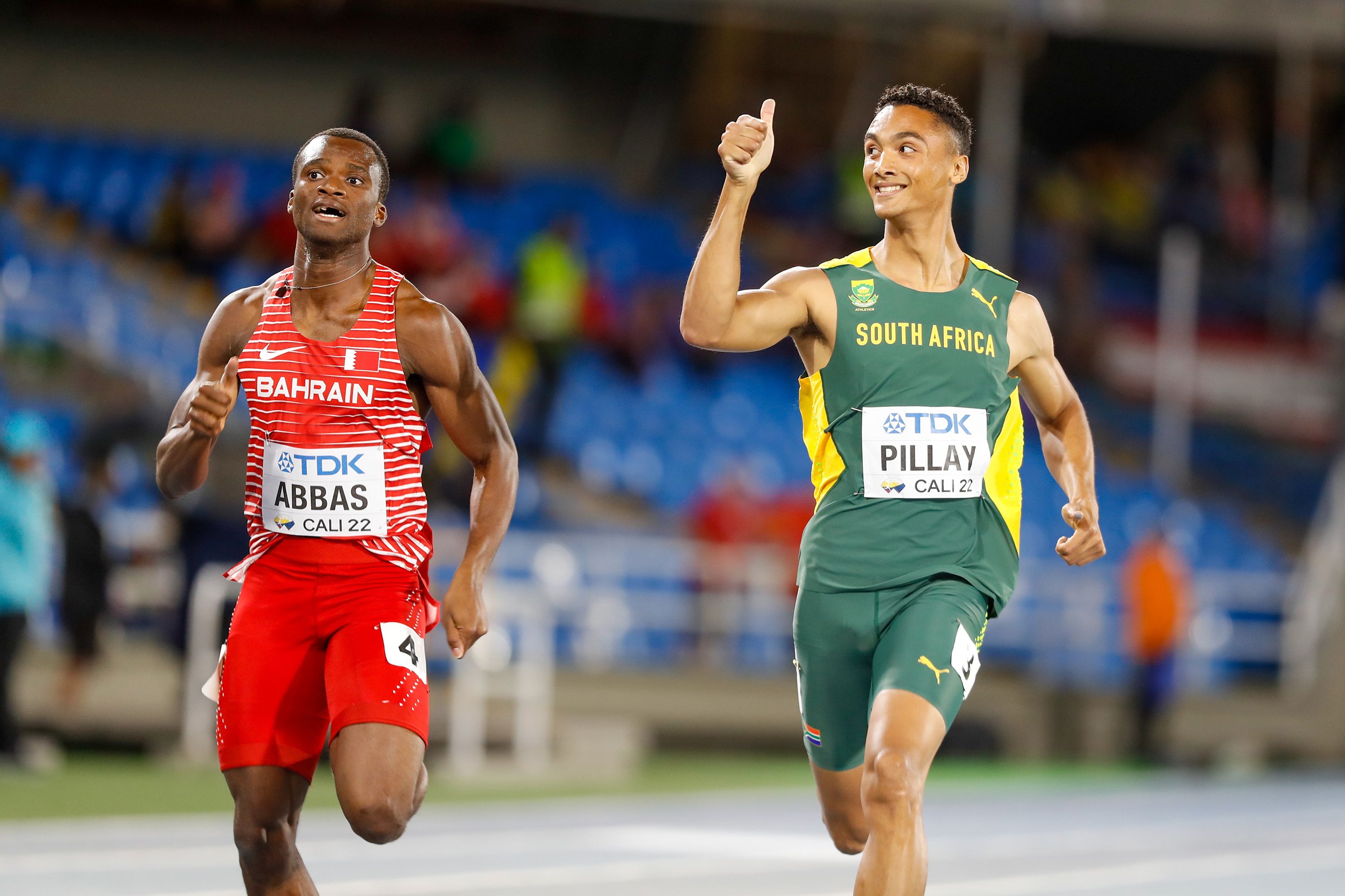 Lythe Pillay in the 400m semifinals at the World Athletics U20 Championships Cali 22 (© Oscar Munoz Badilla)

That he did. One of Pillay's chief rivals, Delano Kennedy of Jamaica – who'd won his semifinal in 45.49 – got disqualified for a false start, and it was another Jamaican, Shaemar Uter, who Pillay had to chase through the opening 300 metres.
Pillay turned for home roughly level with Uter and Bahrain's Yusuf Ali Abbas, and was expecting to see USA's Steven McElroy appear on his shoulder from the lane inside him, but he never did. Pillay pressed on and pulled clear of his rivals and, with 40 metres to run, he was able to steal glances in either direction. He looked up to his South African teammates in the stands, waving, before beating his chest and crossing the line a clear winner in 45.28, dropping to his knees and holding his head in his hands in disbelief.
The late-race celebration wasn't planned, just a spur-of-the-moment idea, and those who know Pillay know he's anything but the flashy type – his words indicative of a young man who carries himself with modesty.
"Some people were like, 'well done, but you could have got a 44,' but at that point I was looking across, I didn't expect it to be a PB, I was just thinking, 'it's a win,'" he says. "My body and my mind were prepared to do what I had to do to win and when I saw that position I said, 'let's make a memorable moment out of it.' I was lucky I could have a moment to express myself a bit more – it probably won't happen again anytime soon racing the seniors."
Pillay will turn 20 in February, which means 2023 will be his first season competing totally in the senior ranks. He feels fully back to health these days and knows that given his difficulties this season, his times have yet to scratch the surface of his potential.
"I do wonder where I would be without that setback, but I'm grateful for where I am now, grateful for knowing I can still push my body," he says.
The day after that world U20 final, he also got a new follower on Instagram: Wayde van Niekerk. "He said, 'well done,' which means a lot to me," says Pillay. "I feel like I've got Wayde's approval now."
Whatever lies ahead for Van Niekerk, the future of South African 400m running looks in safe hands with Pillay, who is hoping to run with his idol in 2023.
"Next year will be quite a humbling year, but I'm also looking forward to possibly running the 4x400m with Wayde," he says. "I guess this is my foot in the door in trying to prove myself."
He knows the road ahead will be long, but after the year he's had, Pillay feels more than ready for it.
Cathal Dennehy for World Athletics