Jakob Ingebrigtsen at the European Indoor Championships (© Getty Images)
Following the successful defence of his 1500m title at the European Athletics Indoor Championships in Istanbul, Norway's 22-year-old Jakob Ingebrigtsen was asked to describe his ambition.
"My main goal is to become the best runner that ever existed," said the athlete who has already accrued Olympic, world and multiple European gold medals as well as a world indoor 1500m record. "To do that, I will need to win more races and the next one is tomorrow."
Guess what? He won that race too, a 3000m heat. And the following day he won the next one, the 3000m final, to repeat the double he achieved at the 2021 edition of the championships in Torun.
Such is Ingebrigtsen's range of talent – he already has many global and continental medals at distances ranging from 1500m to 5000m as well as successive European cross-country titles – that such a statement of intent is something to be taken very seriously. As seriously, indeed, as this prodigious young talent takes his athletics.
There is no false modesty in Ingebrigtsen's statements – nor unseemly pride.
His achievements have already been extraordinary since he emerged as one of the sport's most startling talents aged 16, becoming the youngest man in history to run a mile in less than four minutes and also setting a European U20 record of 8:26.81 in the 3000m steeplechase in his first attempt at the distance.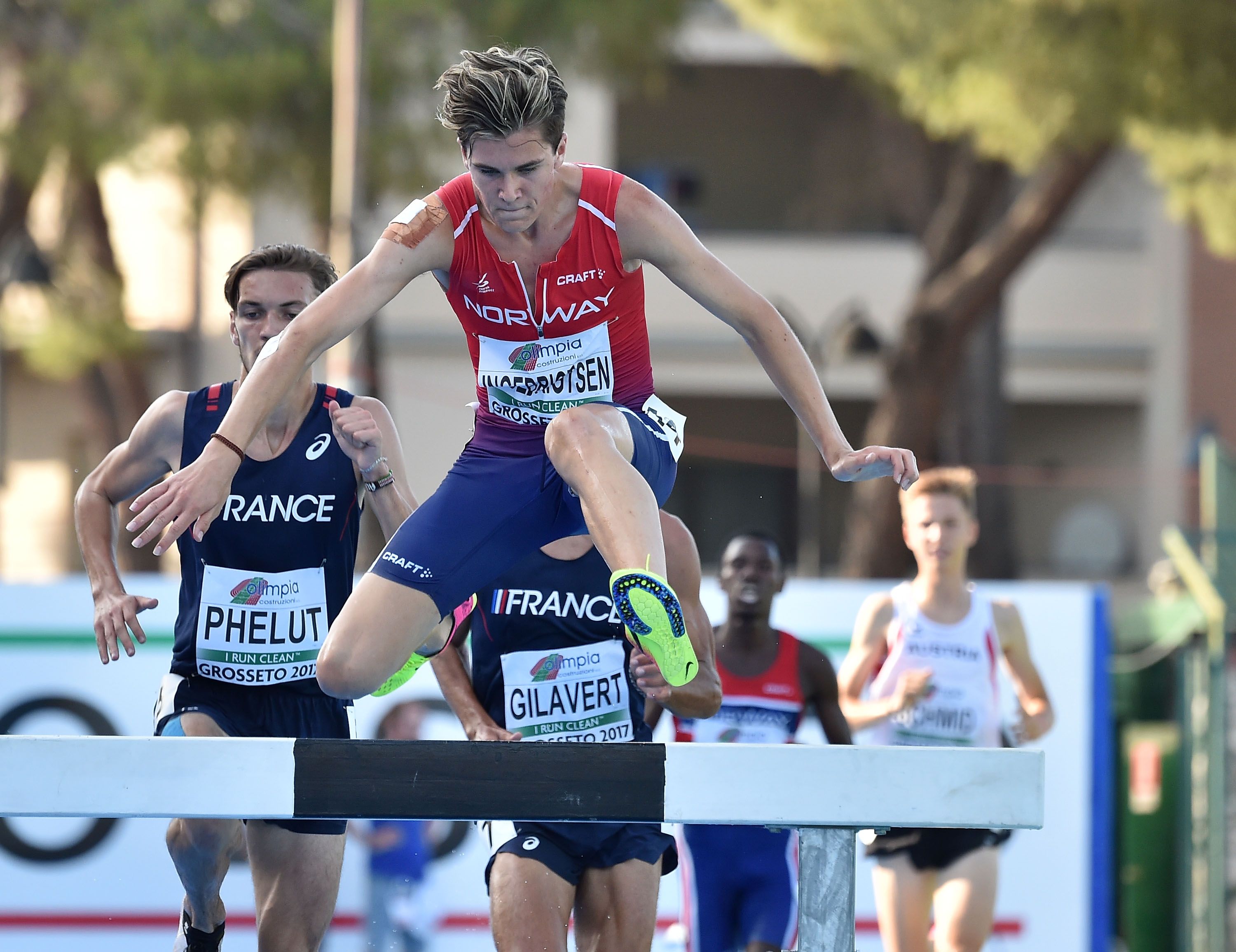 Jakob Ingebrigtsen in the 3000m steeplechase at the 2017 European U20 Championships (© Getty Images)
His latest flourishes may have taken place on the grey track of the Atakoy Arena but the victories were rooted in an earlier contest – the World Athletics Indoor Tour Gold meeting in Lievin on 15 February.
There Ingebrigtsen, having missed more than a month of training due to a viral infection, put himself through the single test that would tell him whether he would be best to defend his European indoor titles in Turkey or give them a miss and concentrate on the outdoor season – where he will seek to win a first world 1500m title in Budapest and, perhaps, defend his 5000m title.
And after winning in 3:32.38, the fastest time in the world this year, the Norwegian went away with a glint in his eye. It was all he needed. He knew he was ready.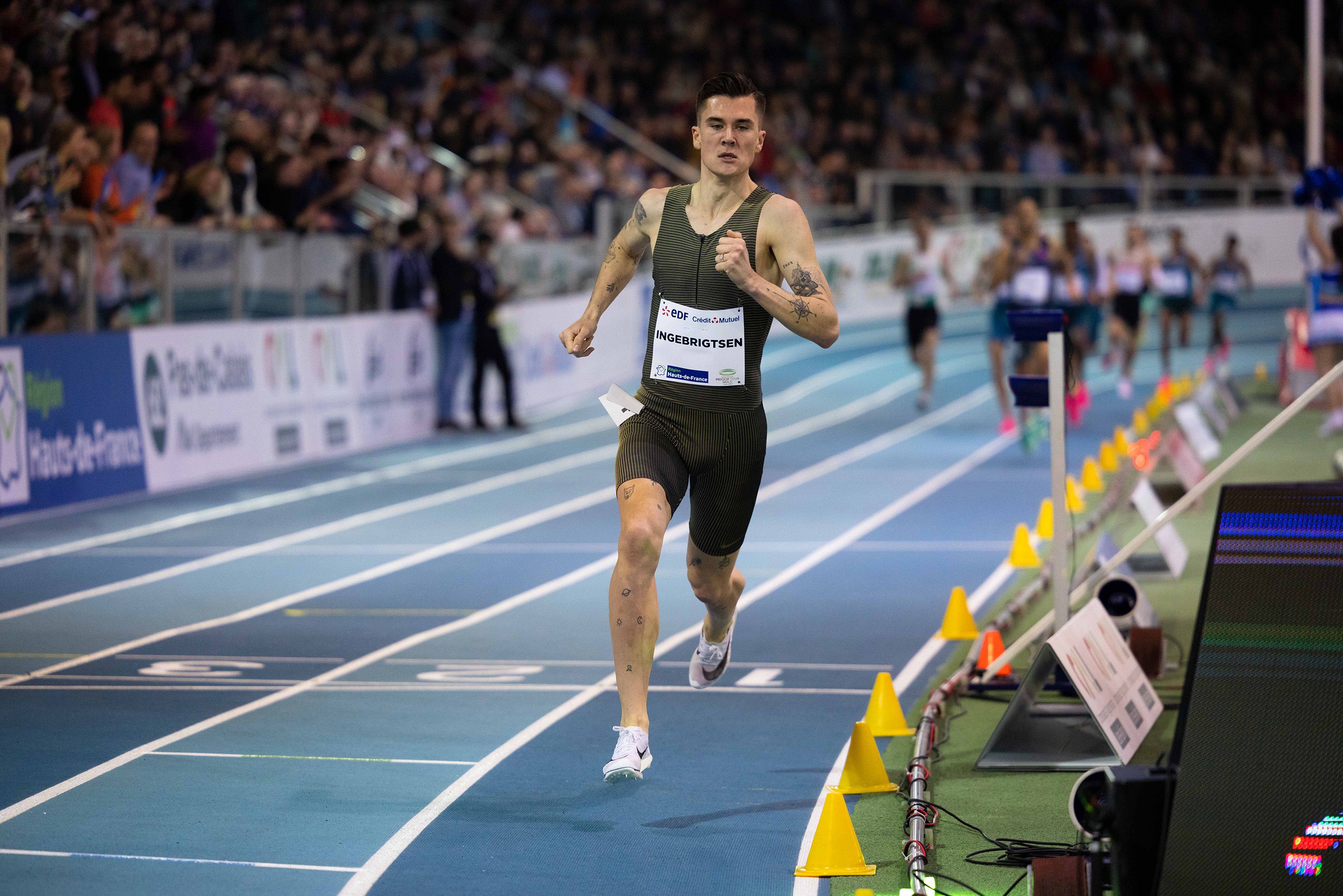 Jakob Ingebrigtsen on his way to 1500m victory in Lievin (© Dan Vernon)
And so it proved as he held off the challenge round the final bend of Britain's Neil Gourley – who set a British record of 3:32.48 this season – to win his second European indoor 1500m title in a championship record of 3:33.95 before outclassing the field to win his third indoor 3000m gold in a Norwegian record of 7:40.32.
Before the 3000m final Spain's Adel Mechaal, who won this event in 2017, essayed the hope that if Ingebrigtsen was going to prove to have a weakness after missing so much training, it would be most evident in his fourth race in as many days.
But there was no weakness. Ingebrigtsen led virtually from gun to tape. And he reflected afterwards with characteristic honesty.
"I was feeling like I raced myself today," he said. "Maybe it was expected. I would love to get some more competition but maybe that is just me, expecting too much, I am not sure.
"I am thankful for today. I guess the other runners tried to get a good race for themselves and not fight for second place. I wanted to be at this position and to race with the other guys – it is just a great evening.
"But I am not happy with my indoor season. Not at all. I had a good October, November and December going to the European Cross Country Championships. After that, I have been doing nothing. But the last couple of weeks have been good. I am really looking forward to getting some good training."
Speaking in Lievin, Ingebrigtsen rejected the idea that what took place earlier this year was a case of his body telling him to slow down.
"No," he said. "Because my tempo training is not that brutal. We always try to find the balance between rest and training and after a lot of years with the same amount of activity your body adapts and knows what it can handle.
"I felt pretty good and I was in very good shape after Italy. But sometimes it's just too much with some people around. And in Norway in December everybody was sick. Everybody was struggling with a virus or coronavirus. My hands were tied. But with it lasting that long, it was very hard."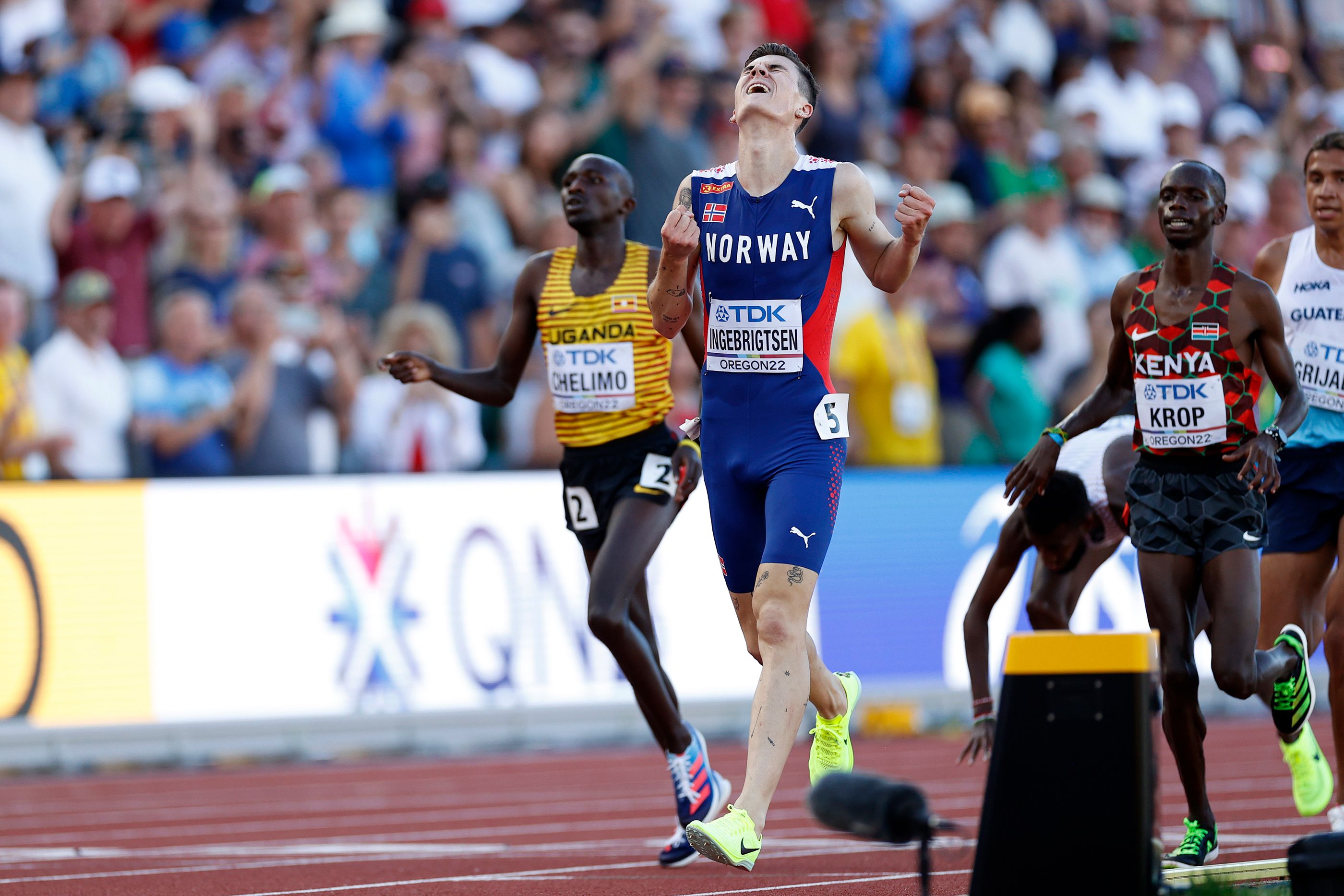 Jakob Ingebrigtsen celebrates his 5000m win at the World Athletics Championships Oregon22 (© Getty Images)
Having done so much, so young, what – one wondered – does he use as continuing motivation? An outdoor world 1500m record, perhaps?
"Yes, but those are more short-term goals," he replied. "The main goal is just to see how fast I can run and to try to win as much as possible as often as I can, when I can. But the short-term goal always changes. It's always to win the next race or break that record or something.
"But maybe with the mentality I have towards my career and running is that I want to explore how fast I can run, and I always want to improve. That's the goal, and that never ends – you can never lose motivation to see how fast you can run until you stop."
Notably, after winning his Olympic 1500m title in Tokyo, Ingebrigtsen spoke about the sense of anti-climax that assailed him. But he's got a handle on that, as he has on most things that come to bear upon his athletics career.
"I think that's just a big part of competition and sports," he said. "That's not going to affect anything in the long term, but in the short term, if you do several events in big competitions then you are going to have a down, obviously, either physically or mentally.
"But I have been running and racing my whole life, so I'm prepared to deal with what happens and that's also a good thing – what happens with my body but also in my head after races. So, it's all about collecting experience and using that to your advantage to perform even better."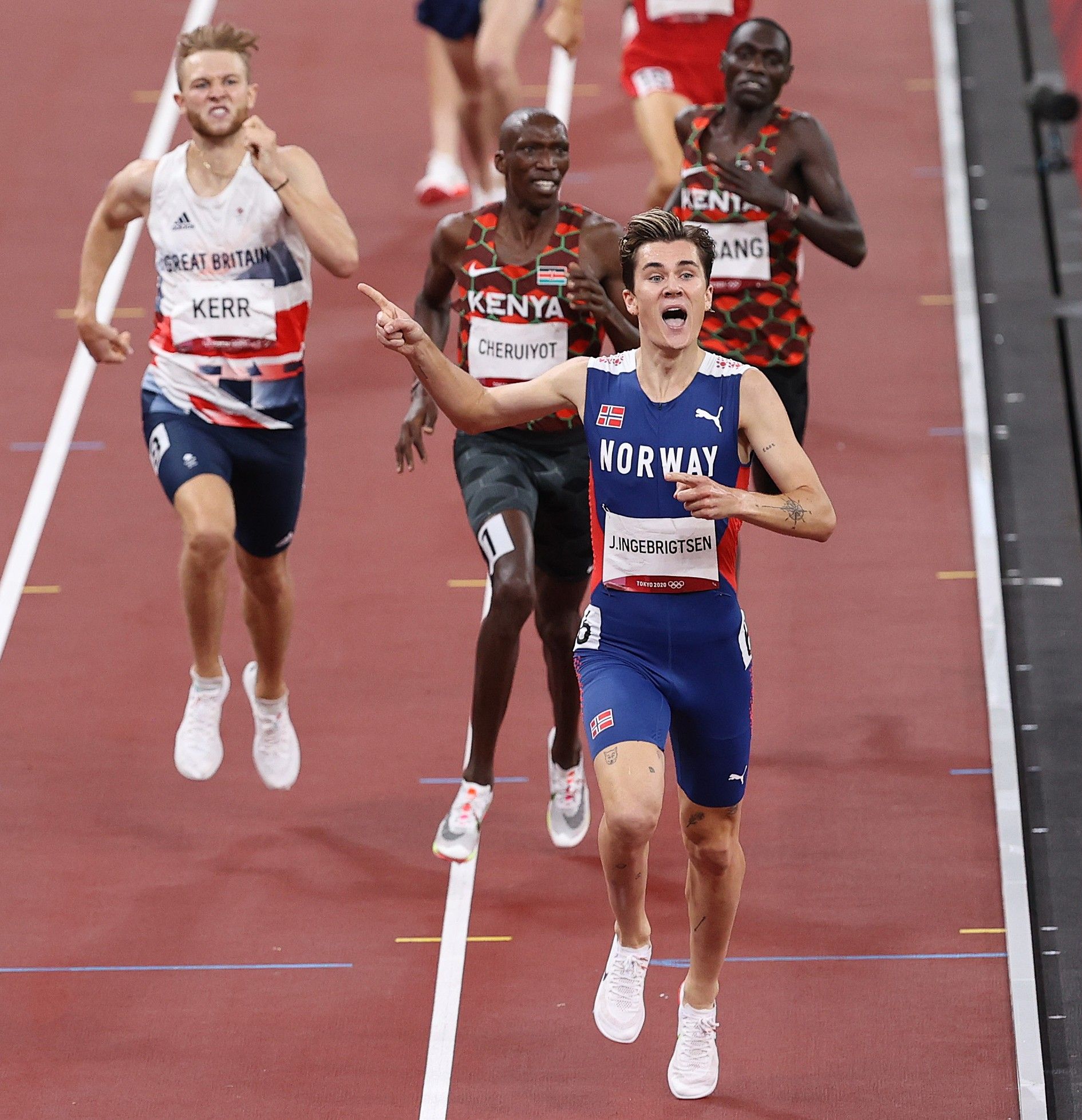 Josh Kerr, Timothy Cheruiyot and Jakob Ingebrigtsen in the Olympic 1500m final in Tokyo (© Getty Images)
At last year's World Championships Ingebrigtsen was, for the first time, being coached with help from his elder brothers Henrik, the 2012 European 1500m champion, and Filip, the 2016 European 1500m champion, after their father Gjert stepped back from the role he had undertaken since all three were juniors.
Asked to assess the current set-up, Jakob responded: "I would say that I am probably responsible for everything that I am doing, but with a lot of help obviously from Henrik and Filip. An example is maybe that I put up my programme towards competition, for three to four weeks, and I sent it to them and we discussed it.
"All three of us are inputting – we are all doing the same thing for our training. Each of us is responsible for our programme and doing it 100% and following the plans. It's like a collective."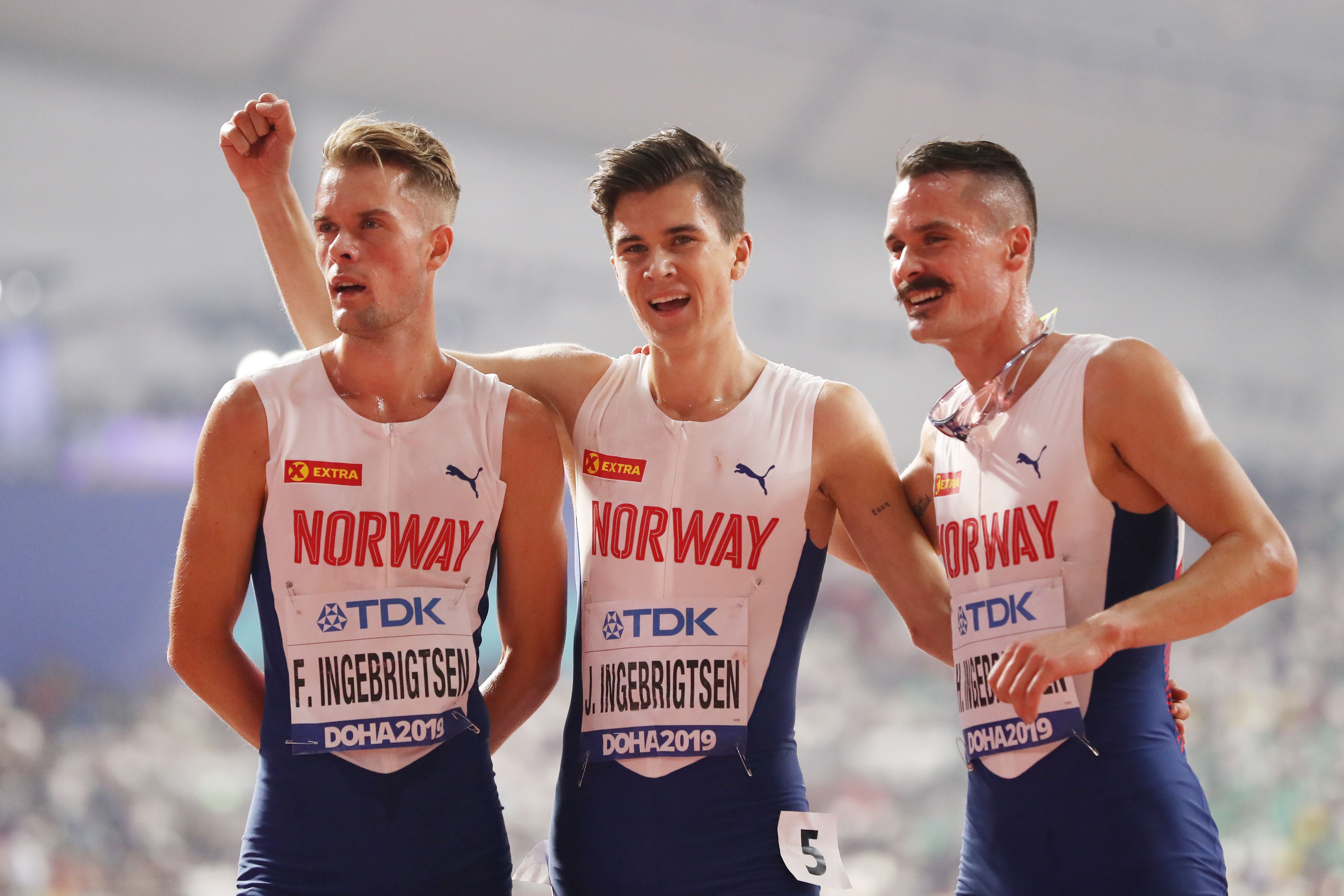 Filip, Jakob and Henrik Ingebrigtsen at the 2019 World Championships in Doha (© Getty Images)
So, what difference does the input from Henrik and Filip make?
"The funny thing is that we come from same place, we have the same mindset, the same view, usually, and the same goals for most things in our lives," he said.
"But we still have different points of view in certain situations. It's all based on the same philosophy, the same training regime and programme. But we still can have a little bit of tuning where the three of us can help each other in a positive way.
"At times you can forget why you are here, why you are doing this, what you believe in. Collectively, we are more or less the same, but we still have a lot of areas where we can help each other.
"I would say Henrik, struggling with his injuries – it might be difficult for him to see clear in his training, because he is emotionally attached to what he is doing and what he has done in the past. Then maybe we can bring some clarity. Minor details and small tweaks where we can help each other."
Being brothers, he feels, creates a unique vibe.
"That's what's so different," he said. "Our training, our running, has been a group project almost since Henrik started running. There was really no one doing it for us.
"But all of us – me not so much, but Henrik, Filip and our father – have been collectively creating something and putting something in the system, with the double threshold and the amount of mileage and intensity in training.
"And it's still going. We are always trying to improve and to figure out how fast we can run with our philosophy."
Mike Rowbottom for World Athletics