Kenyan distance runner Geoffrey Kamworor (© Dan Vernon / NN Running Team)
Geoffrey Kamworor is one of the world's most versatile distance runners.
The Kenyan has won global medals on the track, earned three consecutive gold medals at the World Half Marathon Championships and is a back-to-back winner of the world cross-country title.
The 28-year-old has contested nine marathons to date, earning two New York City victories along the way, while splitting his focus on track, cross-country and the half marathon. But Kamworor is now ready to make a concerted effort at the classic distance, starting with the Trinidad Alfonso EDP Valencia Marathon on 5 December.
How did you get into running?
Geoffrey Kamworor: Running is something that came naturally to me as it was part of our lifestyle from a young age. I used to run 3km from home to my school and back again each day. Sometimes I'd end up running 12km without really realising it.
As a kid, I'd often go and watch athletics competition when not at school. Watching people compete and win trophies ignited my passion for running. And then in high school I'd get a lot of encouragement whenever I'd win a trophy or medal of my own.
How would you describe your relationship with Patrick Sang?
GK: My relationship with Patrick is great and goes beyond just being a coach. Patrick is my mentor; someone I admire who is always there to assist us if needed and, of course, someone who is always happy when he sees that you prosper and are doing well. He always gives so much of his time to make you the best version of yourself and to make you stronger. He has been my coach ever since I started running, and he has adjusted my training programme as I've evolved from being a cross country runner to a track runner and now a road runner.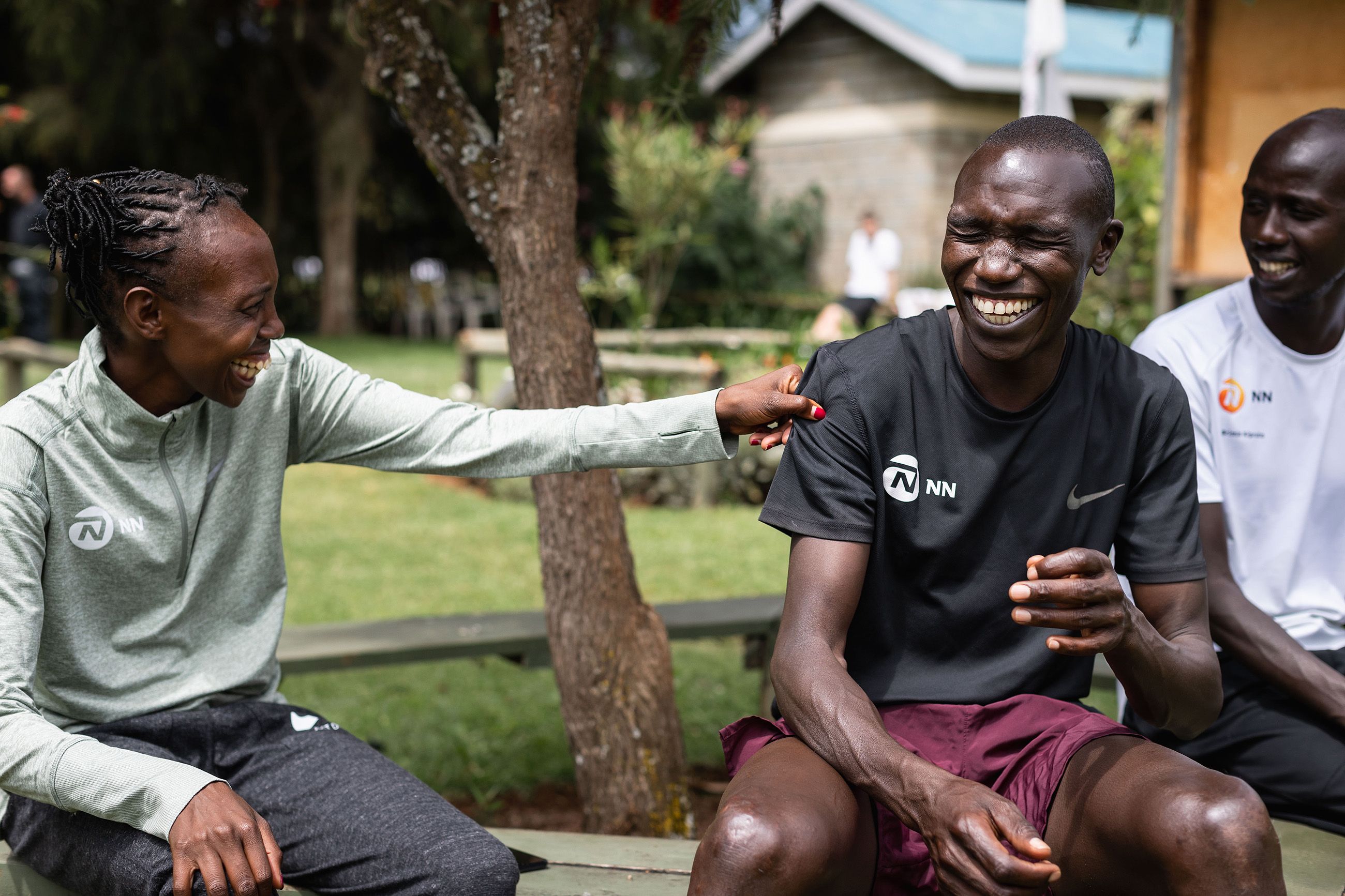 Geoffrey Kamworor at the Kaptagat training camp (© Dan Vernon / NN Running Team)
How is life at the camp?
GK: I joined the camp in 2010 and life there is very good. You are away from your family, your wife and your kids during the whole week, which makes you take your training very seriously as you are making sacrifices to achieve your goals. That's the only way to be focused 100% on running and to give your very best.
When you're at the camp, there are no distractions and your only focus is on running; you don't think about anything else other than running, eating and sleeping, allowing us to evolve in a very natural environment.
How are you doing in your recovery from the road accident last year?
GK: I am doing great and recovering well from the accident last year. It took a lot of time but now I am healed.
When the pandemic came, our preparation, training and access to facilities were affected and we had to follow the government's rules and restrictions. Each athlete had to train on their own, but at least we were able to share our training programme and discuss with the coach and the rest of the training group via WhatsApp.
One Thursday in June last year, I woke up early in the morning, it was still dark outside, and I set off for a long 30km run at about 5.50am in the morning. Just a kilometre away from where I lived, I unfortunately got hit from behind by a speeding motorbike and fell down. I got bruises on my head and a serious injury to my right leg, including a small tibia fracture. My head felt okay again after two weeks, but the leg took a lot longer and I was on crutches for two months. That was a tough experience for me as I had to stay still for a couple of months.
After three months, I started some light exercises twice a week with the physio, mainly resistance work, and after that we kept building up until I was finally able to start running again.


Were you worried it could have ended your career?
GK: Of course. But when I was seen by the doctor after the operation, he ensured me I would come back and would be okay. Despite missing many competitions in 2020, I managed to make it on to the national team by producing the fastest ever 10,000m time on Kenyan soil, and my shape was great all the way up to the Olympics.
It was a disappointment not to make it to the Games after running so well in training. I felt like I was really in a position to fight for a medal in Tokyo, but injuries are part of the sport and I've still got time to achieve other great things in the near future.
I'm definitely stronger as a result of the accident. It was a challenge for sure, but it made me the athlete I am today while also giving me a lot of additional motivation.
Your next race is the Valencia Marathon on 5 December. What's your target for that race?
GK: I am really looking forward to being on the startline in Valencia, where I won the 2018 world half marathon title. It's a city where people love running and sports in general. Many world records have been set in Valencia in recent years, and this city of sports is waiting for its first world marathon record.
I have big dreams and ambitions in the marathon and want to run as fast as possible and break barriers. Valencia will be ready to help us push our limits on race day and I am sure it will be amazing.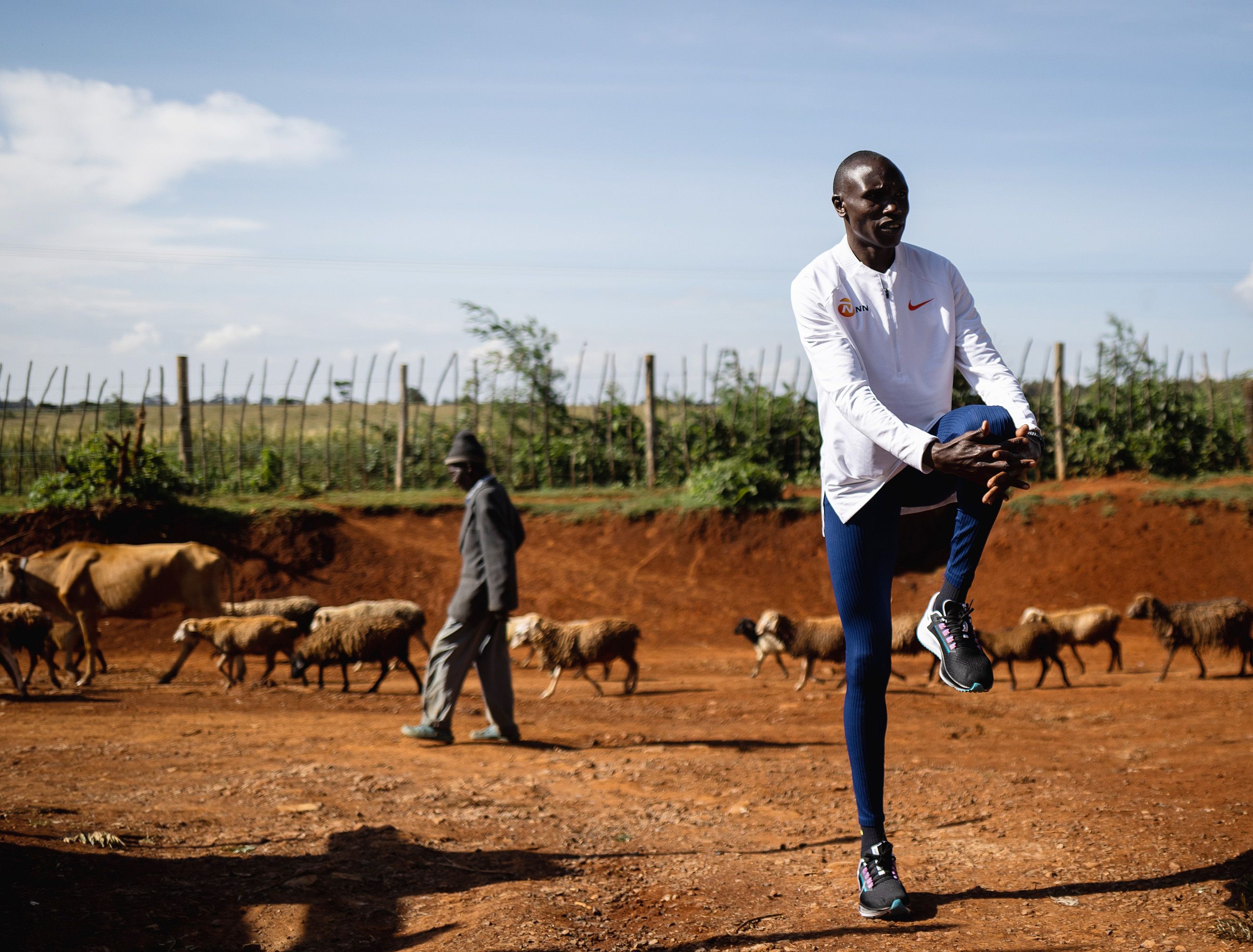 Geoffrey Kamworor training in Kenya (© Dan Vernon / NN Running Team)
Your marathon PB (2:06:12) is from your debut back in 2012. Do you think that will finally be broken in Valencia?
GK: My PB might be nearly 10 years old, but that's mainly because I've not done many fast marathons since then. I often ran the New York City Marathon, which isn't a fast course. I have no doubt that, on a fast course, I can go a lot faster than my current PB.
I ran my first marathon when I was just 20. Back then, I felt very strong on the long 40km runs we were doing with the other runners at the camp and during the track sessions, so I wanted to give the marathon a try. I thought it was easy back then, but I discovered it was actually a very tough event and I moved back to track distances for a while.
My preparation for Valencia has gone well. It was really unfortunate that I picked up another injury earlier in the year, forcing me to miss the Olympics. It took me six weeks to recover but now I'm doing very well and I have no doubts about my fitness.
At some point in future, I'll make a full transition to the marathon. I'm no longer focusing on cross country. I'll continue to do half marathons as part of marathon preparation, but my focus now is on the marathon. And I really think I can break the marathon world record in the future and run under two hours. That's the legacy I'd like to leave when I end my career; it would inspire many people around the world.
Is the New York City Marathon your favourite race?
GK: It will always be my favourite race. In my four appearances there, I have won twice and finished second. I'm very familiar with the course and I love it when you reach the finish near Central Park with the trees, the buildings and the crowd.
But I also look forward to running other major marathons in future, like London, Boston or Valencia. And, of course, the Olympic marathon in Paris in 2024.
Do you consider a major marathon victory as valuable as a championship win?
GK: I prefer championships, as they bring the whole world together with people from so many different countries. Winning in a world championship is something very special which makes you feel proud.
What are your goals for 2022?
GK: I don't have any confirmed plan for 2022, but the World Athletics Championships in Oregon is in my sights and I'd like to run the marathon there.
What is your favourite training session?
GK: On average we do 30km a day and about 200-210km a week. I love long runs where we work together as team, assisting each other if ever we experience tough situations. It's something that really tests your fitness level. I also love the track sessions, where again we work as a team and push each other. It feels amazing.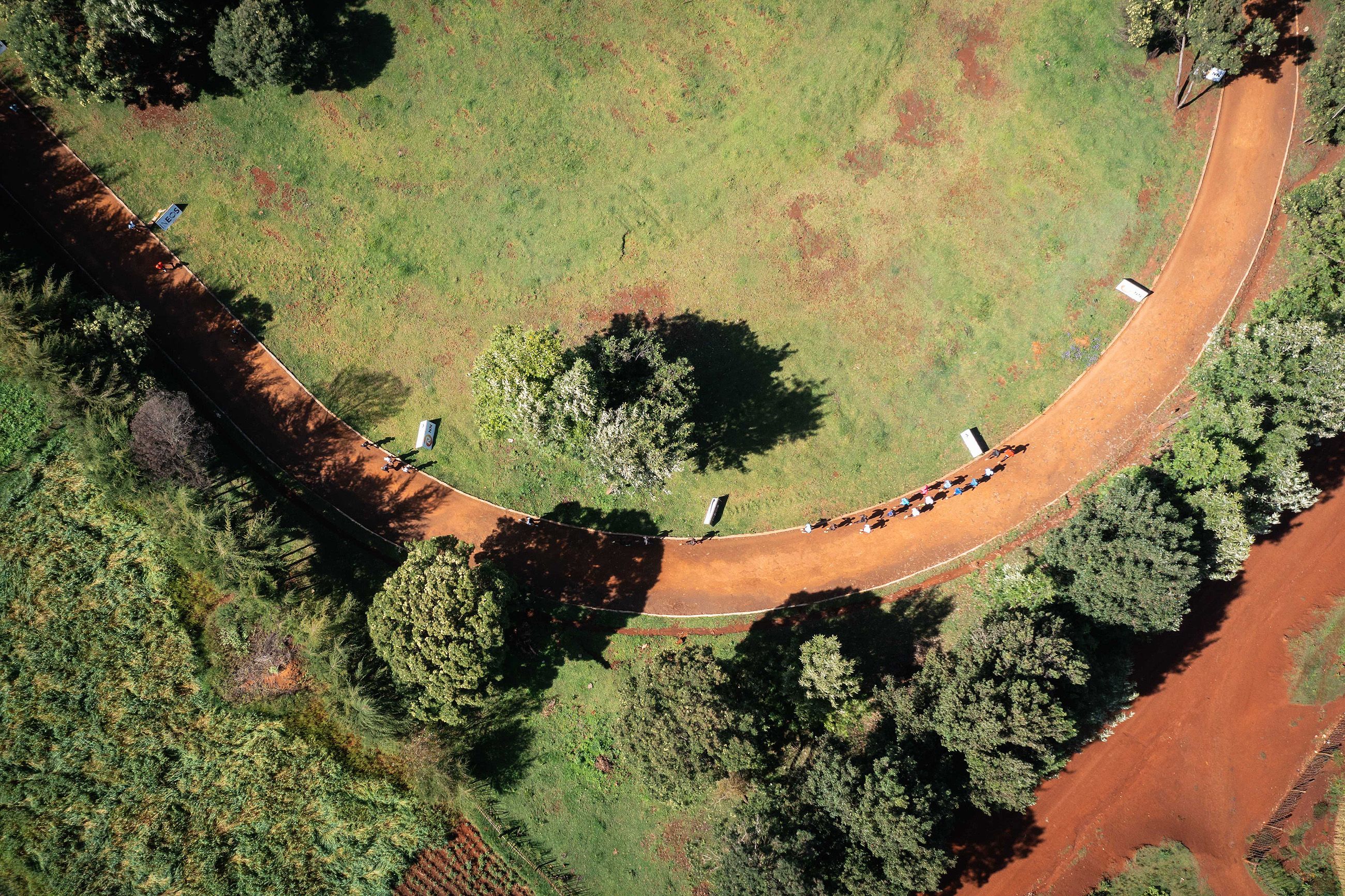 Athletes from the Kaptagat training camp do a track session (© Dan Vernon / NN Running Team)
What do you do during your time off?
GK: When I'm not training, I spend a lot of time with my wife and family. I have five kids, and the youngest three are triplets, who are one-and-a-half years old. We usually go to the farm, visit our parents, or go for a holiday with the kids before resuming training.
Who would you say are the best long-distance runners in history?
GK: Eliud (Kipchoge) is up there with other runners such as Haile Gebrselassie, Paul Tergat and Kenenisa Bekele. And hopefully me soon!
How inspiring is it to train alongside Eliud Kipchoge?
GK: Eliud is a great guy and role model for me and everyone else at the Kaptagat training camp. To me, he is like my mentor. He inspires me a lot and, by running under two hours, has proven that no one is limited. This is something that gives us hope of it happening again in official conditions. It might not be now, but it will happen.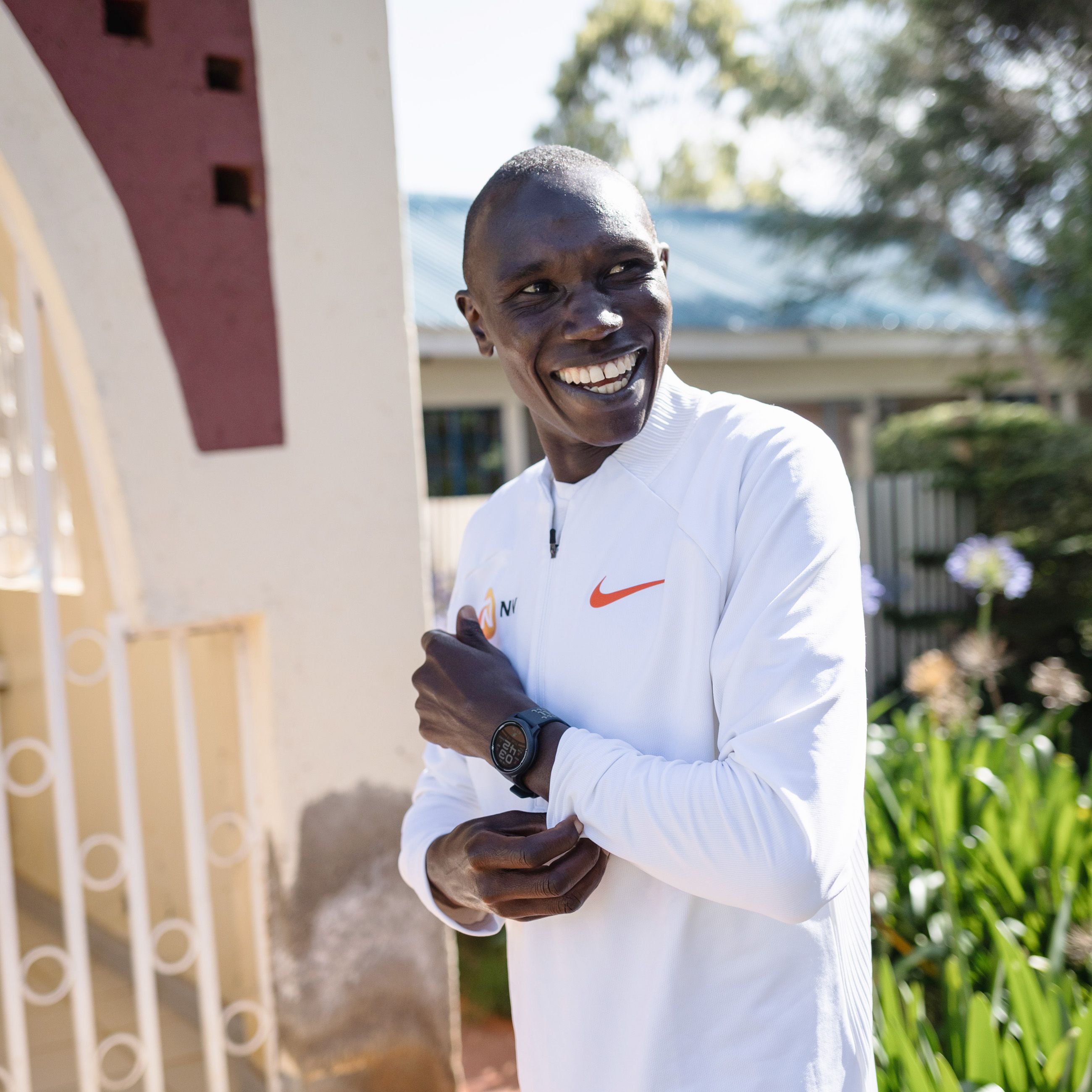 Kenyan distance runner Geoffrey Kamworor (© Dan Vernon / NN Running Team)
After Kipchoge retires, can you see yourself becoming something of a new leader and mentor at the camp?
GK: Absolutely. And of course, I will continue to work and train as hard as possible to get close to what he has achieved so that I can inspire others. And when this is my turn to retire, someone else can then take over and fill my shoes.
I am also really interested in the community work Eliud does with kids and the environment. I'll also try to head in that direction, and I look forward to following the same route, giving back to others the way that he did. It shows that sport is something that can build you and bring people together.

Loic Malroux for World Athletics