Femke Bol breaks the world indoor 400m record in Apeldoorn (© Erik van Leeuwen)
Just four days after running the indoor 400m in less than 50 seconds – clocking 49.96 in Metz to go fourth on the all-time list – Femke Bol arrived in Lievin for the World Athletics Indoor Tour Gold meeting with the expectation of running something even faster.
After winning by more than a second in 50.20, she said: "This is a good race I can be happy with. I hoped to run a 49-second race again. But this is the real world, not a dream world."
Fast forward four more days – very fast forward – and the 22-year-old 400m hurdles specialist was in that dream world, coming to terms with the staggering fact that she had just beaten the oldest track world record on the books.
In recording 49.26 to win the Dutch indoor 400m title in Apeldoorn, Bol didn't just shade Czech runner Jarmila Kratochvilova's 1982 world record of 49.59 – she obliterated it.
After a performance that left her coach Laurent Meuwly cavorting with joy in the stands, an incredulous Bol told the media: "I was hoping for a 49.5 here, but 49.26... I really have no words for this. It is my first world record at a real distance.
"Could it be even faster? This was almost a perfect race.
"I was hoping to run the record, of course, but in life you hope for a lot of things and most of the time it does not happen. I am glad that I did not just get the record, but that I improved it by a big margin."
During the off season, Bol has been working on another kind of big margin.
That is, the gap between her and 23-year-old United States rival Sydney McLaughlin-Levrone, who won the Tokyo Olympic 400m hurdles title in a race where Bol picked up bronze, and who set an extraordinary world record of 50.68 in winning the world title in Oregon last year as Bol took silver in 52.27 – half a straight behind.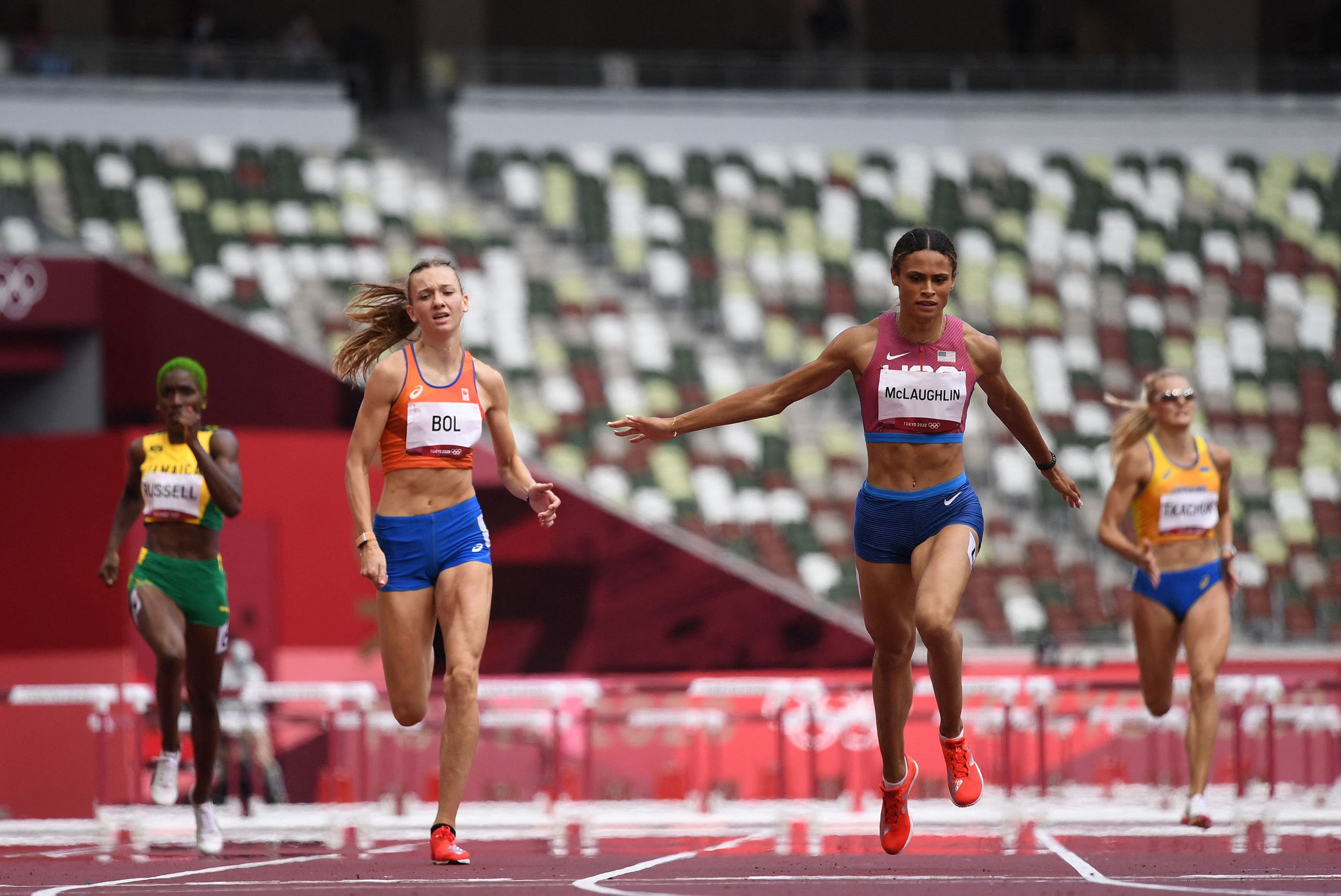 Femke Bol and Sydney McLaughlin-Levrone in the Olympic 400m hurdles final (© AFP / Getty Images)
As Bol explained after her own world indoor 400m record run: "It's still an extra, a bonus number, since it was never on my list of goals. It's just a result of hard work for the summer."
In Lievin, she described how she and her coach had been working ceaselessly since the previous season in an effort to improve her on all fronts.
"I really got stronger this year and that's why I am a lot faster," she said.
Asked how it was that she had also managed to run a 200m personal best in Metz of 22.87, which is quicker than her outdoor best, she replied: "I've been working on speed this winter and saw I was doing really well in speed training. I hope to go even faster."
The results of Bol's new strength – and speed – were evident from her opening performance of the season on 4 February, when she lowered the 2006 world 500m best of 1:06.31 at the World Athletics Indoor Tour Gold meeting in Boston, clocking 1:05.63 and looking as if she had a bit to spare.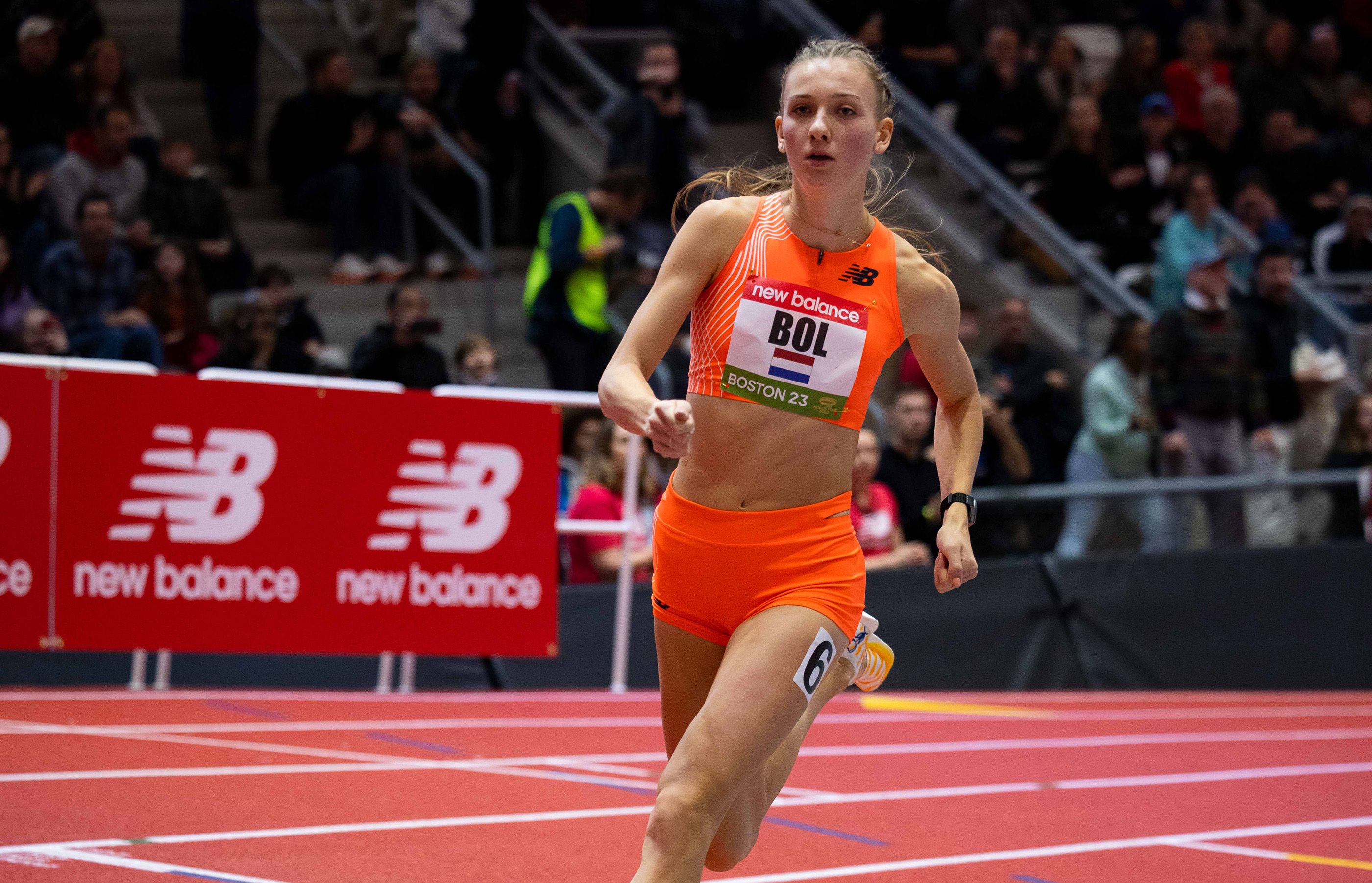 Femke Bol in 500m action in Boston (© Dan Vernon)
On the question of whether she has thought about trying a 600m – an event in which Britain's Keely Hodgkinson set a world best of in 1:23.41 in Manchester on 28 January – Bol gave a ready grin before replying: "I thought 500m was already pretty far, but I must admit after running the 400m it was harder than running the 500m.
"It was easier than I thought. It's never easy, but I thought it would be way harder.
"But I love my 400s. And the moment I do a 600m, more people are going to talk about an 800m, so I'm not too sure!"
Now, however, Bol can put such speculation aside as she prepares to defend 400m and 4x400m titles at the European Indoor Championships in Istanbul from 2-5 March.
Beyond that, the challenge of the World Athletics Championships in Budapest looms large.
In preparation, Bol is getting not just stronger and swifter; she is also making potentially critical changes to her hurdling technique.
"I want to do one less step between the hurdles, to do 14 strides, so this means I need bigger strides and I have to alter with my legs between left and right," she said.
"So, we first just worked on getting this stride length without hurdles, running and then working on my technique with my other leg.
"And then at a point we are building up to do 14 steps. I've done a few so far and I made it, so I am really happy.
"Sydney does 14 strides until hurdle seven; others do the first five hurdles."
So, can we also expect to see Bol running even faster than ever this outdoor season?
"We hope so," she said with another warm grin, "if the new pattern is ready for the summer. If not, I stay with my 15 strides. But we are going to try."
Mike Rowbottom for World Athletics