Eliud Kipchoge (© Dan Vernon / NN Running Team)
Eliud Kipchoge's status as an all-time great of the sport cannot be disputed.
With his second successive Olympic title earlier this year, the Kenyan distance runner became even more of a marathon legend than he already was. It was his 11th victory in 13 official races over the distance, and adds to his growing list of accolades which includes multiple major marathon wins and the current world record of 2:01:39.
Not forgetting, of course, his sub-two-hour run in the marathon experiment in Vienna back in 2019.
His recent Olympic triumph on the streets of Sapporo – where he carved out the biggest winning margin in a men's marathon at the Games since 1972 – confirmed that Kipchoge, now 37, is as dominant as ever. What makes his form more remarkable is the fact that he also excelled at the other end of the age spectrum, winning the world U20 cross-country title back in 2003 and then taking the senior world 5000m crown later that year while still a teenager.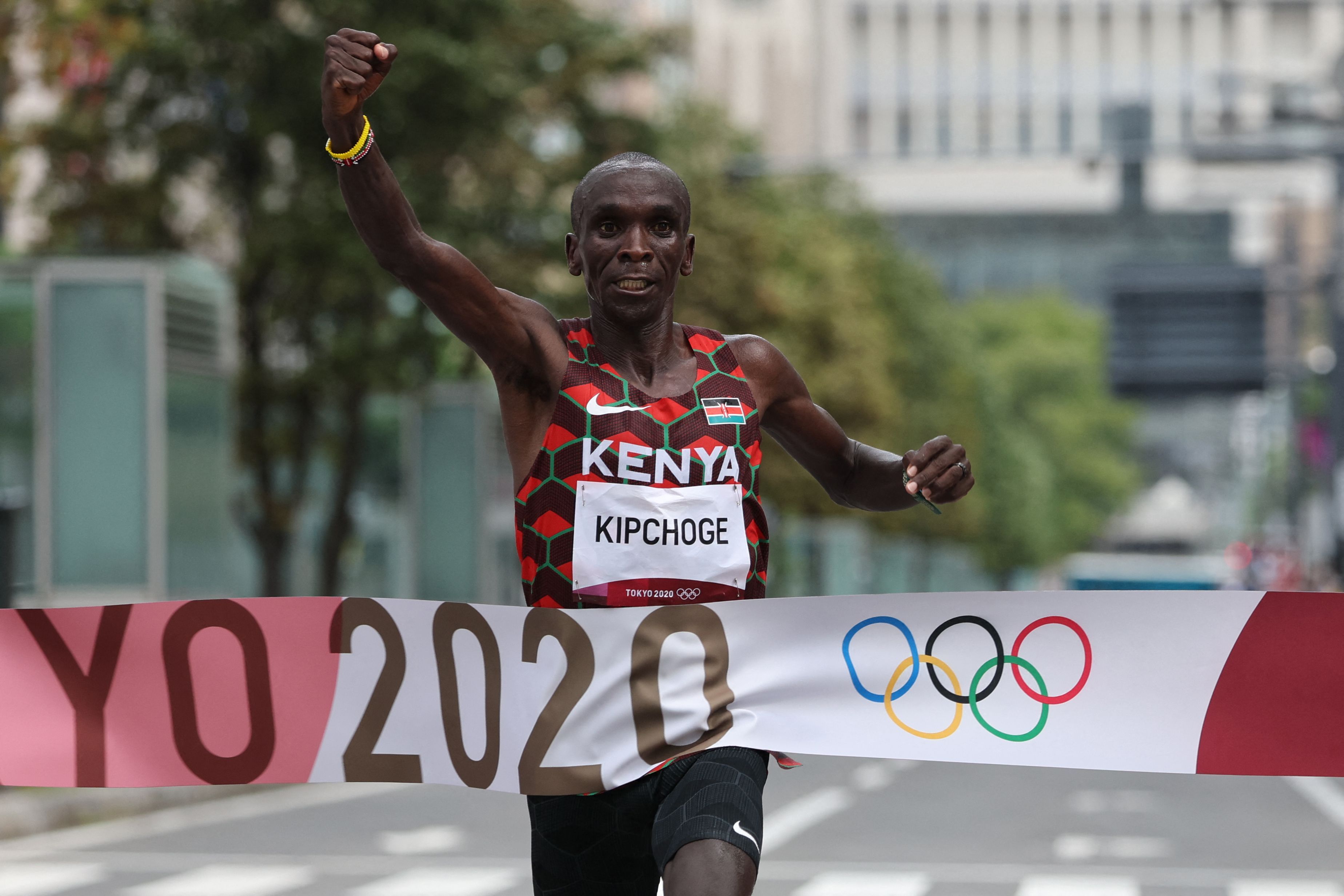 Eliud Kipchoge wins the Olympic marathon title (© Getty Images)
Such longevity at this level is rare in the sport, matched only by icons such as Haile Gebrselassie, Merlene Ottey and Heike Drechsler. Leading a simple but focused life, Kipchoge says, has been key to his success to date.
Despite all he has achieved, Kipchoge still has some career goals he'd like to attain in the coming years. But he also has one eye on what he'd like to do in retirement.
Talking to the press on a recent trip organised by the NN Running Team, Kipchoge spoke all about his career, his future goals, his training, his life, and being an inspiration to others.
Eliud Kipchoge on…
… his career to date:
I enjoyed my 10 years on the track and I'm satisfied with the results I got. I won a world title in the 5000m, Olympic bronze and silver over 5000m, and silver at the Commonwealth Games. I also ran fast times and set a championship record with my world title in 2003, so I believe I left my mark on the track and I have no regrets about moving to the roads when I did.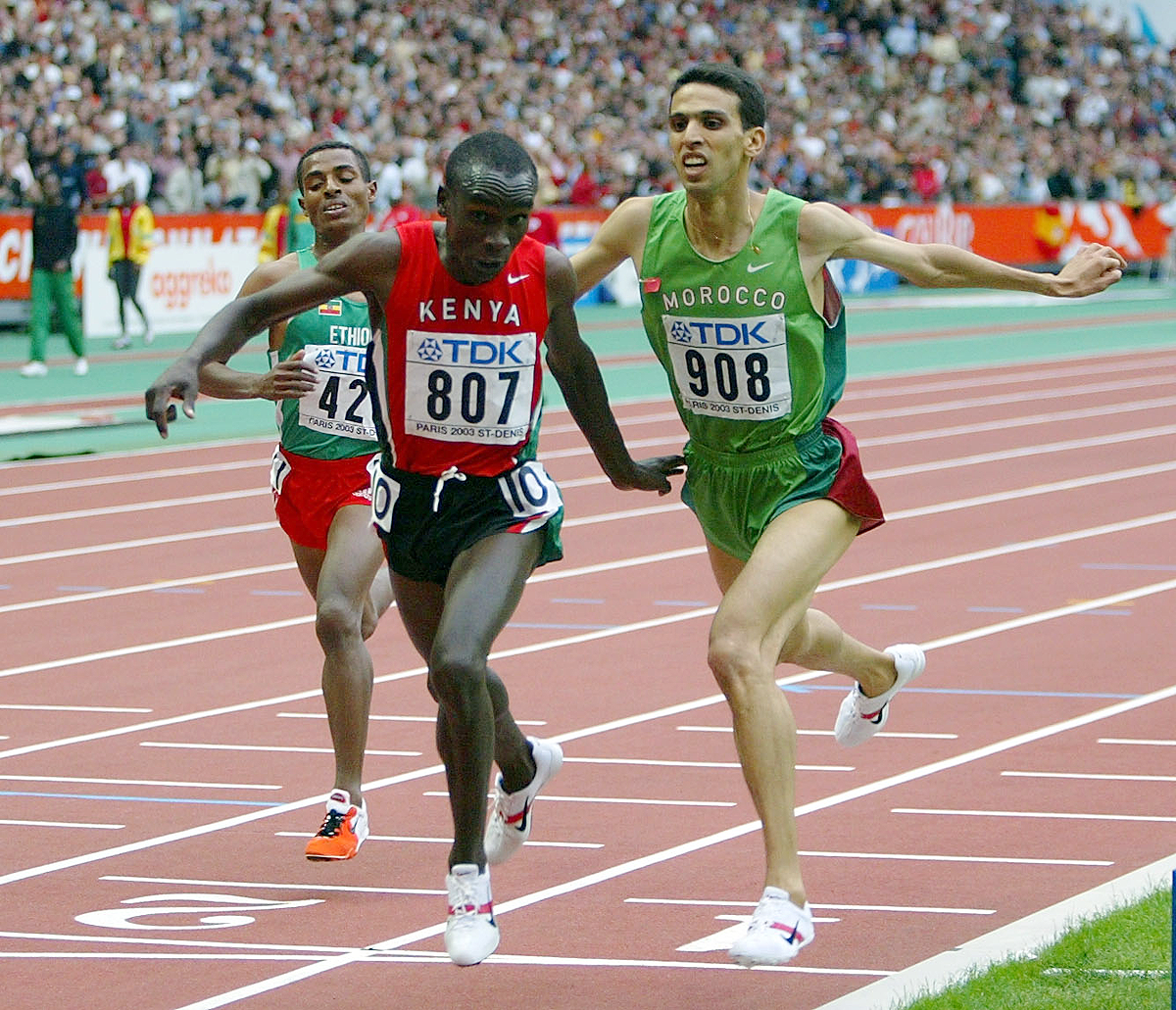 Eliud Kipchoge wins the 2003 world 5000m title in Paris (© Getty Images)
For me it is critical to leave my imprint on the marathon by winning the majors, holding the world record, running under two hours, and, above all, rounding it all off by having won the Olympic Games.
There are many people who could break my marathon world record. I think Geoffrey Kamworor will one day break the world record. Joshua Cheptegei will also make his mark in the marathon, and Kenenisa Bekele will still be there.
… his future career goals:
Winning back-to-back Olympic golds was a great goal to have, and although I'd like to win a third one, I also have other goals on my bucket list. One is to run all of the Marathon Majors and win them all.
A sub-two-hour marathon (in an official race) is something to aim for, but if I don't do it then I'm sure someone else will.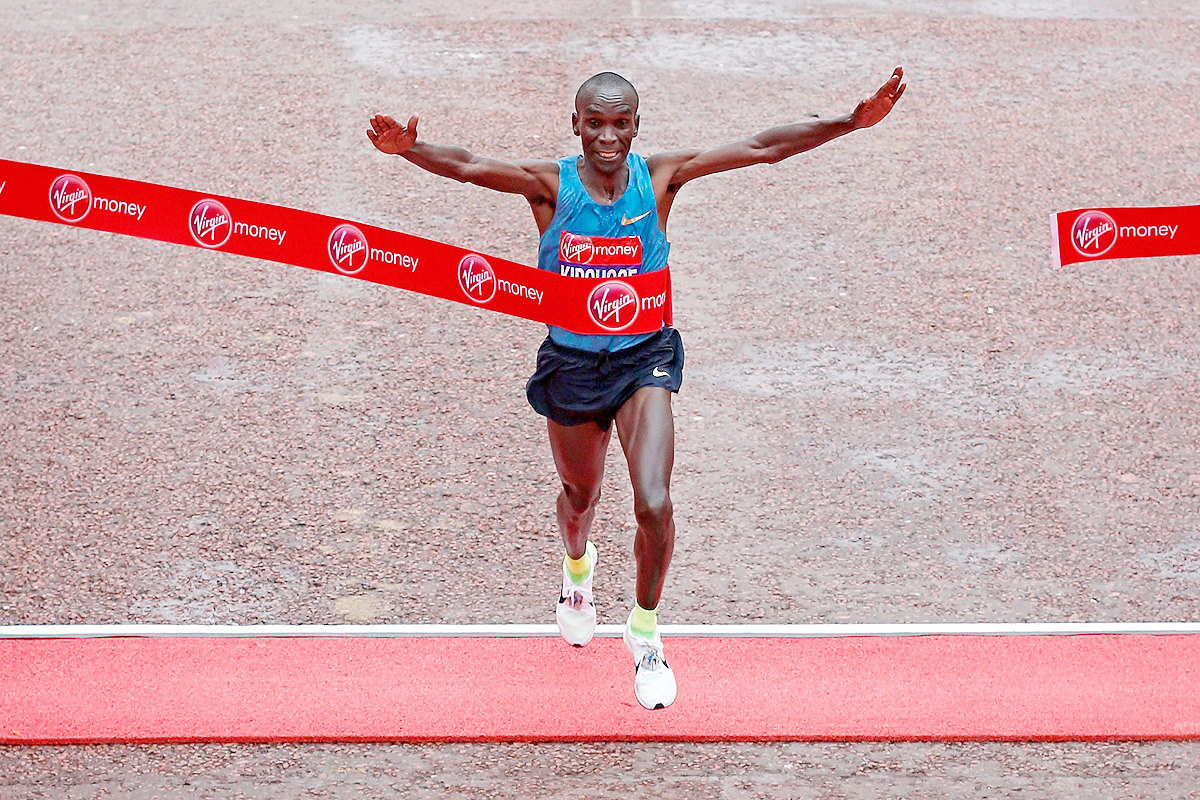 Eliud Kipchoge wins the London Marathon (© Getty Images)
I have never thought about the half marathon world record, but I would like to improve my PB (59:25) and run 58 minutes or something.
The season is just getting started and it's too early at this stage to make a final decision about next year's World Championships.
… his approach to training:
I always strive to improve my fitness, and I approach it like education. For example, if you have an exam in two years, you have to plan carefully for it to be right.
I need time to train and to prepare my system well. Five months is good for me to have enough mileage in my muscles. It's not boring; I always wake up motivated and ready to hit the road.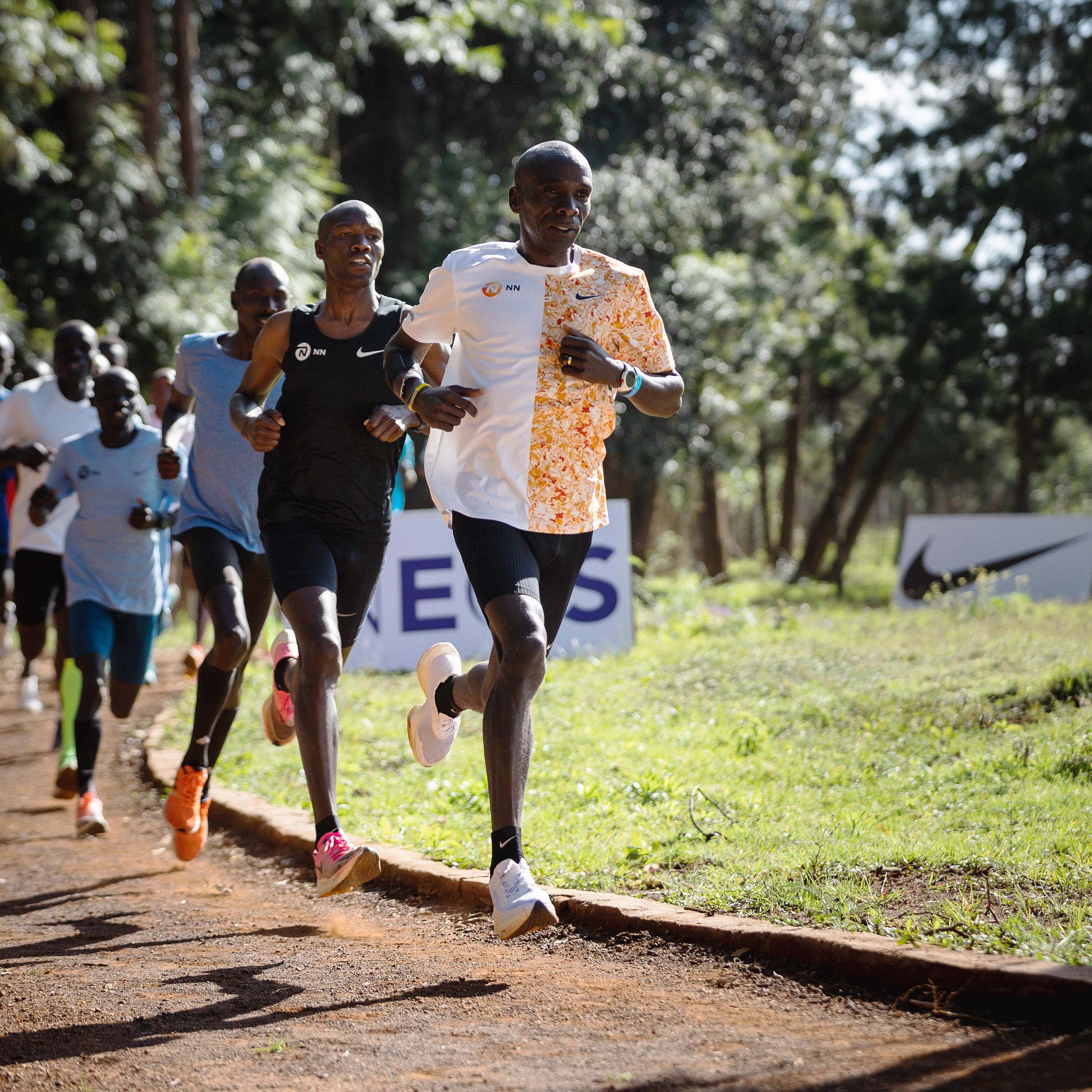 Eliud Kipchoge during a track training session (© Dan Vernon / NN Running Team)
I do a 30km run every Sunday, then every two weeks I'll do another run of either 30km or 40km. Every day, I try to put more kilometres on my muscles to help me reach my future goals.
I train, I eat, I rest. I rest my body and my mind, which are two different things. I try to be mindful, to know where I am all the time.
We need to embrace innovation and technology – it's the only way the world moves forward and evolves. Technology is good for everyone, but above all it is a change that makes us united. The main purpose for this technology is to promote faster recovery. The goal is that one day you can run a marathon and the next day people working can go back into the office. I respect people's opinions and would ask that they respect ours. Ultimately, we must unite and move forward.
… his outlook on life:
I'm an advocate of living a simple life. It's important to live in a humble way.
That simple life makes me more aware of what I'm doing and makes me present in every moment. It makes my mind move. If I am not a simple man, my mind will not be either and I will forget what is important. This is how you lose contact with the outside world.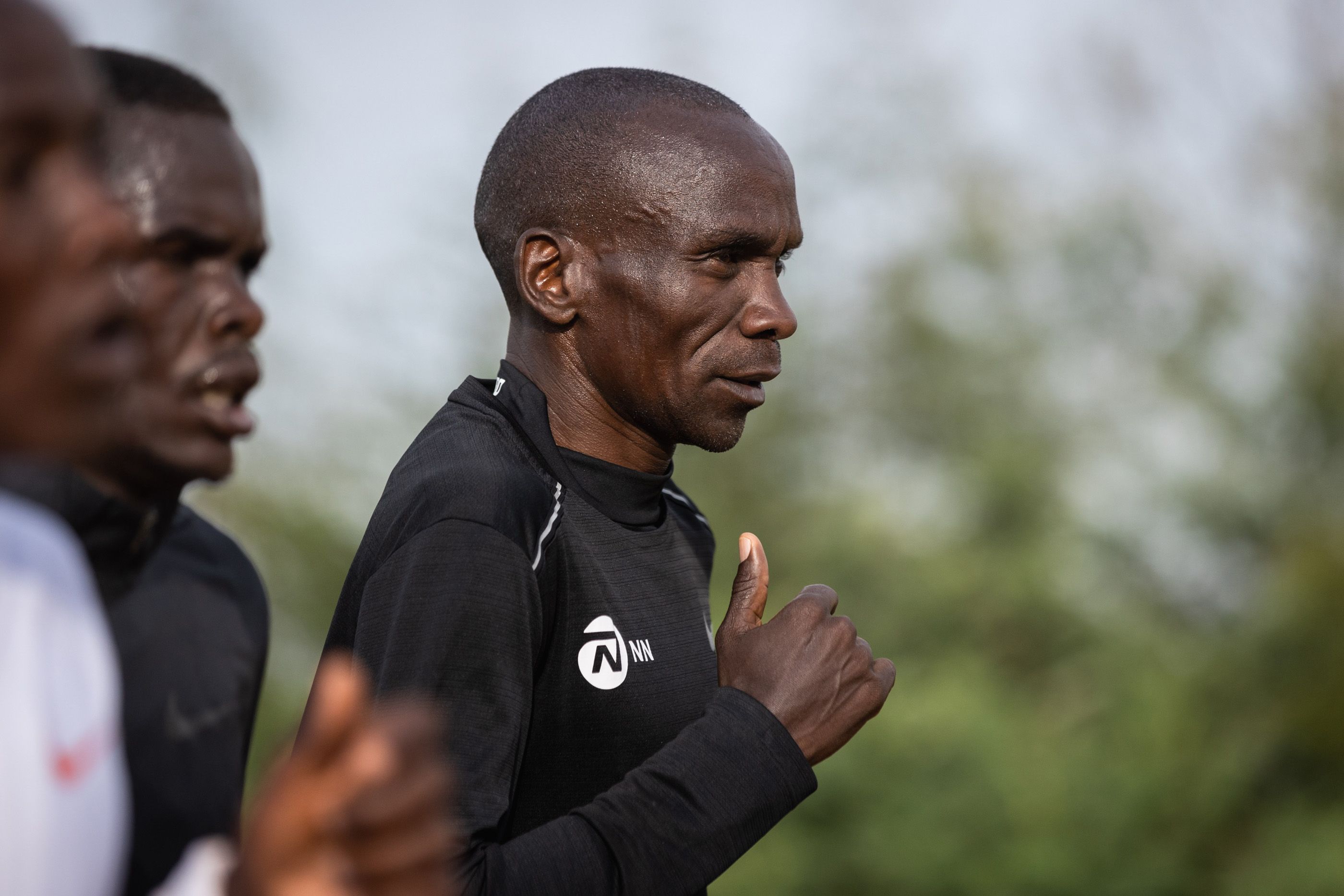 Eliud Kipchoge during a training run (© Dan Vernon / NN Running Team)
During the Covid pandemic, I learned how to deal with uncertainty. I also learned that the world is not small and is actually full of challenges. Like, sometimes positivity runs away and negativity comes and takes over. It's then when you need extra knowledge to navigate through those uncertainties.
Being an athlete and working as a farmer are two different things. But the saying "you reap what you sow" applies to both pursuits. If you plant in a good way, you will reap good fruits. And as an athlete, if you train well, you will perform well.
… his future life as an inspiration and ambassador:
I would like to retire quietly. I would like to go around the world and run with people and inspire them. I'd also like to start a business to give work to others. I also want to focus on my foundation, and extend my work outside of Kenya, in Africa, to help change more lives.
I want to be an inspiration to kids at schools, and children of any sport. I want to be an inspiration to people when it comes to fitness. I would like everyone to be fitter and to get involved in conserving the environment. I would like everyone to be involved in the change and in the education of this planet. Through know-how, we can make the world move forward.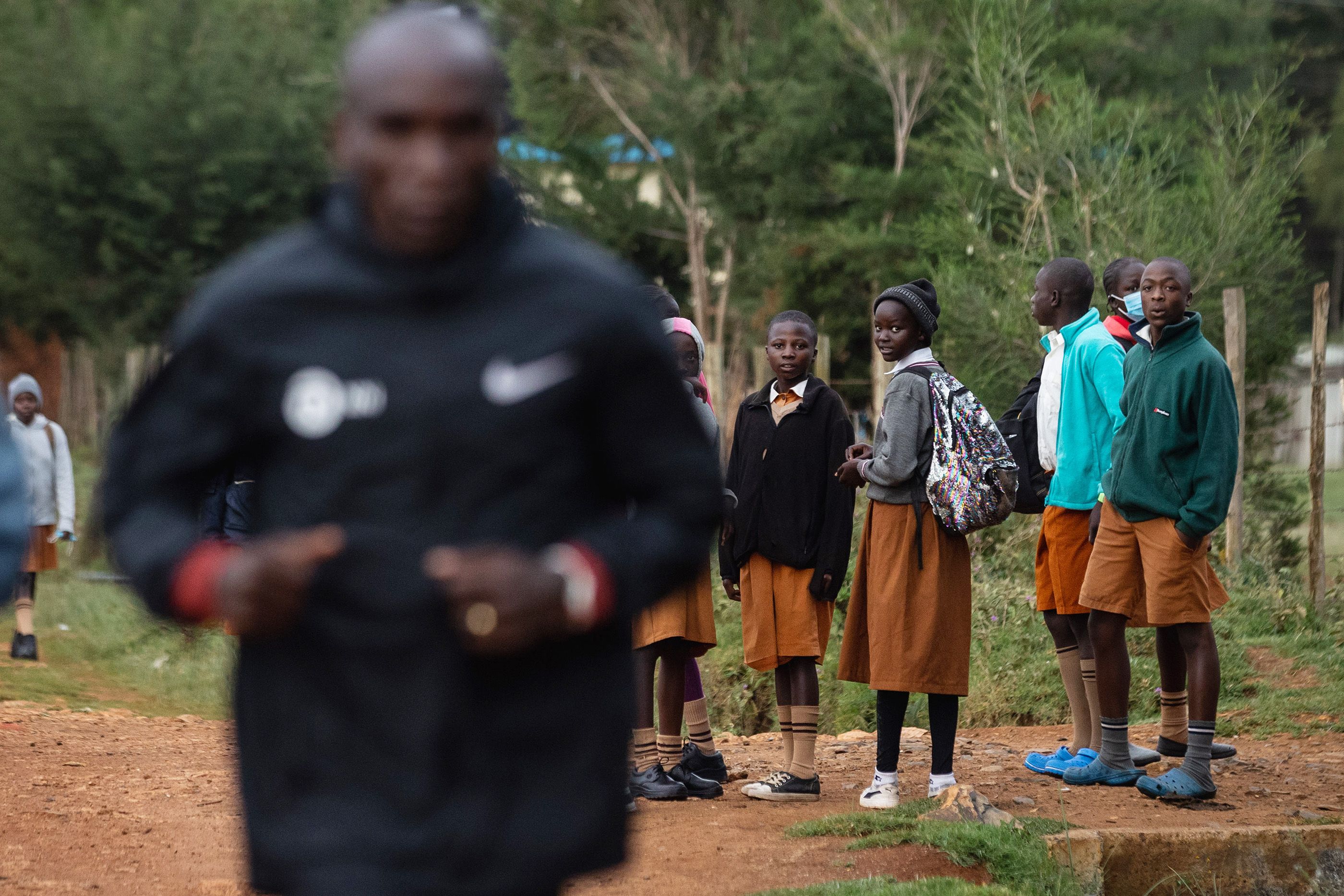 Local school children look on while Eliud Kipchoge runs past (© Dan Vernon / NN Running Team)
Children are our future, and they are the future of the planet. It is important to have a good running environment. Children will be healthy if they have fresh air to breathe. It will also improve their school performance.
It's a big responsibility, but I'm really happy to be an ambassador for Paris 2024. It will be something very special to have 30,000 people from all around the world running the Olympic marathon. It is really unique.
If Kenya got the chance to host the World Championships, it would be great. I'd just be there to sit and watch all the young stars compete, but it would make me the happiest man to welcome the world's best athletes to Kenya.

Loic Malroux for World Athletics

14 things you may not know about Eliud Kipchoge
Favourite food:
Ugali.
Favourite animal:
Elephant.
Favourite football team:
Barcelona
Place(s) you'd like to visit:
I would like to visit South America and see what life is like there. I would also like to go to Haiti to see how they live there because people are suffering a lot there.
Best long-distance runner in history:
Haile Gebrselassie.
Biggest idol or inspiration:
Lewis Hamilton, for his concentration when in the car.
The moment of which you are most proud:
When I ran under two hours.
The sport you'd have done had you not been a runner:
Tennis.
One thing you really dislike:
Negativity in the world.
Hobbies outside of running:
Going for a walk with my family, going to the farm, and reading books to learn more.
Best time of your life outside of athletics:
When I went to the Formula 1 Grand Prix in Abu Dhabi.
One thing you can't live without:
My diary.
In one sentence, describe your relationship with your coach:
He is my coach for sport, for business and for life.
Your life motto:
We need to be positive. It is the only way to enjoy life.