Australian race walker Declan Tingay (© Getty Images)
Declan Tingay didn't just better his 20km race walk personal best when winning the Asian Games/All Japan Championship in Nomi on 19 March - he did it by the equivalent of half a kilometre.
The Australian served up an elite 1:18:46: an almost two-minute improvement. His coach wasn't in the least surprised.
In fact, Brent Vallance reckoned when they arrived in Nomi and assessed the start list, that the focus wasn't just a fast time - but winning the event outright.
The result was the second-fastest time of the year, a mark only 10 seconds behind world and Olympic silver medallist Koki Ikeda's world lead set at Kobe in February.
View this post on Instagram
Vallance had reason to purr as 13 out of 14 Australians notched up personal bests at Nomi. Rhydian Cowley improved one second shy of four minutes, with two- and three-minute improvements for others.
In fact, the coach was a little concerned when Tingay "got jumpy" from the gun and pushed the pace, but relaxed when his charge settled in the pack.
The 24-year-old then launched a bid for home that became an outright sprint over the final two 1km laps: both timed at 3:43. It left the last of his challengers trailing in his wake long before he broke the tape.
Tingay says it looked easier than it was, but admits he's a different athlete to the one that slipped back through the field in the World Championships in Oregon last year.
There he finished 17th and nearly a minute outside his then 1:20:44 PB.
"I have a distinct memory of being up in the lead pack at 15km having just realised we'd covered our last five (kilometres) in about 19:20," he says. "I looked around me, and I could see the Japanese walkers; I could see Perseus Karlstrom (bronze medallist) off my shoulder.
"I had this sudden thought: 'I'm so out of place here. I should be 30 seconds back'. That might have done me in a tiny bit: out of my depth, that sort of thing, and I suffered a bit.
"Now, having done the time that earns you the right to be up in that pack - I now feel I belong in that pack."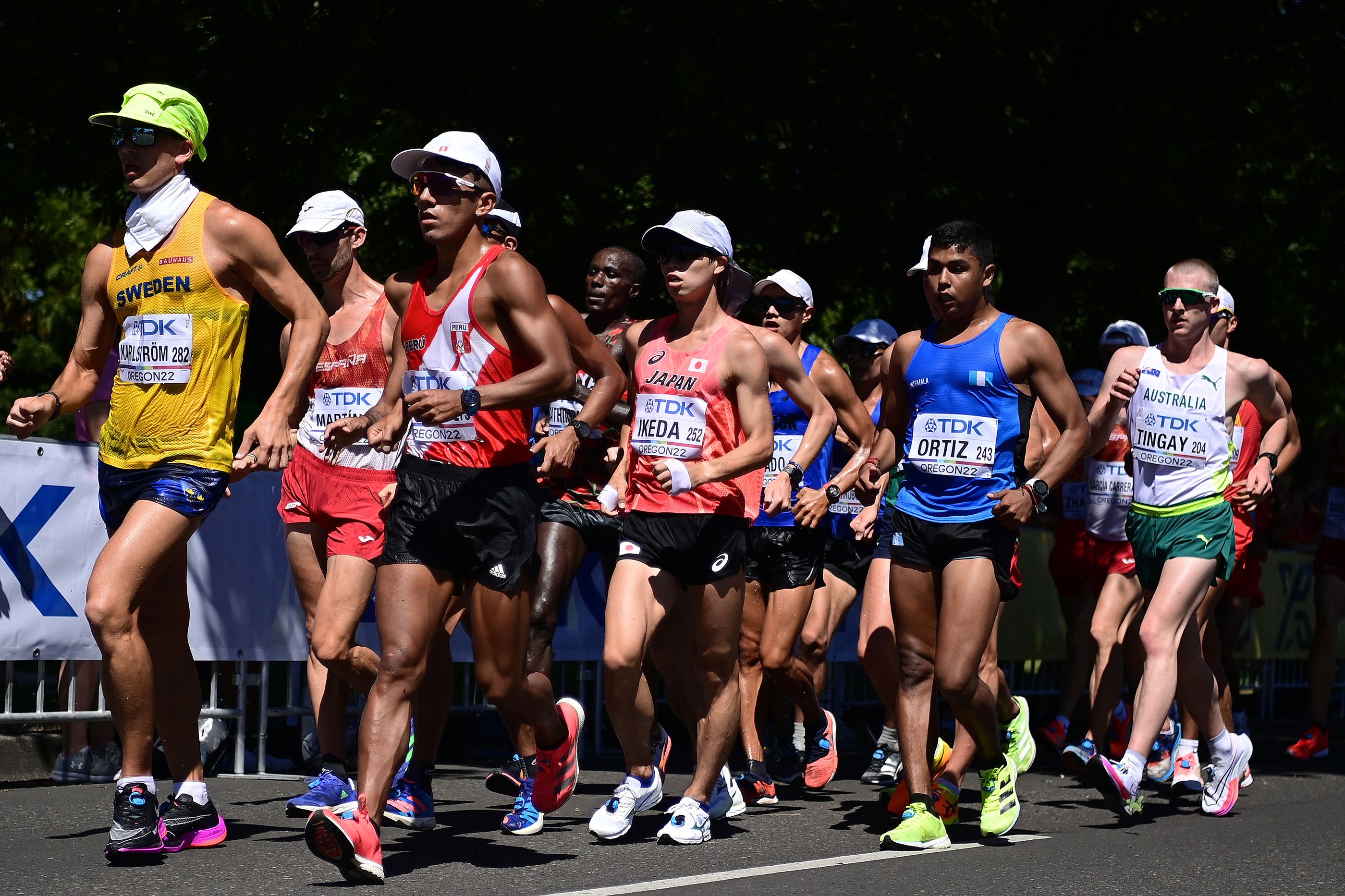 Declan Tingay competes in the 20km race walk at the World Athletics Championships Oregon22 (© Getty Images)
Vallance points out that the last four years have stymied Australian race walkers, mostly as a result of Covid and restrictions that went with it.
"But we've known since 2017, Declan was pretty special," Vallance says. "He's been there or thereabouts. He was just missing a little on the international circuit, but I was quite certain he would win in Nomi.
"I know what he's been doing in training."
Other factors in Tingay's stellar rise include a funded Australian programme called New Generation '32, which is a nod to the future Brisbane Olympics, and the arrival of Jared Tallent as a full-time coach.
Between them, Vallance and the 2012 Olympic champion look after all but one of the Nomi cohort, and the effect was as clear as that superlative Sunday morning in Japan.
"Jared has been a breath of fresh air," explains Vallance.
"Actually, he was a reluctant coach; but to have him around with all he brings is tremendous for all these athletes."
It also helps that Tingay trains with a fair few of the elite group that spearheaded the charge in Nomi, augmented by top talents like Karlstrom and double European champion Antigoni Drisbioti, who understandably would rather train in an Australian summer than European winter.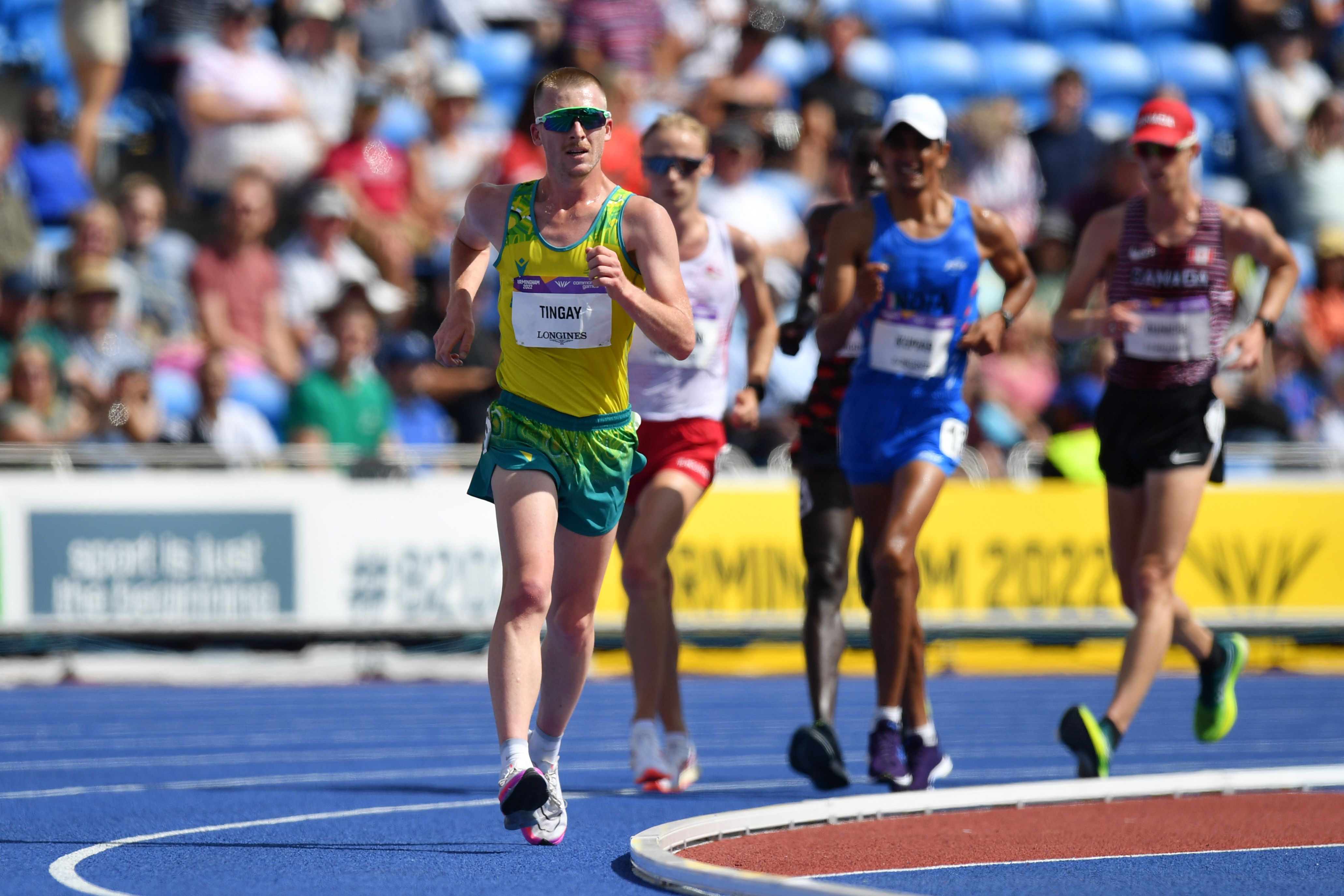 Declan Tingay in action at the 2022 Commonwealth Games in Birmingham (© Getty Images)
Tingay started the year with a national record 38:03.78 at 10,000m. "I thought I would break it, but I was surprised by how much."
He followed that with a PB of 1:20:00 in the Australia Championships - both clearly a sign of things to come.
Vallance adds that Tingay's age has also been something of a talisman to Aussie race walkers.
"He's 24, the same age that Jared was when he announced himself to the world at the Beijing Olympics, and Dane (Bird-Smith) was 24 when he won his Olympic medal (in Rio in 2016)," he says.
However, the coach adds a cautionary note summed up in one word: 'repeatability'.
In fact, Vallance emphasised it without a hint of irony.
That's why a smaller group of Australians are headed to Taicang on 8 April for the Chinese Race Walking Grand Prix - a World Athletics Race Walking Tour Gold event.
"Tiacang will be a re-affirmation of what he's just achieved, we hope," Vallance says. "What we want is repeatability; not just a time, but the repeatability of performance.
"Every athlete has to face pressure when they achieve certain times, and you can tell a mile away a medal is coming; they're not really a surprise."
Tingay admits he now has a target on his back when it comes to the World Championships in Budapest in August.
"The prospect of having that as my benchmark is a bit daunting. I've got no doubt I can walk fast," he says. "It's now harder to imagine an improvement on 1:18. It's not the same as improving 1:24:00 or 1:22:00, but I know I can do it."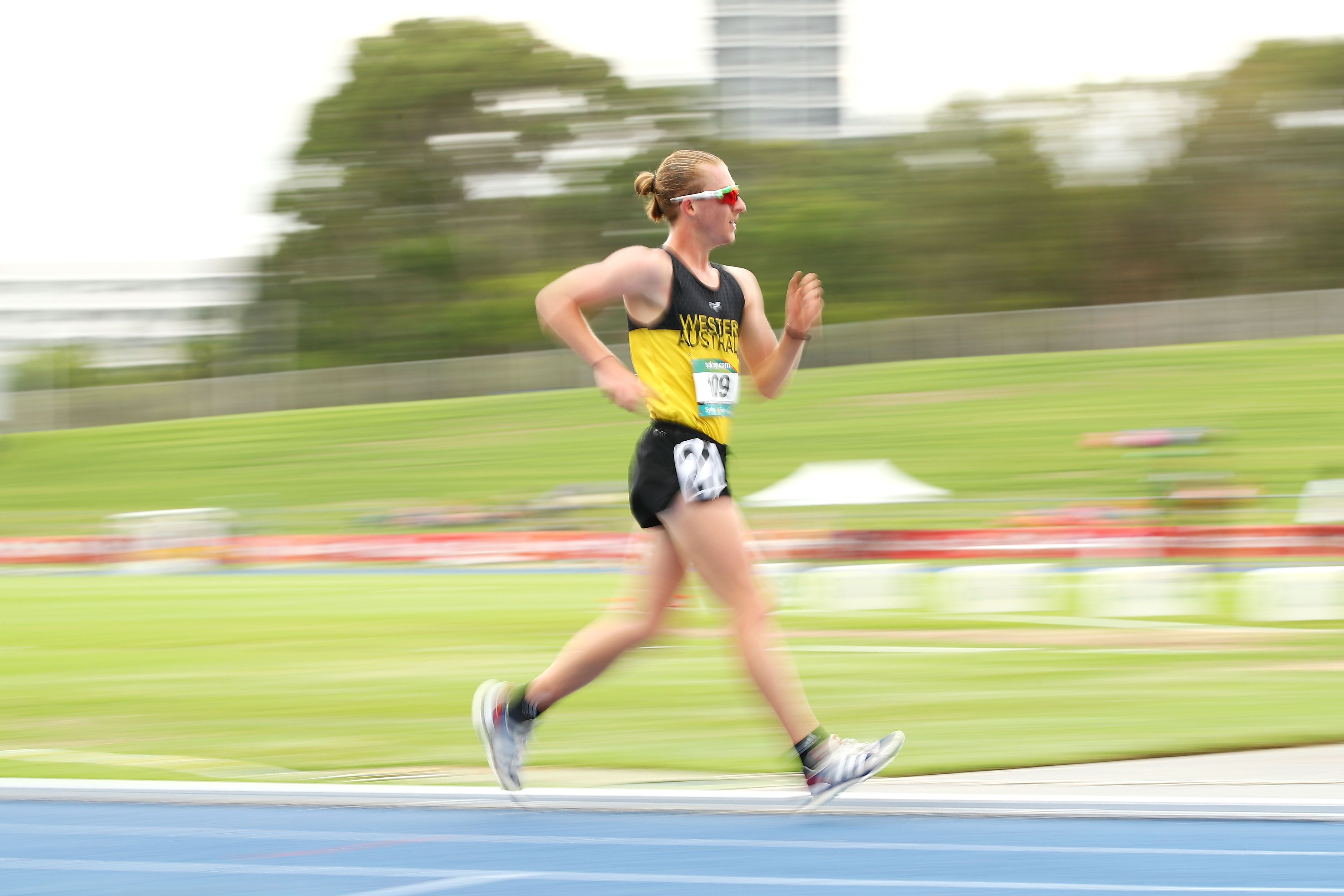 Declan Tingay at the 2018 Australian Junior Athletics Championships (© Getty Images)
The athlete also has another advantage that most of his teammates don't: he's used to travelling long distances, and has been doing so since he was six months old.
It's 24 hours on a plane – or planes – if you leave Melbourne and alight in Europe. It takes its toll.
Tingay speaks of a "forced tapering down" for Nomi brought about by multiple flights that took the group two days from A to B. In this case, the enforced rest proved a bonus.
Tingay's dad is the renowned astrophysicist Steven Tingay, whose work takes him to all four corners of the planet.
"I started walking when I was nine months old," says Declan. "Mum and dad, dad especially, are big athletics fans, I almost had no choice. I was involved in sports and athletics almost about the same time as I learned to talk.
"I definitely couldn't jump; I got to the age where the hurdles got that little bit higher. Eventually, one by one, I got kicked out of the events on the Little Athletics roster on Saturday mornings, went with the walks, 1500m and the occasional 800m. I had two friends who also walked, and a good coach at the start.
"My dad is an astrophysicist and kept me well travelled. My first flight was Los Angeles to Sydney when I was six months old.
"It helps. You can see how it affects lesser travelled athletes."
Come the World Championships, one Tingay will be studying the stars, the other will be shooting for them.
Paul Warburton for World Athletics