Otis Davis (© UO Athletics / Oregon Track & Field)
Celebrating former world-record holder and two-time Olympic gold medalist, Otis Davis
Otis Davis will turn 90 three days before the World Athletics Championships Oregon22 kicks off at the reimagined Hayward Field in Eugene, Oregon.
Davis was the first University of Oregon track and field athlete to win an Olympic gold medal when he won two golds at the 1960 Rome Olympics at the age of 28.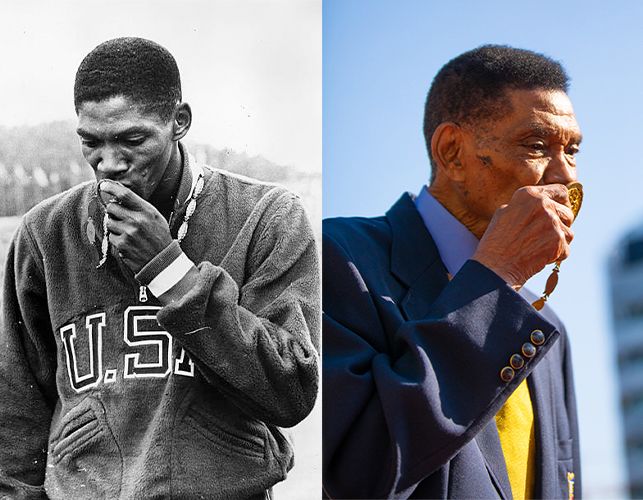 Otis Davis kisses the gold medal he won at the 1960 Olympic Games (left; photo courtesy of Getty Images) and replicated that image (right; photo courtesy of UO Athletics / Oregon T&F) in 2020 at the reimagined Hayward Field at the University of Oregon on the 60th Anniversary of his gold medal winning performance.
Retired from competition since 1961, Davis is still running the most important race of his life.
"As a man of Black and Native American heritage, I am still striving to get the acceptance and rewards that I have earned," Davis said. "With God on my side, I will succeed."
As we celebrate Black History Month, it's important to realize that people of color still struggle to be accepted, welcomed, and respected in the United States.
"Racial prejudice is basically fear and insecurity," Davis said. "I am amazed that I am getting fan mail from people that are encouraged by my motivation to assist them in achieving their goals."
Davis has seen more than his share of bigotry and segregation. He grew up in Tuscaloosa, Alabama, home of the University of Alabama, that was segregated until 1963. Davis, raised by his grandmother, lived less than two blocks from an elementary school and a high school but, because of segregation, was forced to attend school in a different part of Tuscaloosa.
"I grew up in a religious environment that gave me strength, hope, and endurance in the segregated South," said Davis, who is finalizing plans with a book publisher to release his autobiography.
In a 2012 interview that can be accessed here, Davis recalled his upbringing and how important sports were to him. He would often play football, basketball, or baseball alone while listening to a game on the radio, pretending he was the sports hero performing in front of a large audience. Those games were part of an imagination that fueled Davis' early life, an imagination that helped him form ambitious goals.
"Recreational sports were a very important part of my life," Davis said.
After high school, Davis enlisted in the Air Force during the Korean War and served four years. He made the starting lineup on the Air Force service basketball team and after being honorably discharged, started one season for the Los Angeles City College team that went 34-1. That helped him earn a basketball scholarship to the University of Oregon.
At Oregon, Davis saw a track workout and approached coach Bill Bowerman about joining the team, despite having never competed in the sport. Bowerman tried Davis in the high jump and long jump before turning him into a sprinter. In his first competitive meet for the Ducks, Davis won the 220y and 440y dashes at the Pacific Coast Conference championships and just missed the school record in the 440.
"The enlistment in the Air Force helped in my development and maturity," Davis said. "Later, when I attended college, I had to face many challenges because of the color of my skin, but I was determined to succeed. Excelling in athletics gave me that opportunity."
Bowerman, along with being a legendary track coach, helped start Nike. While some people think the first Nike shoes were developed for Phil Knight or Steve Prefontaine, Davis set the record straight in a 2006 article in the Hudson Reporter, a New Jersey newspaper and magazine publication.
"I wore the first pair of Nike shoes," Davis said in the article. "I told Tom Brokaw that I was the first. I don't care what all the billionaires say. Bill Bowerman made the first pair of shoes for me. People don't believe me. ... But I saw Bowerman make them from the waffle iron, and they were mine."
According to this report, Davis wore Bowerman-made shoes at the 1960 Rome Olympics.
Davis was 26 when he ran a quarter mile in a competitive meet for the first time. After finishing third at the 1959 AAU U.S. Championships in the 440y, he won the 400m at the 1960 AAU U.S. Outdoor Championships, and finished third in the Olympic Trials to take the final U.S. berth in the 400. The final at the Olympic Trials was held only 90 minutes after the semifinals.
"Making the Olympic team was like a dream that came true," Davis said.
Before the Rome Olympics, Lou Jones of the U.S. held the 400m world record at 45.2 seconds set in 1956. Davis had run the 400 only nine times before he arrived in Rome. South Africa's Malcolm Spence was considered the favorite, but suffered an Achilles tendon injury two weeks before the Olympics. Carl Kauffman of Germany — which was competing as a unified team — had not lost a race in two years and set a European record of 45.4 before the Olympics.
On September 6, 1960, Davis, running in lane four, started slowly and trailed Spence and India's Milkha Singh until he made his move with about 200m to go, taking the lead. Kaufmann, in lane two, made a late surge, pulled near Davis, tried to out lean him at the finish line, and went sprawling to the track.
In one of the more iconic photographs in track and field history, Davis, who can be seen looking to his left, held on for the victory. Kaufmann's nose crosses the finish line first, but it is the torso, not the head, that determines when someone crosses the finish line, and Davis' torso is across first. The photo has been examined and scrutinized by track experts for years.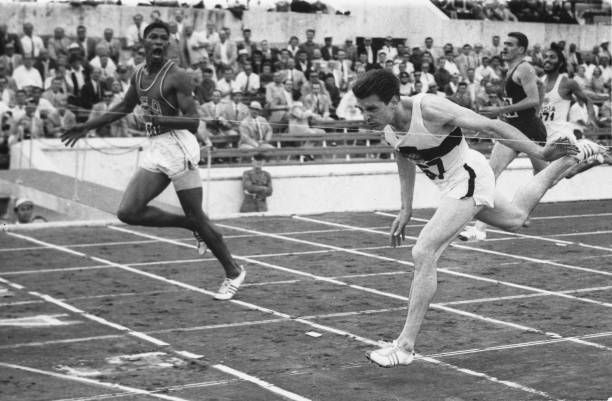 Photo courtesy of Getty Images.
Davis and Kaufmann were hand-timed in 44.9 seconds (times then were not recorded to hundredths of a second) to smash the previous world record and were the first runners to break 45 seconds. Singh finished third.
In a 2020 University of Oregon story, Davis said there was no doubt in his mind he won.
"I knew I had won," Davis said of the finish with Kaufmann. "They were the only ones that didn't know … those up there in the (press) booth. By the way, I look at (the replay) every time because I know I'm going to win."
Watch: The men's 400-meter final at the Rome Olympics
Two days later, Davis and Kaufmann met again in the finals of the 4x400m relay. Davis, who was given the lead when he got the baton, anchored the U.S. to the win and another world record in 3:02.2, one-half second ahead of the German team anchored by Kaufmann.
"It was surreal," Davis told the Hudson Reporter in 2006. "I thought I had a chance to get a medal, but I never thought I would get two gold medals. For that time, it was unbelievable. No one believed it."
Davis won the 1961 U.S. AAU title at 440y and then retired from track and field. Davis graduated from Oregon with a bachelor's degree in health and physical education and considered trying out for the NFL's Los Angeles Rams, before teaching and coaching for a number of years in Springfield, Oregon, next door to Eugene. In 1980, Davis became the director of recreation of the U.S. military's sports complex in Germany. Davis moved to Jersey City, New Jersey in 1991, and continues to live in New Jersey today. He spent time mentoring and coaching students before becoming a truancy officer at Emerson High School in Union City, New Jersey, in 2003.
When Davis was inducted into the United States Track and Field Hall of Fame in 2004, Davis asked Emerson High principal Bob Fazio to go with him to the induction ceremony in Los Angeles. Fazio said he was floored when he learned of Davis' Olympic feats.
"It blew me away once I knew," Fazio said in the 2006 Hudson Reporter article. "He was a very humble man who didn't want to brag about it.
"Otis brings such a level of dignity to this place," Fazio said. "He's a good, solid man who should be a role model to our youngsters. A lot of the kids don't have real role models to look up to."
Davis was a torchbearer for the 1996 Summer Olympics in Atlanta. One of the enduring images of those Olympics is boxing legend Muhammad Ali lighting the cauldron at the Opening Ceremony. Davis and Ali met in New York prior to the 1960 Summer Olympics when they were being outfitted for their Olympic uniforms. They spent time together in Rome after each won their respective gold medals and remained friends afterward.
At Union City, Johnson helped coach and mentor hundreds of young students. He founded the U.S. Olympians Tri-State Chapter and was its president for more than a decade. He also founded and ran United Athletes, LLC, where he oversaw an annual event at the New York Athletic Club to recognize young athletes who exceled academically and were committed to community service. He also worked with special needs students to provide them with opportunities to participate in sports activities.
Along with the United States Track and Field Hall of Fame, Davis has been inducted into the New Jersey Sports Writers Hall of Fame and the University of Oregon Hall of Fame. In 2015, Davis received the University of Oregon's Distinguished Alumni Award.
Watch: NBC pays tribute to Otis Davis during the Tokyo Olympics
Davis was the only University of Oregon track and field athlete to win an Olympic gold medal until Mac Wilkins won the men's discus at the 1976 Montreal Olympics. Davis and Ashton Eaton, who won Olympic gold in the decathlon in 2012 and 2016, are the only Ducks with more than one track and field gold medal.
In September 2020, Davis returned to the University of Oregon to see the reimagined Hayward Field on the 60th anniversary of his gold medal win in Rome. He is one of five people along with Bowerman, Prefontaine, Eaton, and Raevyn Rogers to have their likeness on a 10-story tower at the start of the final turn on the new track.
"I said, 'Who is that handsome guy?'" Davis said in the 2020 University of Oregon article. "I didn't know I looked that good. I'm just glad they thought of me in that way to put me up there. It seems like they all recognize me now."
By Ashley Conklin