Canadian hammer throwers Camryn Rogers and Ethan Katzberg (© Getty Images)
Canadian sprinters and combined eventers have distinguished themselves at the highest level in recent years, but it was a pair of hammer throwers who took centre stage at the World Athletics Championships in Budapest.
Camryn Rogers and Ethan Katzberg both captured world hammer titles in the Hungarian capital, providing half of Canada's gold medal haul.
"It's pretty incredible," says 24-year-old Rogers, who improved upon the silver medal she won in Oregon in 2022. "It's something that has never been done before, and to be able to share this moment with Ethan is really cool; we get to show we are a throwing country and we have a lot of force and power on the world stage.
"He is such an awesome person, and he and his coach Dylan (Armstrong) work so hard," Rogers added of Katzberg. "He is so deserving of being the world champion."
Incredibly, Katzberg is even younger than Rogers, having turned 21 in April of this year. Although he earned silver at the 2022 Commonwealth Games, it was inconceivable that he would improve to the point he might contend for a place on the Budapest podium. But as he did in Birmingham a year ago, the 1.98m tall former basketball player peaked precisely at the right time, throwing a Canadian record of 81.18m in the qualifying round.
"In the qualifying, (Wojciech) Nowicki asked me how far I threw and I said 81.18m," he recalls with a laugh. "I think he might have even chuckled as if he didn't believe me. It came as a shock to everyone. With the qualifying, going to the final I knew I was capable (of winning)."
He threw even farther in the final, reaching 81.25m to earn the title. He credits Armstrong – the 2008 Olympic shot put bronze medallist – and the legendary Anotoliy Bondarchuk, former world record-holder and 1972 Olympic hammer champion, for their meticulous guidance.
"That is Dylan's job. He masterminds the whole season," Katzberg declares with a smile. "A personal best at major championships is what he wants. Being able to do that twice now shows what we are doing is working and that full commitment was the reason for the huge growth this year."
The celebratory dinner that night included his parents and sister Jessica, whom he followed into the hammer event when they were both teens, along with Armstrong and his family. And when Rogers finally met up with him that night, he was the recipient of a bear hug from his teammate.
Although Rogers and Katzberg are both from British Columbia, they only see each other at major championships. Still, she drew inspiration from his performance.
"Ethan basically had the competition that so many people can only dream of – setting a personal best in the qualifying and then again in the final to win – it's unheard of," Rogers said.
"Oh my gosh, we were all so excited for him, so I was hoping to carry that momentum through with the women's hammer. That's the kind of energy you want to have before a competition."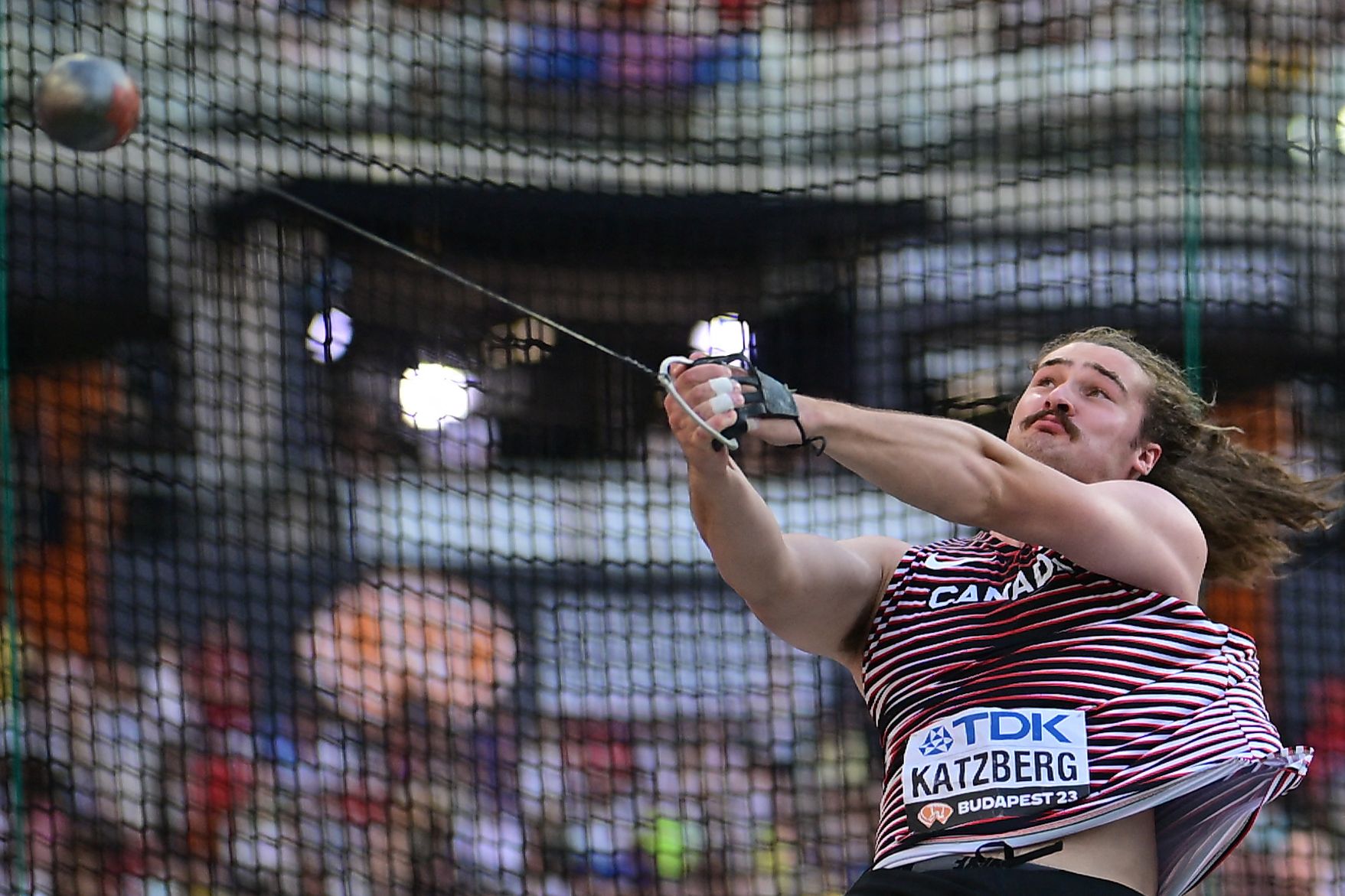 Ethan Katzberg in the hammer at the World Athletics Championships Budapest 23 (© AFP / Getty Images)
The women's hammer final was three days later and Rogers, with the help of her coach Mo Saatara, was able to contain her emotions in the interim. The draw for the final put her 12th and last in the order, meaning she would be forced to watch a sublime cast of throwers ahead of her.
"Sometimes part of the fun can be being last in the order because it gives you a chance to respond," Rogers says, laughing again. "In that situation it was really cool to be 12th and last in the order for that reason specifically. When you have such incredible women throwing in a competition together, I think it's a very motivating factor."
The anticipation of getting into the circle to start the competition built to a crescendo, and on Rogers' very first throw she reached 77.22m. That would be enough for the gold medal.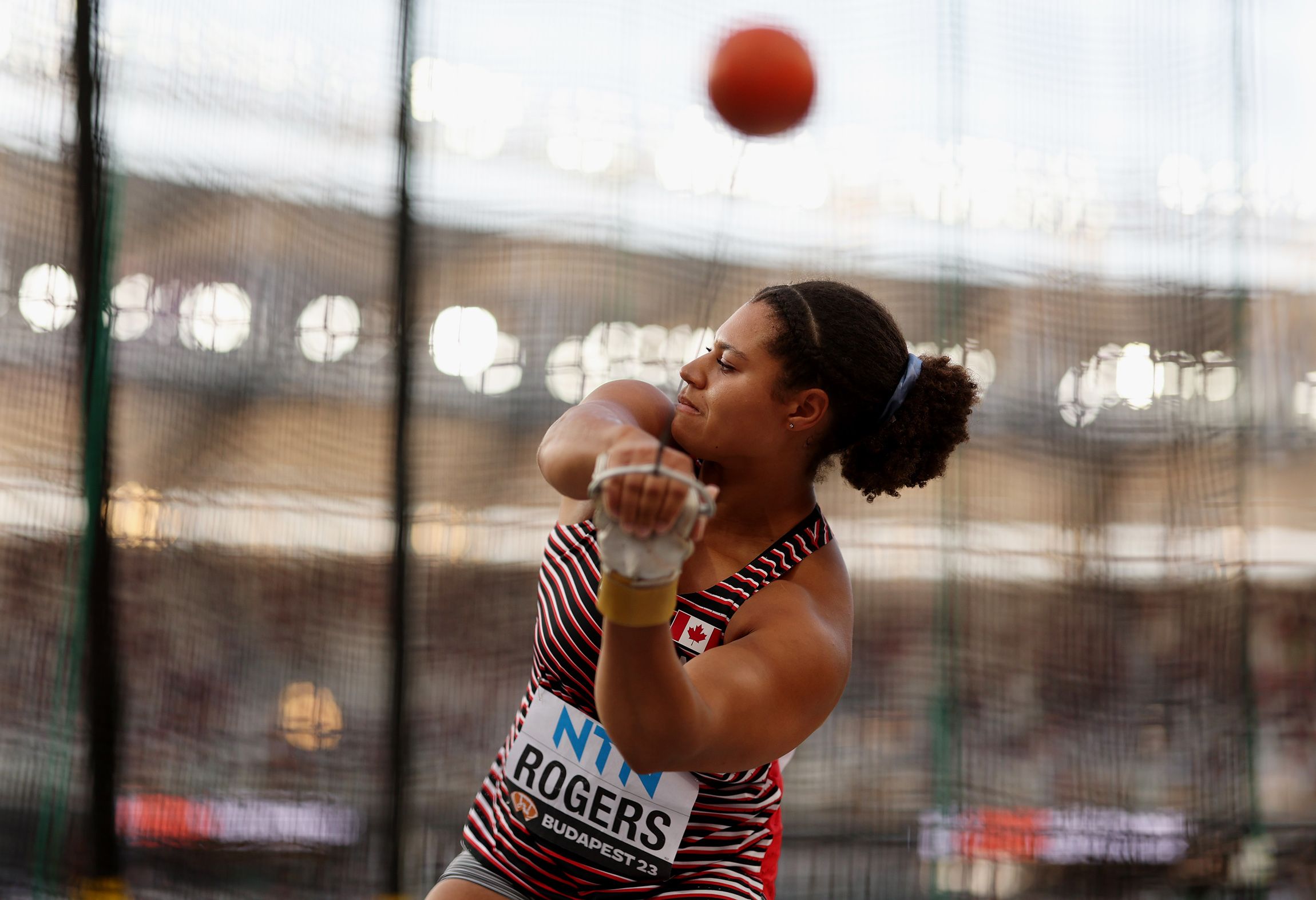 Camryn Rogers in the hammer at the World Athletics Championships Budapest 23 (© Getty Images)
Leading up to the championships, both Canadians had their share of distractions.
A native of Nanaimo, British Columbia, Katzberg has lived and trained in Kamloops since Armstrong recruited him after high school. It's in an area known as the Thompson Okanagan and was surrounded for months by out-of-control wildfires.
"There were days when, if the wind was blowing the right way, Kamloops would be covered in smoke," Katzberg remembers.
His thoughts were with his grandparents who live 170km away in West Kelowna. Unbeknown to Katzberg, two days before his gold medal victory, the BC government ordered residents to evacuate as roughly 200 homes were razed. Katzberg's grandparents were among the evacuees but were eventually able to return to their home.
Rogers, who is from Richmond, British Columbia, just outside Vancouver, has been studying at the University of California, Berkeley the past five years and recently finished up her masters' degree in cultural studies of sport and education. Her collegiate career included three NCAA hammer titles (2019, 2021 and 2022).
Academia was on her mind even as she was in her final preparation for the World Championships.
"I actually submitted my masters' thesis two weeks before I competed in the final of the World Championships," she says, laughing aloud. "I wrote a policy recommendation that would help allow international student-athletes competing in the NCAA to benefit and partake in image-and-likeness contracts, and to be able to receive compensation while they are in the US. It's a very personal experience on that one."
Now that she is finished with school, she has signed a Nike contract which she says will ease financial stress going forward. She also starts a job in a couple of weeks; she will be an advocate for special education in an attorney's office. Her hours will be flexible and she will work remotely from her home in Oakland.
Having enjoyed some time off, she is back in the gym lifting weights and preparing for 2024.
"Coach Mo was telling me the other day 'every year you start back at square one'," she says. "And so we have to do everything we did last year all over again and look at all the things we did right and how we get better."
Already the Paris Olympics are in focus. Looking back on her Tokyo Olympic experience – she was a credible fifth – she remembers feeling "young and inexperienced like a deer in the headlights". This time she will compete as the world champion and with all of the expectations and pressures Canadians will likely place on her.
"I am someone who has always liked pressure," she responds. "Going into Paris, I think I will feel some of that anxiety a little bit. But it's more because I understand the level of competition coming to Paris. I want to be up there with them and aiming to get on the podium like everyone else; aiming for the gold. It's definitely going to be an insane competition, I can tell you that."
Katzberg, who enjoys fly fishing for rainbow trout in the lakes near Kamloops, was given one day off following his Budapest victory before he, Armstrong and Bondarchuk embarked on a programme aiming at the 2024 Paris Olympics. Although he was still coming to terms with his World Championships gold a month afterwards, Katzberg believes he can shelve the excitement of being world champion and return to the podium.
"I am extremely motivated; I just want to stick to the programme, keep doing what I am doing, keep enjoying it and make a big push for the Olympics," he says. "Hopefully the season goes well leading up to that. I am not looking at anything number-wise. I will keep my head down and train hard."
An unprecedented double victory behind them, this pair of Canadians will be a force come the Paris Olympics and, given their young age, for years to come.
Paul Gains for World Athletics