Alison Dos Santos, winner of the 400m hurdles at the World Athletics Championships Oregon22 (© Getty Images)
Perhaps the best way to start, in telling the story of Alison Dos Santos, is with the words of the two men he deposed at the top of the 400m hurdles tree at the World Athletics Championships Oregon22.
Shortly after the 22-year-old Brazilian blitzed his rivals to win the 400m hurdles at Hayward Field, clocking the third fastest time in history with 46.29, Olympic champion Karsten Warholm and silver medallist Rai Benjamin were asked for their thoughts on the new king of this domain.
"He's been huge," said Warholm, who faded to seventh place in 48.42, a mid-season hamstring tear leaving him short of peak fitness. "He's been running and getting a lot of self-confidence and we can see it today. I know what it takes to be running that type of time and, even though I wanted it to be me, I'm happy for him. It's his day."
Benjamin, who took silver in 46.89 – an astonishing performance given he missed several weeks' training due to injuries and a severe bout of Covid-19 – said Dos Santos is "carrying the event on his back right now," and the US star knows next year could produce major fireworks if all three are back at full capacity.
"I'm happy he ran fast," said Benjamin. "We're going to elevate the sport: 46.2 – (that's) one hell of a season. Next year is going to be pretty fast. Karsten is going to come back with a vengeance. I'm going to take the necessary time to heal up, be strong, and be ready for a hell of a fight."
If his rivals were gracious in defeat, then Dos Santos was equally gracious in victory, noting how Warholm's time in Tokyo had shown him what was possible.
"If he can run 45, me, Benjamin and other guys can too," he said. "Let's dream of that day – and make it happen."



Before this year, no Brazilian man had ever won gold at the outdoor World Championships – with pole vaulter Fabiana Murer in 2011 the only woman to do so – and Dos Santos knows this victory could be a game-changer for athletics back home.
"I'm the first guy and that's pretty awesome, to open the door so everybody can see that they can," he said. "They can come here and win. That's not impossible."
As a kid, things were different, and Dos Santos "never thought this would be possible."
He grew up in Sao Joaquim da Barra, an area in the north of Sao Paulo, and he faced adversity early in life. When he was 10 months old, an accident at his grandparents' home involving a frying pan of hot oil that spilled on his head left him with third-degree burns, confining him to a hospital for four months.
His first sport was judo, which he practised from the age of six to 14. "I loved that, I really loved that," he said. But there was one problem: his family didn't have much money, and it became harder and harder to justify a sport where each training session cost money and offered little potential for return.
"My family is not a rich family, so it was hard," he said. "In track and field we saw an opportunity to make money and run and go to nationals and win a medal, and we needed that. I started because of this but after a couple of months I loved it. I made new friends around the city, the states, the country, and now I do it because I love the sport."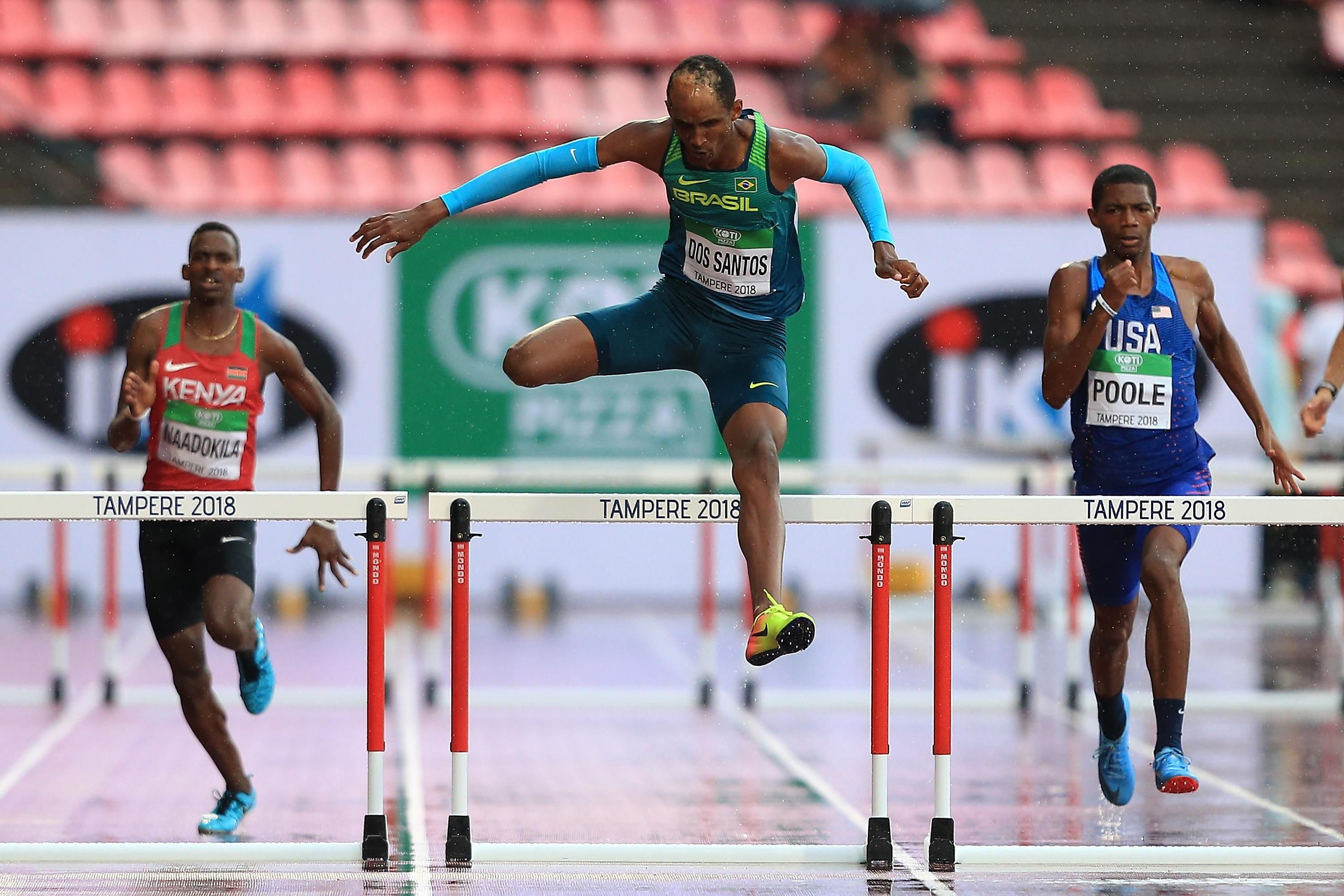 Alison dos Santos at the IAAF World U20 Championships Tampere 2018 (© Getty Images)

In 2017, he finished fifth in the 400m hurdles at the World U18 Championships in Kenya and the following year he earned bronze at the World U20 Championships in Finland, clocking 49.78. In 2019 he won the World University title in 48.57 and then, while still an U20 athlete, he made the world final in Doha, clocking 48.28.
The pandemic put paid to his plans for 2020, but Dos Santos used that period to train and physically mature, and in 2021 he emerged better than ever, breaking the South American record six times – the last of those coming in the Olympic final, where he clocked 46.72 to take bronze.
That catapulted him to fame in Brazil, but it was only when he returned home that he understood the true impact of his medal. Dos Santos was approached everywhere he went by those telling him their memories of the race, with one guy telling him he'd received a fine due to making excessive noise late at night as he screamed at Dos Santos on TV.
During the World Championships Dos Santos felt all that love again, the thousands of comments and messages pouring his way from his fans at home. "The Brazilians are amazing – I love them," he said. "They send good energy."
Heading to Eugene, Dos Santos wanted to win it for them as much as himself. His training had gone better than ever. For much of the year, he is based in Chula Vista, USA, training under the guidance of Brazilian coach Felipe Siqueira.
"He was an athlete, he did the triple jump, but he was a really, really bad athlete," laughs Dos Santos. "But he's good at coaching."



In 2021 Dos Santos used to run with 12 strides to the second hurdle, but it's a sign of his progress that he can now sustain that stride pattern until hurdle four. As good as Tokyo was, he felt he needed to find more to win gold in Eugene.
"I changed a lot about my race," he said. "I tried to be faster, I worked on my speed, my technique over the hurdles."
And it all came together in Eugene. Dos Santos went to the line as the favourite, a position he was happy to occupy. "You have more pressure, but that's good to me," he said. "It was motivation."
Before the race, Dos Santos danced on the track, his choice of jig inspired by a social media post by World Athletics the morning of his race, which superimposed his, Benjamin's and Warholm's faces on a dancing trio.
"It was so funny that I said, 'why not?' I did the same dance to have fun and enjoy."
But when the gun fired, he was all business, powering through the first half quicker than everyone besides Warholm. But on the top bend the Norwegian's missed training began to tell, whereas Dos Santos's consistent brilliance this year was elevating itself to a new level.
He joined Warholm at hurdle eight, pulled clear by hurdle nine and continued to build his advantage until he hit the line in a championship record of 46.29, beating his chest and taking a well-earned bow in front of the fans.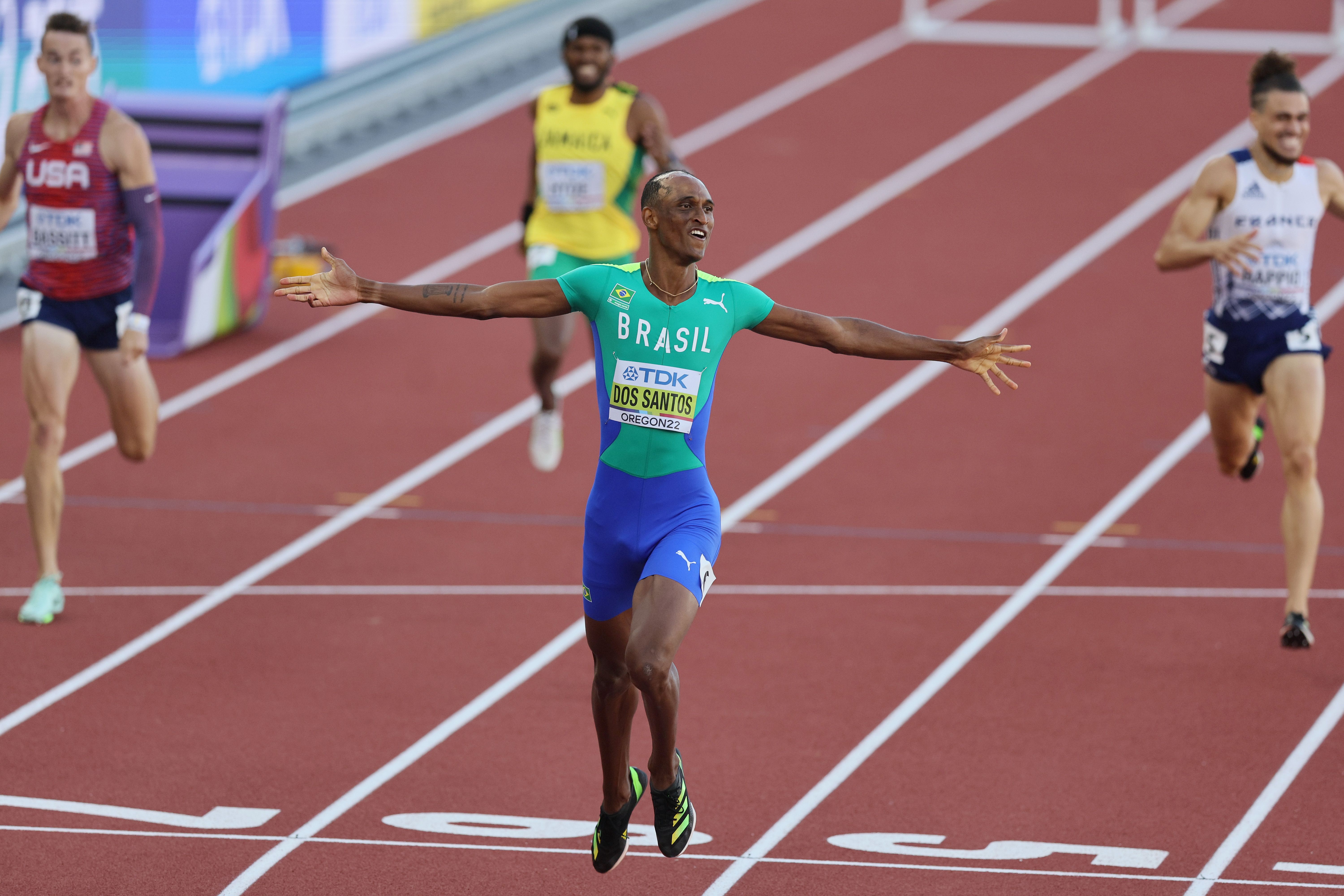 Alison dos Santos wins the 400m hurdles at the World Athletics Championships Oregon22 (© Getty Images)

Was it the perfect race?
"No, no, it can be better," he smiled. "It can always be better. My last hurdles, I can be better. And my second curve, it can be better."
Which begs the question: Is Warholm's world record of 45.94 next on the agenda?
"The question is not if we can do it," he said. "It's when."
He knows his two brilliant rivals have helped push him to this level, and Dos Santos also knows it's easier to get to the top than to stay there.
"The guys from 400m hurdles, we push the limits," he said. "Now you have to run so fast to win. If you want to win the World Championships, you need to dream (of) the record, dream of 45."
Once he'd completed his media duties, Dos Santos made his way up to the local restaurant, Track Town Pizza, to enjoy a meal he'd been looking forward to all week. He also called his family in Brazil and was particularly pleased to see his baby niece, who was born just a few days ago.
"I do everything for my family, my nephew, my niece," he said. "I want to make a great life for my family, to make history, and I need to run fast to help them."
The motivation now is much the same as it was in the beginning, even if everything else has changed. These days he's no longer a contender, but the champion.
And now that he has "opened the door for Brazilian guys" at this level, there should be many more walking through it in the years to come.
Cathal Dennehy for World Athletics