Aaron Mallett wins the 110m hurdles at the Wanda Diamond League meeting in Doha (© AFP / Getty Images)
While for many people 2020 was a year to forget, for sprint hurdler Aaron Mallett the year could not have tasted much sweeter.
He claimed the US indoor 60m hurdles title at the start of 2020 and went on to bookend his pandemic-disrupted year with a hat-trick of 110m hurdles PBs, climaxing with a stunning 13.15 to take victory at the Wanda Diamond League meeting in Doha.
That run elevated the 26-year-old to third on the 2020 world list, putting him among the medal contenders for the rescheduled Tokyo Olympic Games.
Yet this has been no overnight success story. Since turning professional in 2017, the Iowa City-based athlete has been without a shoe sponsor. He has worked 10 jobs over the past three years to make ends meet. His is a story built on perseverance, resilience, a passion for hurdles and a dream.
"To end the year on a real upside meant the world to me and proved all the sacrifices I've made during my career have been worth it," he says.



Born and raised in St Louis, Missouri, his parents separated when he was four and he was brought up by his mother Vernetta.
Mallett first identified his ability to run fast when playing as a baseball outfielder but it was his good friend – whose father was a track coach at the St Louis Flames track club – who spurred Mallett into trying track and field for the first time at the age of 12.
"My friend could run 53 seconds for 400m at the age of 12 and was a phenom," explains Mallett. "He kind of took me under his wing and I developed from there."
Mallett, who describes himself as being a 'mid-packer' in the sprints at that point, was introduced to the hurdles at the age of 14 and was instantly taken with the event.
"What I love about the hurdles is that it not only requires talent and hard work but also finesse," he explains. "There are some events where you can muscle it; hurdles allows the chance for a lot more room for improvement. It was an event where I could find my groove."
Under the coaching of BJ Torbert – a man he describes as "a second father" – Mallett started to progress. In his final two years at high school, he placed sixth and fourth respectively in the 110m hurdles at the National U20 Championships.
But there was one pivotal moment during his high school years that gave him the belief and desire to pursue a collegiate and professional athletics career.
"Brooks put on an invitational indoor meet in Seattle in 2013 and I remember they invited lots of the top high school athletes at that time – like Devon Allen, Freddie Crittenden and Marlon Humphrey, who now plays NFL for the Baltimore Ravens – to race the 60m hurdles. I went to the meet and won, which helped solidify my status and proved to me that I could compete with the best."
Later that year, he took up a track and field scholarship at the University of Iowa, where he first came under the coaching guidance of 2003 world 400m hurdles silver medallist Joey Woody.
For the past seven years, Woody has consistently and patiently guided Mallett's career and the sprint hurdler is hugely praiseworthy of his coach's influence.
"Coach Woody is super-adaptable," explains Mallett. "He works with a plethora of hurdlers, but he never has one model to fit all hurdlers – I have really enjoyed and developed under that approach."
During his four years at college, Mallett was a regular NCAA finalist and finished third at the 2016 NCAA Indoor Championships, despite having an athlete in an adjacent lane wander into his lane for the majority of the race.
He capped his collegiate career with a fourth-place finish in the 110m hurdles at the 2017 outdoor NCAA Championships in 13.65, placing 0.16 behind now world champion Grant Holloway.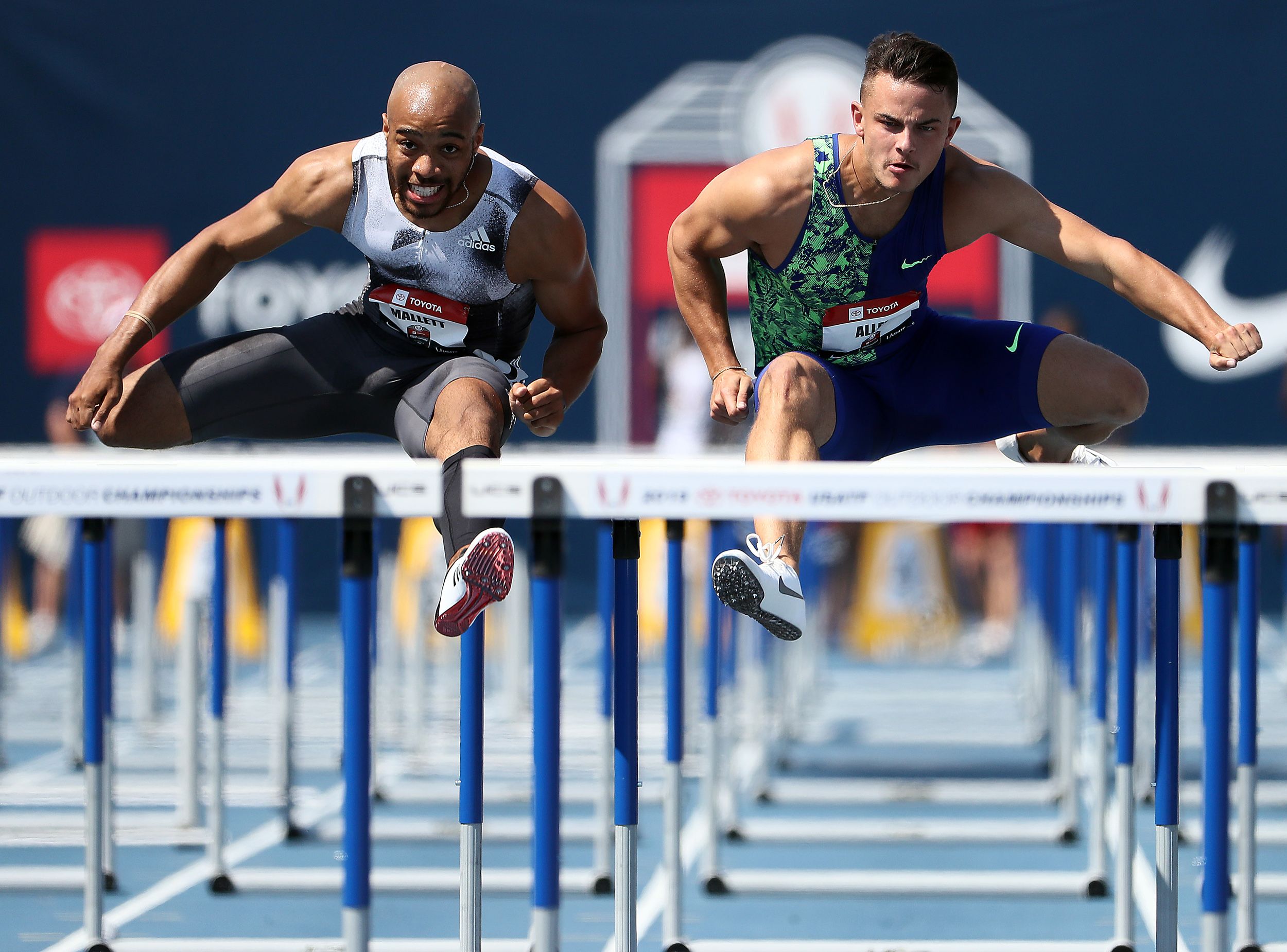 Aaron Mallett and Devon Allen in action at the US Championships (© Getty Images)
With a PB of 13.44 and a degree in sport and recreation management, Mallett turned professional after that race but had no shoe sponsor.
"I accomplished a lot and I was happy with my college career but my coach and I had talked throughout my senior year about turning pro," he explains. "Coach Woody gave me more than enough determination to keep on pursuing the goal."
Mallett enjoyed his first taste of life on the pro circuit in the latter half of 2017 and whittled his PB down to 13.37.
In 2018, however, he faced the first big challenge of his career after picking up hamstring injuries on both legs and missing a large chunk of the season.
"2018 was my most daunting and stressful track year," he explains. "I was hurt for pretty much the entire year, I was working two jobs at the time and I was stressing a lot. It was a tough year and I had to regain my confidence. Fortunately, I had a very good support team of friends and coaches and I was able to bounce back."
He worked hard on his rehab and training at the end of 2018 and was able to enjoy a full indoor season in 2019, during which he lowered his 60m hurdles PB to 7.56 and placed second to Devon Allen at the US Indoor Championships.
Mallett's outdoor season was hampered by a return of the hamstring issues that plagued him the previous year, but he describes 2019 as a good year in terms of his career development.
At the end of 2019, he and Woody set about changing Mallett's approach to the first hurdle, going from seven to eight steps.
"Honing in on those minute details, Coach Woody had noticed my hips would be in a better position if I was doing eight steps," Mallett explains.
After just two months of practising the eight-step strategy, he returned to the indoor racing circuit at the start of 2020 and in February he lowered his 60m hurdles PB to 7.54 when winning the US indoor title in Albuquerque.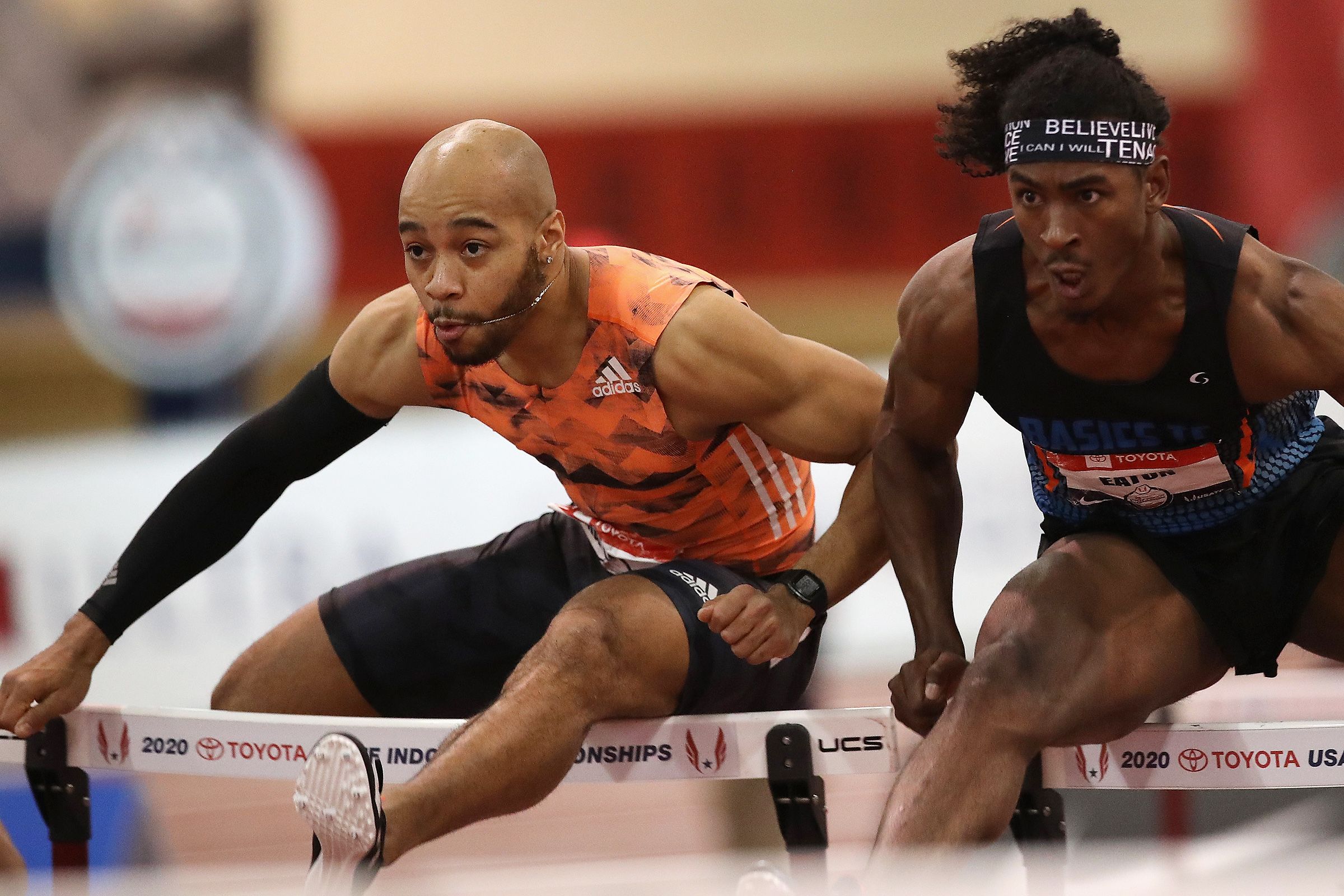 Aaron Mallett and Jarret Eaton in action at the US Indoor Championships (© Getty Images)
"That was the first point in my pro career when I finally did something noteworthy and people started to recognise what I was doing," he adds.
His journey to that point had not been easy. To pay for his pro career, he had taken up a whole range of retail jobs, worked in fast food outlets and at a car rental company. And such was his desire to make the Tokyo 2020 Olympic team, he had taken out a loan for several months to allow him to focus 100% on athletics.
After winning in Albuquerque, everything appeared on track. But then the global pandemic struck and Mallett suddenly faced a challenging training environment.
"I put a lot of miles on my car trying to figure out how and where I could train," he explains. "I had to figure out my own workouts and I had a barbell and a couple of plates given to me by my support team, which I had sat on the balcony."
Without the income from racing and with the loan running out, Mallett was forced to return to work. In June he took up a sales job with a sportswear retailer and has since taken on a second job working in sales for a yoga brand. Working about 40 hours a week in total, Mallett often squeezes in training on an afternoon.
When international competitions returned in the second half of 2020, Mallett was determined to compete.
"I didn't have a choice," he says of why he chose to fly across the Atlantic to compete when many US athletes remained at home. "I needed the money. The loan was starting to run out, and I wanted to put my name out there and show I could compete."
He ran solidly in his first three races, posting a solid 13.43 clocking in Chorzow, Poland. He then returned home to the US for a week or so to return to work before flying back out to Europe for the tail end of the season. Just two days after stepping off the plane, he ran 13.39 in Rovereto – within 0.02 of his PB – a performance which gave him huge encouragement.
He triumphed in Bellinzona one week later in a lifetime best of 13.34 and, on a roll, in his next competition at the Wanda Diamond League meeting in Rome he scalped a further 0.11 from this mark to finish second behind Great Britain's Andy Pozzi.
Yet it was his final race of the season where Mallett impressed most. At the Wanda Diamond League meeting in Doha, Mallett rocketed to a third successive PB, recording 13.15 to clinch a memorable win.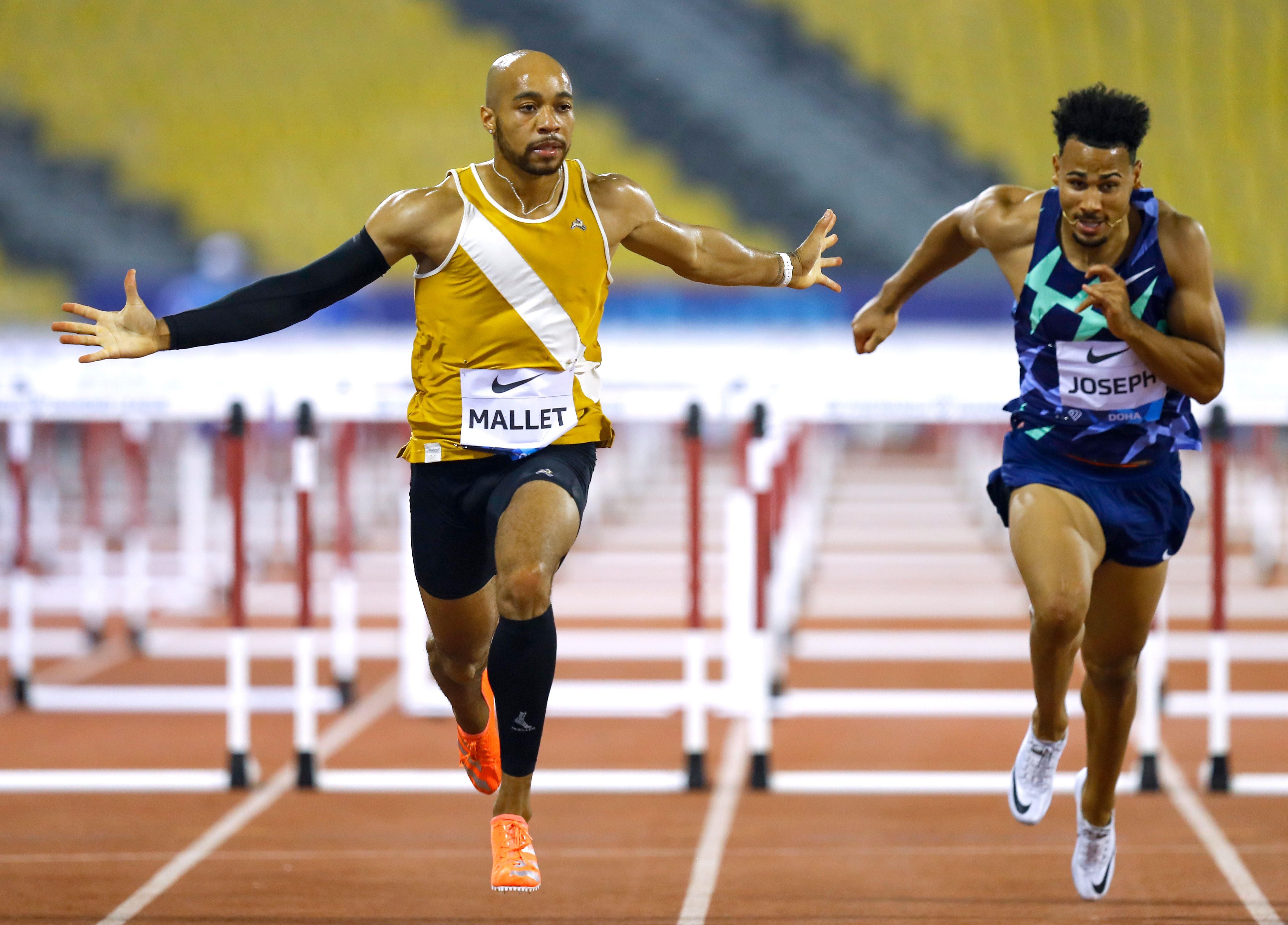 Aaron Mallett wins the 110m hurdles at the Wanda Diamond League meeting in Doha (© AFP / Getty)
"I really started to hit that sweet spot," explains Mallett. "I couldn't control my emotions post-race; I just let it all out. Up until 2020 I hadn't set a PR in three years, so to pop out a big one was an emotional moment."
Mallett took two weeks off at the end of the season before returning to training with gusto. Combining a hectic work schedule with training is still physically and mentally challenging, but he is adamant he now belongs with the very best sprint hurdlers and can make a big impact in 2021.
"My hope is to improve my PR, but ultimately, the biggest goal is to make the US team for the Olympics," he says. "The US is such a strong hurdling nation, but that's the prize I'm chasing."
After a journey that has required great resourcefulness and resilience so far, few would surely begrudge Mallett from achieving that goal.
Steve Landells for World Athletics