Yann Schrub wins at the Cross Cup in Hannut (© Tomas Sisk for organisers)
Yann Schrub strode to his first World Athletics Cross Country Tour Gold triumph, while Rahel Daniel recovered from a fall to continue her winning ways at the snow covered CrossCup in Hannut on Sunday (22).
France's European 10,000m bronze medallist Schrub made a late decision to compete in the Belgian city and it paid off as the 26-year-old overpowered Isaac Kimeli to deny him a win on home soil. Surging away over the final 1500m lap, Schrub won the 9km men's race by 19 seconds and Kimeli's compatriot Guillaume Grimard completed the podium, finishing third a further 11 seconds back.
After three loops of the 1km circuit, a quartet of Kimeli, Schrub, Grimard and Kenya's Gideon Rono broke away on the first of the four 1500m loops. One week on from his Cinque Mulini win in San Vittore Olona, Rono couldn't stick with the pace and was dropped at around the halfway mark. As athletes took on the last couple of laps, the race was down to Schrub and Kimeli.
Schrub had built a five-second lead by the time the bell sounded for the final 1500m loop and increased his advantage to 19 seconds by the finish line.
Taking his sunglasses off and raising a finger in celebration, Schrub won in 28:29, clear ahead of Kimeli (28:48), Grimard (28:59), Rono (29:07) and Britain's Ned Potter (29:08).
"My legs felt wonderful today. I knew I was in good shape after a period at the end of last year when things did not feel completely right," said Schrub, who formed part of France's winning senior men's team at the European Cross Country Championships in Italy in December, a race in which Kimeli claimed bronze.
"During the past few weeks I have been preparing my next couple of races under the Portuguese sun and this race was a last-minute decision. I'm glad it was worth the trip to snowy Belgium.
"I do hope to combine both cross country and indoors this winter, yet the main goal remains the summer season. It did not feel like revenge for the European Cross Country Championships, where Isaac Kimeli won bronze and I did not end up on the podium. I respect him a lot as an athlete, given his track record, and today was a nice battle for sure. But most of all I'm happy to take the win here, especially with the lovely feeling I had in my legs."
While his Hannut victory was a first Cross Country Tour Gold win for Schrub, Eritrea's Daniel is an experienced campaigner and was on the hunt for her third consecutive win this year after success in San Giorgio su Legnano and Elgoibar.
Sweden's Sarah Lahti and Britain's Megan Keith joined Daniel at the front of the field over the first couple of 1km laps, with Lahti pushing the pace and Daniel happy to follow.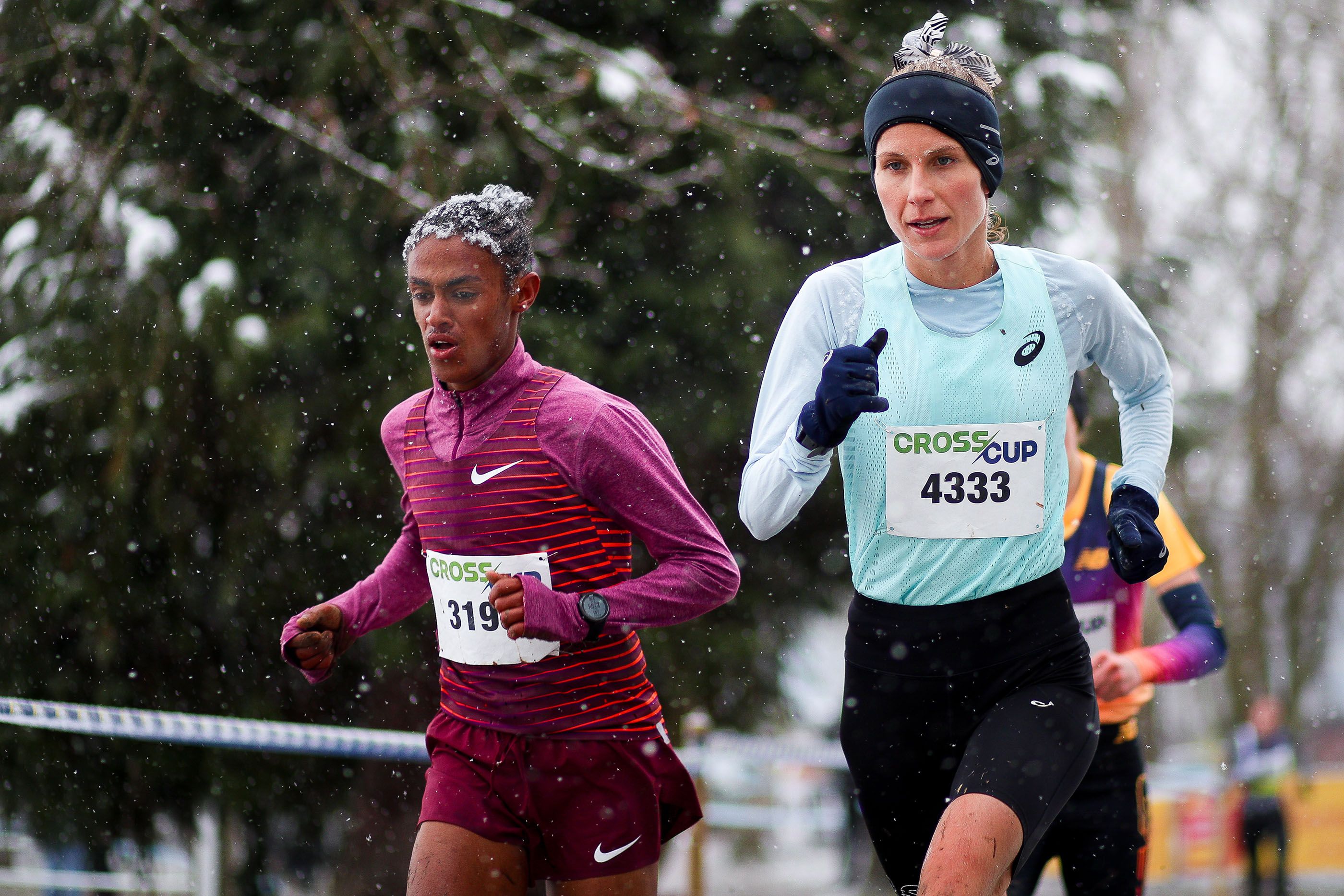 Rahel Daniel and Sarah Lahti at the Cross Cup in Hannut (© Tomas Sisk for organisers)
Conditions were tough during the 8km race as the snow continued to fall and Daniel slipped, losing some ground. But she got back on her feet and caught up with Lahti and Keith, Netherlands' Veerle Bakker completing the leading quartet.
Daniel forged ahead with three 1500m laps remaining but Lahti, winner of the World Athletics Cross Country Tour Silver meeting in Mol in November, matched the move. Taking turns at the front, it was European U23 cross country silver medallist Keith who pushed on during the penultimate lap, but her rivals were never far behind.
As Daniel and Lahti began to drop Keith, the Eritrean had enough left for a final surge that would carry her to victory and she eventually won by four seconds, clocking 28:41. Lahti was second in 28:45, Keith third in 28:49 and Bakker fourth in 28:58, 20 seconds ahead of fifth-place finisher Chloe Herbiet of Belgium.
"The snow and mud made it very difficult today," said Daniel. "I really had to dig deep to grab the victory. Halfway I crashed, yet I don't feel any pain."
The result means Daniel will head to the World Athletics Cross Country Championships unbeaten this year, with the 21-year-old next planning to race at the global event in Bathurst on 18 February. "I feel ready for my next race," she added. "I'm excited for my trip to Australia."
There was a Great Britain double in the earlier U20 races, European Cross Country Championships fourth-place finisher Innes FitzGerald winning the women's race by a minute ahead of her compatriots Rebecca Flaherty, Sophie Nicholls and Hattie Reynolds, and Luke Birdseye claiming men's race victory ahead of his fellow Briton Jacob Deacon and Ireland's Jonas Stafford.
Leading results
Women (8km)
1 Rahel Daniel (ERI) 28:41
2 Sarah Lahti (SWE) 28:45
3 Megan Keith (GBR) 28:49
4 Veerle Bakker (NED) 28:58
5 Chloe Herbiet (BEL) 29:18
Men (9km)
1 Yann Schrub (FRA) 28:29
2 Isaac Kimeli (BEL) 28:48
3 Guillaume Grimard (BEL) 28:59
4 Gideon Rono (KEN) 29:07
5 Ned Potter (GBR) 29:08