Edwin Kurgat on his way to winning the Cross Champs in Austin (© Kevin Morris)
Kenya's Edwin Kurgat and USA's Alicia Monson were victorious at the Fitnessbank Cross Champs – the only Gold stop on US soil in the current World Athletics Cross Country Tour – in Austin on Thursday (1).
Kurgat took the lead with little about 2km to go in the men's 8km race and went on to win by two seconds from Yared Nuguse. Monson, meanwhile, made her mark much earlier in the women's contest and eventually finished six seconds ahead of runner-up Emily Infeld.
Commonwealth 1500m champion Oliver Hoare set off with clear intent and opened up a significant lead on the rest of the field in the men's race. The Australian had a six-second lead at the end of the first mile and it grew to nine seconds after mile two. Joe Klecker led a nine-man chase pack which also included Kurgat, Nuguse, Kenya's Wesley Kiptoo, Australia's Morgan McDonald and New Zealand's George Beamish.
Hoare continued the lead at the end of the third mile, but Kiptoo and Kurgat – former teammates at Iowa State – were within one second of him, while Nuguse was a few strides further back in fourth. With 14:25 on the clock, Kiptoo took command of the race and Hoare soon found himself in third place behind the Kenyan duo. By the time the leaders completed the penultimate circuit – with each lap incorporating about 350 metres of the athletics track at St Stephen's School – it was Kurgat who led from Kiptoo with Hoare now fighting to hold off Nuguse.
Kurgat, the 2019 NCAA cross-country champion, made his break at the start of the final lap and opened up a clear gap on his pursuers. Kiptoo slipped back while Hoare briefly moved into second place, only to be overtaken by Nuguse.
Kiptoo went on to win comfortably in 23:28 with Nuguse taking second place (23:31) and Hoare third (23:33).
"I have four years' experience of running cross country in college and I know that no matter what distance someone has in the early stages, it's still cross country; it's still hard and it never goes away," said Kurgat. "This was a fun course for me and I'm really happy to have won."
The women's race fast became a three-way contest between Monson, Infeld and Ednah Kurgat with the trio making a clear break in the first mile, which was covered in 5:24. They wound up the pace over the next two miles, covering them in 5:23 and 5:11 respectively, and by the time they set out on the final lap, they had a 10-second lead over Fiona O'Keeffe in fourth place.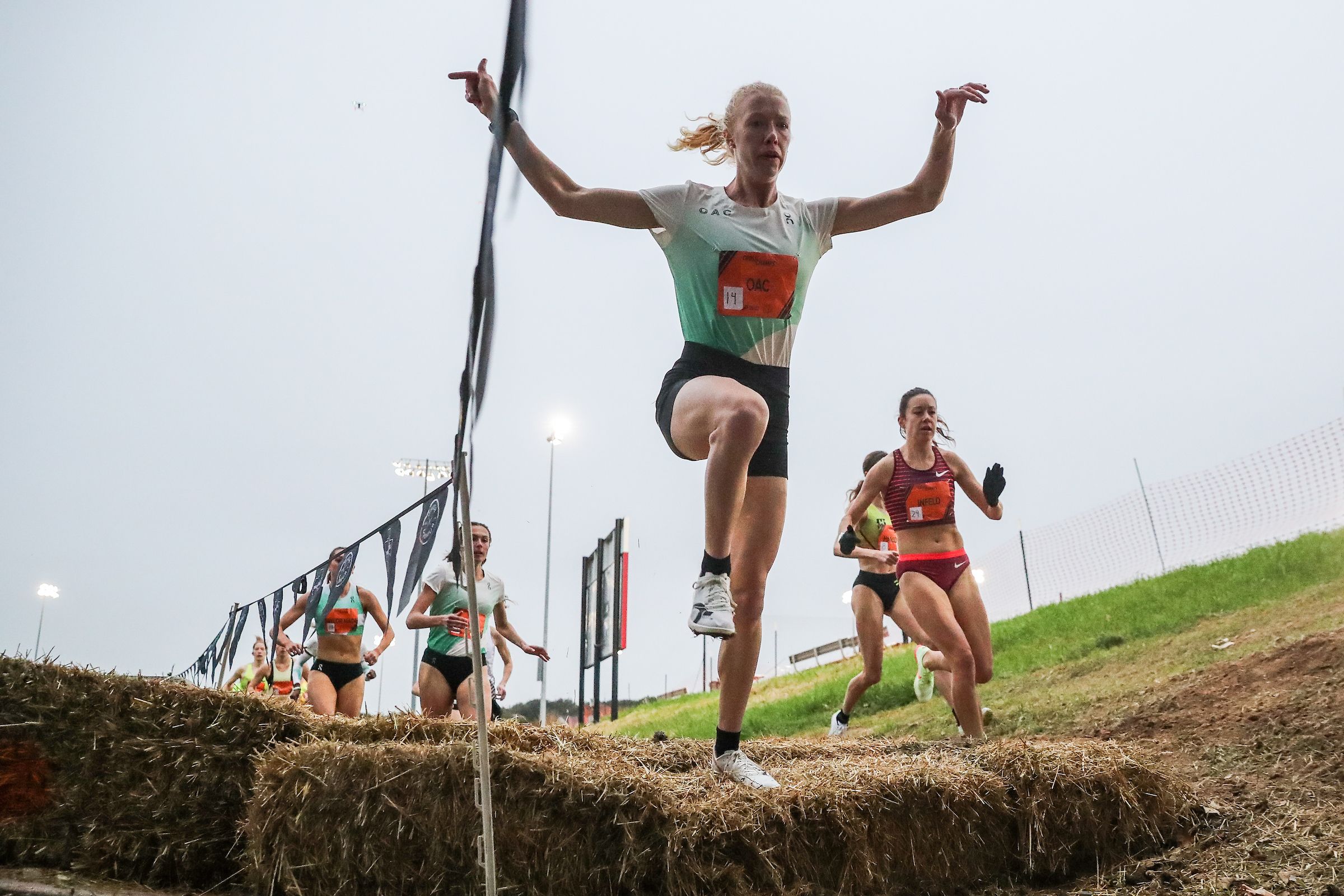 Eventual winner Alicia Monson in action at the Cross Champs in Austin (© Kevin Morris)
Kurgat started to fade once they emerged from one of the wooded areas, but Infeld, the 2015 world 10,000m bronze medallist, did all she could to stick with Monson.
As soon as the track came into view at the end of the final lap, Monson made a decisive move and opened up a gap on Infeld, kicking away to win in 26:56. Infeld held on to second place in 27:02 with Kurgat taking third, some eight seconds further back.
"I didn't really know what to expect here because we've just been doing a lot of base building in training, so I just went out and worked hard and closed when I needed to," said Monson, who set PBs of 8:26.81 for 3000m and 14:31.11 for 5000m earlier this year. "Running track all year can be kind of hard on the body, so doing cross country is really fun because you're not focused on times. And it's not often you get a chance to race an elite cross-country meet like this in the States."
Leading results
Women (8km)
1 Alicia Monson (USA) 26:56
2 Emily Infeld (USA) 27:02
3 Ednah Kurgat (USA) 27:10
4 Fiona O'Keeffe (USA) 27:20
5 Jessie Cardin (USA) 27:35
6 Courtney Wayment (USA) 27:36
7 Taylor Werner (USA) 27:45
8 Natosha Rogers (USA) 27:52
9 Sintayehu Vissa (ITA) 27:52
10 Allie Buchalski (USA) 27:53
Men (8km)
1 Edwin Kurgat (KEN) 23:28
2 Yared Nuguse (USA) 23:31
3 Oliver Hoare (AUS) 23:33
4 Morgan McDonald (AUS) 23:43
5 George Beamish (NZL) 23:43
6 Wesley Kiptoo (KEN) 23:45
7 Olin Hacker (USA) 23:47
8 Joe Klecker (USA) 23:48
9 Mario Garcia (ESP) 23:56
10 Andrew Colley (USA) 23:57