Kristjan Ceh competes in Szekesfehervar (© Gyulai Istvan Memorial)
With just over a month until the World Athletics Championships in Budapest, many medal contenders head to Hungary to continue their preparations at the Gyulai Istvan Memorial – the penultimate Gold meeting in this season's World Athletics Continental Tour Gold – in Szekesfehervar on Tuesday (18).
Some World Championships-worthy clashes will give a taste of what could be to come at the National Athletics Centre in the Hungarian capital between 19-27 August, while reigning world champions such as Ryan Crouser, Shericka Jackson, Tobi Amusan and Kristjan Ceh will be among those looking to leave an impression ahead of the global showpiece.
The men's discus could be among the most competitive clashes as world champion Ceh goes up against Olympic champion Daniel Stahl, world silver medallist Mykolas Alekna, 2017 world champion Andrius Gudzius and Olympic silver medallist Simon Pettersson.
Ceh improved his Slovenian record to 71.86m in Johvi in June, achieving a mark that ties him at fourth on the world all-time list with Stahl, whose best this season is 71.45m, also set at that meeting in Estonia. Alekna is also in the form of his life and after throwing a PB of 71.00m in Berkeley in April, he most recently set a European U23 Championships record of 68.34m in Espoo, improving a mark that had been set by Ceh in 2021.
The trio have clashed in four finals so far, with Ceh having won three of those contests and Alekna claiming one victory. Stahl is tied with Ceh when it comes to their overall career head-to-head, that tally standing at 14 apiece.
"It will be a great show time tomorrow. Everyone is on fire at the moment," said Stahl at the pre event press conference.
Ceh agreed. "I've prepared well, I am throwing far. I also think it will be good conditions," he said. On now being tied with Stahl and Yuriy Dumchev on the world all-time list, he added: "It's interesting. We have three guys with the same result. Of course, everyone wants to improve, so I hope I'm going to improve on this. Maybe tomorrow is a chance."
The men's hammer should be similarly competitive, with all three medallists from the most recent World Championships and Olympic Games – Wojciech Nowicki, Pawel Fajdek and Eivind Henriksen – in a field that also features home favourite Bence Halasz, the 2019 world bronze medallist, plus Olympic fourth-place finisher Mykhaylo Kokhan.
Shot put star Crouser will be looking to maintain his dominance this year, a couple of months on from the monster 23.56m throw he achieved in Los Angeles to add 19cm to his own world record. He leads another clash of 2022 world medallists as he's joined by two-time world champion Joe Kovacs and their US compatriot Josh Awotunde.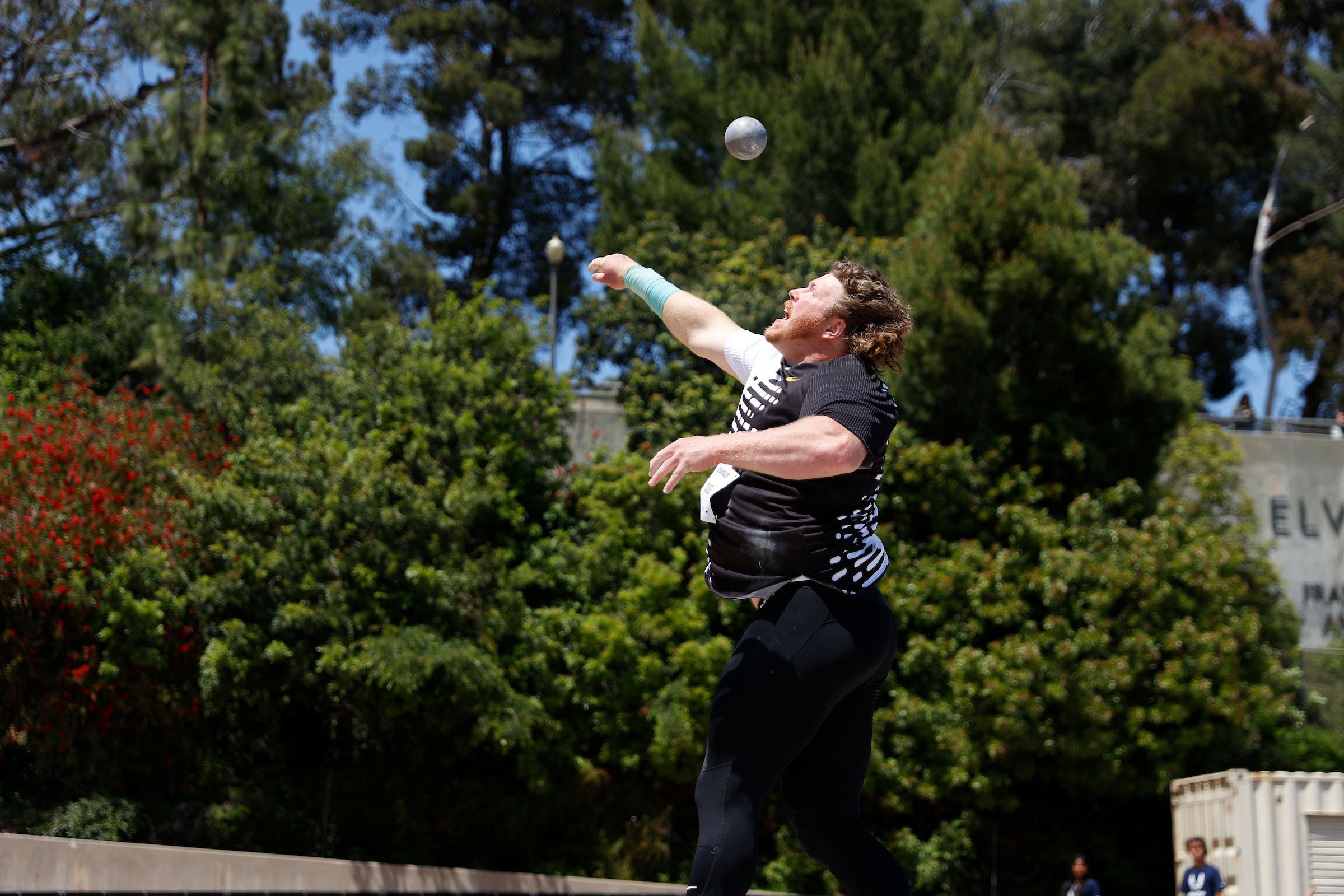 World record-breaker Ryan Crouser in action in Los Angeles (© Mercedes Oliver)
Kovacs is the defending champion and he is sure to have some strong support, given his Hungarian heritage. He'll hope to use that to his advantage, to build on his season's best of 22.69m from April. New Zealand's 2017 world gold medallist Tom Walsh is third on this season's top list with his 22.22m put from June and he's also part of the line-up, along with Payton Otterdahl, who was third at the US Championships behind Crouser and Awotunde.
The women's long jump pits Nigeria's world silver medallist Ese Brume against US Championships runner-up Quanesha Burks and Australia's Brooke Buschkuehl, while the men's event features Olympic champion Miltiadis Tentoglou of Greece against USA's Marquis Dendy, Jamaica's 2019 world champion Tajay Gayle and Bahamas' LaQuan Nairn, winner at the Wanda Diamond League meeting in Lausanne.
Amusan heads to Hungary off the back of a win at Sunday's Diamond League meeting in Silesia, where the world record-holder set a season's best of 12.34 to pip USA's Kendra Harrison and Nia Ali.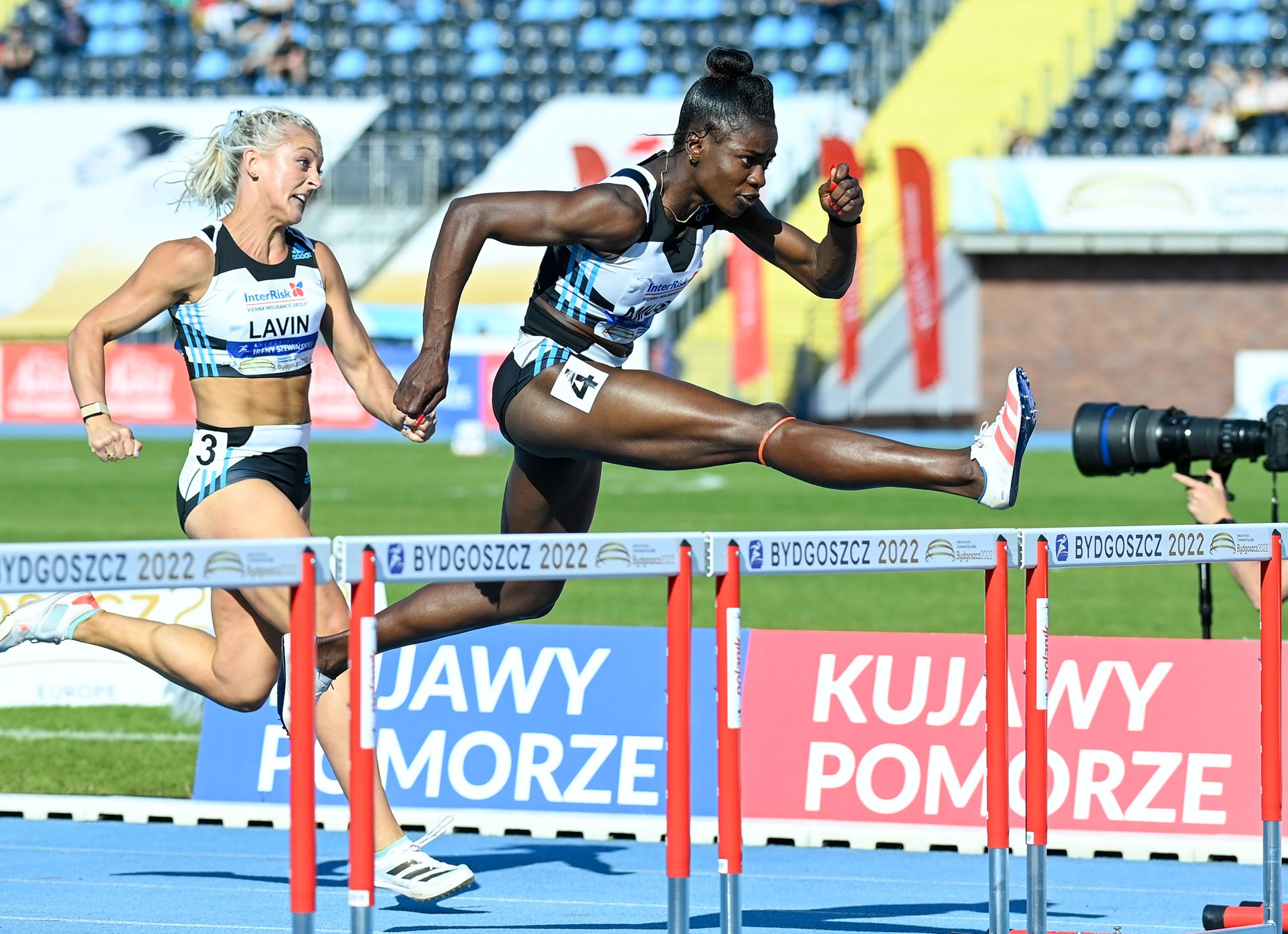 Tobi Amusan in 100m hurdles action (© Irena Szewinska Memorial)
Amusan and Ali, the 2019 world champion who recently won the US title, clash again in Szekesfehervar, where they also take on USA's Alaysha Johnson and Tia Jones, plus Poland's European champion Pia Skrzyszowska and Hungarian record-holder Luca Kozak, racing on home soil.
Jamaica's Jackson went head-to-head with US champion Sha'Carri Richardson in Silesia, where Richardson won the 100m in 10.76 to Jackson's 10.78. They both race in Szekesfehervar, but this time Jackson takes on the 200m – the discipline in which she won her world title in Oregon – while Richardson races the 100m.
Jackson clocked 21.71 to win the Jamaican 200m title in Kingston earlier this month – a time that was the world lead until Gabby Thomas clocked 21.60 to win the US title later that day. Now Jackson has the chance to regain top spot as she races the half lap event against USA's Kayla White and Tamara Clark.
Richardson is unbeaten in the 100m so far this season and that's a win streak she'll want to carry with her through to the World Championships. In Szekesfehervar the 23-year-old – who ran a PB of 10.71 in the heats at the US Championships – will race against Saint Lucia's multiple NCAA champion Julien Alfred, who has clocked 10.83 this year, plus USA's Tamari Davis and Jamaica's Natasha Morrison.
"It's my first pro race so I'm a little bit nervous, but also excited," said Alfred, who is also unbeaten this season. "Now I'm not really worried about time, I just want to win."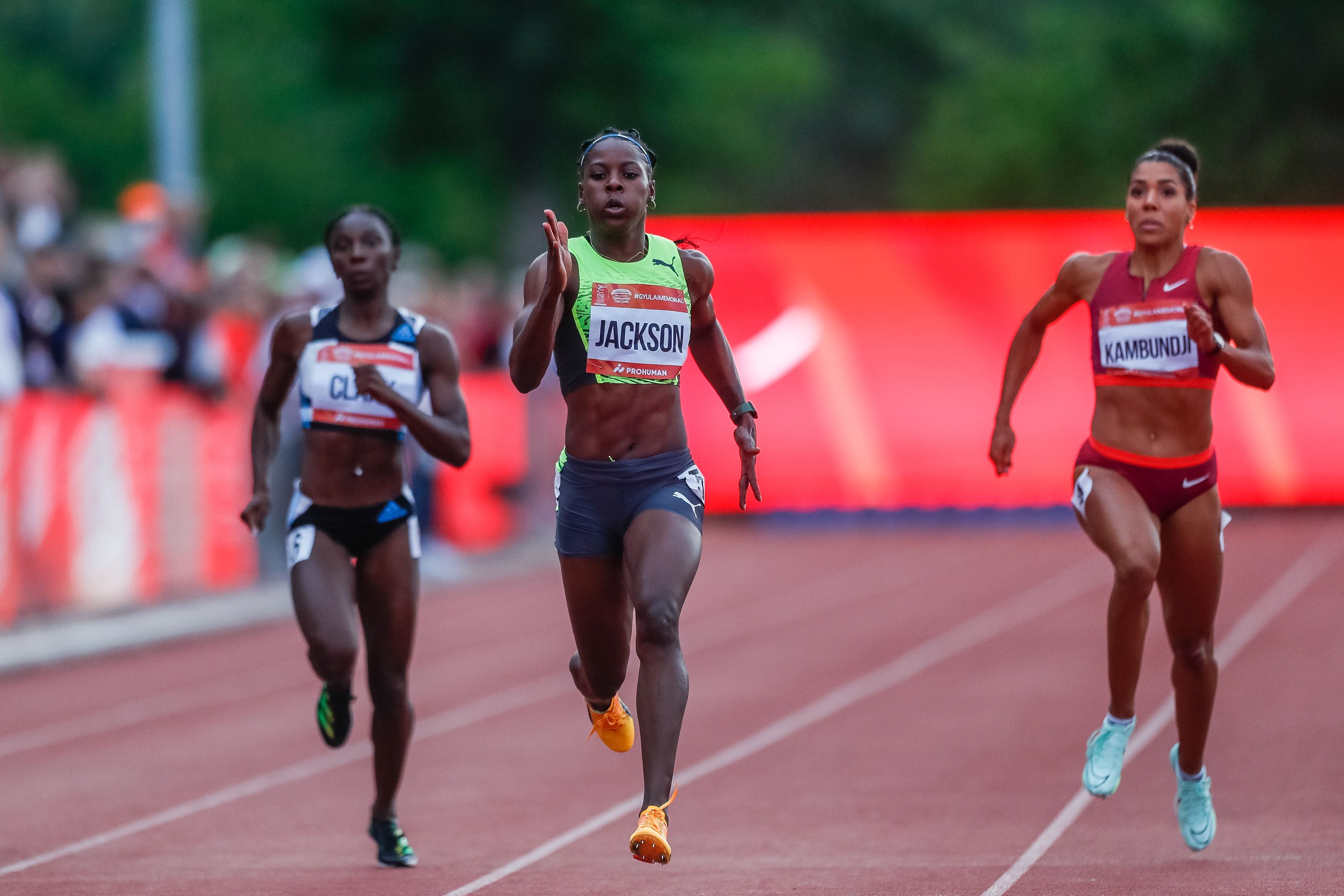 Shericka Jackson races in Szekesfehervar (© Gyulai Istvan Memorial)
Another US sprint star, world bronze medallist Erriyon Knighton, leads the entries for the men's 200m. The 19-year-old, who won the US title in 19.72 – the second-quickest time in the world so far this season – set a meeting record of 19.88 when winning here in 2022 and he lines up alongside Dominican Republic's Alexander Ogando, USA's Terrance Laird and Jamaica's Julian Forte. In the men's 100m Jamaica's Ackeem Blake and USA's Pjai Austin – who have both recorded PBs of 9.89 this season – face Ronnie Baker, Yohan Blake and Marvin Bracy-Williams.
Commonwealth Games champion Rasheed Broadbell stormed to a world-leading PB of 12.94 to win the Jamaican 110m hurdles title and he'll want to maintain that form as he defends his title in Szekesfehervar and again goes up against his compatriot Hansle Parchment, the Olympic champion, plus USA's Daniel Roberts and Freddie Crittenden.
Janieve Russell, who clocked 53.75 to win the Jamaican title, leads the entries for the women's 400m hurdles, while the women's 400m features USA's Lynna Irby-Jackson and Sada Williams of Barbados. In the men's 400m, Olympic champion Steven Gardiner tests himself against USA's Vernon Norwood and Ryan Willie, with Hungarian record-holder Attila Molnar looking to make the most of the home support.
Australia's Joseph Deng clocked a PB of 1:43.99 in France earlier this month, breaking the Oceanian 800m record held by his training partner Peter Bol by 0.01. They both race in Szekesfehervar as part of a line-up that also features USA's Clayton Murphy and Spain's Saul Ordonez.
Ethiopia's world U20 silver medallist Samuel Firewu races his first 3000m steeplechase of the season, while Kenya's Nelly Chepchirchir – who ran a PB of 3:58.96 for the runner-up spot at the Continental Tour Gold meeting in Hengelo – races the likes of Uganda's Winnie Nanyondo and Spain's Marta Perez in the women's 1500m.
Jess Whittington for World Athletics