Iolanda Balas (© Christel Saneh)
Since the introduction of women's athletics events to the Olympic programme in 1928, only one woman has been able to win two consecutive Olympic gold medals in the high jump: Iolanda Balas. She achieved it in 1960 and 1964 with a modified scissor technique.
Balas dominated the event for a decade, breaking 14 world records to become Romania's all-time athletics star who inspired generations of young Romanian athletes.


Emerging talent
Born on 12 December 1936 in Timisoara, Romania, to a Romanian mother and a Hungarian father, Balas attended the Roman Catholic High School for Girls in her hometown, where sports activities were highly encouraged.
Her talent was spotted by the national pentathlon champion Luiza Ernst-Lupsa, who was also a great long jumper and who happened to live in the same building as Balas. The young prodigy joined her hometown club to train with Ioan Soter.
Her debut was impressive. At only 14, she won her first national title. Two years later, in 1953, she followed her coach, who was still an active athlete at that time, to Bucharest.
Soter was the first Romanian national high jump champion and the first to clear two metres. The two got married in 1967 and had a son, Doru, who is still involved in Romanian athletics today.
Standing at 1.85m, Balas was a promising athlete.


Exponential improvement and international success
At the age of 17, Balas won silver at the 1954 European Championships in Bern, jumping 1.65m.
Two years later, she set the first of her 14 world records when she cleared 1.75m. The Melbourne Games were a few months away and all eyes were on the 19-year-old who was Romania's medal hopeful and the favourite for Olympic gold.
Balas headed to the 1956 Olympic Games without her coach but with the pressure of a whole nation on her shoulders. After jumping 1.75m in July, she was one of the favorites, but the US athlete Millie McDaniel was in top shape. She jumped a world record of 1.76m to win Olympic gold.
Balas finished fifth at her first Olympic Games, clearing 1.67m along with five other competitors, including medallists Thelma Elizabeth Hopkins and Mariya Pissareva.
This was to be Balas's last defeat.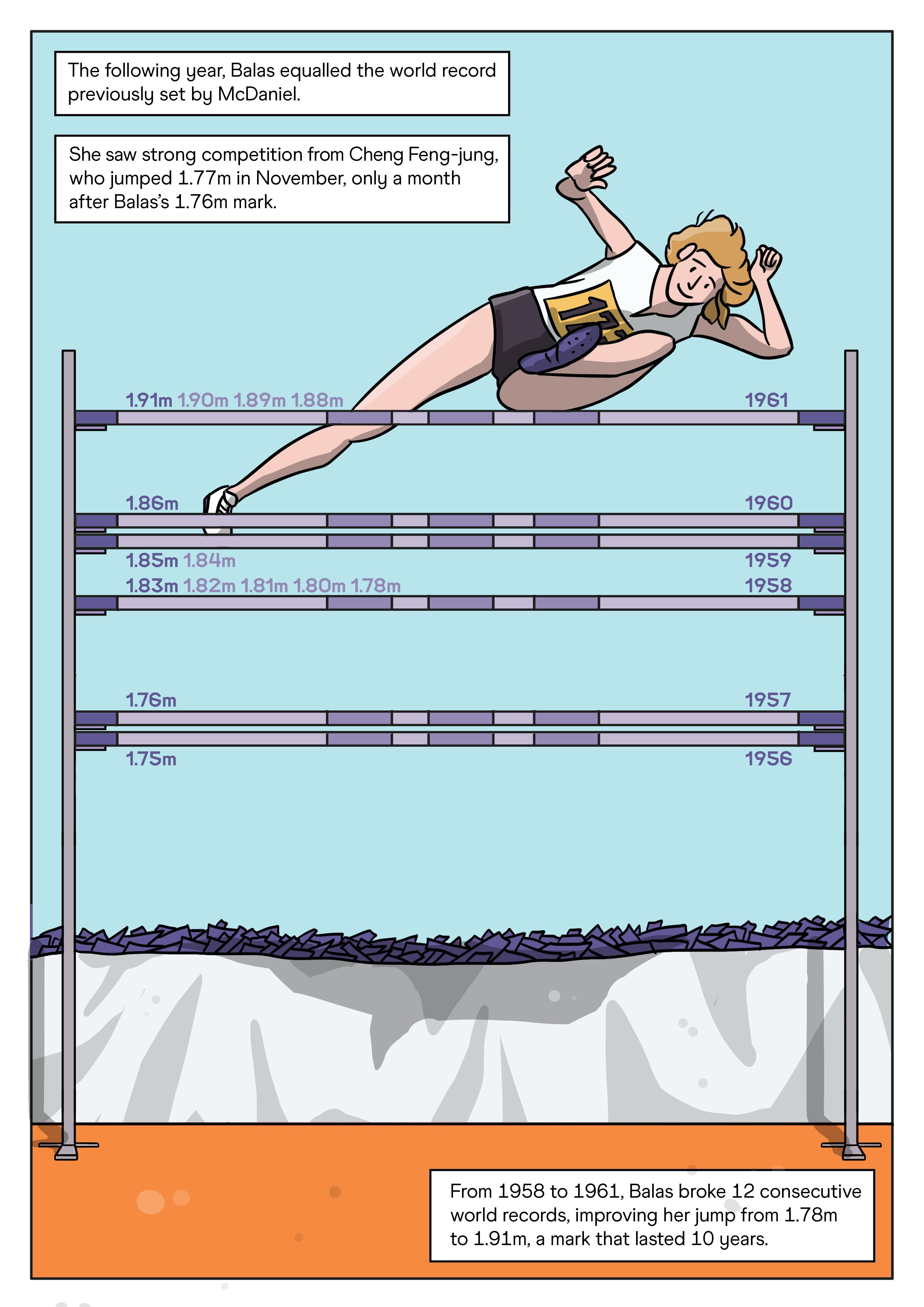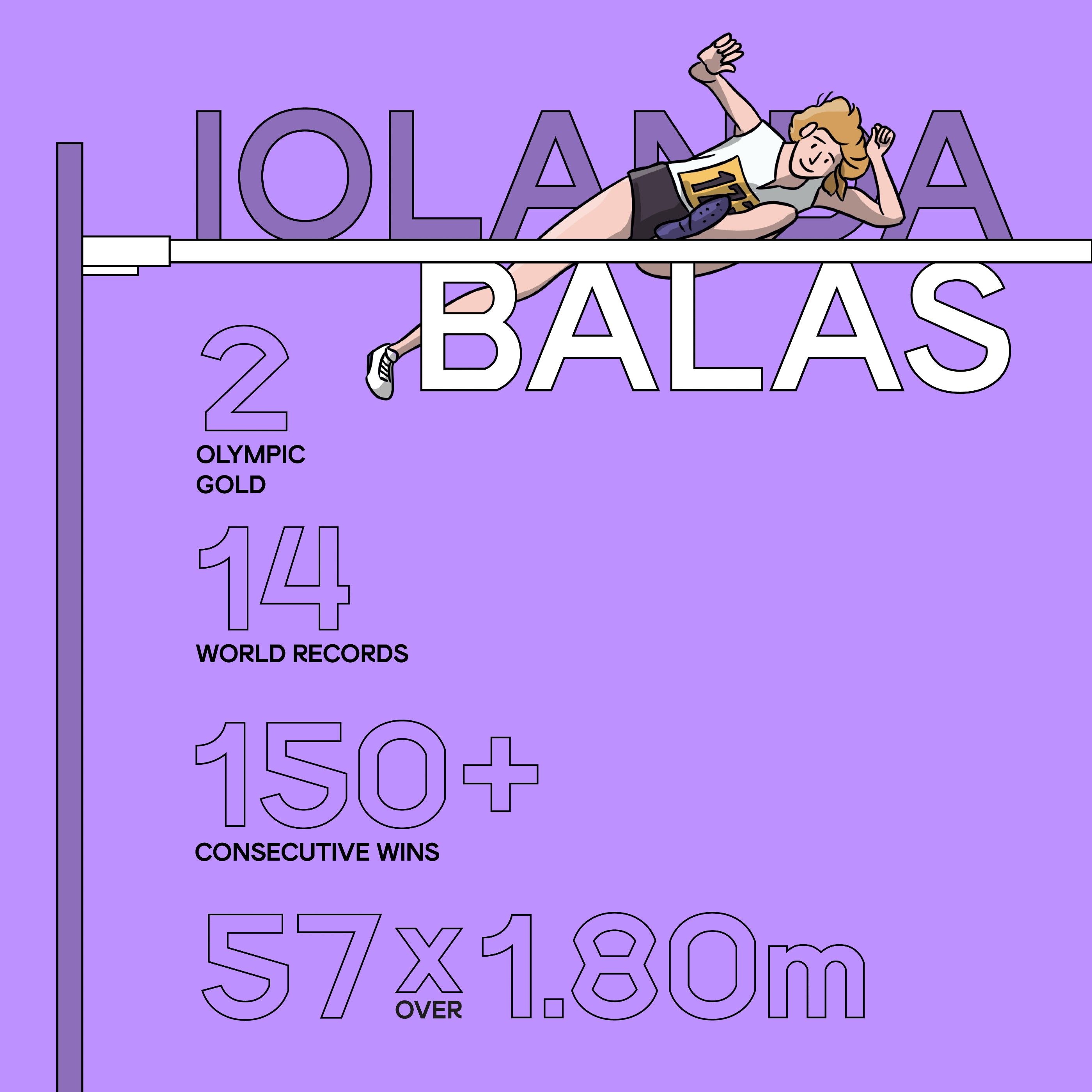 Olympic dominance
With 10 world records to her name, Balas arrived at the Rome 1960 Olympic Games as the ultimate favourite. This time, she was 23, and with some experience in her pocket.
Balas was guaranteed Olympic gold after clearing 1.73m from her first attempt, when all of her competitors had already exited the competition. She continued on a solo quest of Olympic records. She cleared 1.77m, 1.81m and 1.85m before failing at 1.87m.
Her winning jump was 14cm higher that the rest of the field. Her performance was a pure display of athletic greatness and grace. Her only competitor was herself. No other athlete has dominated this event as she did.
She retained her title to become the only athlete to win two consecutive Olympic women's high jump gold medals.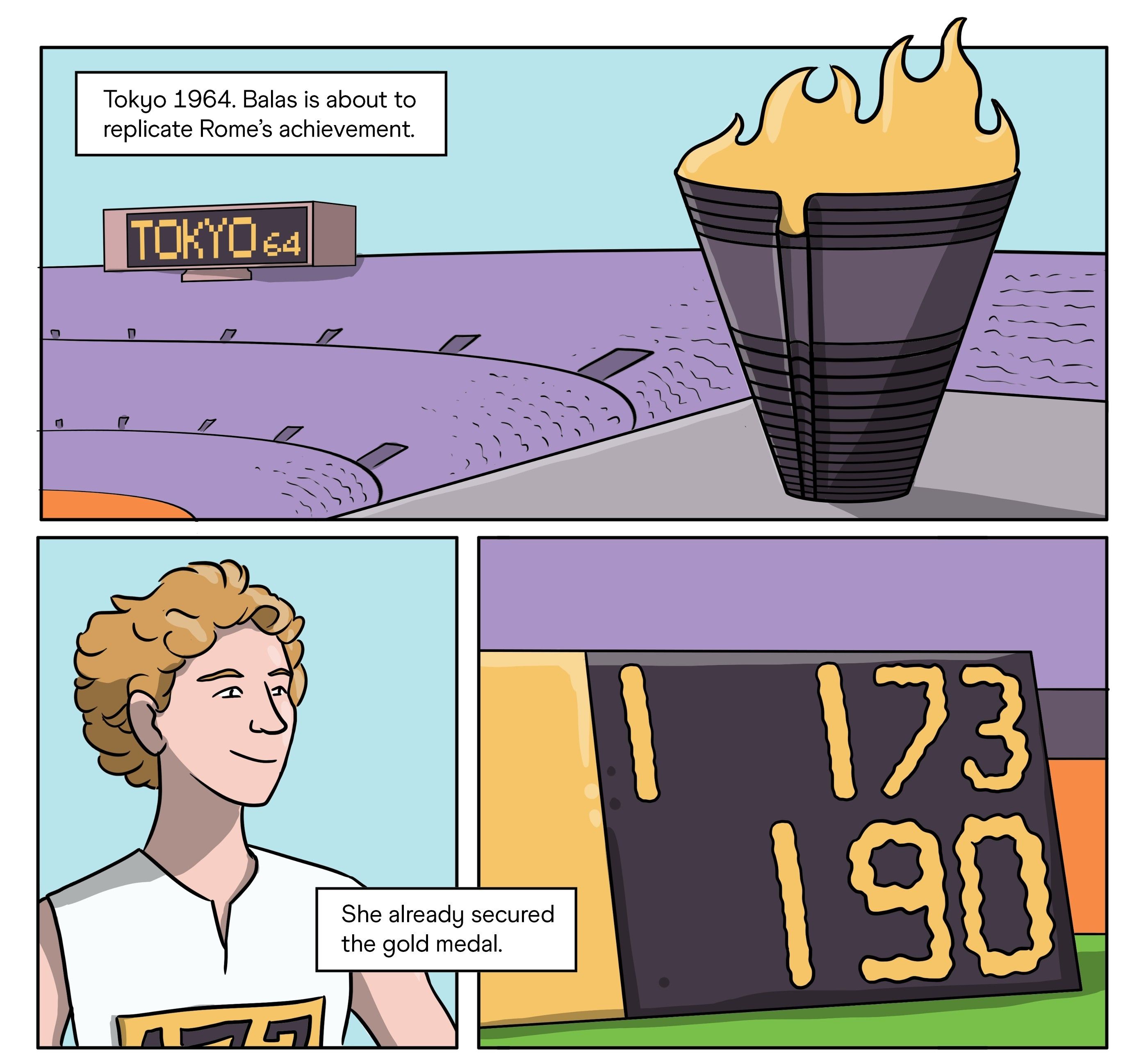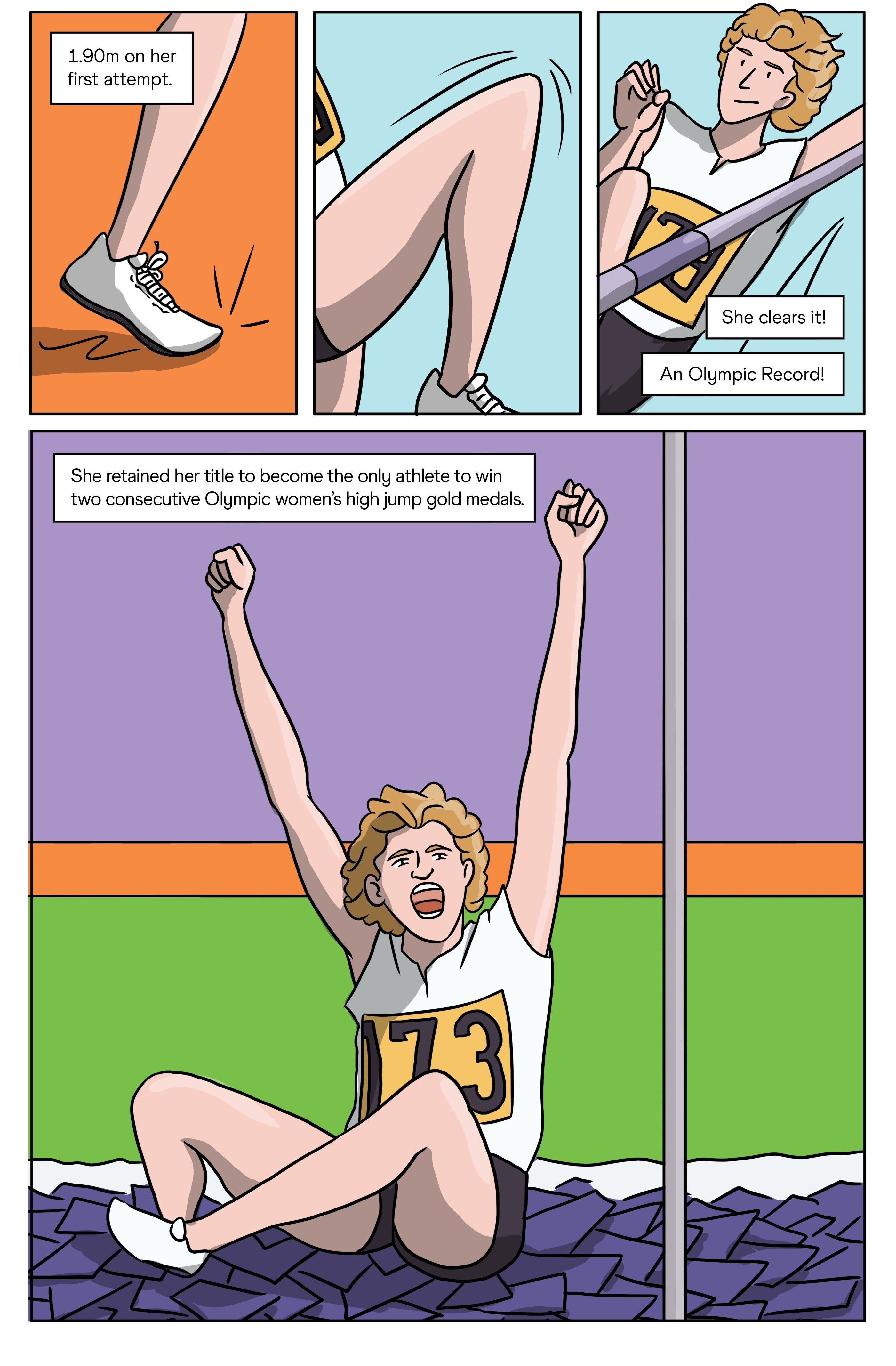 Giving back to the sport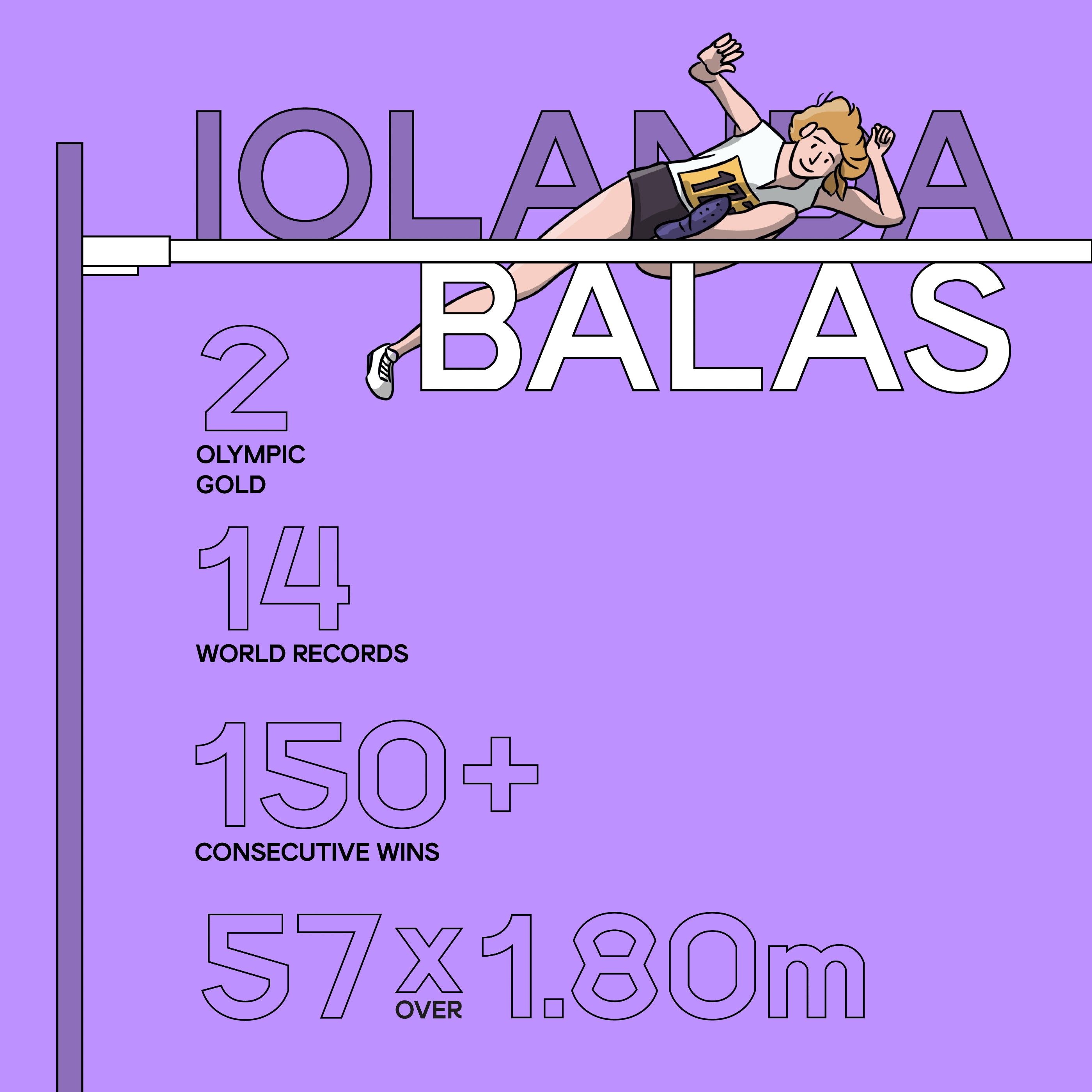 Balas's career ended in 1967 due to an achilles injury. She transitioned to become a physical education teacher and found herself in managerial positions in the sports industry, serving as the president of the Romanian Athletics Federation from 1991 to 2005, and vice president of the Romanian Olympic Committee from 1998 to 2002.
She believed in the power of sport and in investing in the younger generation. She built sporting facilities in Romania which were named after her. She was awarded the Emeritus Master of Sport, the Romanian Steaua Order, the Order of Sports Merit, the National Order of Steaua Romaniei (officer) and the Golden Column, which is the highest distinction of the Romanian Olympic Committee.
Balas also believed in the power of media and wanted to shed light on Romanian athletes. She initiated the appearance of the magazine Romanian Athletics.
Balas died in Bucharest on 11 March 2016 at the age of 79.
Her memory still lives through the Romanian athletes, the facilities she created and the legacy she left behind as the best high jumper of her time. Her son, Doru, describes her as "the smile of Romanian athletics history".
Christel Saneh for World Athletics