Ghada Shouaa (© Christel Saneh)
Atlanta 1996 marked the 100th anniversary of the modern Olympic Games.
The host nation's Jackie Joyner-Kersee, the defending champion and world record-holder who had dominated the heptathlon for a decade, was bidding for a third consecutive Olympic title, but she withdrew after the 100m hurdles, the first of the seven contested events.
She had hoped that her hamstring injury wouldn't prevent her from winning her last title at the age of 34 in front of her home crowd before her retirement from the sport. But after the first event, the pain intensified, and the three-time Olympic gold medallist could not continue.
Joyner-Kersee broke down in tears while her husband and coach Bob Kersee comforted her. Before leaving the track together in front of their home crowd, Ghada Shouaa, a Syrian heptathlete who was ranked No.1 in the world in 1995 and 1996, hugged and kissed them both in a great display of respect to the woman she had always looked up to.
"Before I even started competing in the heptathlon, my idol was Jackie Joyner-Kersee," Shouaa said in an interview following the 1996 Olympics. "When I began to improve my scores, I considered it a great honour to compete with Jackie at the same event and stadium. I am proud of her as an athlete and she deserves all the recognition and admiration she has received."
In her autobiography, Joyner-Kersee mentioned this small gesture by Shouaa which meant so much for the defending champion back then. She wrote: "That was the greatest compliment a competitor could have paid me."
Shouaa went on to complete the seven events and win Syria's first and only Olympic gold medal. It was the second ever Olympic medal for Syria after Joseph Atiyeh's silver medal in wrestling at the 1984 Olympic Games.


From basketball to major athletics championships
Shouaa was born on 20 September 1973 in Maharada, Hama Syria. One day, when she was only 12 and was preparing to run to school, she spotted a rabbit hiding behind a rock. She knew that the rabbit belonged to one of their neighbours. When she approached it, the rabbit started running. She ran after it and captured it right in time for her to give it back to her mother and run back to school.
"My mother always tells this story, which is true," said Shouaa in an interview with her hometown channel in 2011. "I remember the neighbour came to our house and told my mother that he was there watching me run after the rabbit. He said: 'I never saw someone capture a rabbit like she did'."
The Syrian, who stood 1.87m tall, competed in multiple sports including handball and basketball. She played on the national basketball team from 1989 to 1991. In parallel, she did high and long jump before completely switching to heptathlon in 1991, and dropping basketball for good despite receiving offers to play professionally.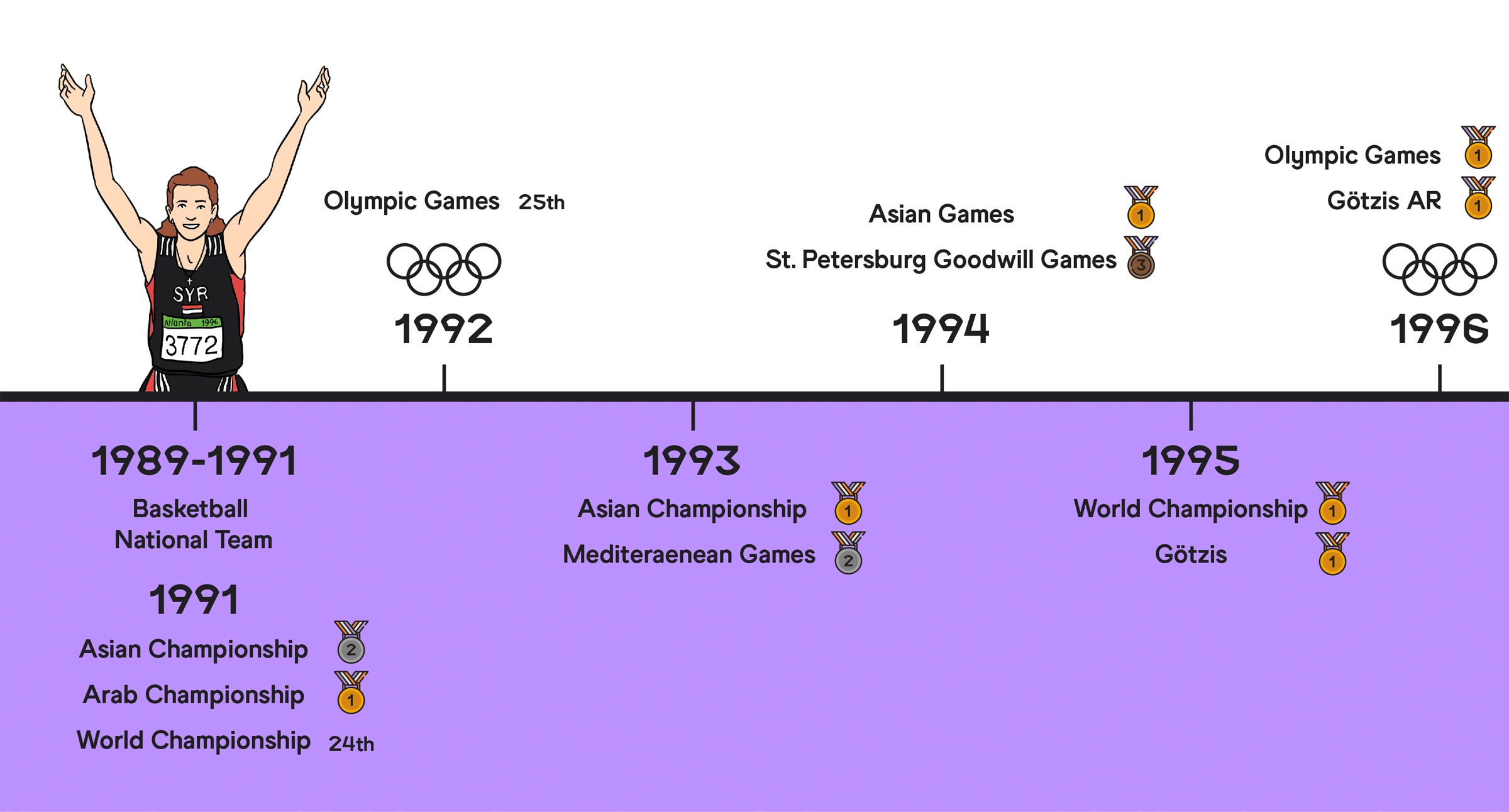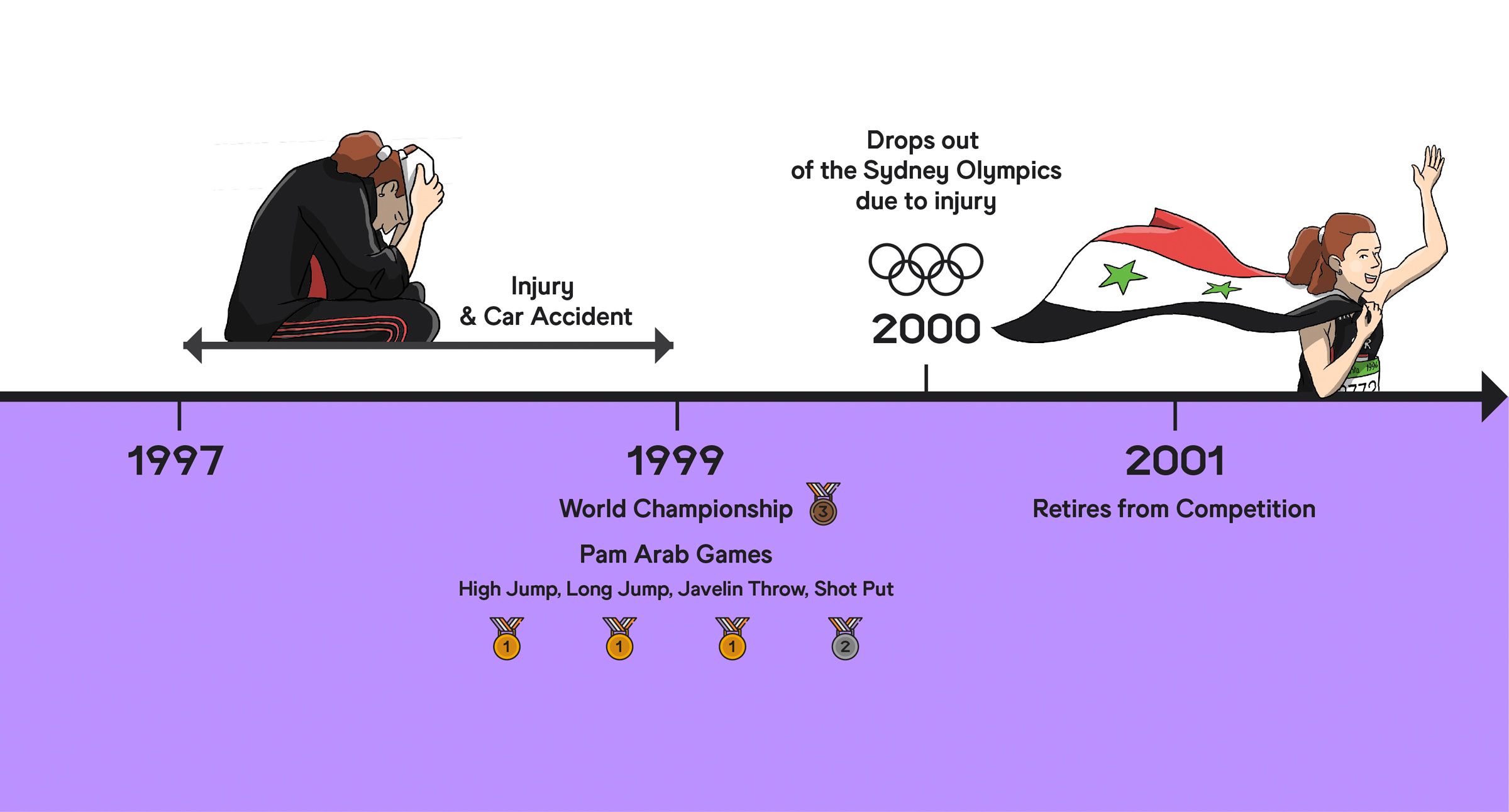 From last to becoming world champion
When Shouaa entered the heptathlon at the 1991 National Championships in Aleppo, she barely knew what the combined events were. But as she crossed the finish line in the final event, the 800m, she had broken the Syrian record. "This gave me more motivation to pursue athletics as a career," she said.
The same year, she represented Syria at the World Championships in Tokyo, her first major event, and the following year she competed at her first Olympic Games in Barcelona.
She finished 24th and 25th respectively in her first major competitions, but Shouaa had a taste of what it was like to compete on the international stage which gave her more motivation to train seriously. She started going on training camps outside her home country, mainly in Germany, to prepare.
In 1994, she scored 6361 to finish third at the Goodwill Games in St Petersburg. Three months later, she won gold at the Asian Games in Hiroshima, scoring 6360.
But her big breakthrough came in 1995 when she won at the prestigious Hypo Meeting in Götzis with a national record of 6715, marking her as a big favourite for the World Championships later that year.
"Arriving at the World Championships in 1995, I knew I was a strong contender for a gold medal because I prepared very well," she said. "I had scored a personal best two months prior in Austria, but I also knew that all the other 24 women competing were medal contenders because they all are world-class athletes."
In the absence of Joyner-Kersee and Sabine Brown, Shouaa was crowned world champion in Gothenburg, becoming the first Syrian athlete to win a medal at the World Championships.
"To stand on the podium and hear your national anthem is the best feeling in the world and it is every athlete's dream," she reflected.
"Western media used to look at me with surprise, not realising how a woman from the MENA region can reach this level," she added. "This gave me even more motivation and confidence that I can be as good as Europeans and even better."


Atlanta 1996: The golden moment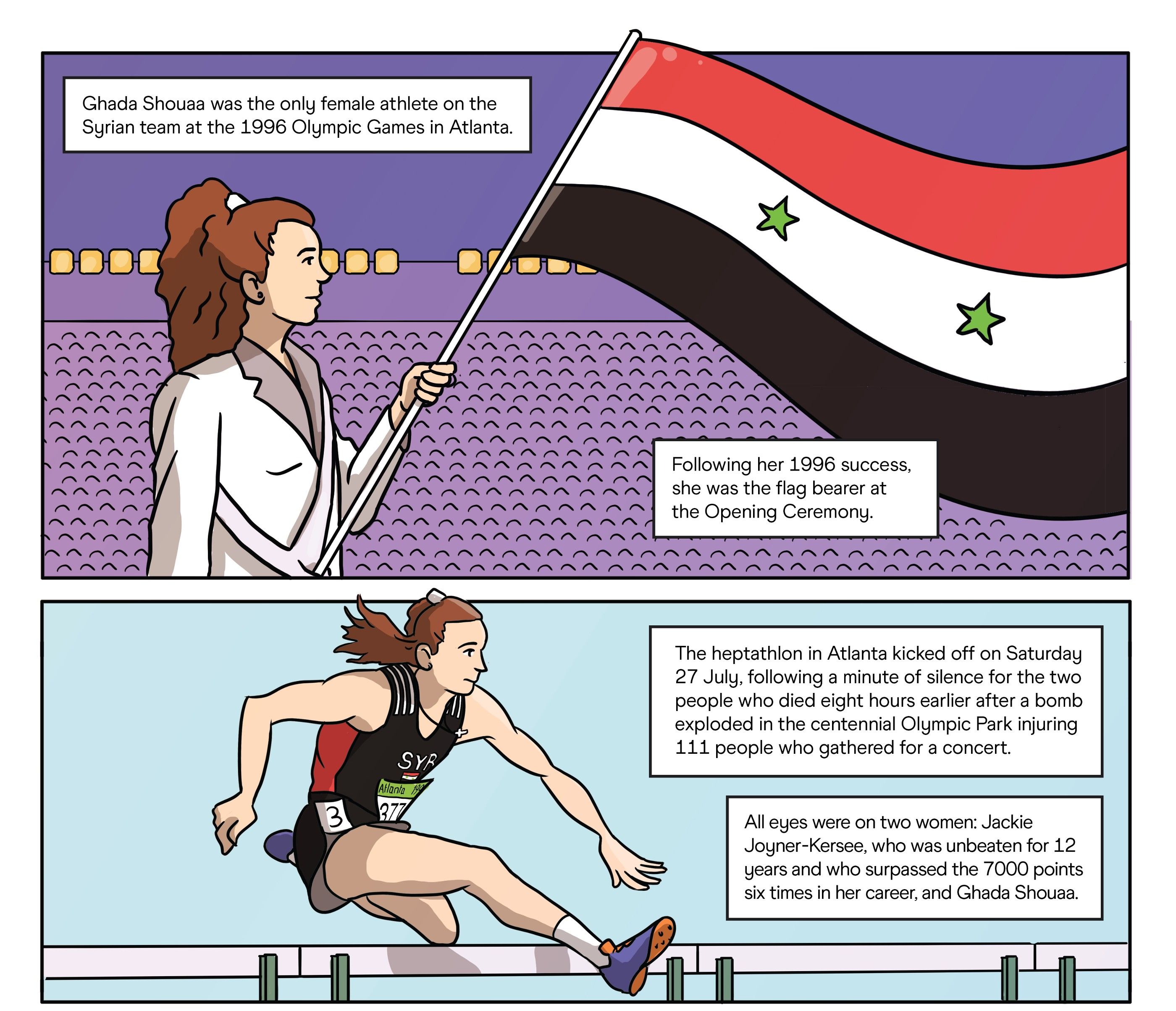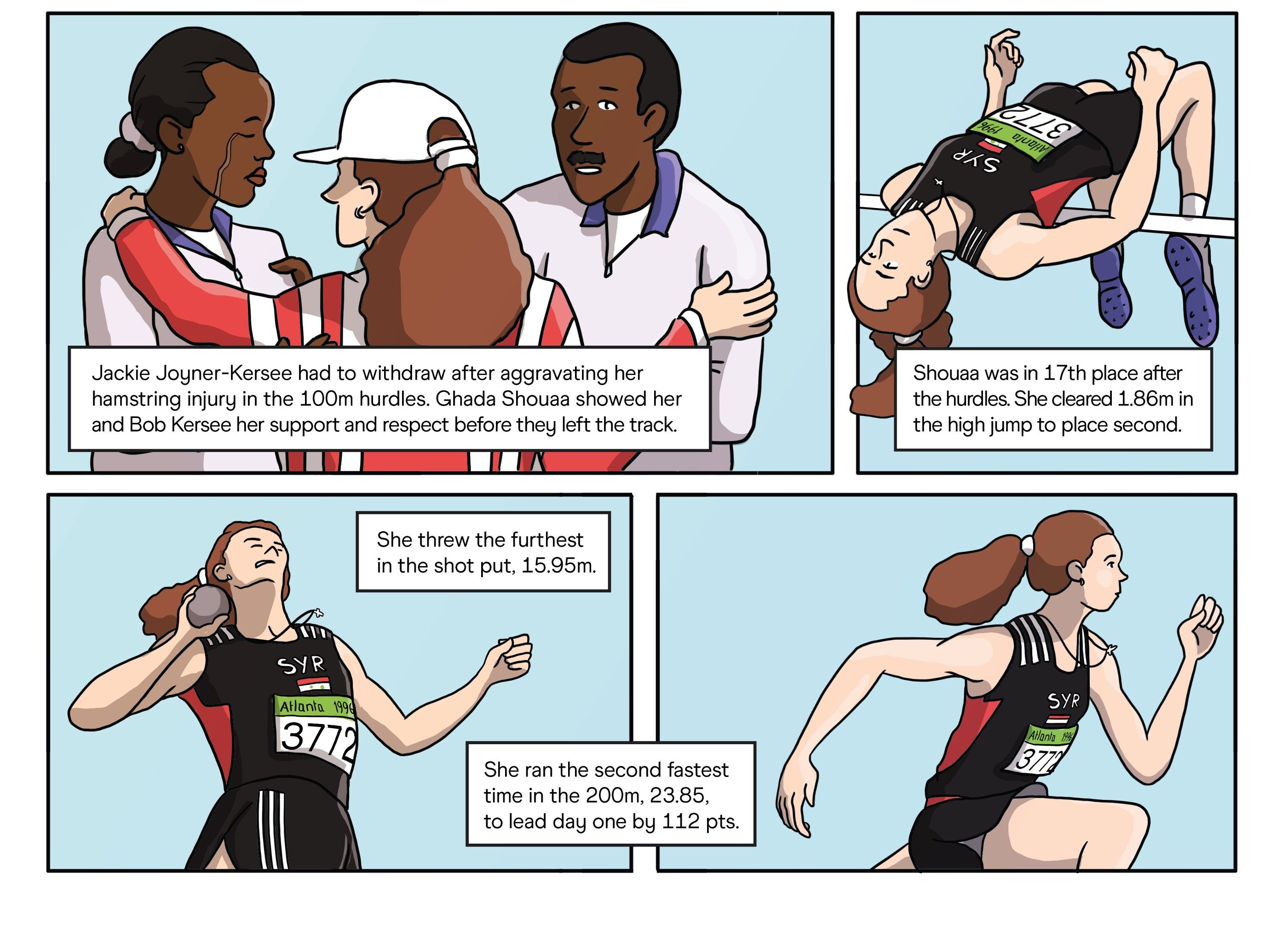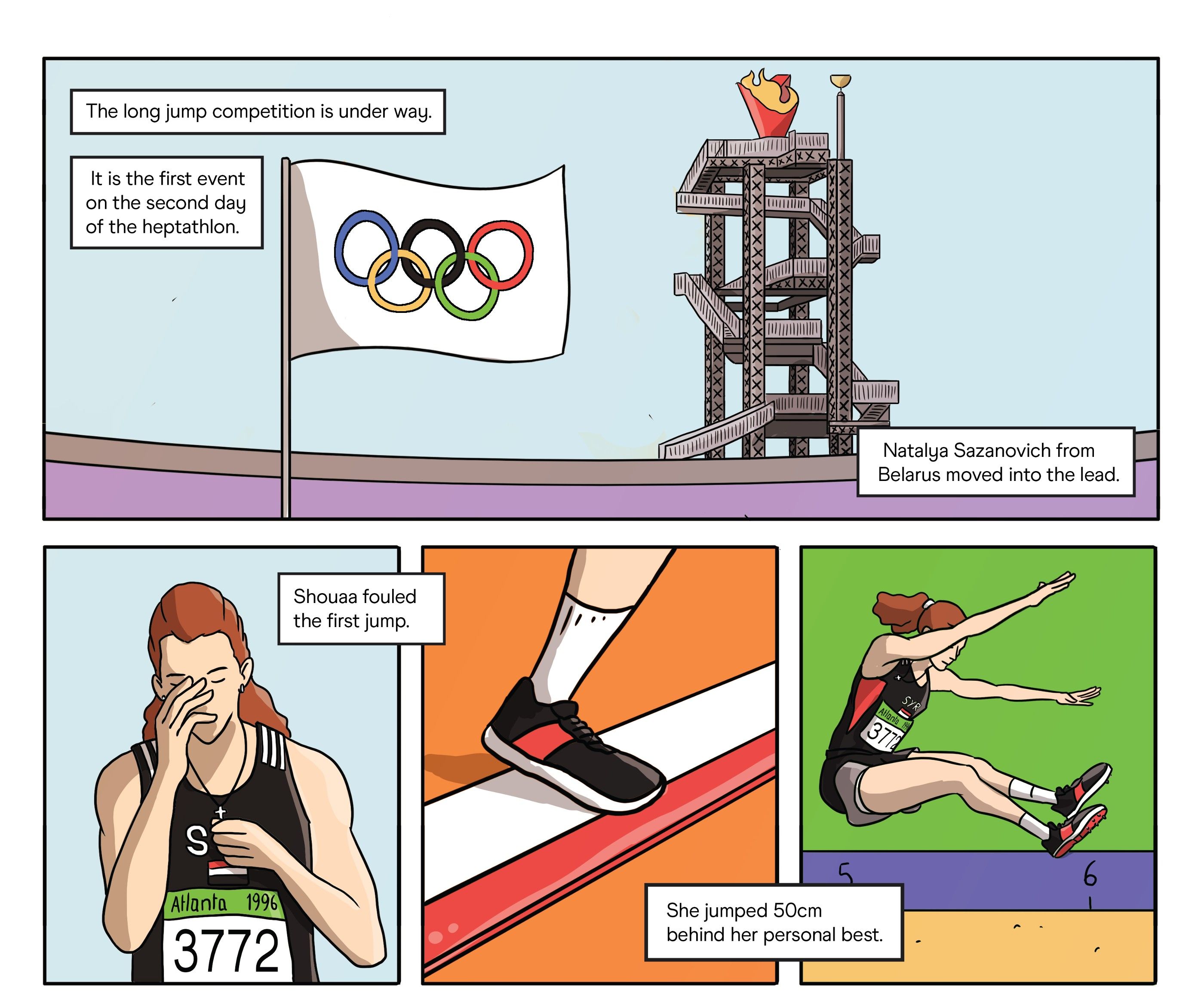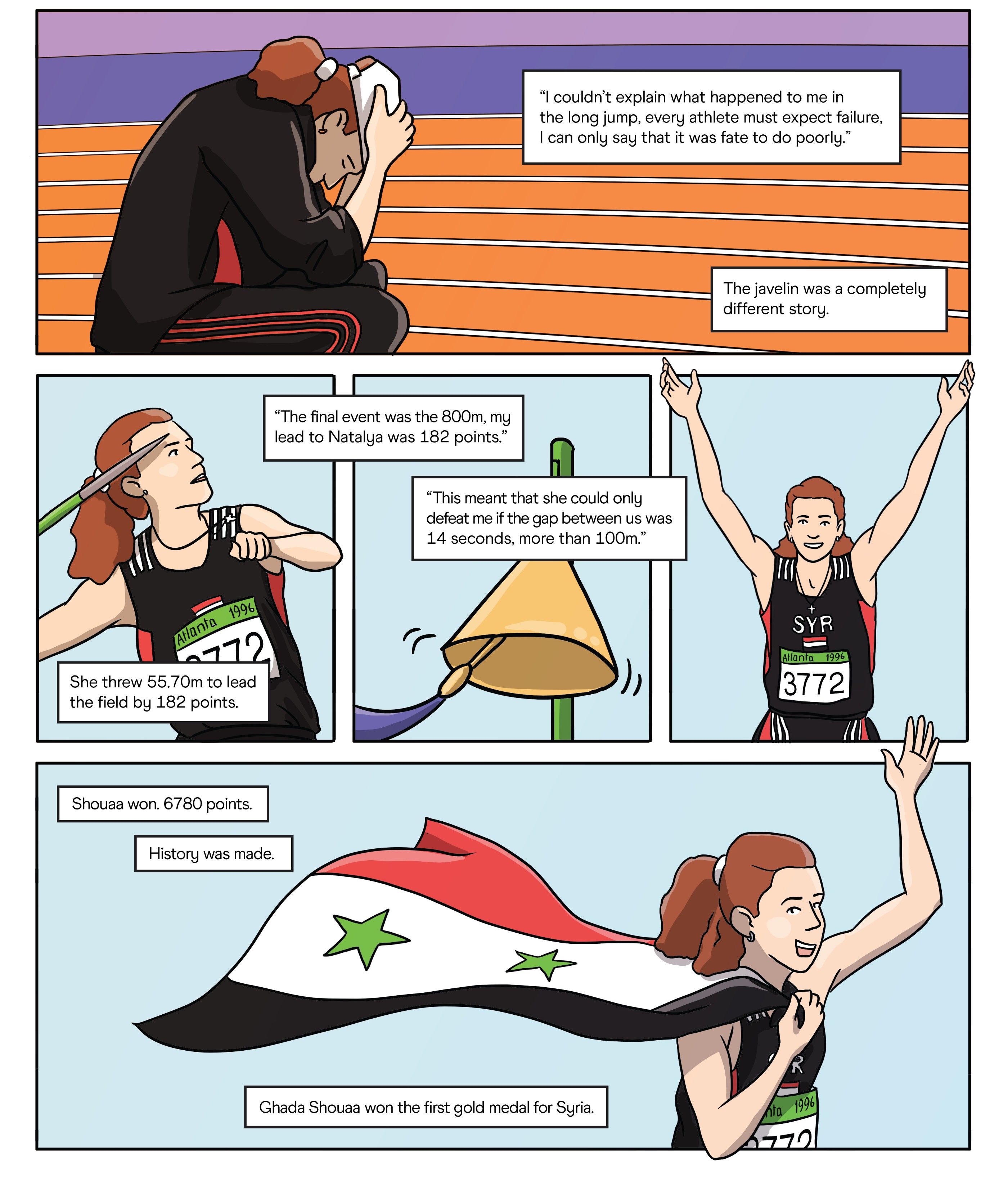 "It was thrilling for me to take the victory lap and hear the cheering of the crowd," said Shouaa. "But although I had won, the feeling of victory was not complete. I felt like something was missing. The victory would not be complete until I climbed to the top of the podium."
The medal ceremony was scheduled for the following day, where her childhood dream became a reality.
"When I was awarded the gold medal, I heard the announcer say 'Ghada Shouaa of Syria, the winner of the gold medal'. That's when I felt that the entire Arab world, and the Syrian people, were all being congratulated with me, and the Syrian national anthem was being played not just for me but all of us," she added.
Following her win, Shouaa received a phone call from the president of the Republic of Syria to congratulate her. Her achievement was widely celebrated in Syria and she returned home as a hero.


Series of injuries and rejections from her own people
Imad Sarraj, a renowned track and field coach, watched Shouaa grow into an Olympic champion when he was transitioning from an athlete to a coach. He coached Majd Eddin Ghazal, who followed in Shouaa's footsteps by winning bronze in the high jump at the World Championships in London in 2017.
"The Olympic champion Ghada Shouaa was a rare talent in the heptathlon, especially in the Arab world," said Sarraj. "Her achievement was the result of years of hard work and commitment to training. It had a direct impact on the sport in Syria and the Arab world. She is the first and only Arab woman to reach this level in the heptathlon. She became a role model for women in the region who don't necessarily have the best conditions to train in but managed to reach the highest ranks regardless."
On 20 December 1996, Shouaa sustained a serious back injury while training for the javelin - an injury that kept her away from track until August 1999, when she placed third at the World Championships in Seville.
"I stayed in Syria after the injury but no one believed that I was seriously injured," she said. "I couldn't believe that I had to spend 72 days at home without anyone asking about me until the government decided to send me to Germany to get the medical care I needed."
The 1999 season was tough for Shouaa. When she was on her way to fully recovering from her back injury, she had a near-fatal car accident while driving to her training camp on 20 May 1998. She suffered injuries in her hips, knee and elbow which delayed her preparation for the World Championships.
"I was grateful that I survived the accident; it was another chance of life for me," she said. "I couldn't prepare well for the World Championships, but the doctors in Germany took good care of me and my coach had put a plan for me which I executed feeling that I had something to prove."
Shouaa started to train eight to nine hours a day, sticking to her coach's plan to get her ready for the World Championships. And the plan worked.
"Placing third at the World Championships in 1999 was a miracle," she said. "I still can't believe that I was able to stand on the podium that day. I am proud of this moment."
The Sydney 2000 Olympic Games was the next big competition for Shouaa. The Syrian people were waiting for another Olympic achievement from the 28-year-old, but another injury put an end to this dream.
She felt obliged to start the competition but dropped out immediately after it began.
"I was so disappointed. This situation affected me a lot and I decided to retire and stay away from track afterwards," she confessed years later.
Shouaa remains an icon in her country and the Arab region. Her achievements in the heptathlon have never been matched by another Arab woman and she remains the only athlete who has brought home gold for Syria, a war-torn country in recent years.
She remains the ninth best heptathlete of all time with her winning performance in Götzis in 1996 with 6942, which still stands as the Asian record.
Christel Saneh for World Athletics