WCH Oregon22 encouraged the use of 35 temporary drinking water stations (© Taylor Sims)
As Earth Day approaches, a look back at World Athletics sustainability initiatives over the last 12 months
When organisers of the World Athletics Championships Oregon22 began to chart their plans for hosting the 18th edition of the sport's largest event, they pledged to set a high standard for sustainability, placing the event's environmental and social impact at the heart of their planning.
Those ambitions paid off this week when it was awarded Evergreen Certification by the Council for Responsible Sport, an organisation that evaluates and measures an event's environmental and social impact. Evergreen Certification is the Council's highest level of achievement.
The standard set by the WCH Oregon22 organisers was a key highlight in a year when sustainability took on a more visible role across the entire World Athletics landscape, involving one-day meeting series and World Athletics Series events, athletes and area associations.
In Oregon, the priority areas around the event's environmental impact included materials and waste management, minimising single-use plastic, reducing carbon emissions and minimising the impacts of transportation. For the latter, the LOC significantly scaled back the dedicated car fleet that is often available for use during championship events and provided a bike valet service for anyone traveling to the event by bicycle. The LOC also organised a "Bring Your Own Water Bottle" campaign, encouraging spectators, media, broadcasters and volunteers to use the 35 temporary drinking water stations installed for the event.
Some notable achievements included:
13,200kg of waste was diverted from landfill for an 80.17% waste diversion rate
zero single-use plastic water bottles were sold/distributed by the event, which equates to approximately 325,000 single-use water bottles avoided
8000 reusable water bottles distributed
3263 metric tonnes of carbon emissions avoided due to use of renewable diesel
2358kg of edible food donated to Food for Lane County
1660kg of food waste composted
2.28 metric tons of construction materials were salvaged for reuse
entirely paperless event programmes and ticketing system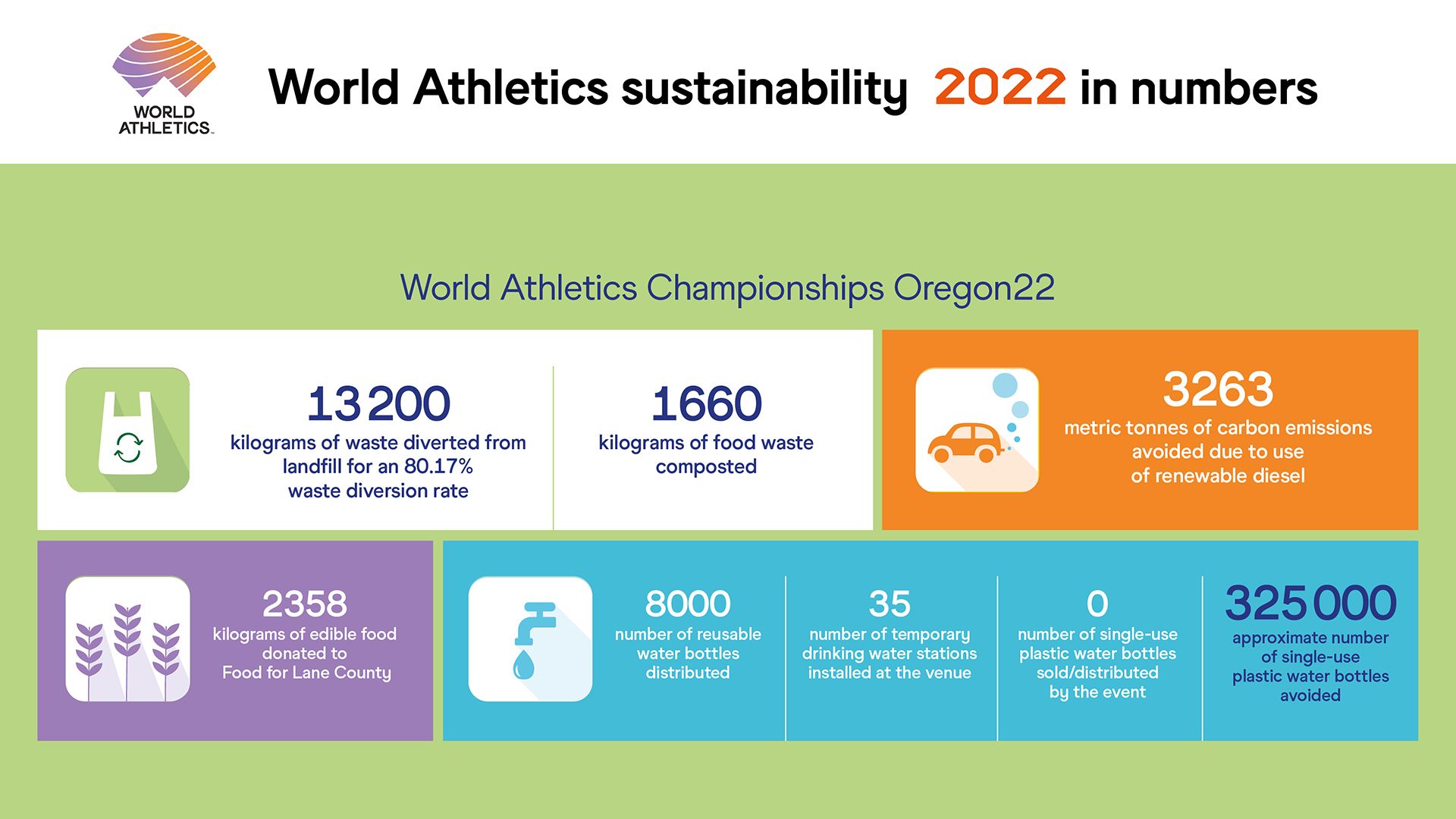 The event also scored well on the social impact side of its strategy. Some highlights included:
8136 youth participation in the World Wide Welcome Relay
eight school visits through the Making Tracks youth programme
1309 free tickets distributed to youth groups
seven free youth clinics and classes
45 member federations pledged to increase gender equality in track and field in their country
"We were given the opportunity to set the highest standard for sustainable delivery of a World Athletics Championships and took that responsibility to heart," said Sarah Massey, CEO of the World Athletics Championships Oregon22. "That was important to us, it was important to the City of Eugene and the State of Oregon.
"Carolyn Stein and her team at BRING, a local non-profit, worked really hard to help raise the bar for future editions. We're all very proud of this Council for Responsible Sport recognition."
The certification marks the third time an Oregon LOC has achieved notable levels of Council recognition for a global athletics championships, after the 2016 World Indoor Championships and World U20 Championships in 2014, which received Evergreen and Gold level certifications.
"As an Oregon, USA, based organisation, we're particularly proud of the local organising committee's achievements," said Rico Tesio, Chair of the Council of Responsible Sport. "We look forward to continuing our collaboration with World Athletics in the future, supporting and promoting their sustainability leadership among international governing bodies."
The Athletics for a Better World Standard evolution
In 2022 there was continued evolution of the Athletics for a Better World (ABW) Standard, a sustainable events management system and certification that will evaluate a competition's delivery specifically against the World Athletics Sustainability Strategy, which upon its launch in April 2020 set a course for the organisation to achieve carbon neutrality by 2030. WCH Oregon22 organisers based large parts of their planning around the World Athletics Sustainability Strategy, which is now being incorporated into the delivery of all World Athletics Championships and increasingly into all World Athletics Series events.
Over the past year, 124 one-day competition series events and more than 205 road race organisers were introduced to the ABW Standard with representatives participating in a dozen webinars held throughout 2022 that addressed specific elements of sustainable event delivery. The Standard will continue to be piloted this year before being incorporated into the one-day event evaluation process from 2024.
The ABW Standard is currently in the process of working to obtain ISO 20121 Sustainable Event Management certification.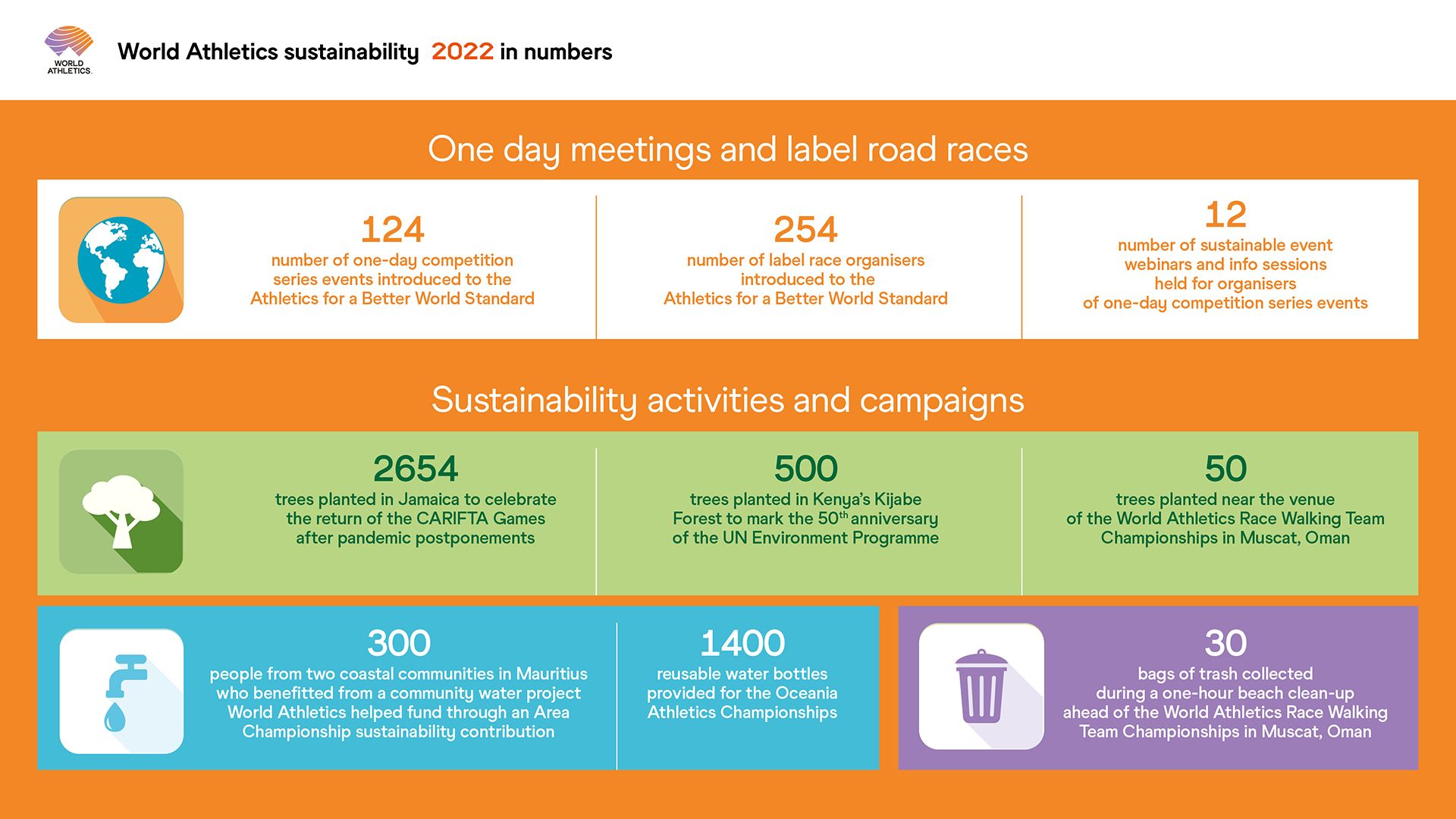 Increased athlete involvement
World Athletics also launched its inaugural group of 'Champions for a Better World', athletes who will lend their voices to sustainability campaigning within the sport. Under the initiative, the Champions for a Better World will advocate for more sustainable practices across athletics and encourage other athletes to take a more active role in addressing their environmental concerns.
That announcement came alongside compelling new data, which revealed that more than 76% of athletes are seriously concerned or very concerned about climate change, with over 66% feeling impacted directly by its effects. Seven in 10 (72%) believe climate change has already impacted athletics directly. Finally, 90% said that World Athletics does have a role to play in addressing sustainability in the sport. The survey was carried out at four different World Athletics championship events in 2022, with 737 athletes across 122 countries giving responses.
The athletes, representing each of World Athletics' six continental areas, hail from Brazil, Australia, the USA, the Philippines, Burkina Faso, Italy, Switzerland, New Zealand and Nigeria, and compete in events across the athletics programme.
The surveys also identified more than 500 athletes who want to engage more around sustainability and climate action, whether via social media platforms or in person in the lead-in to events.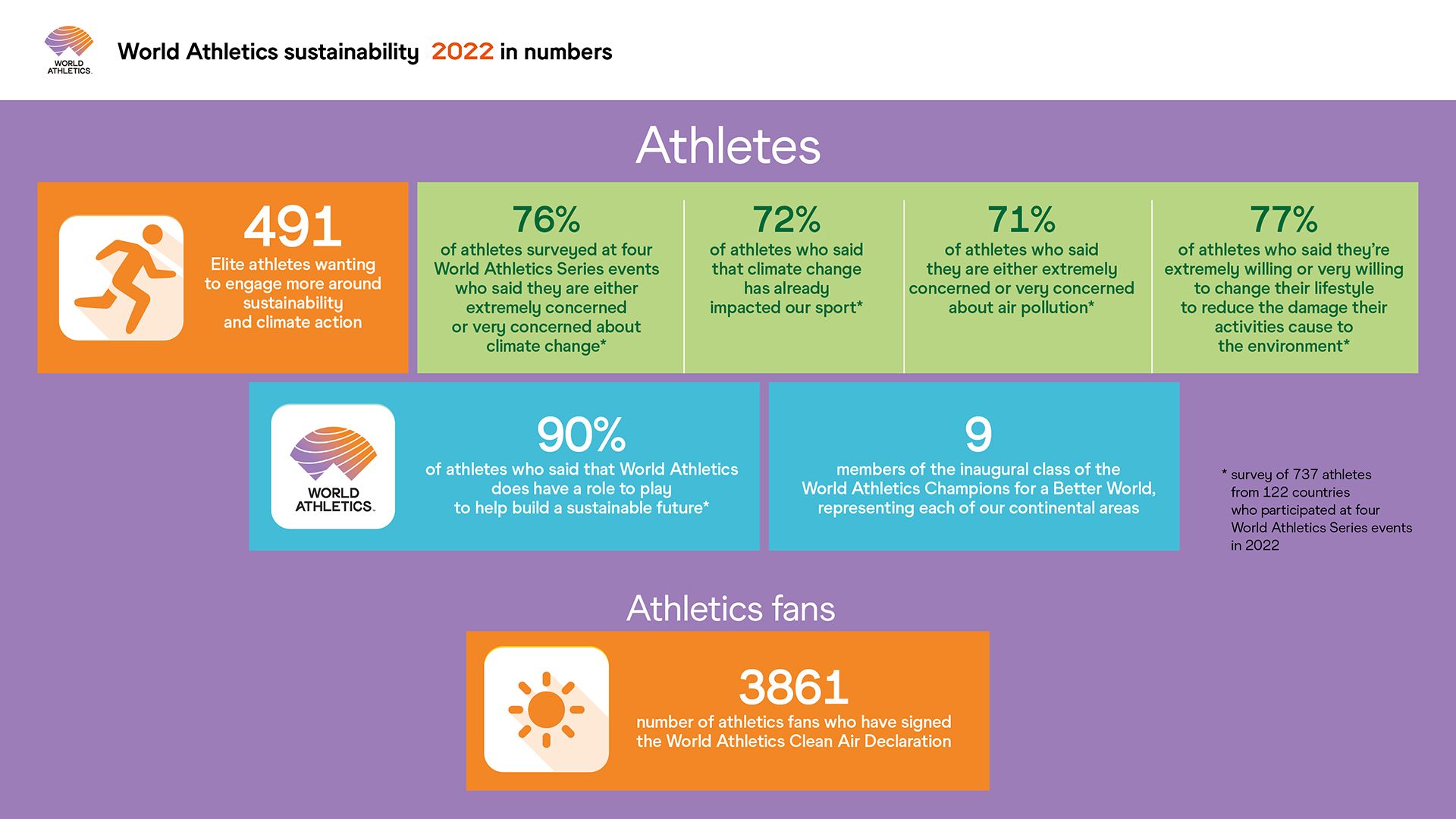 Outreach, campaigning and project support
World Athletics also increased its campaigning efforts around sustainability. Nearly 4000 athletics fans signed the World Athletics Clean Air Declaration, a campaign to raise awareness and demand stronger and bolder action to combat air pollution.
World Athletics also made contributions to assist sustainability efforts alongside some of its continental championships. In Mauritius, which hosted the African Championships, more than 300 people from two coastal communities benefitted from a community water project that World Athletics helped to fund. In The Bahamas, host to the NACAC Championships, a contribution assisted an effort by three student groups to clean up coastal areas on three islands. And finally, 1400 reusable water bottles were provided for the Oceania Athletics Championships.
Staff and athletes also took part in a beach clean-up on the eve of the World Athletics Race Walking Team Championships in Muscat, Oman, collecting 30 bags of rubbish during a one-hour stretch.
Additionally, more than 3000 trees were planted in three countries to help offset the sport's impact. A campaign to celebrate the return of the CARIFTA Games after pandemic postponements resulted in contributions for 2654 trees that were planted in Jamaica. Five hundred trees were planted in Kenya's Kinjabe Forest to mark the 50th anniversary of the UN Environment Programme and 50 trees were planted in Muscat near the venue of the World Race Walking Team Championships.
Bob Ramsak for World Athletics