Shelly-Ann Fraser-Pryce, Elaine Thomson-Herah, Akani Simbine and Trayvon Bromell (© Getty Images)
Women's 100m
Entries | timetable | world rankings | 2021 world list | world all-time list | how it works
Despite all she has achieved in the sport, Jamaican sprint star Shelly-Ann Fraser-Pryce is still working through her to-do list. She continues to tick things off in sensational style.
One of her goals was to break 10.70 for 100m, a feat she accomplished in Kingston on 5 June when she ran 10.63 to become the second-fastest 100m sprinter of all time. "I have never run 10.6 before, and what a time for that to happen," she said the following month.
What a time, indeed.
One of the sport's greats, Fraser-Pryce claimed her first global gold at the 2008 Olympics in Beijing and has gone on to become a nine-time world champion, winning her most recent title in Doha in 2019. Coincidentally, the reason she missed the 2017 World Championships was because she was having her first child, son Zyon, with whom she went into labour while watching the women's 100m final.
The 34-year-old is now running faster than ever and the next target on her list will be to become the first woman to win a single individual Olympic athletics event three times, to add to her 100m victories claimed in 2008 and 2012. Valerie Adams in the shot put, Sandra Perkovic in the discus, Barbora Spotakova in the javelin and Anita Wlodarczyk in the hammer are all in a similar position, currently possessing two golds each in their events, but the women's 100m final takes place before all of those throws event finals, so Fraser-Pryce will be the first to attempt claiming a record third gold.
She faces a strong challenge, however, and is one of an impressive eight women to have gone sub-10.90 in 2021.
"I'm excited about women's sprinting," Fraser-Pryce said. "I've been competing for a good while! And I have seen so many sprinters that have come along in the sport and have done so much work and accomplishment and I think it raises the game. Female sprinting has never been 'off', it's always 'on', and I'm glad that this year is one of those years that they have taken it to another level. I'm excited to see what Tokyo brings for female sprinting and females overall."
Second-quickest this year is Fraser-Pryce's compatriot Elaine Thompson-Herah, the defending champion in both the 100m and 200m who was third at the Jamaican Championships and is just 0.01 off her 10.70 PB from 2016 so far this season. That 10.71 was achieved in Szekesfehervar where she finished top in a strong field.
Splitting them at the Jamaican Championships was Olympic and world 400m medallist Shericka Jackson, who is concentrating on the shorter sprints this year and ran a PB of 10.77 in her semifinal in Kingston. All three are entered for the 100m, 200m and 4x100m in Tokyo.
The 100m entries joining them in having dipped under 10.90 in 2021 are multiple world medallists Marie-Josee Ta Lou of Ivory Coast, who won at the Wanda Diamond League meeting in Oslo and ran 10.86 in Szekesfehervar, and Blessing Okagbare, who ran a wind-assisted 10.63 (2.7m/s) to win the Nigerian trials and also clocked 10.89 in Szekesfehervar.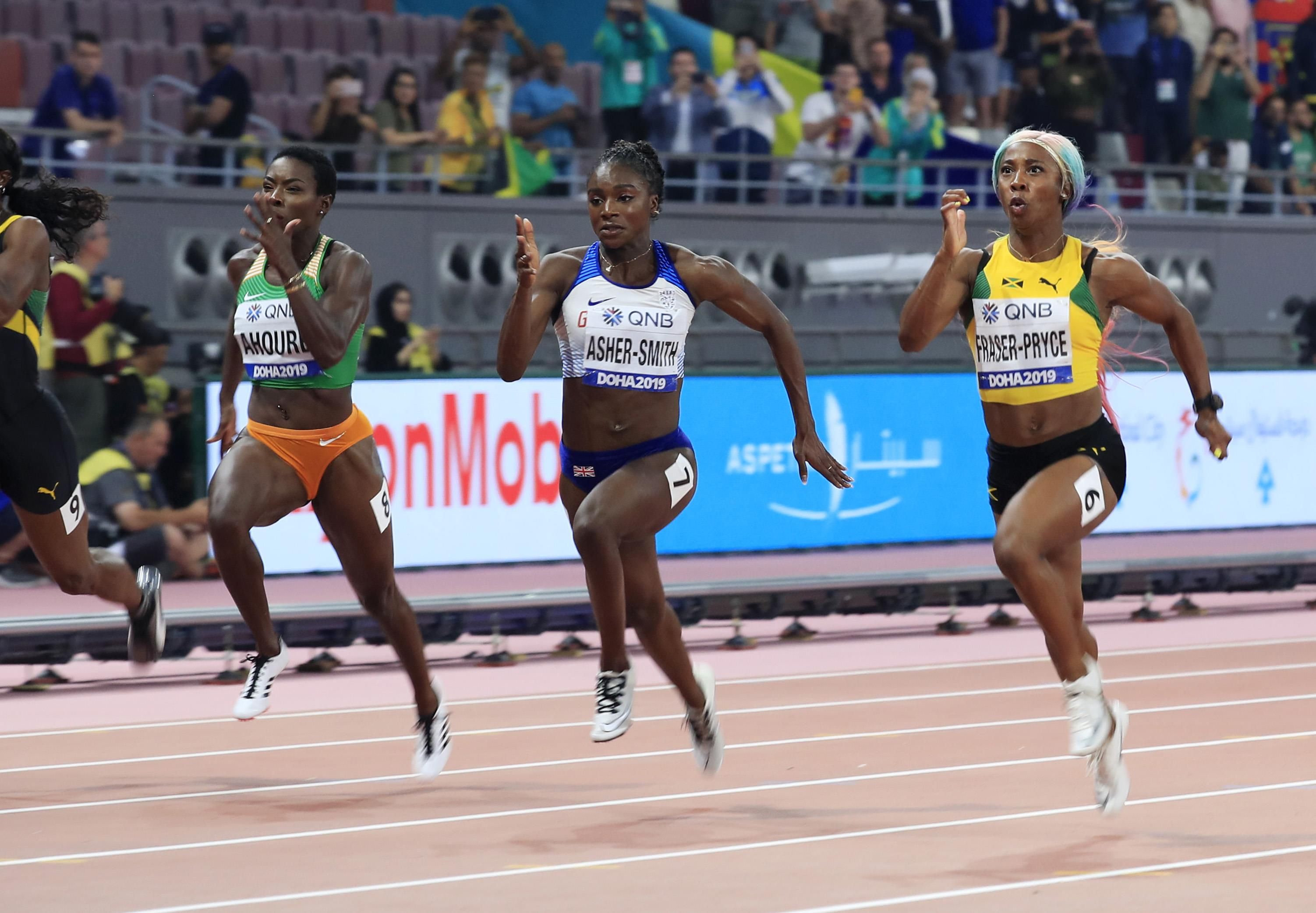 Two years ago in Doha, Britain's Dina Asher-Smith won the world 200m title and also claimed silver in the 100m and 4x100m. Entered for all three events in Tokyo, she will again have her mind on a medal treble. Unbeaten this year, her first 100m race since the 2019 World Athletics Championships was the Diamond League meeting in Gateshead on 23 May, which she won in 11.45 (-4.4m/s) in horrendous weather conditions. Since then she has improved to 10.91, while her PB is 10.83 from that 2019 world final. While the British athletics team captain will be hoping to lead by example, she is keeping an open mind as to what she might be able to achieve.
"When we started 2019 you might not have necessarily pegged me for a gold and a silver in Qatar when I started running in May," she said. "In terms of where your chances are, always just wait and see. Even though I am relatively young I have enough experience to know that championships are very unpredictable, so who knows where your chances are, you have just got to stay in shape and stay focused and perform well on the day. I want to put together a good performance in the Olympic Games."
The US trio includes Javianne Oliver, who ran a PB of 10.96 in June, Teahna Daniels and 2015 world 4x100m silver medallist Jenna Prandini, while Dutch two-time world 200m champion Dafne Schippers is entered for both the 100m and her specialist event.
European indoor 60m champion Ajla Del Ponte has improved to 11.07 this season and joins world 200m bronze medallist Mujinga Kambundji on the Swiss team, while Germany's Alexandra Burghardt makes her Olympic debut in a season in which she has set a PB of 11.01. Pan American Games 200m bronze medallist Tynia Gaither of the Bahamas is also just outside 11 seconds this year, with a PB of 11.02 run in Florida in April.
Jess Whittington for World Athletics
Men's 100m
Entries | timetable | world rankings | 2021 world list | world all-time list | how it works
After a historic run of dominance by a certain Jamaican sprinter, the time has come to hail a new Olympic men's 100m champion.
For the first time since 2004, the gold medal in the marquee event will be won by an athlete other than Usain Bolt, who swept three consecutive 100m titles in Beijing, London and Rio de Janeiro, as well as three straight 200m crowns.
With Bolt now in retirement, US sprinter Trayvon Bromell has emerged as the man to take up the mantle in Tokyo and succeed Bolt at the top of the 100m podium. The 26-year-old clocked a world-leading 9.77 in June in Florida, the seventh-fastest time in history. He then sealed his spot in Tokyo by winning the 100m at the US Olympic Trials in 9.80 ahead of Ronnie Baker (9.85) and Fred Kerley (9.86).
It's been a remarkable comeback for Bromell, who was carried off the track in a wheelchair after rupturing his achilles during the 4x100m relay at the 2016 Rio Games, where he had earlier finished eighth in the 100m final. The injury threatened to end the career of the 2016 world indoor 60m champion and world 100m bronze medallist. Bromell thought he might never run again and he went into a deep depression as he suffered a series of setbacks during an extended period away from the track.
"In 2018, I didn't feel any reason to even still live," Bromell said. "I came into a sport that I felt saved my life and I lost it all. I felt like I was in a dark environment. I felt like I was a shadow to the world."
Bromell credits friends and coaches with dragging him back from the wilderness. And, over the past two years, he has surged to the top of the sport and now stands poised to claim the biggest prize of all.
Bromell has won 15 of his last 16 races over 100m, running under 10 seconds in 10 of those events. He was riding a 14-race winning streak until he finished fifth in Monaco in June in 10.01, his first race in Europe since 2016. Bromell bounced back four days later with a victory at the Diamond League meet in Gateshead in 9.98.
"Coming back to where I am is a lot to think about," he said. "Just trying to stay stable and humble as possible, not to count anybody out. I don't want to get complacent."
The soft-spoken Bromell doesn't like to talk about being the Olympic favourite. Nor does he want to predict what time will be needed to win in Tokyo. "The time doesn't matter," he said. "It's the medal, the opportunity, the race itself. At the end of the day, if you win with 10.0, it's still a gold medal regardless if you go that fast or go 9.7 or 9.6. I'm going into the race just wanting to be the first person to the line."
Bromell, who emphasizes his spiritual faith, said he is not chasing fame, glory or riches. He said he wants to use the spotlight to be a role model spreading a message of hope and resilience.
"I'm motivated for something bigger than just a medal," he said. "It's beyond the material side of it. There's a bigger purpose behind all this. The message is going to shake the world. My biggest thing is being able to be a voice. Obviously if I win that gold medal, that's going to give me that opportunity."
Bromell will face a stern test in Tokyo from several other top contenders, including his USA teammates.
Baker has also battled back from injuries in impressive fashion to post eight victories this season, including Diamond League wins in July in Stockholm (10.03) and Monaco (9.91). His only defeats came in the semifinal and final at the US trials.
Kerley, the former US champion at 400m, surprised many when he dropped down to race the 100m and 200m but showed his talent with his third-place finish in the 100m at the trials.
Akani Simbine of South Africa clocked the second-fastest time of the year with an African record 9.84 in Szekesfehervar. The 27-year-old, who finished fifth in Rio (9.94) and fourth in Doha (9.93), is aiming to become the first African to win the Olympic 100m title since South Africa's Reggie Walker at the 1908 London Games.
Simbine, who won gold in the 4x100m relay at the World Relays in Poland this year, was undefeated in 18 races over 100m going back to 2020 until a third-place finish in Monaco in 9.98.
"I've had quite the journey, I've made it to the finals of the Olympics and the World Championships, but now it feels like everything is coming together," Simbine said.



Canada's multiple world and Olympic medallist Andre De Grasse is always a threat. He won the 100m bronze in 9.91, silver in the 200m and bronze in the sprint relay in Rio and followed with bronze in the 100m (9.90) and silver in 200m in Doha.
De Grasse ran a season's best 9.92 in May in Jacksonville, but has run under 10 seconds only twice in seven races this year.
Also in the mix is Jamaica's 31-year-old Yohan Blake, the 2011 world 100m champion who won silver at the 2012 Olympics and finished fourth in Rio. The two-time Olympic relay gold medallist has won 10 out of 13 races over 100m this year, including a fastest time of 9.95.
The field includes local favourite Ryota Yamagata, who clocked a Japanese record 9.95 on 6 June in Tottori, becoming the fourth Japanese sprinter to go sub-10 seconds. Yamagata, a member of the Japanese team that claimed the 4x100m relay silver medal in Rio, will be running in his third Olympics.
Steve Wilson for World Athletics