Matthew Lam Joar (© Tegla Loroupe Peace Foundation)
In stories about refugee athletes, it's a constant cliche: that sport has the power to change a life. But the thing is, it's also undeniably true – this activity that is sometimes seen as trivial offering a platform which, if properly utilised, can make a sizable difference in the world.
The story of Matthew Lam Joar is proof of that.
The 29-year-old South Sudanese native was one of the first members of the Athlete Refugee Team in 2015, and though he switched his focus to academics the following year, the seeds he planted in the sporting world would eventually blossom into a new adventure.
In recent weeks Joar moved from his usual base in Kenya to the United Kingdom to begin a year-long master's degree at the University of Oxford, studying refugees and forced migration. It's a subject that has defined the latter part of his life.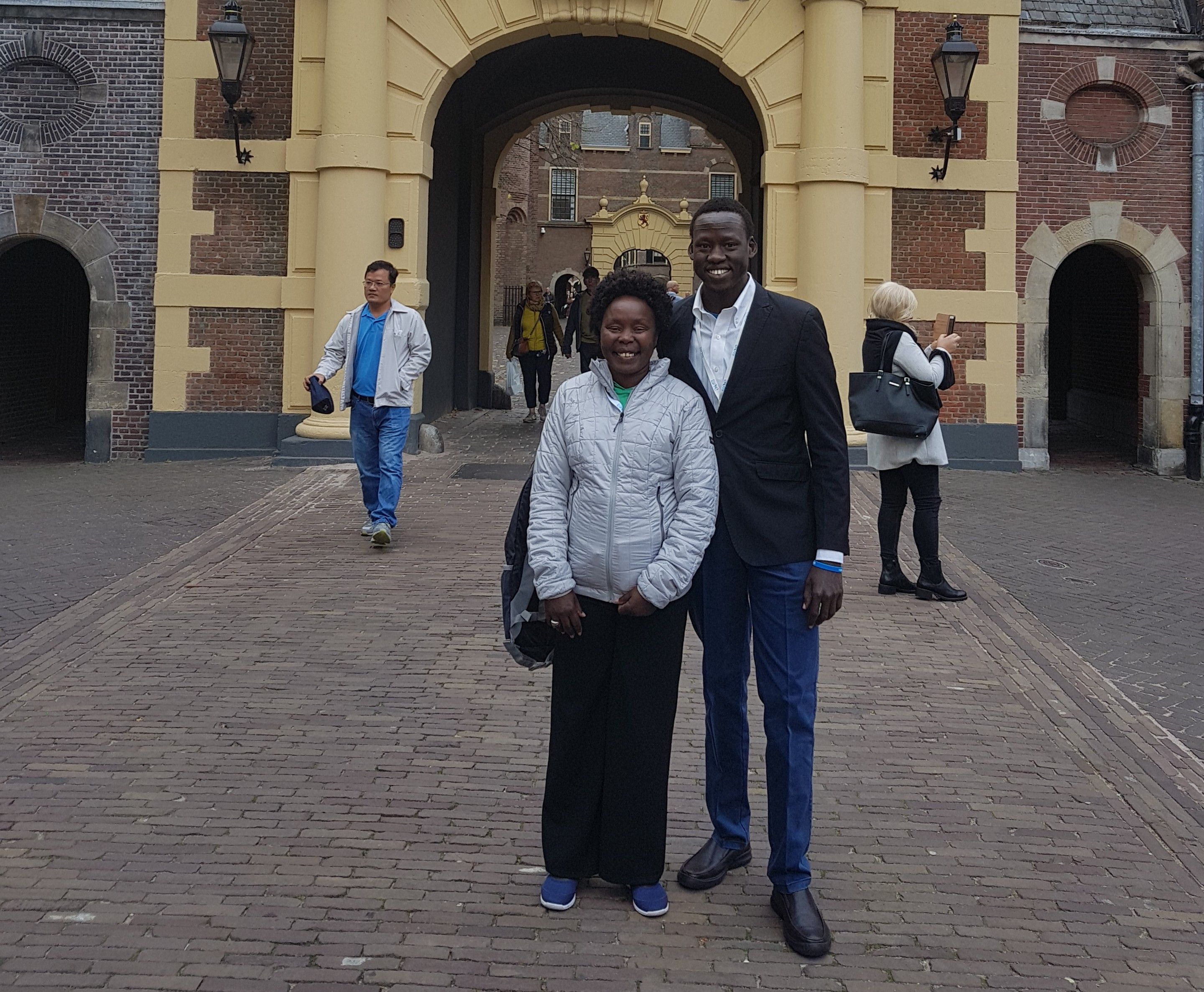 Matthew Lam Joar with Tegla Loroupe

Joar was "14 or 15" when he left his home in Fangak in 2006 following the escalation of tensions in his area which had dated back decades in the Second Sudanese Civil War.
"There was a lot of fighting, insecurities, we'd run from our homes and go to the forest and hide," he says. "That was during the fighting between the Arabs and South Sudanese before we had South Sudan as a country, and the Arabs would come and burn our houses and village."
Joar's parents were deeply concerned and when they heard a family friend was fleeing the area they encouraged Joar to go with him. The pair fled across the border to Kenya and arrived at the refugee camp in Kakuma. It would be 14 years until Joar would see any of his family again, his mother going through the multiple layers of red tape to visit him in Kenya last year.
"The rest, I haven't seen," he says. "I haven't gone back to my village."
Joar was in the camp in Kakuma for less than a year and admits he was "very lucky" that the family friend was moving to Nairobi, with Joar able to join him there. When he finished high school in Nairobi in 2014, he planned to return home to see his family but despite South Sudan gaining independence from Sudan three years earlier, conflicts continued within the new sovereign state.
"My tribe was rebelling against the government so you are (seen as) a soldier or not a soldier," he says. "If you are seen by the opponents they will either kill you or torture you and put you in jail. I was advised not to go."
He remained in Kenya, and not long after that he heard Tegla Loroupe, the former world record-holder in the marathon, was recruiting athletes for a new project: the United Nations Refugee Agency (UNHCR) was partnering with the Tegla Loroupe Peace Foundation to identify, mentor and train talented refugee athletes.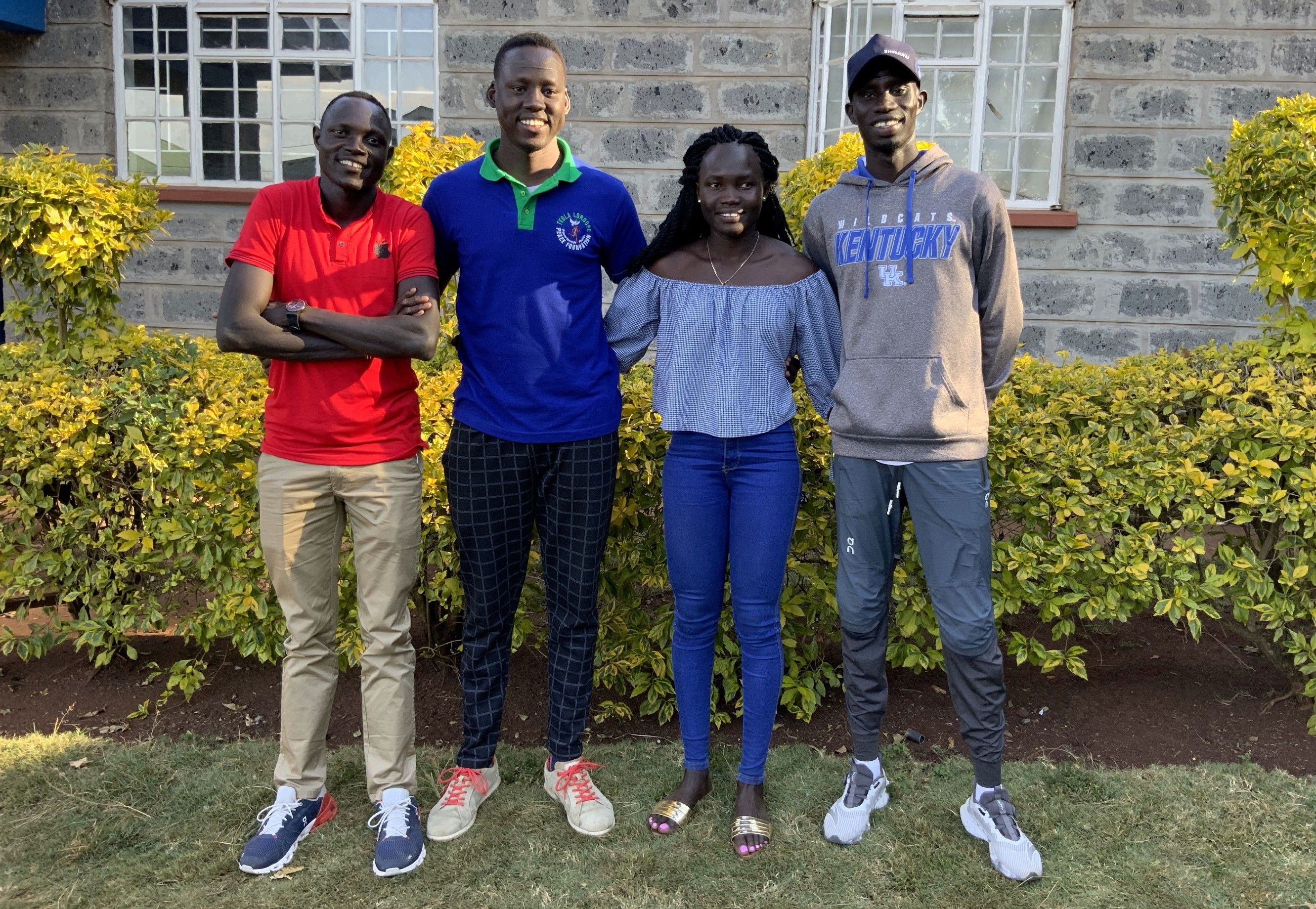 Matthew Lam Joar with Refugee Olympic Team members Paulo Amotun Lokoro, Lam, Rose Lokonyen Nathike and James Nyang Chiengjiek

Joar was sporty throughout his youth, making an impression in swimming, football and sprinting, but because he grew up "in a village with no television" he never realised the doors such activities could open.
At least until 2015, when he was selected after trial races to join Loroupe's camp in Ngong, outside Nairobi, at a centre funded in part through a grant by Athletics for a Better World, a social responsibility programme run by World Athletics.
Joar "trained very hard" in the build-up to the 2016 Olympics in Rio but was not one of the five athletes selected to compete there, and after that he decided to make his higher education his chief priority.
He studied a diploma and a degree in business after receiving a scholarship from the UNHCR, with his end goal being more about people than profit.
"I was interested to start my own initiative some day and to employ a lot of refugees that are skillful but not in the jobs market," he says. "Then I can help some other people."
He has great empathy for refugees around the world who often don't have the ability to work for many years after arriving in their adopted countries. It was a difficulty he faced while trying to complete his degree, which required a work placement.
"I didn't have any other place to work. In Kenya the policy of employing refugees is not simple, so I asked Tegla to give me an opportunity to work with them as a volunteer."
As he furthered his education he continued working with them in the years that followed, which led to him eventually making it to an Olympic Games. In July, Joar travelled to Tokyo as a staff member on the Refugee Olympic Team.
"It was an amazing experience, despite a lot of restrictions," he says. "I got a lot of connections and now I have so many international friends who I still speak to."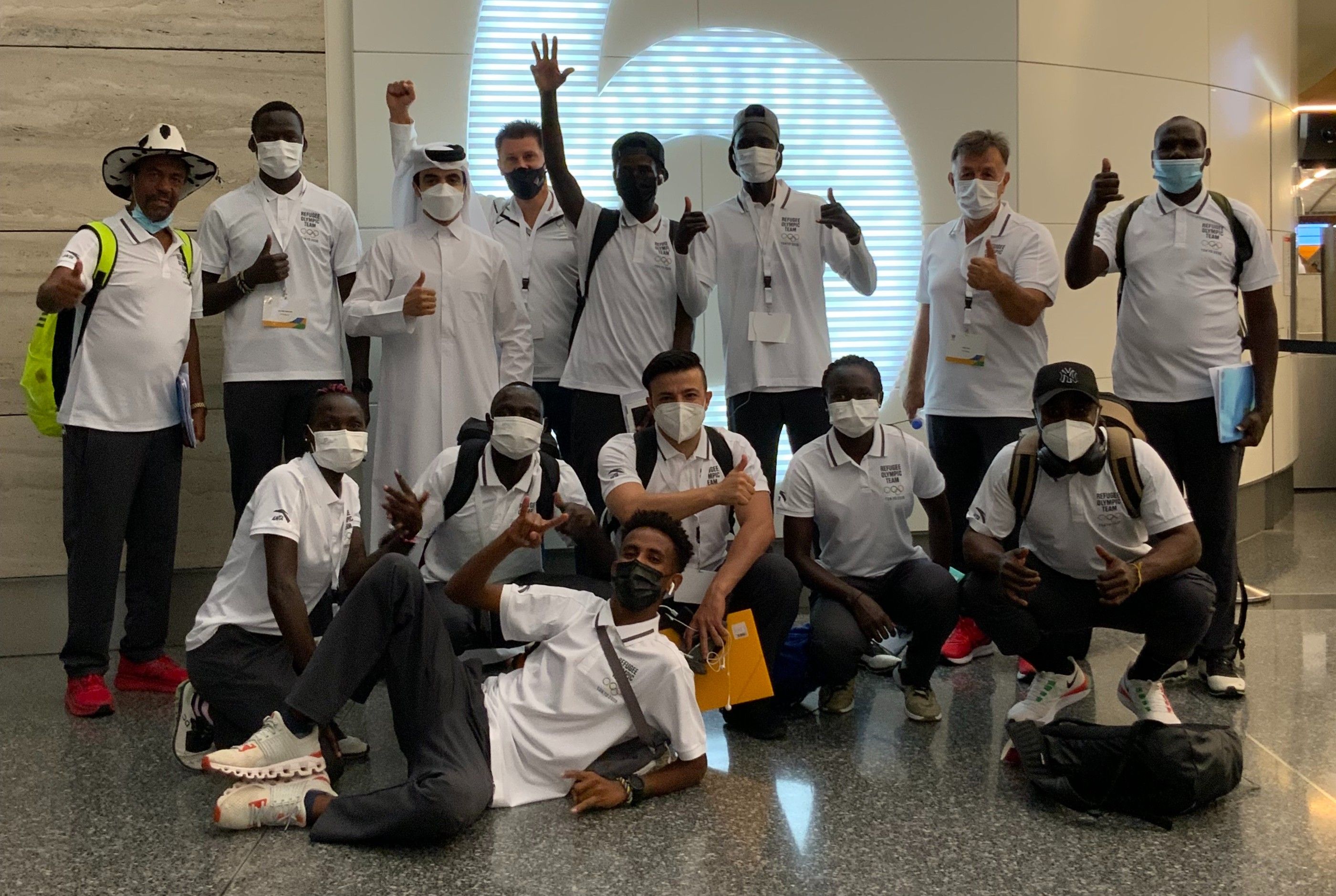 Matthew Lam Joar with the Refugee Olympic Team in Doha prior to departure for the Tokyo Games

Afterwards he threw himself back into education, deciding to switch his area of study from business to social science.
"With my initial vision of opening a business, I decided I need some practical skills and also (to) research what are the interventions about refugees, the outcomes and how I can contribute," he says. "The world is going to have a lot of displaced people and we need to come up with diverse minds and interventions to make sure people are comfortable wherever they are living. Conflict displaces people but climate change is also contributing and that's my inspiration: how I can intervene to help."
He'll spend the next year at Oxford gaining a better understanding of the issues, and after that Joar says he will "work anywhere" once he can make a difference, no matter how small, in the lives of refugees.
"I will advocate for rights, inclusion, everything I've faced myself," he says. "There was always displacement and movement and some people are being denied citizenship of their own country, so I want to advocate for all these rights that migrants can get."
He'll continue his involvement with the Athlete Refugee Team, helping others along the same path he once walked.
"It's to encourage them to run and see other possibilities like education," he says. "We need to make sure any person who's displaced has the opportunity to exploit their talent in a better way – to get that chance."
Cathal Dennehy for World Athletics