Tachlowini Gabriyesos competes at the Tokyo 2020 Olympic Games (© Getty Images)
On the opening night of the Tokyo 2020 Olympics, Tachlowini Gabriyesos served as a flag bearer for the Refugee Olympic Team. On the Games' final day, he lined up on the front line at the start of men's marathon. Standing six runners to his left was the reigning champion and world record-holder, Eliud Kipchoge.
By any measure, the 23-year-old – who fled conflict and bloodshed in his native Eritrea at age 12, journeyed through Ethiopia, Sudan and Egypt before crossing the Sinai desert on foot – had come a long way.
But his journey to that start line wasn't just about reaching it.
"I want do the best I can, not just to be in Tokyo but to do a really good competition," he said in mid-June, just a few hours after learning that he been selected for the team. "I want to make history for refugees by making a very good competition in the marathon."
Last March, Gabriyesos became the first refugee athlete to meet an Olympic qualifying standard when clocking 2:10:55 at the Hahula Galilee Marathon, so expectations were high.
On Sunday (8) he admirably lived up to them, finishing 16th in the race through the streets of Sapporo where he beat many of the best marathon runners on the planet. He clocked 2:14:02, a solid performance given the balmy conditions and tactical nature of the race.
"It was very windy and a little hot, so I'm happy with the time," said Gabriyesos, who raced the distance for just the third time. But he clearly had more in the tank as he finished. "Yes, I probably could have run faster. But it's okay, it's my first Olympics and I'm so, so excited to be here. I'm really, really happy right now."


Representing a community of 80 million
For the second consecutive Olympic Games, performances like those by Gabriyesos were a source of inspiration for tens of millions of displaced persons from around the world, and their stories resonated with millions more.
When the team was first introduced in Rio five years ago, that squad of ten – six competing in athletics – represented 65 million people around the world who had been forcibly displaced. That figure soared to more than 82 million in 2020 and, propelled by conflict, the climate crisis and skyrocketing inequality, continues to grow.
The team was established to bring attention to the plight of refugees, to share a message of hope for and solidarity with those faceless millions, and an opportunity for a handful of athletes to illustrate that they too belong on a stage with the finest athletes in the world while at the same representing a community that collectively, would be the 20th most populous country in the world.
Dorian Keletela, the first refugee athlete to compete in a sprint event at the Olympic Games, relished the opportunity.
"To represent 80 million refugees is very important to me," he said. "It's almost indescribable."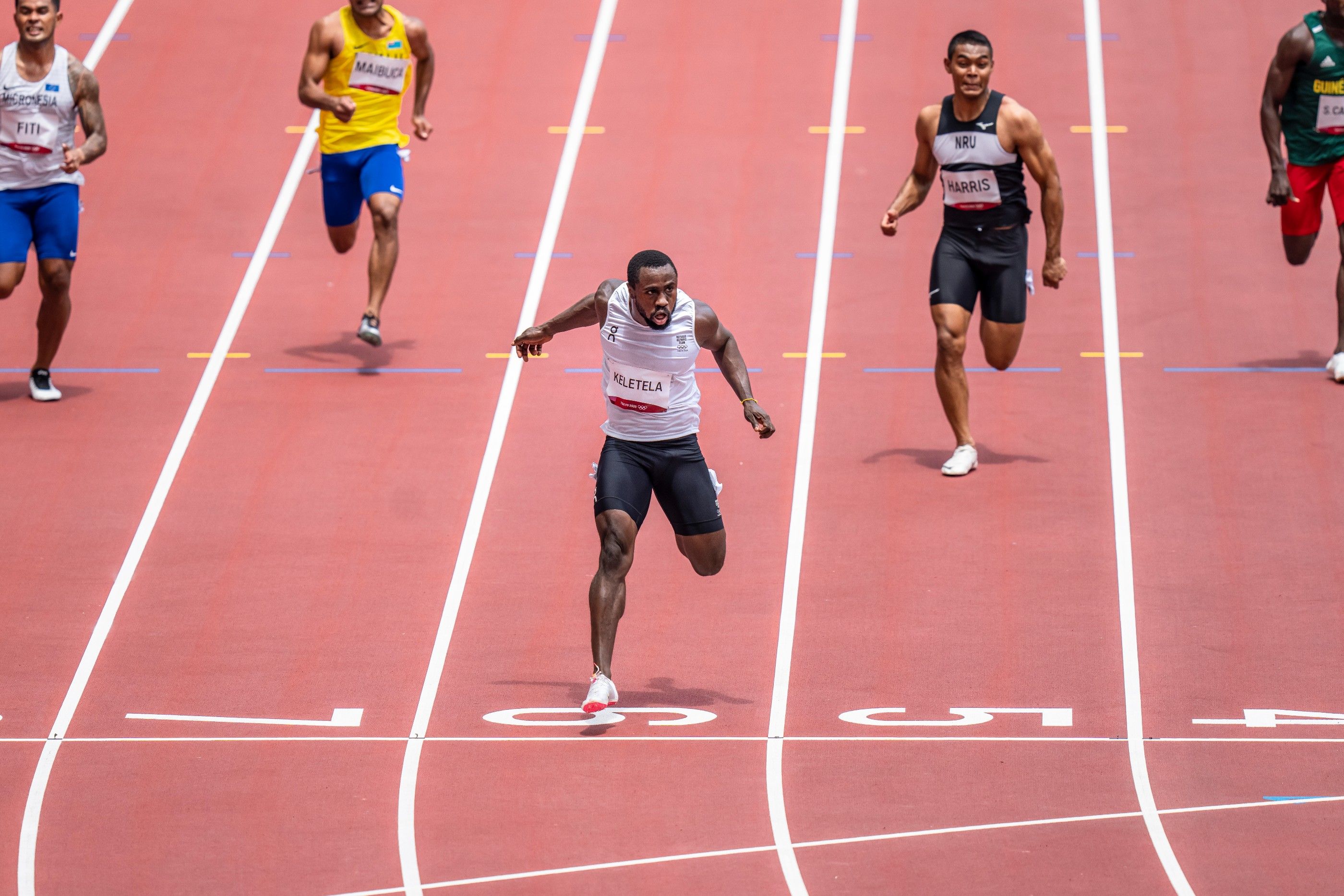 Dorian Keletela competes in Tokyo (© Christel Saneh)

He also competed well.
The 22-year-old Congolese native who is based in Portugal won his 100m heat in the preliminary round in 10.33, smashing his previous career best by 0.13.
"The most important thing for me was to advance to the next round and I've done it," said Keletela, who represented the Athlete Refugee Team at the European Indoor Championships earlier this year. "I wasn't nervous and I'm confident."
His heat victory was also a milestone symbolically, marking the first time a refugee athlete was first to cross a finish line at a global competition. Images of him winning that heat were transmitted, shared and published around the world.
"I'm very proud of that," he said, "and I'm very proud of this team."
He clocked 10.41 in the next round and didn't reach the semifinals, but was still upbeat about the experience, praising his coach Francis Obikwelu, the 2004 Olympic silver medallist, for helping him get this far.
"I started training with Francis in March," he said. "It was complicated, everything changed, but I'm in shape and I'm going to (keep showing) the work that has been done. "


Big PB for Mohammed
The IOC's Refugee Olympic Team competed in Tokyo under the French acronym EOR, which stands for Equipe Olympique des Refugies. In all other national, continental and international competitions, refugee athletes compete as part of the World Athletics Athlete Refugee Team (ART), which illustrates the fundamental importance of the governing body's support for the refugee team project.
Jamal Abdelmaji Eisa Mohammed, who has competed on several ART squads, also raced well in his Olympic debut, clocking 13:42.98 in his 5000m heat to smash his previous best of 13:55.74.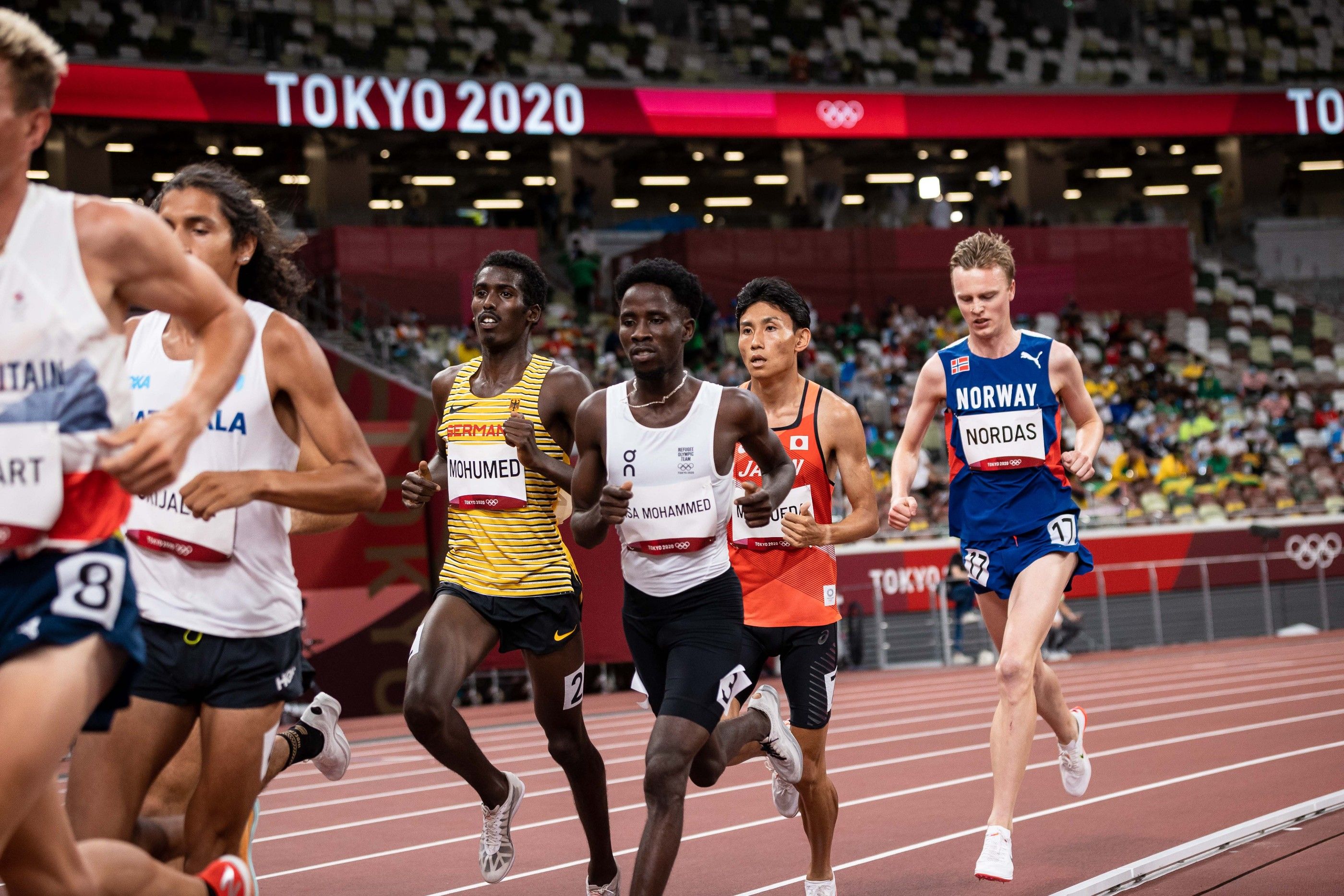 Jamal Abdelmaji Eisa Mohammed races in the 5000m heats (© Dan Vernon)


"It was a good experience but I hope next time it will be better," said Mohammed, a native of Sudan who has been based in Tel Aviv since 2010.
The notoriously physical nature of major championships heats forced him to race cautiously early on so he'd stay out of trouble. If he'd been a little more aggressive, he said, he would have gone a lot faster. "In Israel, we don't ever race like this. So I fell a little behind and then had to catch up over the last few laps."
He'll now take a week off then return to training to focus on the upcoming cross country season.
Mohammed made his ART debut at the 2019 World Cross Country Championships where he finished 85th, beating many of the world's best runners. More recently he won the 5000m at the Israeli championships.


PBs for Lokonyen and Lohalith
Rose Nathike Lokonyen, the flag bearer for the first Refugee Olympic Team in Rio five years ago, also achieved what she set out to do.
The 26-year-old clocked 2:11.87 in her heat of the 800m, a personal best eclipsing the 2:13.39 she clocked at the 2019 World Championships in Doha.
"I feel great, I finished my race and I improved on my time," Lokonyen said, admitting that she was pleasantly surprised with the performance, given how much training she had missed due to pandemic restrictions.
Lokonyen, a native of South Sudan, said she hopes that her participation helped bring attention to the plight of the world's refugees.
"Sport has changed my life," she said. "I represent an entire community of refugees to show the world that being a refugee is just a status. We have the potential of doing something, especially in sport, that brings people together, that brings peace, love and unity."
Lokonyen had already left her mark on students at Takata Daiichi Middle School in Rikuzen-Takata when she visited in 2019 after competing at the World Athletics Relays in Yokohama, a visit that clearly left an impression. To wish her well in Tokyo, students from school folded and sent her 1000 origami cranes, a traditional Japanese symbol of hope and encouragement.
Anjelina Nadai Lohalith, another member of the original Rio team, also produced a lifetime best in her 1500m heat, clocking 4:31.65.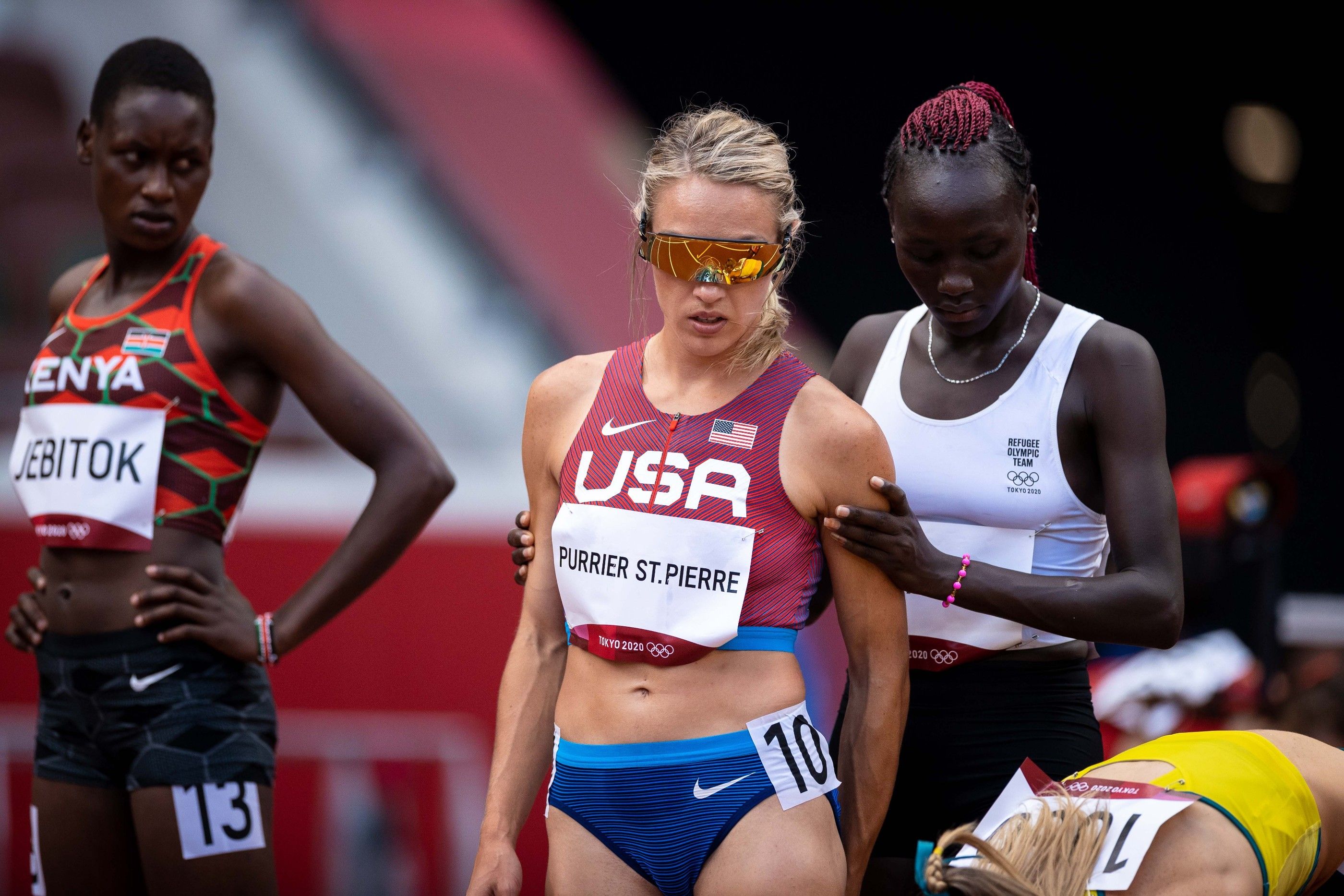 Anjelina Nadai Lohalith with the USA's Elle Purrier St. Pierre (© Dan Vernon)


"I'm happy about running my PB, but I'm not that happy because I wanted to run under 4:30," she said. "We had some challenges with Covid-19 - I missed nearly a whole year of training. But I never lost hope because I knew that the Olympics were coming."
Paulo Amotun Lokoro, another Rio team member, was even less pleased than Nathike after his 3:51.78 run in his 1500m heat, well short of the 3:47.03 personal best from 2019 he had set out to improve.
"It was very tough, but I ran and managed to finish," he said. "But I'm not happy. I performed poorly. My body was just not moving."
Lokoro is among the most experienced athletes in the ART programme, with appearances at the World Athletics Relays, the World Half Marathon Championships and two World Championships on the track. When Kenya was hit by lockdowns last year, Lokoro was forced to return to the Kakuma Refugee Camp, seriously impacting the training regimen that helped him improve by more than 20 seconds since his first Olympic appearance.
"We have been preparing for long time, but then Covid 19 disrupted our training," he said. "We were not relaxing, but we lost a lot of training."
Meanwhile, James Nyang Chiengjiek, another veteran of the Rio team who trains alongside Lokonyen, Lohalith and Lokoro at the Tegla Loroupe Peace Foundation Training Centre near Nairobi, had a frustrating outing in his 800m heat. Chiengjiek, who has also competed in several competitions as a member of the ART squad, made a bold move for the lead after the break on the first lap, but was clipped in the traffic and tumbled to the track. After shaking off the disappointment, he got back up and finished the race.


Opening new doors
Besides providing an opportunity for refugees to compete, there is also a wider mission at the core of the refugee team project: to illustrate how sport can also open other doors to help refugees integrate and eventually settle into new communities.
Opportunities have already arisen for Lokoro, Nathike and Chiengjiek, who will be moving to Canada later this month thanks to a new scholarship programme that offers a so-called "athletics pathway" for the first time to refugees seeking to resettle in third countries. Under the programme, created through a partnership between UNHCR and the World University Service Canada (WUSC), the three will be granted permanent residency and will continue their education at Sheridan College in Oakville, Ontario. They will also continue training and competing.
"This is an important moment," said UN High Commissioner for Refugees Filippo Grandi. "It is the first time sporting potential and athletic capability have been recognised as a route for refugees to access tertiary education.
"It is fantastic news for the three refugee Olympic athletes concerned, and we hope this Canadian pilot will serve as an example to relevant actors in Canada and in other countries to encourage them to also offer opportunities to admit refugees for educational, sports, artistic and cultural reasons among so many others."
Bob Ramsak for World Athletics