Maxwell Nyamu of Athletics Kenya plants a tree at Diamniadio Stadium in Dakar (© Athletics Kenya)
As the world prepares for November's COP27 in Egypt, Athletics Kenya has been advocating for increased transboundary cooperation for climate action. Working with athletes who have become climate action ambassadors, the governing body continues to seize strategic opportunities to spread the message.
Since August 2021 when it signed the United Nations Framework Convention on Climate Change, Athletics Kenya in cooperation with the Stockholm Environment Institute and the United Nations Environment Programme (UNEP) has installed four air quality sensors in the Kasarani Stadium, Nyayo Stadium, Nairobi National Park and Nakuru Athletics Club, with more to come.
Athletics Kenya President Jackson Tuwei recently travelled to Dakar, Senegal, with Kenya's 1992 Olympic 800m gold medallist William Tanui and Maxwell Nyamu, sustainability and communications officer. There they marked the third International Day of Clean Air for blue skies and participated in the 18th Session of the African Ministerial Conference on the Environment (AMCEN), organised by the UNEP Regional Office for Africa and the Government of Senegal under the theme 'Securing people's well-being and ensuring environmental sustainability in Africa'.
"Athletes need a good environment and clean air to train optimally and to enable them to give good performances in competitions," said Tanui.
His local counterpart, 1988 Olympic 400m hurdles silver medallist Amadou Dia Ba, who serves as director of the African Athletics Development Centre, said: "I am ready to work with Athletics Kenya on climate action."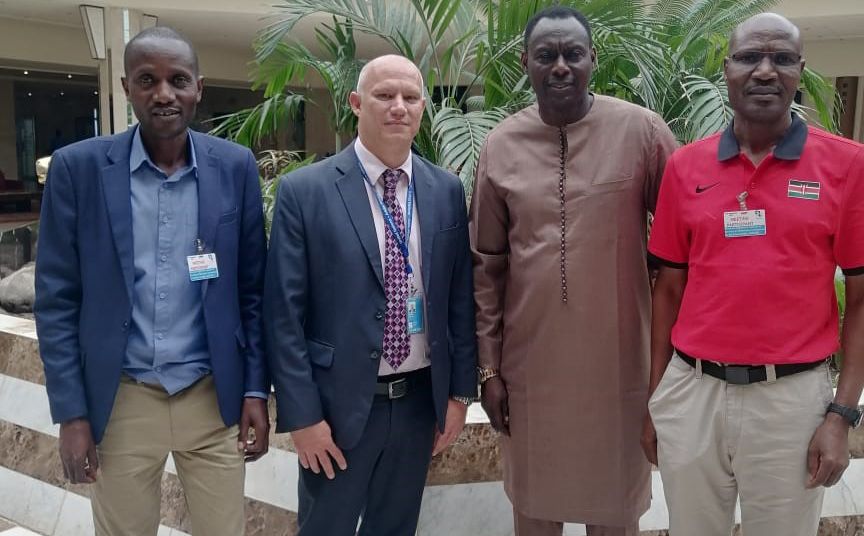 Senegal's Amadou Dia Ba and Kenya's William Tanui in Dakar (© Athletics Kenya)
Air quality sensor installed at venue of 2026 Youth Olympic Games
The week-long activities demonstrated cooperation between Athletics Kenya, the Senegalese Athletics Federation and the African Athletics Confederation. On the eve of the AMCEN meeting, an air quality device was installed at Diamniadio Stadium in Dakar, venue of the 2026 Youth Olympic Games. That was followed by a symbolic tree planting ceremony attended by dignitaries and schoolchildren.
"A clean environment is important around stadiums," said Senegalese Athletics Federation President Sara Oualy. "We will work to inspire athletes by connecting them with African athletes who are leading, like William Tanui. We are happy and will work for fruitful collaboration between Senegal Athletics and Athletics Kenya."
Each year, Africa records more than one million premature deaths associated with air pollution - indoors and outdoors. In fact, the continent faces a double burden of worsening air quality and climate vulnerability, which need to be addressed together.
37 measures for Africa identified
A report presented at the AMCEN conference, Integrated Assessment of Air Pollution and Climate Change for Sustainable Development in Africa, was prepared by the African Union Commission, the UNEP Regional Office for Africa, the Climate and Clean Air Coalition and the Stockholm Environment Institute. It has identified 37 measures that, if implemented, provide a tailored package of solutions for achieving clean air while also enabling African countries to meet climate obligations contained in their Nationally Determined Contributions (NDCs) under the Paris Agreement. The report states that most measures are already being implemented in parts of Africa.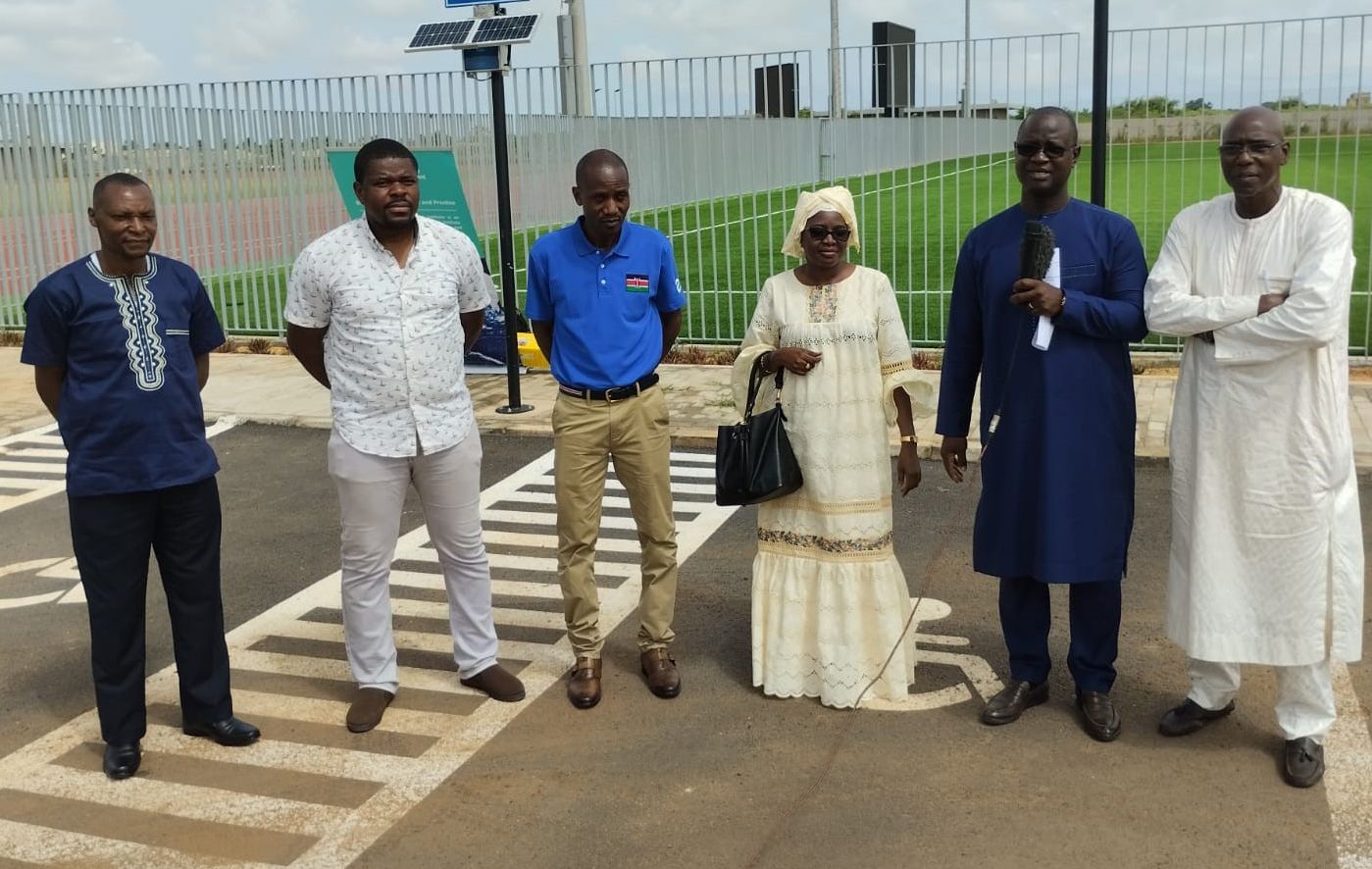 Lawrence Nzuve, Ngongang Wandji Danube Kirt, Maxwell Nyamu, Aminata Mbow Diokhane, Baba Drame and Issa Mboup at Diamniadio Stadium (© Athletics Kenya)
In 2022, for example, 19 African countries have established Ambient Air Quality Standards and another 17 have developed or are in the process of developing national action plans to reduce emission of short-lived climate pollutants. In addition, regional framework agreements for air pollution are in place for eastern, southern, west and central African regions. The Assessment concludes that it will take "integrated approaches" and proposes "the establishment of an Africa Clean Air Programme as a continent-wide platform for partnership to facilitate data collection and action at national, regional and continental levels."
"It is very important to develop this partnership between Athletics Kenya and Senegal Athletics because Senegal is preparing for a very important event – the Youth Olympics in 2026," emphasised Cheikh Fofana, Deputy Director of Environment in the Ministry of Environment and Sustainable Development of the Government of Senegal.
A press conference on the topic 'Connecting sports to Climate and Air Quality in Africa' was held alongside the AMCEN meeting. The objectives of the conference were to:
Present and share the status of air quality and climate change in Senegal and the implications for sports,

Highlight the actions by sports organisations and federations to address air quality and climate action, including examples from Kenya and Senegal, and wider actions across Africa,
Give a platform for leading athletes and sportspeople from Senegal and Kenya to share their experiences on implications of climate and air pollution on sports, and the role of athletes in raising awareness about these challenges.
"We look forward to sharing the experiences and pathway on Sports for Climate Action with Athletics Senegal and for consideration by other sister federations in Africa through the Confederation of African Athletics," said President Tuwei. "We hope the African Union will assist us in championing this important venture."
Looking to the future, he noted: "We will be seeking to work with the Confederation of African Athletics and our partners (UNEP and Stockholm Environment Institute) in enhancing and scaling up the training to other federations on Sports for Climate Action."
CAA for environment and climate action
Representing the CAA, Director General Lamine Faty said: "Sport is one of the good ways to communicate environment protection and climate change. Air quality is important for athletes and more awareness activities will be organised with the expert knowledge of Athletics Kenya."
With these key bodies united for climate action, the week's activities were an important milestone for athletics and the environment in the African continent that will soon be hosting COP27.
Alice Annibali for World Athletics