Athletics Kenya celebrates new sensors at the Nyayo Stadium and signing of an MoU with the SEI (© Athletics Kenya)
Athletics Kenya has taken another big step in its air quality efforts with the unveiling of new sensors at the Nyayo National Stadium in Nairobi and the signing of a memorandum of understanding with the Stockholm Environment Institute (SEI).
As part of World Athletics' pilot programme to measure and analyse air quality at sporting venues around the world, an air quality monitor was installed at the Kasarani Stadium during last year's World Athletics U20 Championships in Kenya. That installation was used primarily to assess the feasibility of maintaining high-end air quality devices in remote locations. In follow up, the partnership between Athletics Kenya, UNEP and the SEI has now led to the further deployment of sensors at the Nyayo and Kasarani Stadiums.
These sensors will not only enable researchers to collect and analyse more data on the impact of air pollution on sports, but also inform mitigation actions.
"I am proud that the two main stadiums in Kenya are now part of the World Athletics Air Quality project, which targets to improve the quality of environment and conditions of performances for the athletes, through data that has never been provided before," said Athletics Kenya President Jackson Tuwei.
"After a first test during our World Athletics U20 Championships, we are delighted to continue to work in this project.
"Air pollution is a silent killer which is affecting the health of athletes, local communities and our environment, so I'm delighted that the cooperation between the Athletics Kenya; Ministry of Sports, Culture and Heritage; Ministry of Environment & Forestry; United Nations Environment Programme (UNEP); Stockholm Environment Institute; our athletes and other partners has brought this project to fruition and I hope that together we can raise awareness and help to improve air quality not only in stadiums but around the country."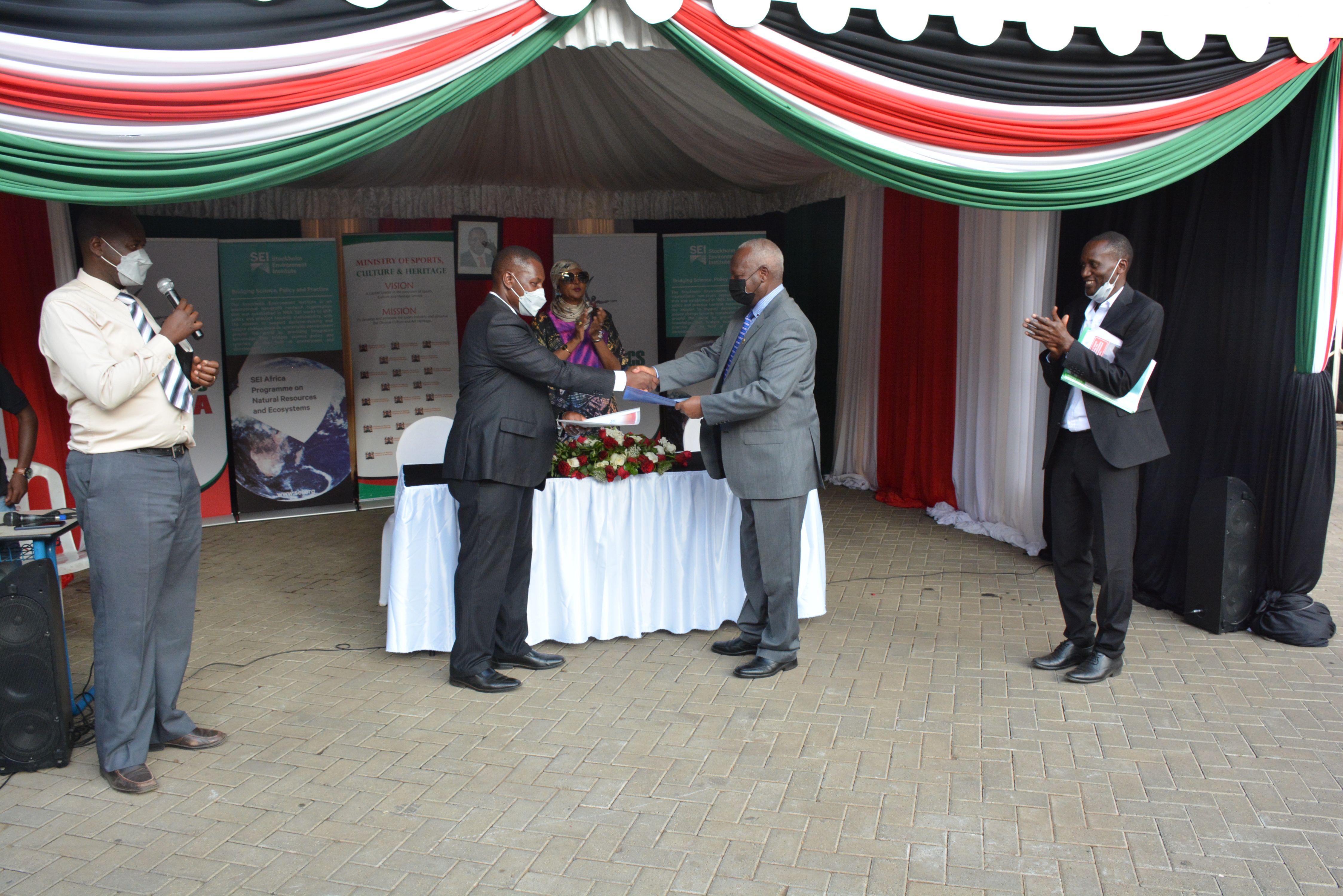 A function is held to mark new sensors at the Nyayo Stadium and the signing of an MoU with the SEI (© Athletics Kenya)
In 2021, Athletics Kenya became the first national athletics federation to join World Athletics as a signatory of the United Nations Climate Change (UNCC) Sports for Climate Action Framework, an initiative urging sports organisations to reduce their carbon emissions in line with the Paris Climate Agreement.
Then, last month, Athletics Kenya celebrated UNEP's 50th anniversary with a 10km run in Karura Forest. The run was organised to highlight the strong link between environment and sport and to celebrate achievements by rallying the sports community to take action and tackle environmental challenges.
Several current and former elite athletes joined the event, including Hellen Obiri, Timothy Cheruiyot, Milcah Chemos, Tegla Loroupe, Douglas Wakiihuri and William Tanui.
Amina Mohamed, the Cabinet Secretary for Ministry of Sports, Culture and Heritage, said: "Just about a month ago, we held the UNEP@50 Commemorative Run at Karura Forest where I, together with PS Dr. Chris Kiptoo, joined Athletics Kenya, SEI, UNEP and World Athletics in showcasing our commitment to using sports as a driving tool in environmental conservation. I am therefore pleased to see that this partnership continues to bear fruit.
"I would like to congratulate Athletics Kenya and the United Nations Environment Programme for the installation of the air pollution sensors at Nyayo and Kasarani stadiums. The data collected from these sensors will inform mitigation measures that will benefit all the users of these facilities, including all sporting events."
Philip Osano, centre director of Africa for SEI, said: "It has been our pleasure to collaborate with Athletics Kenya on air pollution and climate action." Among the SEI's commitments as part of the memorandum of understanding is to conduct the monitoring of air quality through the installation of air quality sensors, collaborate with Athletics Kenya to undertake a joint public awareness campaign on environment, and lead research and capacity development activities.
Launched in 2018, the World Athletics Air Quality project is part of a broad campaign to raise awareness about air pollution around the world and the impact it has on elite athletes and recreational runners.
Combating air pollution and working to improve air quality is one of the six key pillars of the World Athletics Sustainability Strategy, a 10-year road map unveiled in April 2020 whose goals include transitioning to carbon neutrality across all of its operations and events by 2030.
More about the World Athletics Air Quality Project can be found here.