Jackson Tuwei and Sylvia Barlag water the plant that Barlag placed at Karura Forest (© Athletics Kenya)
World Athletics Council Member Sylvia Barlag was among the dignitaries who gathered in Nairobi last week to celebrate the 50th anniversary of the United Nations Environment Programme (UNEP).
Barlag attended a 10km run at the Karura Forest in Nairobi on Friday (3), an event organised by Athletics Kenya in collaboration with the Stockholm Environment Institute and Ministry of Environment and Forestry and addressed the dignitaries on behalf of World Athletics President Sebastian Coe who was unable to attend.
"Kenya has done tremendously well and we are happy because Athletics Kenya was the first federation to sign the Sport for Climate Action Framework which shows how serious the country is in terms of creating a good environment as a sports body," said Barlag, a retired physicist and chair of the World Athletics Council's Sustainability Working Group. "Before that we had already started the project for clean air which is a necessity for athletes while competing, and we are happy the project took off well and we have to do our best by making the world an enjoyable place to be."
Barlag also announced that World Athletics would donate 500 trees to a community development project in Kenya's Kijabe Forest to mark UNEP's milestone anniversary.
The run, one event held during the week-long celebration of the UN body's golden anniversary, was organised to highlight the strong linkage between environment and sport and to celebrate achievements by rallying the sports community to take action and tackle environmental challenges. Several current and former elite athletes joined the run, including Hellen Obiri, Timothy Cheruiyot, Milcah Chemos, Tegla Loroupe, Douglas Wakiihuri and William Tanui.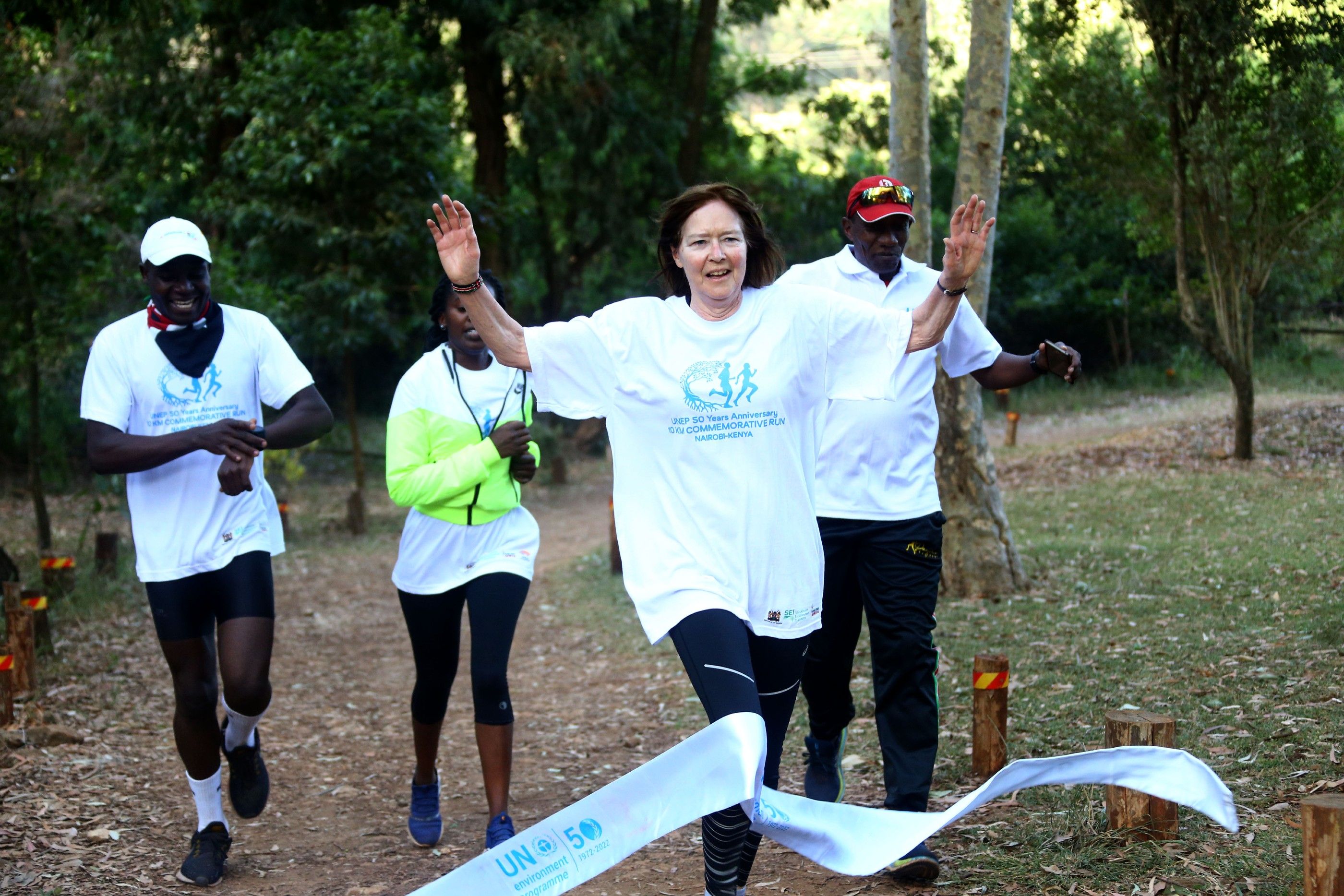 Sylvia Barlag in the 10km run at the Karura Forest in Nairobi (© Sila Kiplagat)

Karura Forest is one of the largest urban gazetted forests in the world, consisting of more than 1000 hectares and managed by the Kenya Forest Service in commemoration of the late Wangari Maathai, founder of the Green Belt Movement, an environmental non-governmental organisation that advocated for women's rights, environmental conservation and the planting of trees. Since the organisation's founding in 1977, more than 30,000 women have been trained in conservation-based occupations, and more than 51 million trees have been planted in the country. Maathai received the Nobel Peace Prize for her efforts in 2004, becoming the first African woman to receive the award.
Amina Mohammed, the Cabinet Secretary for Sports, said that environment and sport go hand in hand and mass planting of trees is something that has to be encouraged. Mohammed is spearheading a project to plant 19 million trees ahead of the World Rally Championships to be held in Kenya in July.
"We have to conserve the environment and eradicate pollution and by this we are joining the world in making sure that it is safe for us and the upcoming generation," she continued. "Sports has contributed to this and we are happy because Athletics Kenya is in the forefront in advocating to have fresh air every day." Borrowing a phrase from former US President Franklin Roosevelt, Mohammed added: "A nation that destroys its soil destroys itself."
Athletics Kenya President General Tuwei said that he was happy to have joined the celebrations concluding the conference with a run at Karura Forest, one of Nairobi County's protected areas, adding that the federation will remain at the forefront of climate action in Kenya. Athletics Kenya signed the UNFCCC Sport for Climate Action Framework in August 2021, the first member federation to join World Athletics as a signatory to the commitment.
Tuwei also said that the federation is delighted to join United Nations bodies on a variety of initiatives, including an air quality monitoring project that at the Moi International Sports Centre in Nairobi and another at Nyayo Stadium.
"Athletes need good and clean air to perform well and that is why we were the first federation to commit ourselves to the need to have a better planet and eradicate the pollution which affects everybody and not the athletes alone," Tuwei said.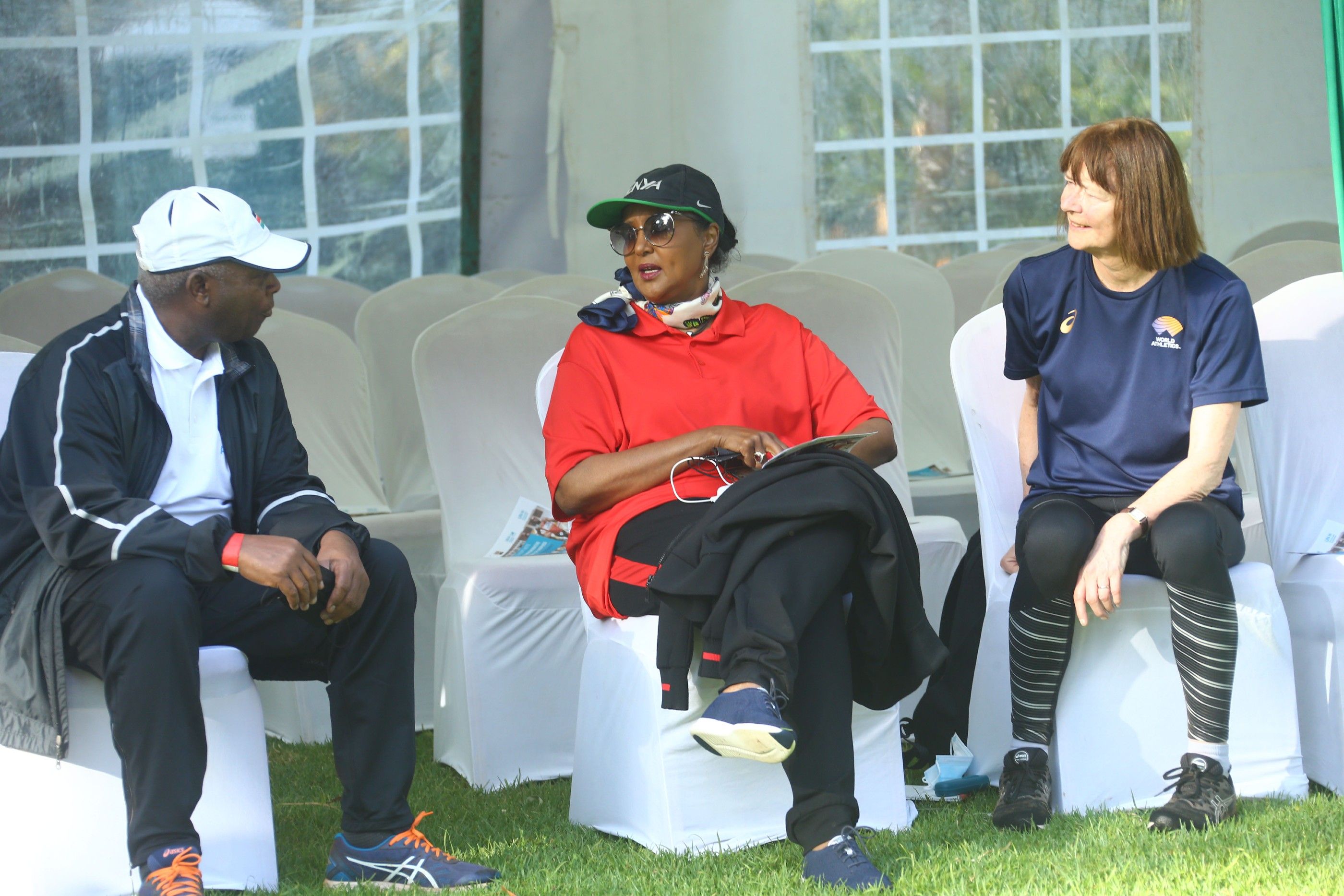 Jackson Tuwei, Amina Mohammed and Sylvia Barlag (© Sila Kiplagat)

Richard Munang, Africa Regional Climate Change Coordinator at UNEP, said that there is a need to create a world of harmony with nature. Ninety-nine percent of the world's population does not enjoy clean air, he said, addressing the colossal problem that needs to be tackled.
"As we talk here, deforestation is happening across the world and up to 10 million hectares of land are being destroyed. This has to stop by raising awareness on the need of creating a better planet and making sure we take care of our nature. If we are not empathetic, then we shall have trouble with nature and I'm happy that sports have come on board to join various organisations on the need for a clean environment."
Philip Osano, the Centre Director for the Stockholm Environmental Institute Africa, who has been collaborating with Athletics Kenya, said that Kenya has made a commitment under the Paris agreement to reduce greenhouse gas emissions by by a third by 2030.
Earlier in the week, Tuwei addressed a session of the Youth Environment Assembly 2022, a gathering of more than 100 young people concerned about climate change and the environment. Tuwei told the young activists that sport is important in in the battle for climate protection.
"Engaging young people is the best way forward and as a federation we are in the forefront to make sure we have clean air, which is crucial in sport and this will roll out to the community and the whole country," Tuwei said.
Bernard Rotich for World Athletics