Yiech Pur Biel is elected as an IOC Member (© IOC)
Olympian and team manager Yiech Pur Biel has been elected as a Member of the International Olympic Committee (IOC), becoming the first UN Refugee Agency-recognised refugee to join the organisation.
After competing for the Refugee Olympic Team in the 800m at the Rio 2016 Games, Biel was the team manager in Tokyo and became a Goodwill Ambassador for the UN Refugee Agency (UNHCR) last year.
"I promise to fight against all forms of discrimination and dedicate myself in all circumstances to promote the interests of the IOC and Olympic Movement," said Biel in his acceptance speech.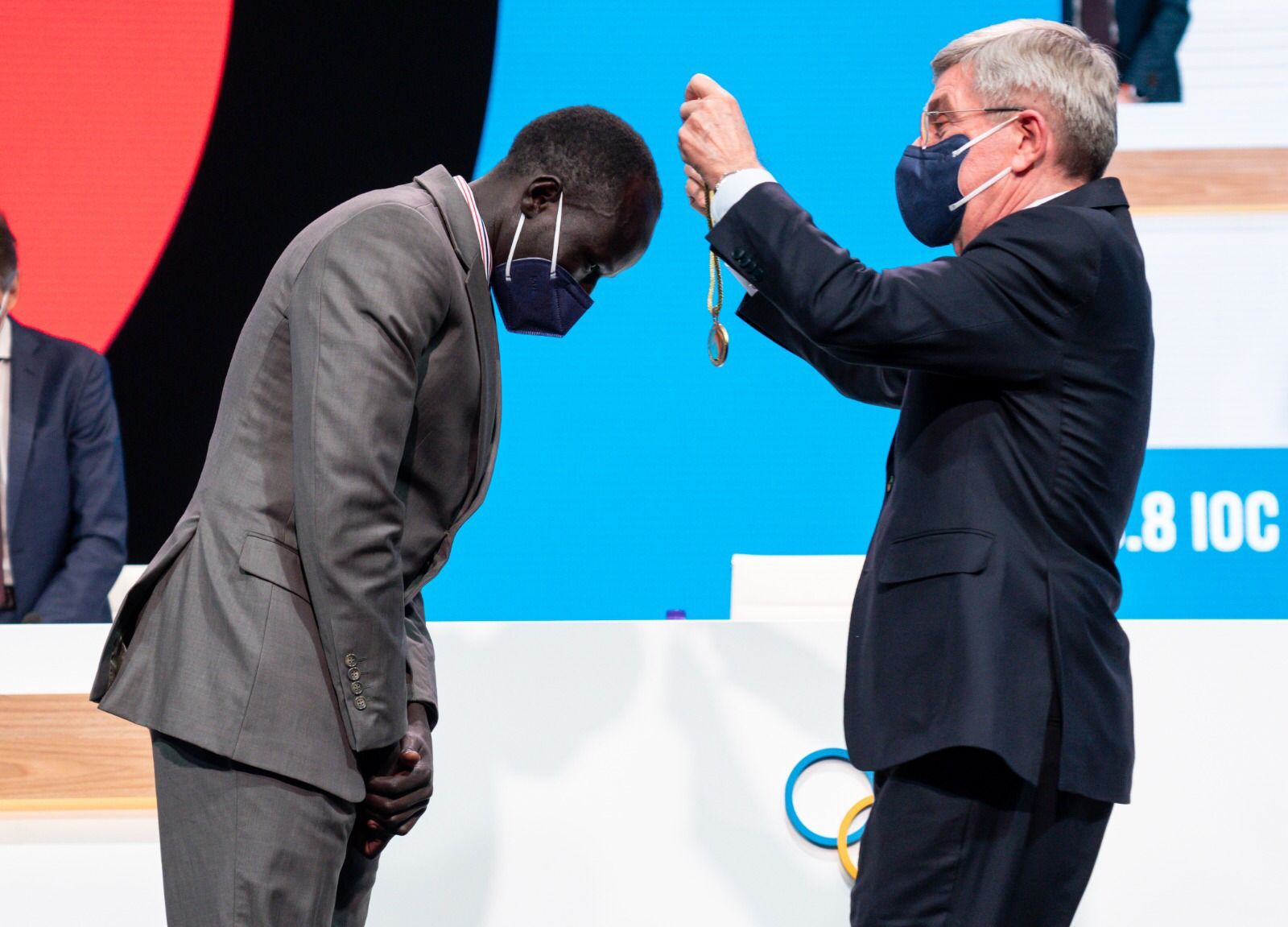 Yiech Pur Biel with IOC President Thomas Bach (© IOC)

Biel was aged just 10 when he fled from conflict in South Sudan in 2005, arriving at the Kakuma refugee camp in Kenya without his family. Ten years later he demonstrated his running talent in the athletics trials for the Tegla Loroupe Peace Foundation, which is supported by the Athletics for a Better World social responsibility programme, and was invited to train in Nairobi.
He then secured a place on the first ever Refugee Olympic Team in Rio and represented the World Athletics Athlete Refugee Team at the 2017 Asian Indoor Games. The 27-year-old now lives and studies in the United States, where he continues to compete. Having obtained an associate degree in social science from Iowa Central Community College, Biel is now studying international relations at Drake University.


So proud that Yiech @Pur_Biel — Olympic athlete and role model to many young people — was elected to the International Olympic Committee as its first refugee member!

May this give hope to all those who are uprooted and shine a light on conflicts forcing them to flee.@iocmedia pic.twitter.com/Wfi0CzdtTA

— Filippo Grandi (@FilippoGrandi) February 20, 2022

He has described the Tegla Loroupe Peace Foundation as "the beginning of everything". Established by three-time world half marathon champion Tegla Loroupe almost two decades ago, the foundation harnesses the power of sport to promote peace.
"My dream has been to help young people gain confidence and purpose through athletics," Loroupe has said. That was the case for Biel.
"The foundation gave me motivation," he told olympics.com. "And the Olympics have brought success and given me the chance to continue my education. Being in Nairobi also gave me the chance to get into advocacy."
Now through his IOC membership, Biel continues to be a voice for refugees. "I represent millions of refugees around the world who don't have access to be members of the IOC," he told Around the Rings. "Being an athlete, the only way that you can give back to society is when you inspire other people."
World Athletics