Grete Waitz (© Christel Saneh)
Back in the early 1980s, a lot of positive changes were made in the sport. Athletics had its inaugural World Championships in 1983 and new disciplines for women were added to the Olympic programme for 1984. Before that, the longest distance contested by women at the Olympic Games had been the 1500m.
With her record of nine New York City Marathon wins, 12 marathon majors, her world records and international success in long distance running, Grete Waitz contributed to the development of sport for women globally and in her home country Norway.


Grete's beginning
Grete Andersen was born in Oslo on 1 October 1953. Growing up with two older brothers, it was through playing cops and robbers with them that she realised she had a talent for running.
"I remember when I was one of the robbers, no one wanted to be the cop because they could never catch me," she said in an interview as part of the Women@Google series. "My parents didn't like it much … I told them I wanted to do track and field, running and jumping, but they didn't think it was a good idea."
This never stopped Waitz from doing what she loved. She joined a track and field club at 13 but it was ignored by her parents who thought that she should behave more "like a girl". Four years later, she was competing at national level.
"I was 17 or 18 and I was pretty good in middle distance," she said. "When I told my dad that I was picked to run on the Norwegian team and he said: 'Wow! You are that good?', I said: 'Yes dad, I've been training hard, but you weren't interested.' But within a week he was telling the neighbours and his colleagues that 'Grete is on the Norwegian team'. From ignoring what I was doing, he became my biggest fan. That's when I could finally quit my piano lessons and that was a huge victory, because I hated it."
In the 1970s, Waitz competed in the longest track distances available for women: the 800m and 1500m. She raced in the latter at two Olympic Games, in Munich in 1972 and in Montreal in 1976, but did not make it to the finals.
At the time, running wasn't a professional sport. The best runner in Norway was actually a school teacher working a full-time job and training alongside it.
"I got married in 1975 to my coach, who was also my manager and took care of everything. His name is Jack (Waitz). Even if I wanted to kill him after my first marathon, we are still married," she said in the 2007 interview.
Jack always knew that Grete was more suited to long distance running. "She trained in many ways as a marathoner, even when she was still running the 1500m," he said. "She did a lot of mileage and ran an average of 160km a week."
A transition from track to road races didn't exist back then. It wasn't until the mid 1980s that longer distances were introduced on the track. After her Olympic participation in 1976, Grete wanted to retire from the sport and thought that she had reached her full potential. The thought crossed her mind again in 1978 after winning bronze in the 3000m and placing fifth in the 1500m at the European Championships.
"She said: 'I can't train anymore, now I work full time. I will retire," Jack explained.


Her first marathon
Jack's friend suggested to him that Grete should try to run at the New York City Marathon. Jack knew she was capable of running very good times and called the organisers.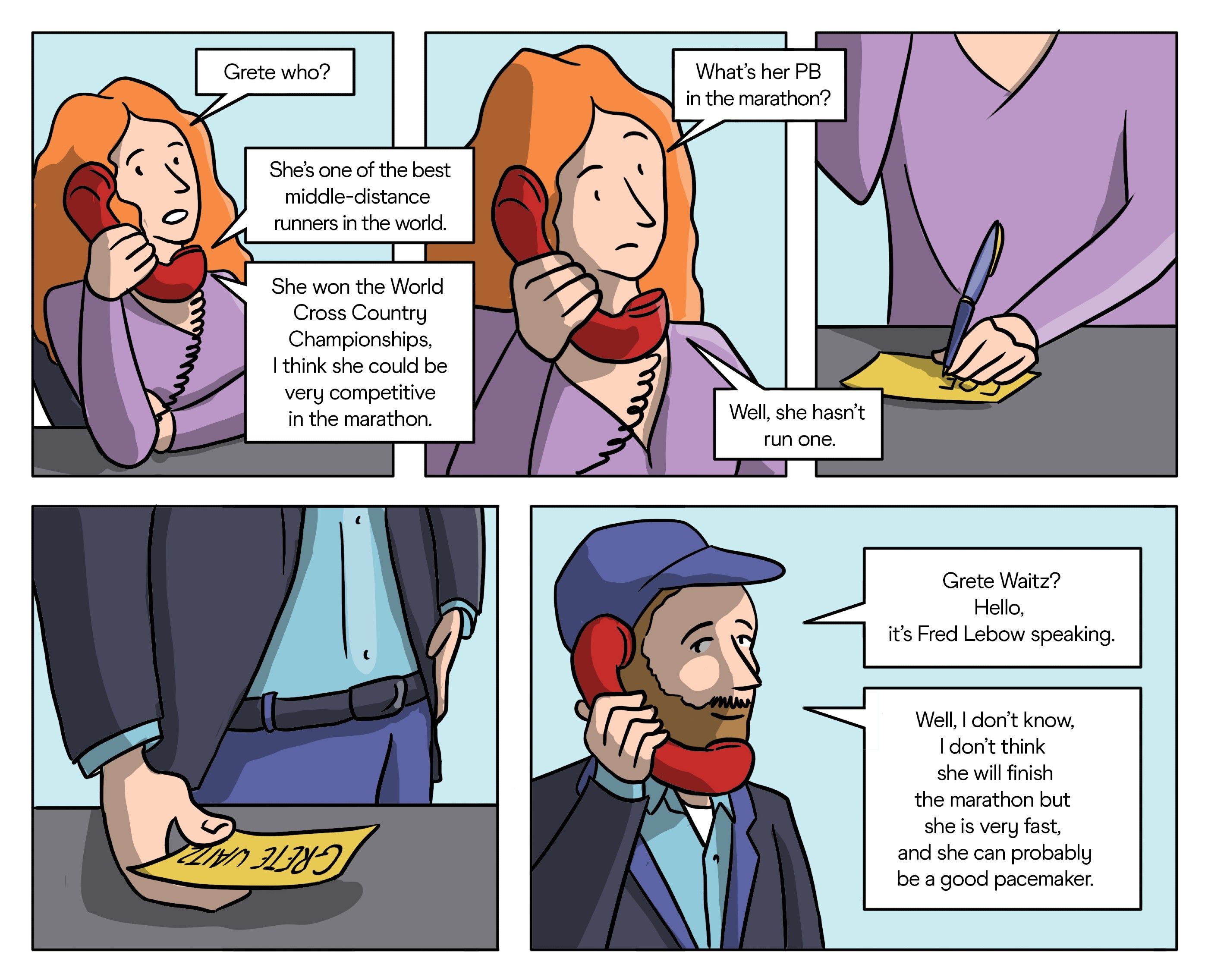 "I think that little piece of paper is the reason I am here today," she said in the interview.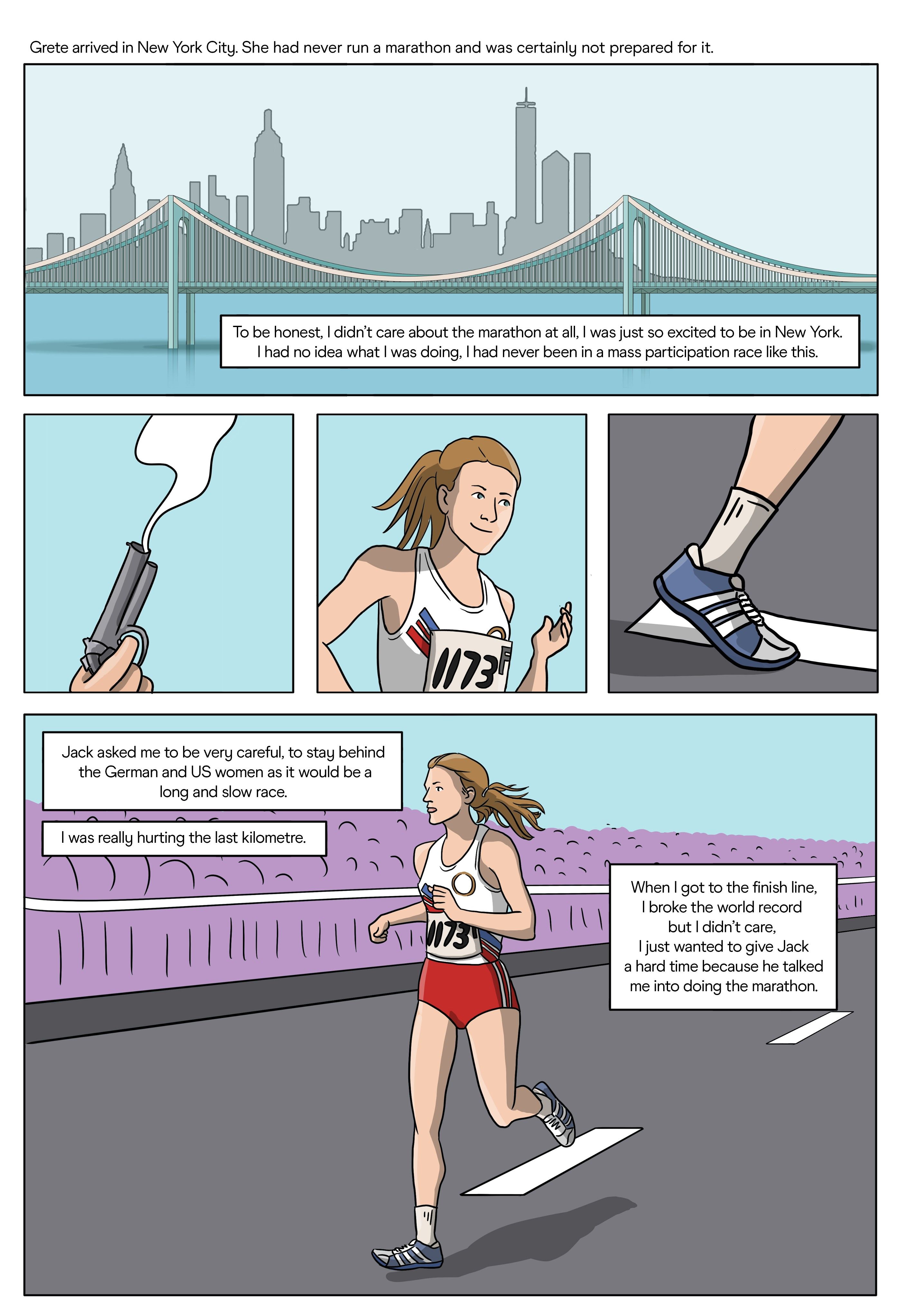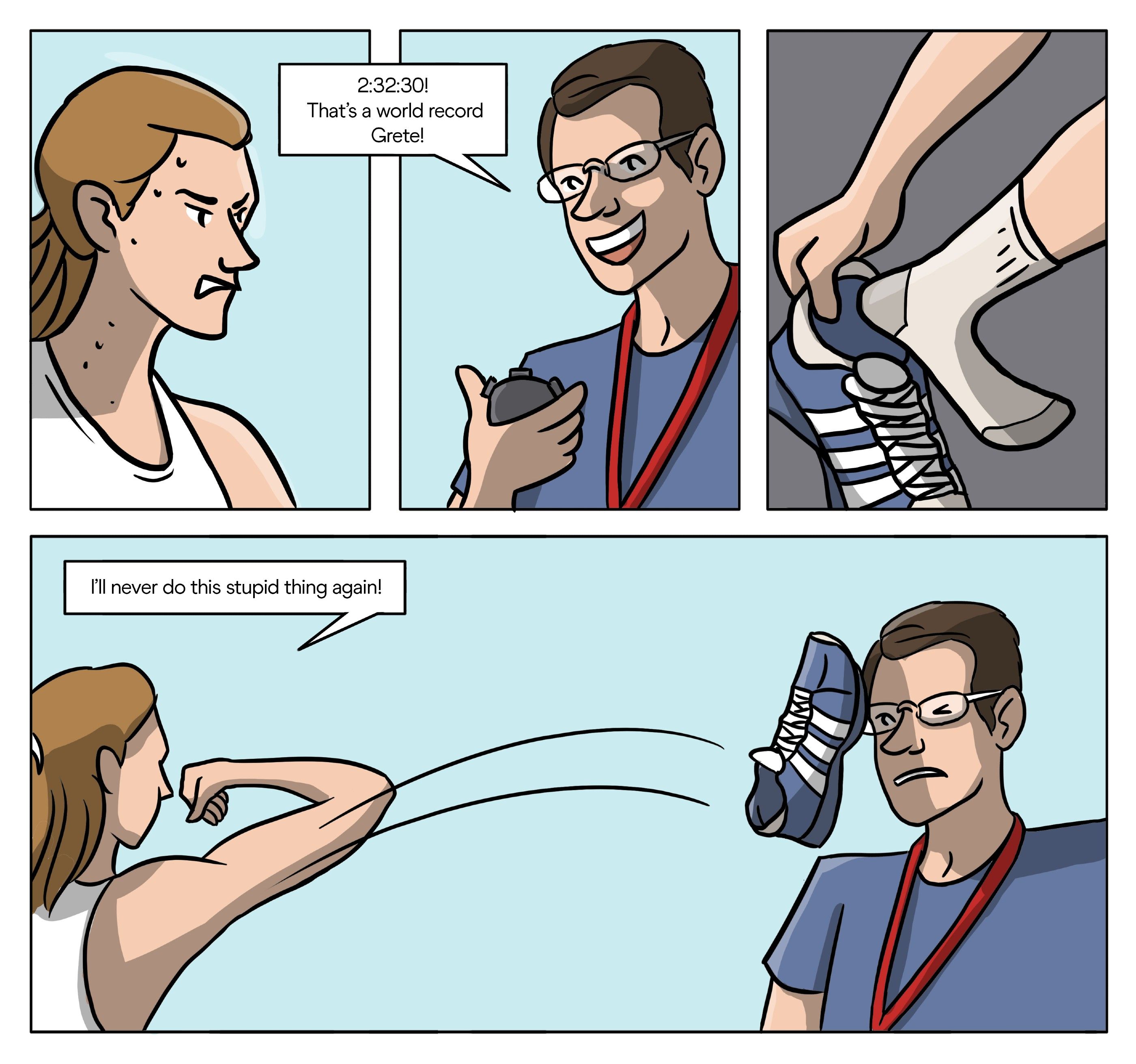 The next day they were invited on to Good Morning America and Jack had to call her school to ask for a day off to be able to do the interview.


Inspiring a generation
Once back in Norway, Grete still wanted to retire despite setting a world record in her first ever marathon race. Her achievement opened the eyes of race organisers and she started receiving invites to run in different parts of the world.
"She was training without a programme just for fun, just because she loved running. Then she was invited to run track races in Australia and New Zealand where she performed really well and decided to go on with running," Jack said.
The year 1979 was supposed to be Grete's retirement year, but instead she ran 47 races and won most of them. She also improved her New York City Marathon time by five minutes, becoming the first woman to break the 2:30:00 mark with 2:27:33.
"That changed the whole story."
In 1982, she finally decided to become a full-time athlete, knowing that the rules in the sport were changing and athletes were allowed to become professionals in the era of IOC president Juan Antonio Samaranch.
"From 1981 a lot of things changed in the sport and Grete made a name for herself in New York. A lot opportunities came her way and our lifestyle changed completely," Jack added.


Norwegian Olympic hopeful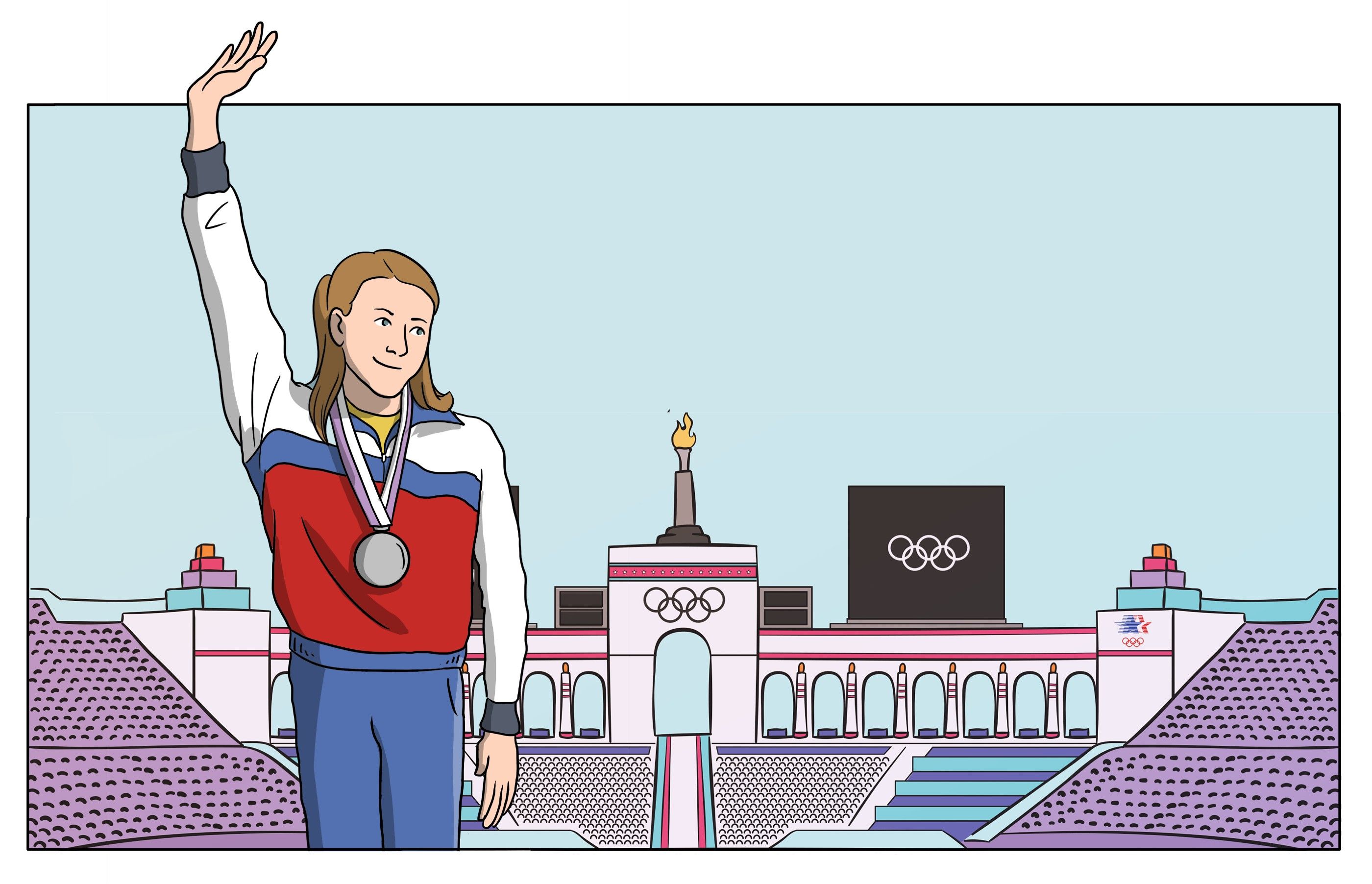 Grete had become the first world champion in athletics in any discipline, as the women's marathon in 1983 was the first event on the programme in Helsinki. The following year she headed to her third Olympic Games, this time in Los Angeles.
A day before the race, she woke up with a very stiff back. She couldn't walk or run and spent the entire day at the Olympic Village trying to loosen it up with the help of the medical team.
On race day, she didn't have a plan or a strategy, she was emotionally drained and only wanted to be on the start line and race.
And she did. She ran really well despite being very careful at the start of the race. She finished second behind Joan Benoit Samuelson, who was in top shape at the time, but Grete was very happy to be able to stand on an Olympic podium, even if back home in Norway, everyone expected gold.


Her 10th New York victory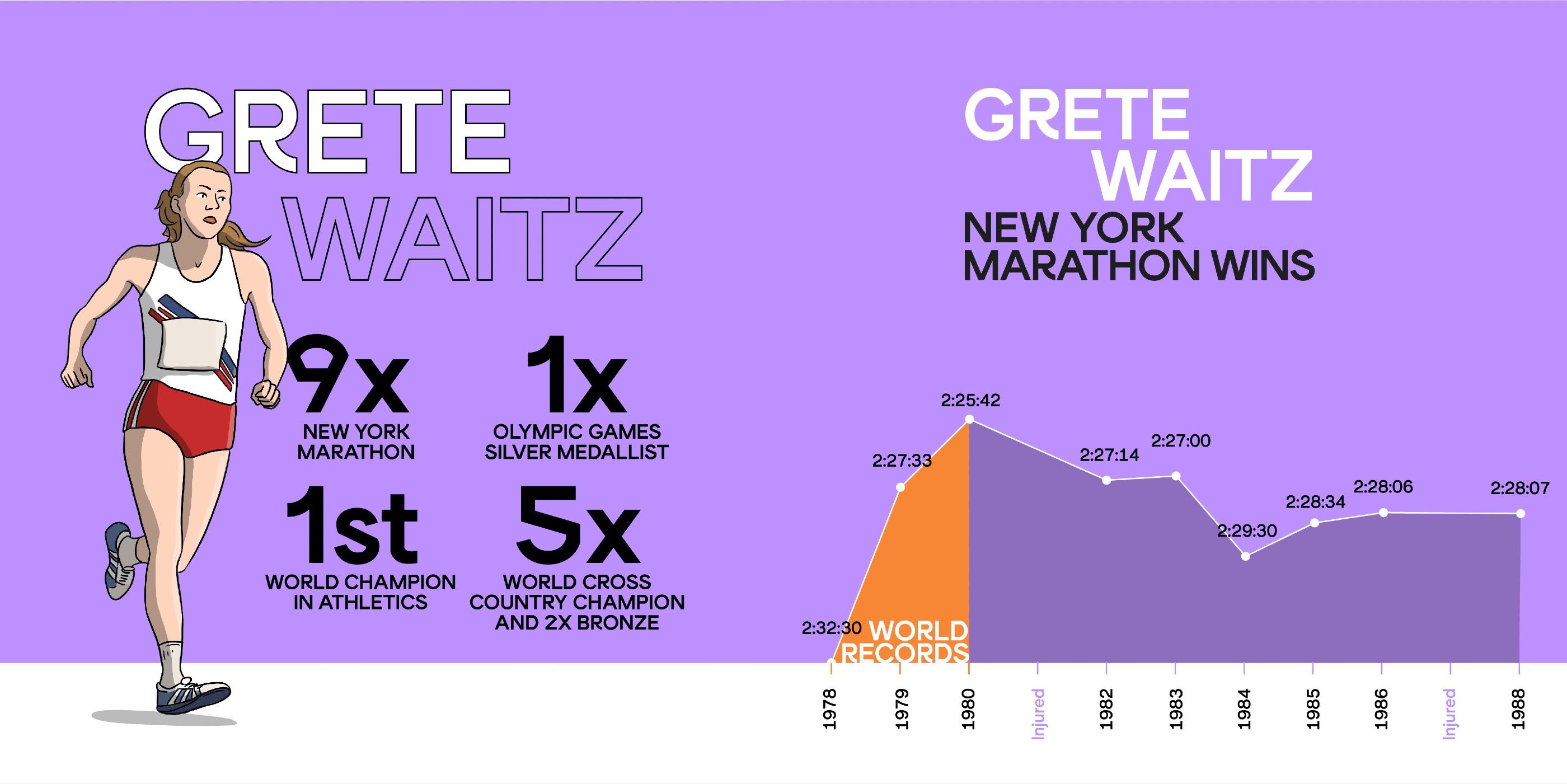 Grete loved the New York City Marathon for its people and organisers. She never missed the race, even as a spectator before getting very ill.
"It was a pressure every year to win but it was very important for her to be in good shape for the marathon," Jack said.
In 1992, Fred Lebow – the founder of the New York City Marathon – had a remission in his brain cancer and told Grete that he was going to run. Her response to him was: "If you are running the marathon, I will run it with you."
"It was a very emotional race for Grete because she was very close to Fred Lebow. It was very emotional for her to do it with him," added Jack. Lebow passed away two years later.
This race helped Grete when she was diagnosed with cancer in 2005. She was devastated by the news because for her, she was the one preaching about health and sport. For her, she did everything right.
Back then, doctors told her that she had to save her energy and stop working out. They didn't believe that sport could help cancer patients. She was very sad until, one day, she went on the home treadmill and walked five miles. That's when she realised that she could do it and she started exercising every day. For her, it felt like she had got her life back.
In 2007, with a strong belief that physical activity could have a positive effect on cancer patients, Grete and Helle Aanesen founded Active Against Cancer.
"We are educating coaches to coach cancer patients and supporting research on cancer and exercise," said Jack, "Grete had cancer for six years. The first year we thought it was gone but it came back, but the last five years it was more or less treatments to keep her alive. Up to the very last, she was exercising. It helped her have a good life in her last years."


Women in sports
If you walk past the Bislett Stadium in Oslo, Norway, you will see a running statue with Grete's name on it. The statue was raised in her honour in 1984 and a women-only 5km race was organised. It started with 3000 women taking part that year and by the mid 1990s, 47,000 women were running the 5km in the Norwegian capital.
The race was held every year. After almost 20 years, Grete decided that it should include all genders, and so it did.
In her career as an athlete, Grete took marathon running to another level. She started running at a time when women weren't encouraged to do physical activities. Her battle with cancer remains the most inspiring aspect of her career. She kept running until her last breath.
Grete's career also included coaching Liz McColgan, the 1991 world 10,000m champion and one of the best middle distance runners in the UK.
"Grete was an inspirational woman," said McColgan. "She was driven, focused and passionate about running and coaching. This came shining through whenever we ran together. She taught me to be a bit more patient and not to be so tough on myself in training, so as to get the best out of my performances. She was a great person to have around when you got nervous as a chat would calm you down. I was honored to be able to call her my coach."
Grete inspired a lot of women around the world, including Paula Radcliffe, who held the world marathon record for almost 17 years.
"She's one of the three ladies that I call the First Ladies of Marathoning and a really inspirational person. It's as much, for me, the people they were as for their achievements. That's what Grete showed me, she loved to run, she was ahead of her time," Radcliffe said.
"New York is such a phenomenal race, and to win it once is amazing but nine times is legendary status, no one is going to come close to this again.
"She kept going back to New York, even when she was very ill," Radcliffe added. "I remember her taking part in the Friendship Run that went from the World Trade Center up to the finish line. She would take part in that and would still go to have chemotherapy and go run in Central Park, and even when she couldn't go out, she would run on her Nordic machine. Keeping fit was very important for her, she fought cancer for a long time and she was hugely inspirational in the way she fought it. She was a strong but very kind, humble and quiet lady."
This cause is very dear to Radcliffe. At the end of this year, she is helping to organise the Equator Relay, from the equator to Eldoret where Shoe4Africa are building sub-Saharan Africa's first children's cancer hospital.
"We are raising funds and awareness since the odds for children with cancer surviving are reversed in Africa ­– a child in the developed world has 9/10 odds and in Africa just 1/10," she said. "My Families On Track will run a virtual challenge from 20 November (World Children's Day) to 24 December, for families to log 50 miles as a family team."
Christel Saneh for World Athletics
The road racing shoes that Grete Waitz wore during the 1982 season are among the artefacts in the Museum of World Athletics (MOWA).